Who has Leonardo DiCaprio dated? Dating History Since Kid
One of the most highly-paid Hollywood actors, an environmentalist and animal rights activist, Leonardo DiCaprio is known for long lists of his successful roles in movies, prestigious awards, and plummy lovers. His obsession with beautiful models and actresses has always given tabloids reasons for sensational headlines, yet he hasn't been attracting much attention lately. Has he settled down?
From a young age, Leonardo DiCaprio was fascinated with acting – he even asked his mother to take him from school classes to attend auditions, so that he could earn some money for the family: Leonardo's parents divorced when he was only one-year-old, and even though his father George DiCaprio was always near them, his mother, Irmelin Indenbirken who worked as a legal secretary, mostly raised Leonardo on her own. However, studying was not out of Leo's interests, so when picking his future career, as a teenager he had to choose between marine biology and acting.
Eventually choosing acting, he had had his first role in a TV commercial at the age of 14, after which flushed with success, Leo started attracting the attention of girls in his friends' circle. Cecilia Garcia attended the same school as DiCaprio, so they met a lot and spent some time after school classes when Leonardo didn't have to rush to the set of another commercial or series. Little is known about their relationship, which occurred in 1989, yet she is considered as his first girlfriend, and who he dated for several months. Later DiCaprio dropped out of school, eventually getting his general equivalency diploma, or GED, fully focusing on his acting career, as he landed his first role in the series "The New Lassie" in 1989.
After appearing in episodes of such series as "The Outsiders", "Santa Barbara" and "Parenthood", Leonardo landed his first recurring role as Luke Brower, in the series "Growing Pains".
It was there that he met his next girlfriend-to-be, aspiring actress Heather Graham, who played Annie Blackburn in the second season of the legendary David Lynch's series "Twin Peaks". Leonardo and Heather dated for a couple of months, but found it difficult to meet as often as they would want because of their busy schedules, so in the middle of 1993 the couple split. Later that year DiCaprio was handpicked by Robert De Niro to portray the character of Tobias Wolff in "This Boy's Life" biopic, playing opposite De Niro himself and his on-screen mother, Ellen Barkin.
At the end of 1993 DiCaprio appeared in "What's Eating Gilbert Grape", landing the role of the intellectually disabled Arnie Grape, Gilbert's younger brother. On the set of the movie, he met the actress Juliette Lewis, who played Becky, Gilbert's girlfriend. The actors were rumored to have a mutual interest in each other, but their affair didn't last long, as in December 1993 Leonardo fell in love with aspiring British model Kate Moss.
They only dated until February 1994, but every time they appeared together in public, all eyes were on them. The young and daring newly-minted celebrities attended numerous events and soirees, enjoying everybody's attention, and posing for photographers. By 1994 Kate had earned worldwide fame, working with such brands as Levi's, Calvin Klein and many others, being well-known for her slim body and pale skin, contrasting with the supermodels of those times such as Cindy Crawford, Claudia Schiffer, and Naomi Campbell who would later become Leo's girlfriend. DiCaprio was busy filming in Scott Kalvert's "The Basketball Diaries", so the couple split after a few months of dating, focusing on their careers.
From 1994 to 1996 DiCaprio had several encounters with aspiring models and actresses. In May 1994 he was linked to Bridget Hall, a model from Arkansas – she later denied that they dated, but paparazzi caught them several times walking together, so the mutual interest between the actor and the model was obvious.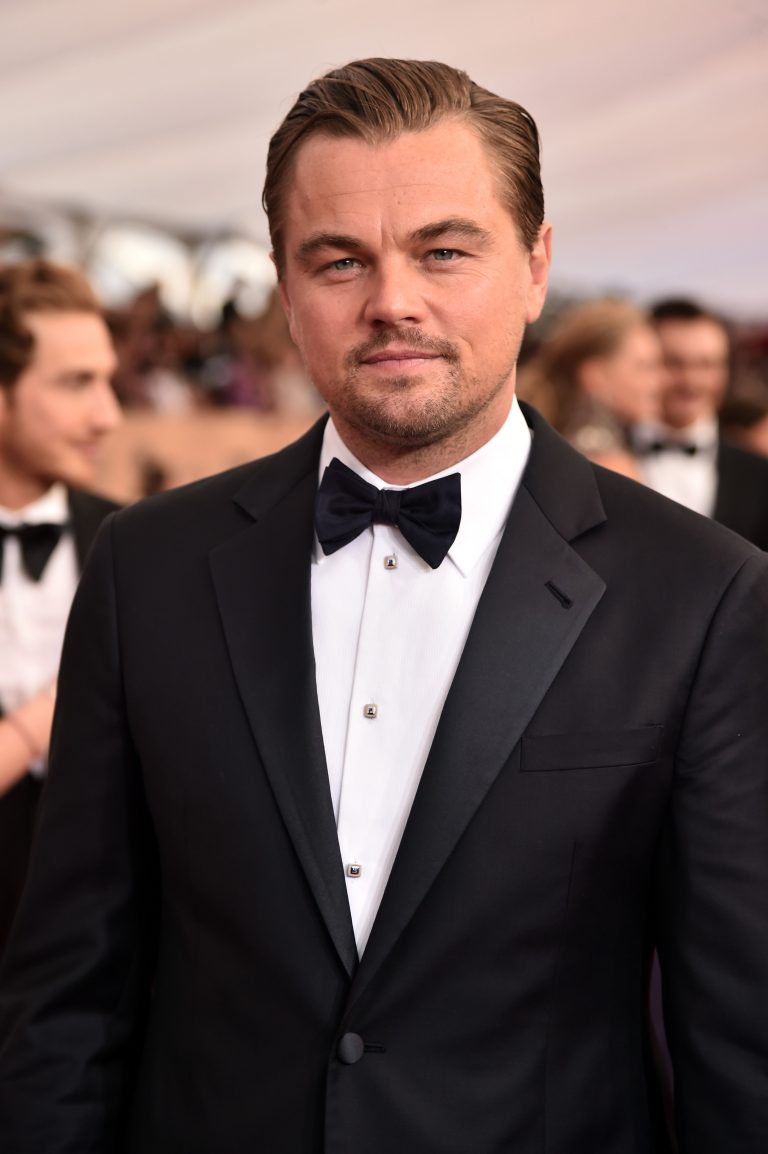 However, Leonardo soon flipped to Bobbie Brown, another American model, born in Louisiana, who was impressed by his acting in "The Basketball Diaries" and praised his talent. According to several sources, Bobbie and Leonardo dated for a year, breaking up in 1995, after which Leonardo dated Shalom Harlow, a popular Canadian model, who graced at least six Vogue covers from 1993 to 1997, also working with Versace, Marc Jacobs and Alexander McQueen.
DiCaprio also briefly dated actress Caitlin Keats and supermodel Naomi Campbell, then after the release of "Romeo and Juliet" in 1996, he was linked to Claire Danes, who played his on-screen beloved in Baz Luhrmann's version of William Shakespeare timeless play.
From October 1996 to December 1997, Leonardo was in relationship with Kristen Zang, a former model, but who now owns a dog food company. During their romance, Leonardo landed the role of Hank in "Marvin's Room", playing opposite Meryl Streep and Diane Keaton, and then his career received a major boost, landing the role of Jack Dawson in James Cameron's "Titanic", which changed his life and the whole industry of filmmaking.
After his brief romance with Canadian actress Natasha Henstridge at the beginning of 1997, he started dating Hollywood star Demi Moore. All in all, the couple dated for two years, though their meetings were secretly organized, but they were once caught having dinner together. Demi's marriage with Bruce Willis had been crashing for some time, as rumors about his affairs with actresses appeared in the media. The pressure was so strong that the couple separated in 1997, although official news of their split didn't appear in the press until 1998. When the divorce was finalized, Demi was already dating Oliver Whitcomb, a martial arts instructor, who was seven years younger than her. Leonardo was also busy with his career to be upset for too long over the split from Demi, focusing on new projects, particularly as "The Man in the Iron Mask" in which he played two characters – King Louis and Phillippe. "Celebrity" followed, in the role of Brandon Darrow, and "The Beach", an adventure drama in which he shared the screen with Virginie Ledoyen and Daniel York.
If Leo's ex-girlfriend Kristen Zang – who said that she 'couldn't stand the posse of young model hounds that followed him around' – knew his full dating history, she would be amused how right she was about his interest in young models. Right after his split from Demi Moore, he was rumored to have had flings with Eva Herzigova, Vanessa Hayden, Kidada Jones, Carmen Electra and several other beautiful models, singers and actresses, who were mainly blonde and younger than Leonardo.
However, by the end of 1999, Leo had met Gisele Bündchen, a Brazilian model of German descent. By the time the bond between them had grown stronger, Gisele was named "The Most Beautiful Girl in the World" according to magazine Rolling Stone's September issue of 2000. During his relationship with Gisele, Leo's career experienced a rather successful period, appearing in Martin Scorsese's "Gangs of New York" and "The Aviator", and Steven Spielberg's "Catch Me If You Can", released from 2002 to 2004.
Gisele was also very busy with her modelling, working with Vogue, GQ, Vanity Fair, and also trying herself as an actress in the movies "The Devil Wears Prada" and "Taxi". In 2004, People magazine put Leo and Gisele on the fourth line of their annual "Most Beautiful Couples" list.
However beautiful their life was from one side, they still experienced the same problems as many other couple. According to Gisele's book "Lessons: My Path to a Meaningful Life", they both worked too hard, and had several bad habits poisoning their lives. She felt depressed, suffered from anxiety and even had suicidal thoughts, willing her to jump off her balcony. Gisele realized that she just couldn't live like that anymore, but realized that Leo wasn't feeling the same way: 'No longer numbing myself with smoking, drinking and too much work, I was becoming more and more aware of things that I'd chosen not to look at. Was I alone in wanting to do some serious soul-searching while he stayed the same? In the end, unfortunately, the answer was yes', she recalls the period she decided to quit her relationship with the Hollywood darling.
While Leo was still head over heels in work, Gisele focused on her inner state and health: she eliminated sugar, caffeine and alcohol from her diet, and let yoga and meditation enter her life. From that moment, Gisele experienced a positive shift in her mental health, which helped her to build a family with Tom Brady, a professional American Football player. As of 2020, she has been married to Tom for more than 11 years, sharing two children with him, son Benjamin Rein, and daughter Vivian Lake.
After Leo separated from Gisele in March 2005, he soon found himself in the arms of another model, Bar Refaeli. Leo and Bar met in Las Vegas at a party for their favorite band, U2. Both were recovering from their previous relationships, as Bar was married Arik Weinstein from 2003 to 2005, and divorced just a month before she met DiCaprio.
The actor was charmed with the beautiful Israeli model, so they started dating almost immediately. They had a lot in common, besides their similar musical tastes, including being involved in environmental activism. In 2008, Bar organized a campaign to help Israel reduce the number of plastic bags contaminating the waters of the Jordan River, while Leo donated $1 million to Haiti to help soothe the devastating aftermath of the earthquake in 2010.
Nevertheless, the story of their relationship was always of a struggle to find enough time to see each other, with Leo's tight filming schedule. In 2006 he couldn't attend Bar's 21st birthday as he was busy on the set of "Blood Diamond" being filmed in Mozambique, so they could only meet in Barcelona where Bar participated in the fashion show. Their long-awaited meeting was almost ruined by invasive photographers, who were eager to get a shot of the couple as soon as they found out DiCaprio had landed in Barcelona. However, Leo and Bar gave their transatlantic relationship a chance, and used any opportunity to see each other.
He found several days-off to meet her in Paris, and she used her spare days to visit him in New York or Las Vegas.
In March 2007 Leonardo finally visited Bar's homeland of Israel. Within several hours after Leo landed in Tel Aviv, he was reached by the staff of Israeli Vice Premier Shimon Peres, who wanted to meet DiCaprio to discuss some issues on Middle East economic development, the peace process, and the actor's documentary on the state of the global environment, "The 11th Hour", which was released earlier that year. Bar also presented at the meeting, dressed casually like Leo, who wore a sweater and a baseball cap. By the end of Leo's trip around Tel Aviv, he was witnessed to have an emotional goodbye scene at the airport – according to People magazine, Bar and Leo were 'hugging and kissing until the last minute when he had to go on the plane'. A person who was in the airport and saw the couple said that 'it looked like it was really hard for them to stay apart'.
In June 2009, the couple announced their separation due to the pitiful amount of time they could spend together, however, they were rumored to reunite in January 2010, despite the news of Leo's flings with the singer Ashley Roberts and the model Anne Vyalitsyna in late 2009. Eventually, Bar and Leo officially ended their romance in May 2011, yet insisting they remained friends. In 2015, Bar married Israeli businessman Adi Ezra; they share two daughters, Elle and Liv, and a son, David who was born in January 2020. In June 2019 Leo was dragged into a tax scandal over his ex-lover, as Bar is now accused of evading paying taxes of more than £7 million, using offshore accounts to hide her earnings.
After getting back on the "singles market", Leo was rumored to comfort himself in the arms of the actress Lindsay Lohan, and the glamour model Emma Miller. He was also seen enjoying a yachting trip in Cannes, accompanied by Blake Lively, whom he dated from May to October 2011 – Blake is mostly famous for portraying Serena van der Woodsen in the popular series "Gossip Girl".
In December 2011, Leo started dating Erin Heatherton, who is best known for being one of Victoria's Secret Angels up to 2013. Leo and Erin dated for around 10 months, splitting in October 2012.
After shorts flings with Australian model Miranda Kerr, French model Margarita Gauchet, American actress of Belarusian descent Alesia Riabenkova, and Hungarian model Barbara Palvin, Leo started dating Toni Garrn in May 2013. Toni worked as a Victoria's Secret model in Germany, and dated Leo for around 19 months, breaking up with him in December 2014.
The month after their separation, Leo relaxed in a luxury villa in St. Barts, allegedly spending $28,000 per night, and inviting a bunch of young models to brighten up his single days. In April 2014, American model Kelly Rohrbach graced the cover of Sports Illustrated's Swimsuit Edition, and attracted the attention of the Hollywood star for the next eight months, splitting in December 2015, so he had another chance for a New Year party at the beach of St. Barts luxury villa again, entertained by numerous models in bikinis.
By late 2015 Leo had been linked with a few more beauties, such as an American model Cassie Amato, Polish model Ela Kawalec, Dutch model Chelsey Weimar, and British model Roxy Horner. In 2016 Leo dated Georgia Fowler, a New Zealand model, and then had a fling with Nina Agdal, a Danish model. From July to October 2017 Leo had an encounter with Lorena Rae, a German model, as if feeling that his dating history with models was geographically incomplete.
In December 2017, Leonardo was spotted with Camila Morrone for the first time, who is in fact 23 years younger than the mature Hollywood actor. Camila is an hereditary model and actress, as her mother is the actress Lucila Solá, known for appearing in "Pride and Prejudice" in 2003, and for her long-term relationship with Al Pacino from 2009 to 2018. Camila's father is the model and actor Maximo Morrone, known for appearing in "Los Luchadores" series as Lobo Fuerte and signed to Bananas Models agency, working with Versace, Valentino, Diesel, etc.
The entertainment and fashion industry was in Camila's blood, so she felt very comfortable living in the world of famous people. She also knew the price of such publicity, so when she and Leo started dating, they made the decision to hide all details of their relationship. DiCaprio is said to have helped Camila to return to her acting career, as she made her TV debut in the biopic "Bukowski" in 2013, and then made an appearance in an episode of the "Love Advent" series in 2016. She landed the role of Jessie in "Never Goin' Back" in 2018, and the same year appeared in "Death Wish", and then starred in the drama "Mickey and the Bear" in 2019, and "Valley Girl" in 2020.
Camila and Leo attended the San Diego International Film Festival in October 2019, where Camila received her Rising Star Award. They've also attended many other events, such as the Cannes Film Festival, The Oscars ceremony, Coachella, etc., but when it comes to their dates, they try to keep them secret.
In June 2020 they were spotted having a sushi date in one of the restaurants of Los Angeles, wearing masks like everyone else, and keeping their distance from other people, which they actually seemed to enjoy. Nevertheless, the tension around their romance was pretty strong, as Camila even posted a video on her Instagram account in which she asked her haters to find some other things to pay attention to. In the video which was later reposted by several social media sources, Camila almost cries after reading comments on her photos on her Instagram account: 'I just hope on this Friday that people learn to live with a little less hatred, and place their time and interests elsewhere, because living without hatred feels pretty good', she said, ready to burst into tears.
As of July 2020, Camila and Leonardo are still together, and are reported to be getting to know one another's family members, which hints that their relationship is quite serious. We really hope Leo won't start his 'model hunting' once again, and can be happy ever after with this beautiful, talented lady.