Who has Lucy Hale dated? Boyfriends List, Dating History
• Lucy Hale is an American actress and singer, who achieved fame for her role in the TV series 'Pretty Little Liars'
• She began her career in 2003 as a contestant on the reality show 'American Junior' and has since had roles in TV series and films such as 'Bionic Woman', 'Privileged', 'The Sisterhood of the Traveling Pants: Part 2', 'Scream 4' and 'Fantasy Island'
• She has been in a number of relationships with celebrities such as Selena Gomez, Chris Zylka and Graham Rogers
• She was most recently linked to Ryan Rottman and Colton Underwood and was recently seen getting close to Skeet Ulrich, though it is believed they have since broken up
• Lucy is currently single and focused on her career
Lucy Hale is an American actress and singer, who made her big breakthrough portraying the role of Aria Montgomery in the popular TV series 'Pretty Little Liars'. Before that, people might recognise her from previous appearances in 2007's 'Bionic Woman', and the comedy-drama series 'Privileged'.
Born 14 June 1989, in Memphis, Tennessee as Karen Lucille Hale, Lucy spent most of her early life in the warmth of home, undergoing home education supplemented with dancing and singing lessons. Her mother, Julie Knight, worked as a registered nurse, but Lucy's father's role seems obscure. Mentioned only by name, Preston Hale, no other information is available on the man, though its known that Lucy has step-siblings – a sister, Kirby, a brother, Wes, and an older sister, Maggie.
Sock/sneaker combo option A pic.twitter.com/y9t4u6RryJ

— Lucy Hale (@lucyhale) April 21, 2021
At age 14 in 2003, Lucy showcased her singing talent for the first time, simultaneously also making her television debut as a contestant on the reality show 'American Junior', a spin-off series based on 'American Idol' aimed at finding younger talent. Lucy ended the competition in fourth place overall, earning a chance to perform in a band with the top five contenders.
Unfortunately, the success of their debut album was mediocre, and the failure caused the band's split. In 2004, Lucy relocated to Los Angeles in the hopes of pursuing a singing career, though misfortune led her to fall back on her acting. Surprisingly, the young actress found plenty of early opportunities, clearly a talented actress in the making.
She landed roles in kids' series such as 'Drake and Josh', 'Ned's Declassified School Survival Guide', and later in 'The OC' and 'How I Met Your Mother'.
Lucy earned her first major role in 2007, playing Becca Sommers, the younger sister of the leading protagonist, Jaime Sommers, in 'Bionic Woman'. Despite the series' short-lived existence, Lucy had no shortage of more opportunities.
In 2008, Hale made her film debut in 'The Sisterhood of the Traveling Pants: Part 2', then and returned to television in the series 'Privileged'. In 2009, she starred in 'Sorority Wars' shortly before landing the role of Aria. From 2010 until 2017, Lucy would reprise her award-winning role in 'Pretty Little Liars', also extending her involvement in film work starred in 'Scream 4', 'A Cinderella Story: Once Upon a Song', 'Truth or Dare', and her latest appearance in 'Fantasy Island'.
Since the completion of 'Pretty Little Liars', Hale has also released her debut studio album, 'Road Between', and appeared in several credited music videos.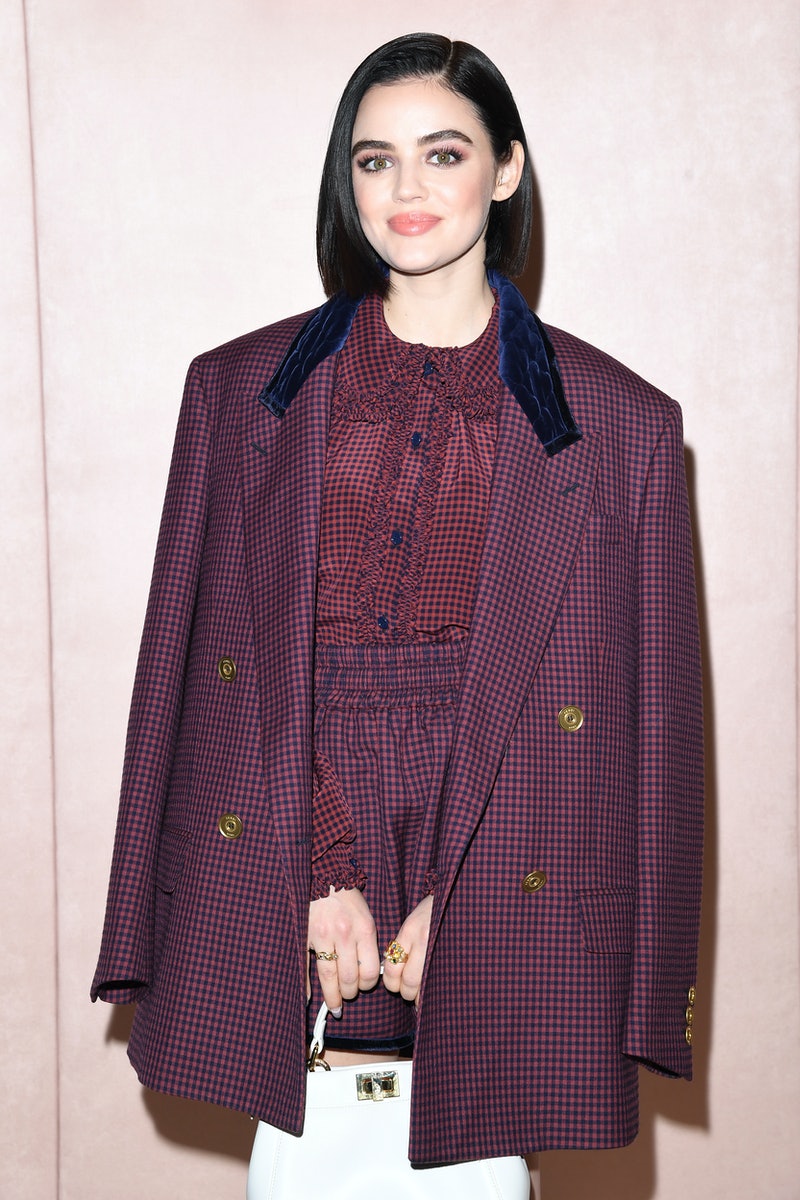 Currently, Lucy's fans can't wait for her upcoming film's release, a romantic comedy co-starring Austin Stowell, 'The Hating Game'. As hyped as fans are to see Lucy back on screen, some might have a greater interest in the young actress's love life.
Of course, as beautiful, talented, and brilliant as Lucy is, she's enjoyed as much success with romance as she has with her career, attracting some of the finest bachelors of Tinseltown.
A Disney Romance
Hale's first known romance happened during her teenage years, while performing as a guest star on numerous Disney kids shows. Among her most notable features, Lucy appeared in two episodes of 'Wizards of Waverly Place'.
Most fans of the popular Disney show would of course know that it starred Selena Gomez and David Henrie, who played the oldest brother, suspected of a behind-the-scenes romance.
On the contrary, Henrie was actually dating Lucy Hale, who later starred as his love interest, Miranda, in 'Wizards of Waverly Place'.
It's suspected that the two met in 2007 while sharing a set when they were both 18, and it seems they continued their romance off-screen. The couple reportedly dated for two years, spending most of that time entertaining their social media followers, as they earned exposure as one of the cutest Disney couples.
Unfortunately, most of the details are lost in their social media history, and the relationship hardly earned any mention among the tabloids. In 2009 they went their separate ways, though it appears that they broke up on amicable terms. Although rarely seen together, according to reports the two maintain a healthy friendship.
Who knows, maybe they could run into each other on set again sometime.
Having Fun
In 2010, Lucy's life changed as her fame grew. She earned her role in 'Pretty Little Liars', though it seems that Hale was out to enjoy her newfound success. Amidst a busy schedule, the young actress somehow found the time to squeeze in a few romantic hook-ups, and it did seem that she hadn't any intention of settling early.
In 2010, Lucy spent a couple of months in the company of former member of rock band The Cab, Alex Marshall. Though their relationship was never publicly confirmed by either Lucy or Alex, it's commonly accepted that the two dated privately, though only for a couple of months.
She then became involved with 'Amazing Spiderman' actor Chris Zylka, whom she reportedly dated for nine months. The only confirmation that still exists about their brief affair is the bitter comments by Zylka about their relationship, and his later public apology to Hale.
Responding to a fan on Twitter in September of 2012, Zylka stated that he didn't have a girlfriend – she'd decided that she was too good for him. Chris followed up with an apology once word got out, stating that Lucy was one of the most beautiful and talented people he'd ever had the pleasure of knowing.
In 2013, Lucy was linked to the actor Graham Rogers, who was a known star of 'Revolution'. The two kept their hook-up rather quiet and even travelled together before shortly going their separate ways. When questioned about her romance with Rogers, Hale responded by saying she was only out to have some fun.
Her next conquest was country singer Joel Crouse, whom she spent a date with, catching a local basketball game in 2014. However, as quickly as the rumours started, both their romance and the gossip fizzled out quietly.
Later that year, Lucy was linked to another rockstar; this time, it was Lawson drummer Adam Pitts, but by early 2015, it seems that any chemistry between them had dried up, and they were not seen together again.
Hoping To Settle
2015 marked a change in Lucy's love life, as she entered into what is considered one of her longest relationships. Now reaching her late twenties, it seemed that Hale had gained a newfound hope of one day settling down.
She met Anthony Kalabretta, first seen publicly with him on 18 June at a Los Angeles Dodgers baseball game. Anthony is a talented musician who publishes most of his work on Soundcloud, but how exactly the two met remains a mystery. Nonetheless, their romance played out partially in public, as every fan wanted to know what the 'Pretty Little Liars' stars were up to in real life.
https://www.instagram.com/p/CPkepKzNAQt/
Anthony and Lucy dated for quite a while, officially calling an end to their relationship in 2017. Shortly before the almost inevitable split, the two unfollowed each other on social media, making speculators believe that they were breaking-up and not on amicable terms.
However, whatever their grievances were, they seemed to have worked things out as, according to the latest reports, the two have remained good friends since their split.
Following her breakup, Lucy reportedly went on a couple of dates with her 'Life Sentence' co-star, Riley Smith, but their brief encounter was nothing serious, much like their joint credit on the show, which was eventually cancelled.
Keeping Up With Hale
In 2018, after being spotted on a walk with actor Ryan Rottman, Lucy fueled a couple of speculative rumours, giving her fans a bit of hope following her bitter romance with Anthony.
Again, though, the tabloids published a story that sadly wouldn't become a reality. The two were spotted together only this once, and any possibility between them seemed to have fizzled out shortly afterwards.
In 2020, an inside source stated that Lucy had no intention of forming a substantial relationship at this point in her life. However, it couldn't keep the tabloids from publishing juicy speculative stories about her suggested romance with Colton Underwood.
The two were spotted together going for a hike in June, but by August later that year, Colton shut down all rumours and suggestions about himself and Hale. According to his statement, he was a happily single bachelor, and that hadn't changed in recent times.
In February 2021, Lucy was seen getting very flirtatious with actor Skeet Ulrich, with whom Lucy has shared the camera on several occasions prior to this latest episode in her love life.
🍋🍯✂️
(thanks a bunch John Clark / Jonny Eagland / @JohnFriedaUK ) pic.twitter.com/RqU7sXoRAu

— Lucy Hale (@lucyhale) April 12, 2021
The couple were photographed on a date out, getting very comfortable with each other, and even shared an intimate kiss in public. Though neither one announced the relationship, these photographs seem like the only proof needed to confirm that Skeet and Lucy have been getting close.
Sadly, after spending more than a month together, the couple allegedly called it quits. According to recent updates about their love affair, Skeet and Lucy have possibly broken up, though keep in mind, for now, that the rumours seem to only be speculation. Details about their break-up are foggy at best, but that's not unusual, and may soon become a hot topic on social media.
Standby for further developments in the love-life of Lucy Hale!