Who has Meghan Trainor dated? Boyfriends List, Dating History
• Meghan Trainor was born in 1993 in Nantucket, Massachusetts and was supported by her multi-talented family to pursue a music career.
• She wrote her first song at the age of 13 and by 17 had released three independent albums.
• Her breakthrough song "All About That Bass" released in 2014 was met with criticism for its lyrics.
• She began a relationship with actor Daryl Sabara at a house party in 2014 and the two eventually married in 2018.
• As of 2020, Meghan is working on a new Christmas album and speculation is swirling that she is expecting her first child with Daryl.
Paving the way to her self-acceptance, one of the most popular plus-sized singers faced all the sharp edges of talking and writing songs about the female body, gender stereotypes and feminism. Meghan Trainor has always dreamt of becoming a performing artist, supported by her multi-talented family, yet she could hardly imagine that the honesty of her original songs' lyrics would bring so much negativity her way. Was there someone special to support her during that tough period of her rising singing career? We shall find out.
Born 22 December 1993, Nantucket, Massachusetts USA, Meghan Elizabeth Trainor didn't surprise her parents when she said she wanted to connect her life with music, as many her family members were musicians.
Her father, Gary Tailor, despite working as a jewelry maker, was also an organist at a Methodist church, and music teacher. Meghan's mother, Kelli Trainor, encouraged her daughter to develop her music career, even though her daughter didn't actually have formal music training – she played a lot by ear and arranged a version of the song "Heart and Soul" recorded on GarageBand software, since it was all Tailor had to record her own music.
When Meghan turned 12, her father suggested that she join his cover band, Island Fusion to perform along with her younger brother and her aunt; their family band became quite successful, opening Beenie Man's shows.
At 13 Meghan wrote her own first song "Give Me A Chance", and enjoyed the process of songwriting maybe even more than simply performing a song. By age 15, Meghan's parents had built a home studio for her, so by the time she turned 17 she had already released three independent albums of her own music and covers. From 2013 onwards, Tailor wrote songs for Sabrina Carpenter, Hunter Hayes, R5, and many others, relocating to Nashville from her hometown of Nantucket to have an easier communication process with her managers and other colleagues. The same year she wrote her breakthrough song "All About That Bass", released in June 2014.
Despite massive support from her family, Meghan was often frustrated by the criticism her song writing received.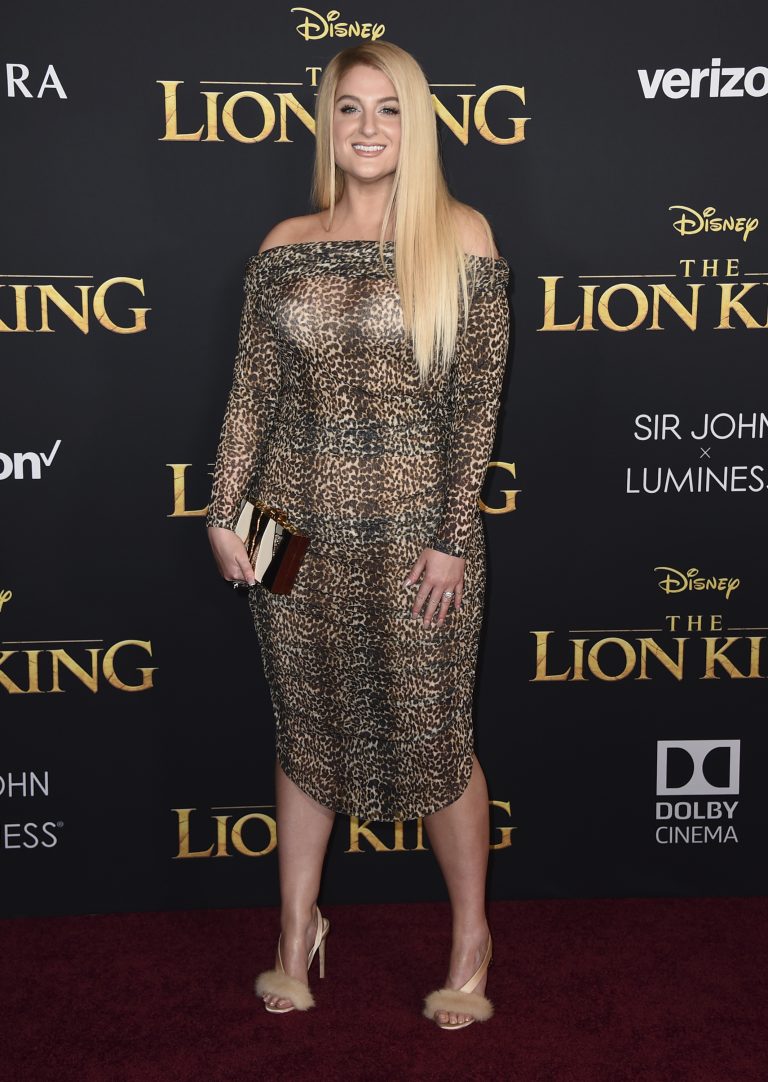 After "All About That Bass" was released, Tailor was accused of spreading the stereotype that 'a woman's worth is defined by men': the lyrics of her song hinted that since men like 'girls with curves', a girl doesn't have to care much if she is not model-skinny and can just enjoy her shapes if she has them. Never XS-sized, Meghan also struggled a lot with her form, when she understood that she didn't look like most other cover girls. 'I just wrote a fun song about loving your booty and loving your body', Meghan answered the critics shaming her for allegedly shaming skinny girls. However, there was a boy who helped Meghan to feel that she was right about her beauty – Charlie Puth, another aspiring singer, a long-term friend and Tailor's admirer.
As Charlie once mentioned, he and Meghan were good friends for a long time. and in April 2015 they released their duet song "Marvin Gaye", posting the official video of the track on YouTube. According to the plot of the music video, Charlie and Meghan make the school prom hot, performing the song which led to all students, and even teachers kissing. The video abrupt stops at the moment Charlie approaches Meghan also wanting to kiss her, but their fans could witness the kiss only several months later. Meghan and Charlie performed "Marvin Gaye" at the American Music Awards event, and dancers were kissing onstage, repeating the plot of the music video, yet no one could expect that Meghan and Charlie would share a long, tender kiss at the end of their performance which lasted too long to look like a 'friendly one' or 'something just for the show'. 'A kiss? They ate each other', wrote the fans after witnessing the scene. How on earth could they be just friends?
The rumors of Meghan and Charlie's supposedly secret affair appeared early in 2015, right after the release of their mutual video, which as of 2020 had harvested almost 650 million views. They were spotted together at the premiere of the "Furious 7" movie, since Charlie was the author of the theme song "See You Again", dedicated to the late Paul Walker, star of the previous 'Fast & Furious" movies, along with the rapper Wiz Khalifa. Nevertheless, their performance at the American Music Awards forced them to clear up rumors about their fling. 'At first, we were like, 'Holy shit, what did we just do?' I have a girl kind of in my life right now that I'm not making too public, and I don't want people to get the wrong idea. But without Meghan's initial push, I wouldn't really be anywhere', Charlie confessed. talking to "USA Today".
https://www.facebook.com/charlieputh/photos/a.10150103019304433/10152618519359433/
Nuh, their fans were not at all happy with this explanation. Meghan kept silent, not commenting on the performance at all, only Charlie still insisting: 'Meghan is literally like my best friend! I didn't know people would care about my lips on my friend's lips so much', he said to "USA Today", not mentioning why his hand was on Meghan's lower back during that 'not-so-just-friends' kiss. 'I can see where your hand is, she's a good friend, sure', nodded Ellen DeGeneres, when she had Charlie on her talk show to discuss his career, obviously doubting that his words about their 'friendship' were true. Ellen in fact was the person who discovered Charlie, and offered to sign him to her label eleveneleven, but he then re-signed to Atlantic Records. However, even Ellen couldn't bring Puth to the light, and his and Meghan's fans are still guessing if there was something between them or not.
Even before all that mess with Charlie Puth, Meghan met popular Hollywood actor Daryl Sabara ("Spy Kids", "Project Blue Book") at a house party in Los Angeles in 2014. However, sources say that they didn't started dating until two years later – it was Chloë Grace Moretz, the star of "The Equalizer" and "Red Shoes", who organized that double date when they met each other once again, to understand at once they were made for each other. 'It all happened, it was love at first sight for me', Daryl shared in an open conversation with Meghan entitled "Dirty Radio with Meghan Trainor" at Apple Music Hits'. The star of "Spy Kids" movie series also admitted that he was very nervous about his beard, which looked more like a scrub he forgot to wash from his face; he promised himself: 'If she can love me at my scrubbiest, then she can love me no matter what'. Meghan's impression of the first date with Daryl was also very bright; she was amazed how interested he was in her love for music, how he wanted to know more about her, etc.
They shared love for the same movies, for the same music styles, for dogs they both adored. Having so much in common, they dated for a year and then eventually became engaged.
It was clear that Meghan's relationship with Daryl was no gimmick, unlike her alleged affair with Charlie Puth. When the whole entertainment industry discussed Megahn's first single "All About That Bass", which hit 2.4 billion views in September 2020, and tried to decide whether it was sexist or not, she released another single entitled "Dear Future Husband". Could she ever know she had already met the guy she addressed in the song too? 'You need to take me on a date, bring me flowers every anniversary. Tell me I'm beautiful. Sometimes. If you wanna get the 'special lovin'', Meghan reasoned about the perfect match for her in 2014.
Woke up to false accusations…happy Sunday y'all 🙏😇🙏 https://t.co/4jd5pJfTFp

— Daryl Sabara (@darylsabara) November 3, 2019
Well, looks like Daryl got the whole list checked, as when he popped the most important question, Meghan didn't hesitate for a minute to say 'Yes'. The news of their engagement hit the headlines of tabloids in December 2017, as Daryl proposed precisely on Meghan's birthday, 22 December. 'The love of my life @darylsabara made all of my dreams come true. He proposed to me under a tunnel of beautiful Christmas lights, and surprised me with my family and friends', Meghan shared in her Instagram post the next day. 'You are the most beautiful fiancé in the world', echoed Daryl in his social media profile, pleasing Meghan with just the right words she dreamt about.
The engagement became a major final chord of 2017 for Meghan, who underwent two surgeries on her vocal chords and suffered panic attacks being afraid to die or to lose her voice (which, as she said, was almost the same for her), and she definitely needed some extra help and support, which Daryl provided her.
On 22 December 2018, again precisely on Meghan's birthday, Sabara and Trainor married in an intimate ceremony in the backyard of their house. Only friends and family attended the ceremony, which was decorated with white roses. Meghan and Daryl seem to enjoy their married life, making each other happy in both small and big ways.
https://www.instagram.com/p/BfVg2mIg1GO/
Thus, Meghan organized the "Spy Kids" reunion, arranging for Daryl and his co-star Alexa PenaVega to meet online, and to watch the first volume of "Spy Kids" together on Instagram Live.
As of 2020, Meghan still posts romantic video compilations on her relationship with Daryl, also working on her upcoming Christmas album "A Very Trainor Christmas", which is to be released in October 2020. Daryl is still working on the animation series "Ben 10", in which he voices over several characters, such as Heatblast, Reenactor, etc. In July 2020, Meghan released her new single "Make You Dance", and provoked speculation about her gaining some weight – a lot of her followers and fans decided that she was expecting. However, Sabara and Trainor haven't confirmed the rumors.