Who has Michael Jordan dated? Michael Jordan's dating history
It is very often the case that professional athletes are the most attractive of men, especially to the female gender of course, and so it has been with legendary National Basketball Association star Michael Jordan. Ever since he distinguished himself as a professional basketball player back in the 1980s, it seems that he has been a topic of conversation, about his successful career, his business dealings, and his often less-than-private personal life. Although he has never been open about his private life, it is known that he has rich dating history. So, would you like to know more about the love life of possibly the greatest basketball player of all time? Keep listening, and you might discover something interesting!
Just when his professional National Basketball Association career was on the rise, Michael Jordan fell in love with upcoming actress Robin Givens. They met each other at a golf tournament in North Carolina in 1984, and in no time became romantically involved in a relationship, but it didn't last long since they broke up early in 1985.
According to People magazine, Robin explained what caused their split, saying "Other people weren't the problem. Both distance and the demands of our careers were the problem."
Following their split, she went on to date the legendary boxer Mike Tyson, and tied the knot with him in 1988. At that moment, no one could have imagined that Jordan and Robin's romance would be a problem for the boxer. However, Tyson's ex-manager Rory Holloway revealed in his 2016 memoir entitled "Taming the Beast: The Untold Story of Team Tyson", that the boxer confronted Jordan over the attractive actress in 1988, at a birthday party in a Chicago restaurant, at the time when Tyson and Robin were going through a separation. It would be unsurprising if the popular actress renewed her relationship with the legendary basketball player, but that didn't happen.
Anyway, Holloway described the occasion – "Mike Tyson's sitting there with his drink of choice, a Long Island Tea, and when he drinks his real feelings come out. I'm telling the server to water his drinks down 'cause I see where this is going. Mike stares across the table at Michael Jordan. He says, 'Hey man, you think I'm stupid? I know you fucked with my bitch.' Jordan looks like he's just seen a ghost. 'I know you messed with her,' Mike says. 'You can tell me.' Jordan, it's obvious he just wants to get up and run. He wants no part of this. It was a circus, for real, that night. Don King trying to change the subject. Me and John trying to hold Mike down. Mike telling everyone he's going to bust Jordan's ass. Jordan's dressed sharp as always and he can't get out of there fast enough." MJ declined to comment on the matter, although others who were present gave different versions of the event.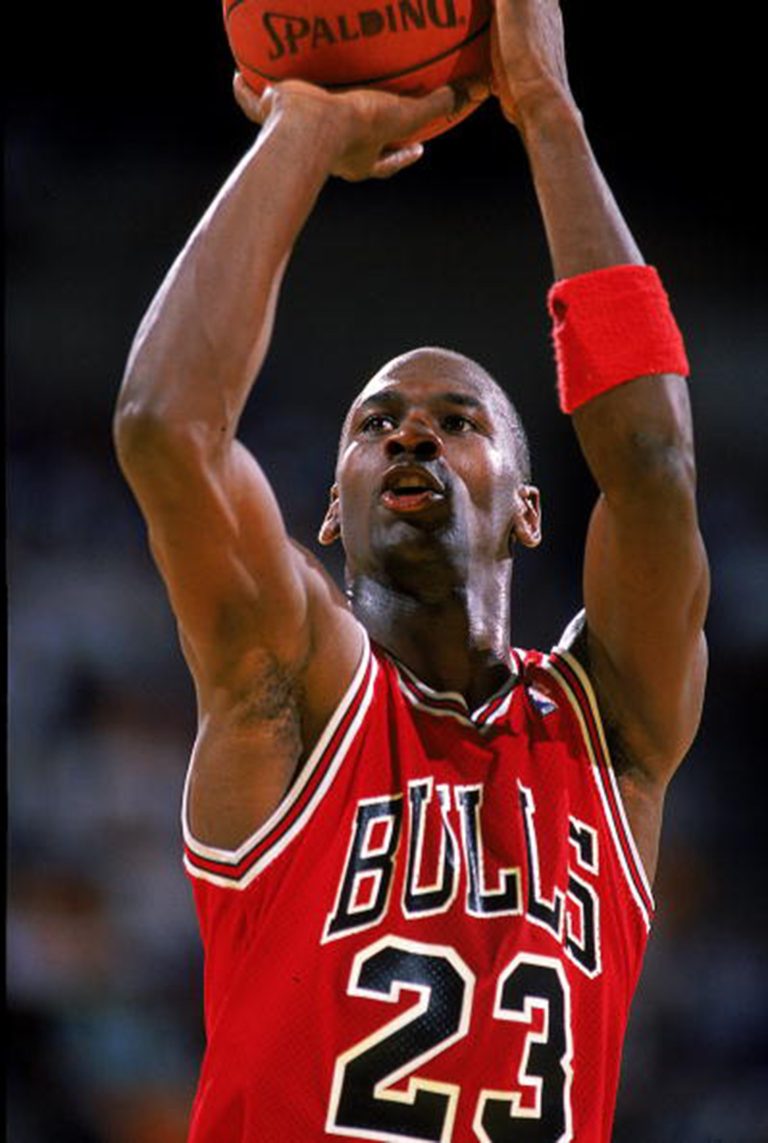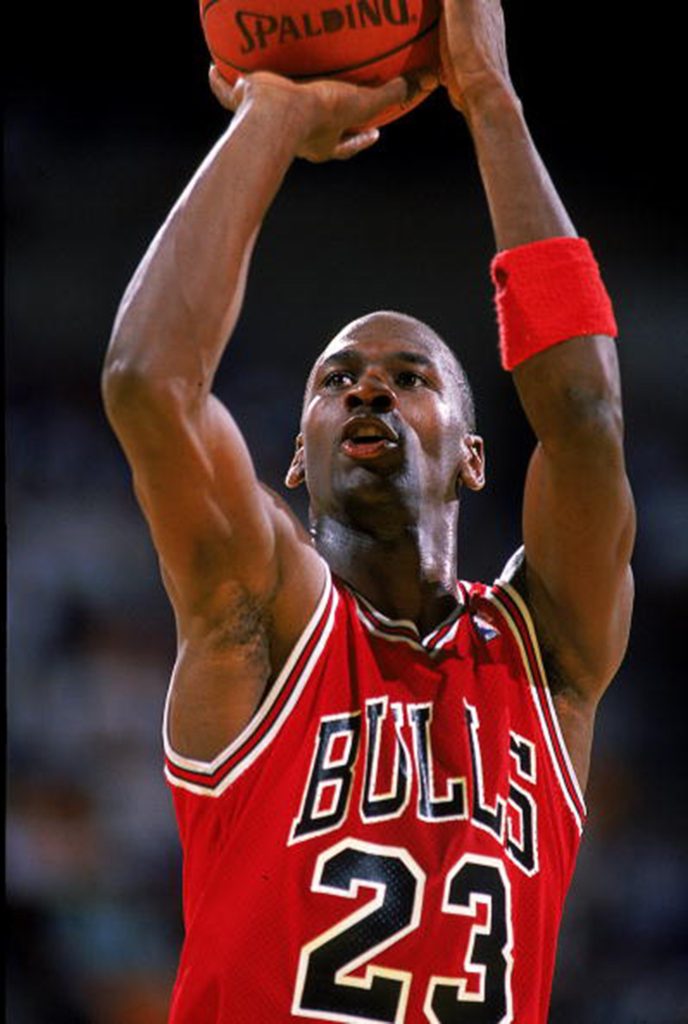 MJ's silence is understandable, since there was no sensible reason for any conflict between him and Tyson because of something that happened in the past. No matter what, the past can't be changed!
Following his breakup with Robin Givens, in 1985 Michael fell in love with Juanita Vanoy. They were introduced at a Chicago Bennigan's restaurant after a Bulls game, by a mutual friend who thought that they would be a perfect match. Their friend was right, since that started their romance. At the time, Juanita was working as a loan officer, and completing an associate's degree. On New Year's Eve 1987, the handsome NBA star popped the question to her. However, not all was clear sailing, as in the following year she revealed to her lawyer Michael Minton that she was pregnant, and hired him to file a paternity lawsuit against MJ, since according to The Washington Post, he didn't believed that the child was his. Minton said, "She told me she was pregnant, unwed, and that the father of the child was Michael Jordan.
She felt that she couldn't get Michael's attention or co-operation or response without the retention of a legal representative." A few months later, the NBA player admitted to being the father of the child, and their son named Jeffrey Michael Jordan was born on 18 November 1988.
Despite many problems, the couple tied the knot in a private wedding ceremony held at the Little White Chapel in Las Vegas at 3.30 a.m. on 2 September 1989. Her lawyer also told the magazine, "I congratulated her, and then reminded her that the prenup hadn't been signed. She told me to work on a postnup." According to The Washington Post, Michael Jordan soon opened up about their marriage, saying "I'm happy. It was a big move getting married. It helped me mature." In May 1992, Jordan revealed more details about their marriage in an interview with Playboy magazine – "It was like walking into another unknown situation. But I was ready to learn what marriage was all about. Every day you learn something.
To live with another person for the rest of your life, that's something you have to work at. You're going to have some good times, some bad times. As a couple, as a unit, as a family, you gotta fight your way through it."
According to Questia magazine, Juanita once described her husband as "affectionate and romantic. We often have candlelight dinners. He likes champagne, and he sends me flowers all the time." She also revealed, "He never forgets a birthday or anniversary, and he loves buying jewelry. He picks out clothes for me all the time. He has good taste," while MJ said, "I've got to do more for her, because this is what she expects from her husband–to be taken out to dinner, to movies, on vacations. From a husband's point of view, I've got to improve." He also described Juanita as a "very independent. She knew how to work and provide for herself, which is what I loved. I love her and I never wanted to take her away from her independence. She still does what she wants, and I love for her to do that. She is more of the stern side of this relationship. And I like that."
The couple welcomed their second child, a son named Marcus James Jordan, on 24 December 1990. Both of their sons followed in their father's footsteps and played basketball, but not professionally. Juanita once said in an interview with Chicago Business, "They wanted to be like their dad. What boy doesn't? When they were growing up, most coaches wanted them to wear No. 23. I insisted that they not do that. It was important to me. I wanted to make sure that their skills were going to be what they made them, and that it was based on how hard they worked." Similarly, MJ told Playboy that he wasn't worried about his sons – "I just want them to have their own lives. I'm not going to try to guide them anywhere. I just want to teach them right from wrong, then let them make their own decisions. I look at my kids and think, I'm very fortunate." The couple welcomed their daughter, named Jasmine Mickael Jordan, on 7 December 1992.
Do all good things come to an end? Well, to the great surprise of fans and the public, on 4 January 2002 Juanita filed for divorce, citing irreconcilable differences. However, shortly afterwards she withdrew her petition as they tried to reconcile. It worked for some time, but in December 2006 they decided to part ways on mutual terms. Their lawyer said in a statement, "Michael and Juanita Jordan mutually and amicably decided to end their 17-year marriage." Their friend Les Coney told People magazine, "I'm shocked and disappointed that their marriage didn't work. I think they're wonderful people and I have no doubt they'll be putting their kids first."
Their divorce was high profile, and one of the most expensive in history, since Juanita received around $168 million through the divorce settlement. In her interview for Chicago Business magazine, she revealed, "Mostly our conversations are about the children. I don't remember him saying, 'By the way, I'm getting married' Divorce was certainly new to me. I had to learn that you have to communicate. That it's not about you or your ex-partner. It's about making sure the children are all right."
She also added, "I really looked forward to the basic things: my children and my good friends."
Affair with Karla Knafel and Paternity Test
Since the reason for MJ and Juanita's split and divorce remained unknown, many believed that it must be his infidelity and extramarital affairs. His first known-to-the-public affair was with singer Karla Knafel – according to USA Today, her lawyer claimed that she had a sexual relationship with Jordan between 1989 and 1991, and in November 1990, she discovered that she was pregnant with his child. Jordan allegedly offered her $5 million to keep it secret, and not to file a paternity suit, however, she went to court and sued him. The NBA star admitted that he had a relationship with her, which lasted for more than a decade, but denied the promise to pay her that amount of money, and filed a lawsuit against her for attempted extortion.
He also revealed that she had already extort $250,000 by threatening to make their affair public. Subsequently two DNA tests proved that MJ wasn't the father of the child, and a judge determined that he wasn't obligated to pay her $5 million, so Karla was left without money. The judge said, "Because the hush money provision infects the entire agreement, the court finds that the entire agreement between Jordan and Knafel is void and unenforceable as a matter of law".
In 1993, MJ reportedly hooked up with stripper and porn star Kylie Ireland. She claimed in an interview with podcast Holly Randall Unfiltered, that she had a one night stand with him. Allegedly he came to a night club in Denver where she was dancing, the night before a match between the Bulls and the Nuggets. He asked her to dance for him, after which they had dinner at a restaurant, and she said that he was "super nice".
We all know what followed after that! The next day the Bulls lost the game, partly because MJ was apparently exhausted. According to the New York Post, he repeatedly denied her claims. When his divorce from Juanita hit the headlines, Kylie expressed her surprise and said, "I always thought he and Juanita had an agreement of some kind . . . the way he travels constantly." It's obvious that no such agreement ever existed!
According to The Meadville Tribune, Michael Jordan and Lisa Miceli met each other at a charitable event in North Carolina in 1999, and they entered a sexual relationship. Five years later, she came up with a claim that he was the father of her son, and asked for child support. The NBA star seems to have been a real magnet for paternity tests – he decided to take another which proved that her claim was untrue. Thereafter, they agreed to sign a contract which states that if the second DNA test proved to be negative, she would leave him alone, but saying, "I'll be in jail before that happens."
However, the second test also proved that he wasn't the father of her child, and since she violated the contract and bombarded him with hundreds of threatening e-mails, messages and calls, Jordan eventually sought a permanent injunction against Lisa in 2008. Crawford County Judge Gordon Miller ordered her to stop contacting him, his representatives saying "It is obvious that she doesn't, or is unwilling to, grasp what this suit is about." Jordan's attorney told the magazine, "This is a terrible, sad situation. It's obvious she's a very troubled woman." It later turned out that his lawyer was right, as Lisa Miceli ended up in jail for stalking.
In 2007, Michael Jordan and Eddie Murphy's ex-wife Nicole Mitchell Murphy were spotted in Cabo San Lucas enjoying the Mexican sun. According to Extra, the pair was photographed, and Jordan's smile spoke louder than words. His representatives told the magazine that they don't comment on his personal life, however, their romance only lasted a short time, and she went on to date Michael Misick in the same year.
#MichaelJordan now has equity in one of the biggest #sportsgambling companies https://t.co/WKdO9eV0Df

— Grit Daily News (@GritDaily) September 3, 2020
Marriage with Yvette Prieto
After one of the most expensive divorces in history, many thought the legendary basketball player would not dare walk down the aisle again. Fortunately, everything turned in his favor when he met gorgeous Cuban-American model Yvette Prieto on the dancefloor at a Miami nightclub in 2008. He put a spell on her and they started dating. Prior to their relationship, she dated the older brother of Enrique Iglesias, Julio Iglesias Jr., and according to People magazine her ex-boyfriend once described her as "a fantastic girl" and "loving, simple and a very good person". The lovebirds managed to keep their relationship low profile, but after dating for more than a year, they moved in together in February 2009.
Over the Christmas weekend in 2011, MJ popped the question and they became engaged, confirmed through his representative, and celebrating on the French Rivera.
According to The Los Angeles Times, they were spotted at the Palm Beach County courthouse when they applied for a wedding license in March 2013, and eventually exchanged their wedding vows at a private wedding ceremony at Bethesda-by-the-Sea Episcopal Church in Palm Beach, Florida, on 27 April 2013. The wedding was described as an ultra-lavish and star-studded ceremony; the bride wore J'Aton Couture wedding gown, and the couple said 'I do' in front of 300 guests, including such celebrities as Robin Thicke; Usher performed during the celebrations. According to People, one of the guests revealed, "They've been planning for months and months. He wanted to give Yvette everything she's ever wanted." Isn't that romantic? The newlyweds immediately began working to expand the family, and in November his representative confirmed her pregnancy to US Weekly. Their happiness became twice as big when they welcomed identical twin daughters on 11 February 2014, who they named Victoria and Ysabel.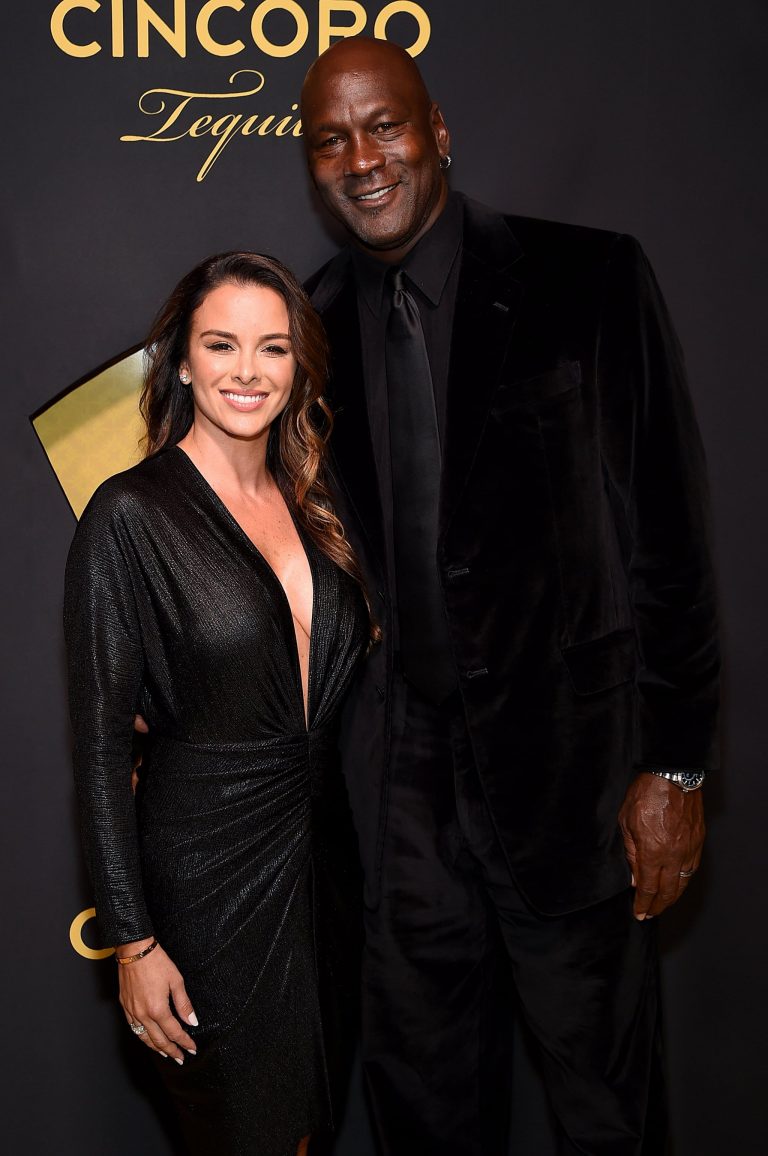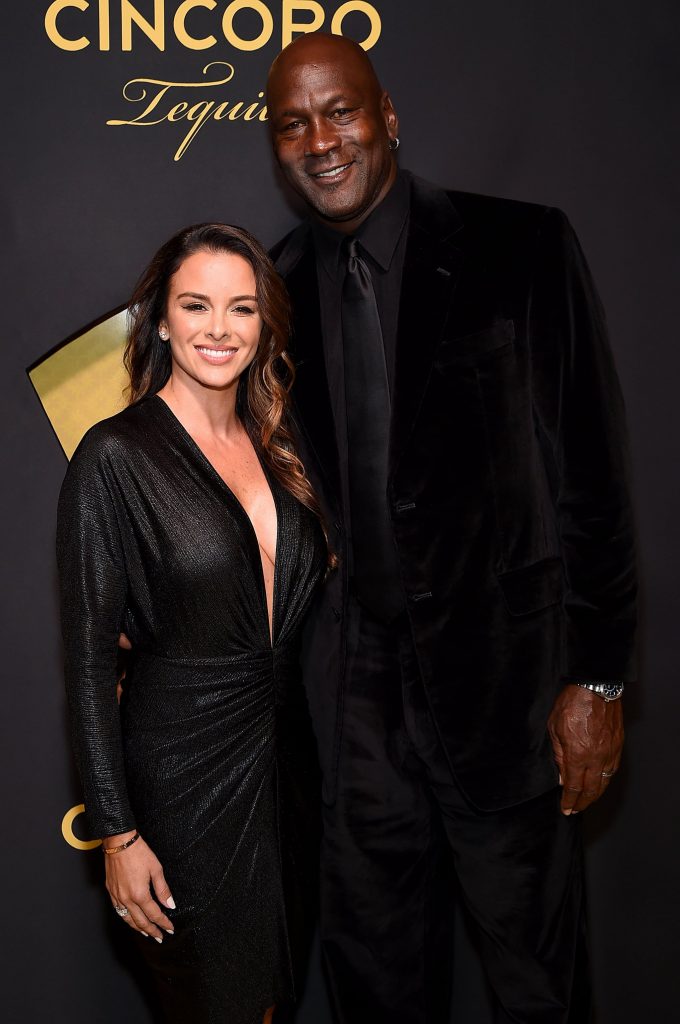 In order to provide them a normal childhood, the couple keep their daughters as far away from the public as possible, although MJ and Yvette can often be seen together at basketball games.
The NBA legend and his ex-wife Juanita Vanoy became grandparents in October 2019, as their daughter Jasmine gave birth to a baby boy named Rakeem Michael Christmas. 'Grandpa Mike' opened up about his first grandchild in a one-on-one interview for NBC's Today, saying "Actually it's fun because I can actually hold him and play with him and I'm having fun watching him." His daughter would later reveal that he didn't like being called 'Grandpa', and wanted his grandson to call him 'Mike'. According to Essence, she said, "It was something that he had to warm up to. At first he wanted my son to call him 'Mike' or 'Michael' and I'm like, 'Dad, we're not doing this. You have to accept the grandpa title. It is what it is." So, congratulations to grandpa, Michael Jordan!