Who has Nicki Minaj dated? Nicki Minaj's Dating History
• Nicki Minaj had an untimely pregnancy with her high school sweetheart, and chose to have an abortion which has haunted her.
• Nicki has been linked romantically with Safaree Samuels, Drake, Lil Wayne, Meek Mill, Future and Kenneth Petty.
• Many believe Nicki and Drake would make a great couple, but they have remained just friends.
• Nicki publicly confirmed her marriage to Kenneth Petty in October 2019 despite his criminal past.
• Nicki announced her pregnancy in July 2020.
As one of the most influential rap artists in the music world, it would be quite understandable that the queen of rap, Nicki Minaj's life, would include drama and some upsets. The megastar has not been a stranger to public feuds, raging outbursts, and romantic controversies, and her grievances started early in life, even before she rose to fame.
She may have become one of the greatest artists of our time, being the only female rap artist who has had seven singles top the 100 charts, and won numerous accolades, but her beginnings were exceptionally humble.
Born Onika Tanya Maraj-Petty in Port of Spain, Trinidad, on 8 December 1982, her childhood was scarred by an abusive, drug- and alcohol-addicted father, who burned down their home when Nicki was still young. This caused her and her siblings to live with their grandmother, and later moved to Queens, New York City.
Through these quite serious upsets, she moved on in life to attend the prestigious Fiorello H. LaGuardia High School of Music & Art and Performing Arts, with hopes of pursuing a career as an actress. However, she had an untimely pregnancy with her high school sweetheart, but due to circumstances had no choice but to abort the conception.
She has spoken publicly about her mother, saying that she was a good parent but the home had a lack of discipline, and that on reflection she should have had a stricter upbringing. Known as a bad-ass diva, Nicki had lived up to her reputation even before making it big.
While working nine to five jobs as a struggling actress, she was fired from more than 15 jobs for showing discourtesy to customers. Despite all the early life downs that Nicki had to experience, many of us would be glad that she got through and struggled to the top.
Today she is not only one of the best performing artists out there, but is also considered among the most beautiful. Her curvy body, the likes of which only beautiful ladies of African descent can boast, coupled with her signature vixen appearance, has certainly been the fascination of many men, including several high-profile celebs such as Drake.
Nicki has supposedly tried to keep her personal life and romantic conquests secret and private, going to great lengths to avoid public discussion, although after listening to this report, you can form your own opinion. To date, there have only been a few occasions where she herself has broken her silence, and to find the truth about her love life has required a lot of digging, often searching through the lyrics of songs, but the result is quite revealing.
One such discovery was made on her Pinkprint album, and it was how her teenage romance with her high school boyfriend, known only as Aaron, was discovered.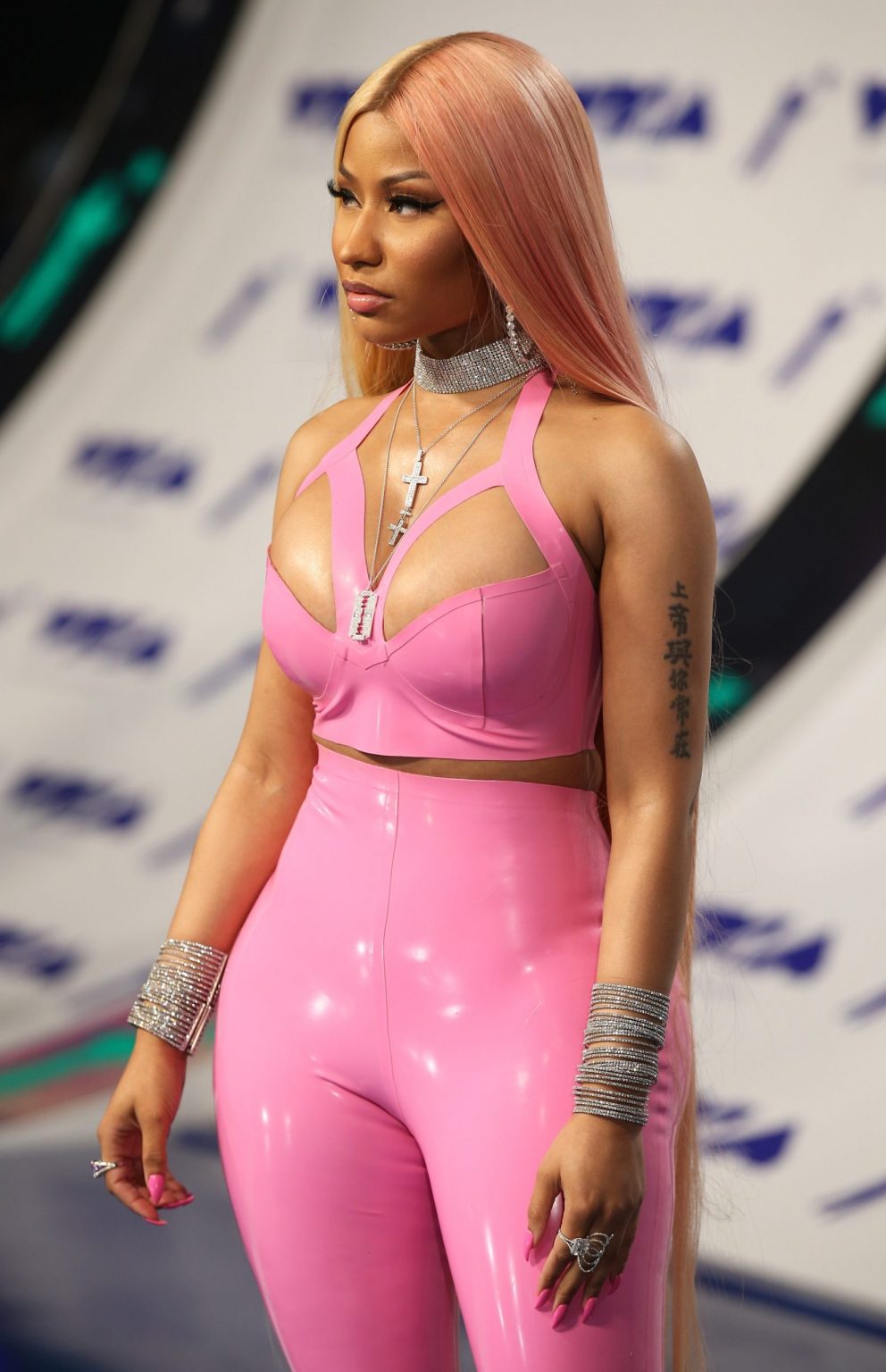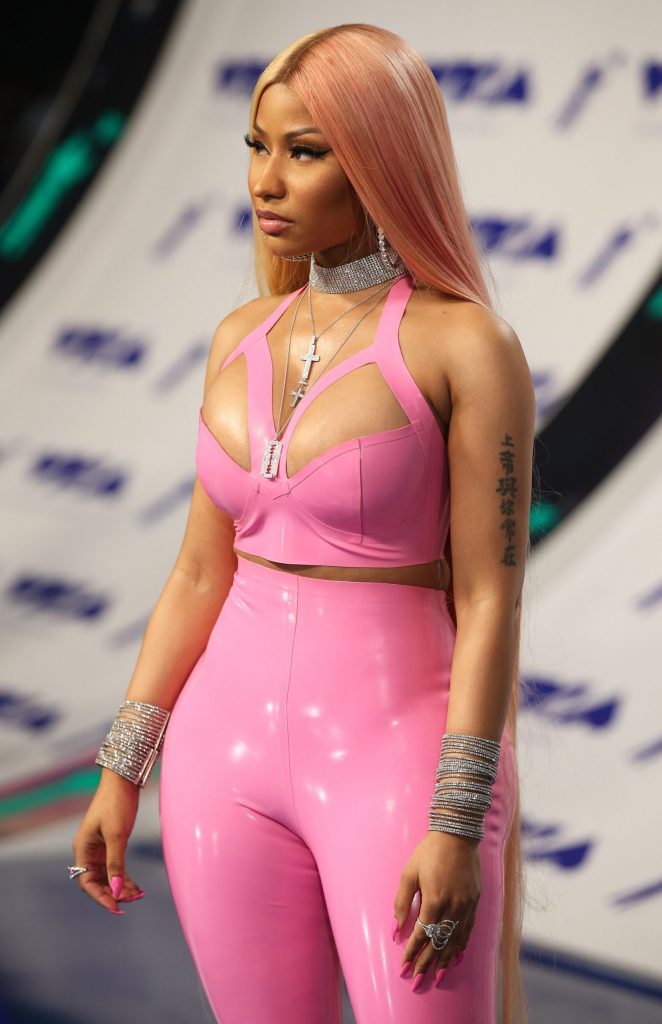 The affair took place long before she paraded the red carpet, and although a mistake that is not too uncommon among teenage women, it nonetheless had an emotional impact on the 'Pills and Potions' singer.
While attending the LaGuardia high school, Nicki had a relationship in 1997 that resulted in an unplanned pregnancy. With the release of her Pinkprint album, she promised fans insight into her personal life, and this emotional event has been among the topic of discussion.
She also revealed more about it in an interview with Rolling Stone Magazine. The man had been older, and upon finding that she had conceived, Nicki said that it felt like her life had ended. She was young and vulnerable, and considers the occasion as one of the most difficult experiences she had in her life.
Believing that she had nothing to offer the unborn child, with little money and no hope of being able to provide for the baby, Nicki chose to have an abortion, but confessed in the interview that it's a decision that has haunted her all her life.
While some may question Nicki's decision, one could also ask why the baby daddy didn't stick around or try to change her mind. As many now would agree, it's his loss as well.
In 2002, making her debut in the music industry as a member of the hip-hop group, Hoodstars, Nicki met the man with whom she would form a long-term relationship, ultimately lasting for ten years. This was, of course, no one else but her former love and fellow member, Safaree Samuels.
During the time they dated, Nicki kept the relationship out of tabloid discussions, as secretive as possible, but towards the end of their relationship the dirt and drama spilt over. The two met as fellow members of Hoodstars, and worked together for two years before their infatuations would blossom, and they officially began dating in 2004.
Although everything seemed fluffy and rosy in all the years that they were involved, it became apparent that it was an incredibly toxic relationship that was destined to end in disaster. The affair took a turn for the worse, and ended with a public back and forth slanting on Twitter. Accusations were thrown around, but Safaree claimed that he ended the relationship because Nicki stopped treating him like her man. Instead, he says he became an employee, and claims to have been treated like somebody she only keeps around to do things for her. On one occasion, the pair had a heated argument at a hotel in Dallas, during which Nicki said he hit her.
Following this event, the two pretended in front of the public that nothing had happened, and were seen out together. Nicki was seen wearing a big diamond ring, and rumours surfaced that suggested they may have become engaged. Sadly, this wasn't true, as the couple separated in 2014.
During the break-up, the couple's dirty laundry was exposed, some of which included Nicki accusing Safaree of stealing her credit cards and spending on prostitution. Safaree retaliated by accusing Minaj of nearly killing him with a knife, and having to lie to the police to protect her. He also made claims that he wrote her album, and at a later point attempted to file a lawsuit against Minaj for reimbursement. The accusations and insults continued for some time, but to most it was clearly a good thing that their toxic relationship ended.
In revealing lyrics, the Canadian singer Drake – who has never been quiet about his affections for Nicki – claimed that he would be more than willing to marry her. The lyrics sparked rumours that there was a possibility that they might have been seeing each other from 2009 to 2010. Nicki has remained reserved on her feelings for the Canadian artist, stating that they are just friends.
However, considering the treatment she gave him in her Anaconda music video, people have suggested that she may be more taken by the handsome gentleman than she would want to admit.
At the time, Nicki had still been in a relationship with Safaree, and for that reason may not have considered dating Drake. Despite this, many believe that they would have made a wonderful couple, and wished that the pair would get on with it. Unfortunately, it hasn't, and may never happen.
Rumours about an affair with Lil Wayne began circulating, when she kissed him in her video for High School. Despite often being seen cosy with each other, Nicki has denied that he would ever be a romantic interest, saying that she considers him more like a brother, and that they keep their relationship purely professional.
It's uncertain when or how Meek Mill and Nicki met, but the two have been linked together in flirtatious exchanges for a long time. In 2009, Meek tweeted about his fascination with the iconic diva, and began exchanging tweets and joking remarks with her about having a relationship. In one of his songs, the lyrics explicitly reveal his intentions, but despite the growing chemistry, Nicki denied allegations that they were seeing each other, claiming that they were just close friends.
Their friendship had certainly been deep and affectionate since Nicki even went to visit Mill while he had been in prison for drug trafficking, but remained subtle for some time, with only faint suggestive hints that sparked wild rumours until 2015, and her break-up from Safaree. The subtle hints, pictures posted on social media, and being seen together on occasions was a clear indication that it was more than just friendship.
Despite everyone's beliefs, Nicki still tried to deny these rumours, claiming that they don't look at each other that way. However, Meek announced to the world that he was dating Nicki, live on stage in one of his performances in March 2015, making it official. Later that year, Nicki shared pictures on social pages in which she was wearing a heart-shaped diamond ring, which made fans believe that the two may have become engaged.
This didn't sit well with Drake, who started an ongoing feud of lyrical slanting and tweeting targeted at Meek. However, after dating for nearly two years, on 5 January 2017 Nicki announced that she was single again, breaking the unfortunate news of her separation from Mill, strangely placing the blame on the childish feud between the two grown men.
Her supposed single status didn't last very long, as shortly afterwards she was linked with Future, apparently favouring dating fellow rappers, and with whom she went on tour, appearing to have a comfortable relationship with him. Neither denied nor confirmed the rumours, but it appeared that it may have been just another fling for the queen of rap, who had supposedly been celebrating her independence.
Nicki was then seen hanging out with American rapper Nas. This sparked rampant rumours, but in true Nicki Minaj fashion, the truth about what was going on was hidden far away from prying eyes. She was seen at Nas's 44th birthday celebration, and spotted getting cosy with him on several occasions, but never announced publicly that there was anything romantic going on.
While making an appearance on The Ellen Show, Minaj confessed that they were enjoying sleepovers and having some fun.
When they posted similar photos on social media of them cuddling and wearing matching chains, everyone assumed that the rumours were true, and that it might be something more than a casual flirt. However, in January 2018 they called it quits, after their relationship ran out of steam.
The one relationship that Nicki's fans wanted to happen was with rap legend, Eminem. Although the relationship never happened, and the two artists continued to troll their fans, it was a suggestion that the general public apparently supported. It may have only been because fans finally wanted to see Slim Shady settle down and find romantic happiness, which if we are honestly, is probably about time.
This all started when Minaj tweeted about how she met the Real Slim Shady, and a fan responded by asking her if she was dating the 'rap god'.
She replied with a 'yes', but later confided to the world that she was only joking. Eminem responded by asking the crowd at a Boston concert, who were all in favour of him dating Minaj.
The idea of the king and queen of rap getting cosy seemed to please everybody. Eminem agreed that he would want to as well, and sent a live message to the starlet, saying she should text him and they could talk about it. Nicki responded with a tweet in which she admitted that she adored Eminem's goofy behaviour and invited him to meet at the studio. In the end, they only recorded together, and their supposed, or hoped for relationship, went no further.
Nicki's latest romance with a former friend, Kenneth Petty, appears to be the sweetest she has ever publicly confirmed, and even after the public expressed their concern,
The Virgin Mary by David LaChapelle pic.twitter.com/gXMQCXsEU0

— Mrs. Petty (@NICKIMINAJ) July 20, 2020
Nicki disregarded their comments and married the man anyway. In 1995, Kenneth was convicted on sexual assault and manslaughter charges, but has recently pleaded innocent following his failure to register as a sex offender.
Minaj's fans were concerned about his criminal past, but the queen of rap turned down these comments by responding with a tweet, in which she mentions that they were a couple back in the day when she was 16, and that he was in love with her long before she had a big booty, or became famous.
They rekindled their previous romance and married in October 2019. The most recent update on their relationship is that it seems to be going fairly well, plus news  that Minaj is pregnant, which she announced in July 2020 with an Instagram photoshoot showing off her baby bump. After her teenage trauma, the world is sending her good wishes on becoming a mother, with hopes that she can make up for her past mistakes. HMM – are you holding your breath!?