Who has Nicole Scherzinger dated? Boyfriends, Dating History
Nicole Prescovia Elikolani Valiente rose to fame as the lead singer of The Pussycat Dolls, one of the most successful all-girl bands to leave their mark on the music industry. However, Nicole achieved success through hard work and diligent devotion, not having an all-too-easy rise to fame.
Born in Honolulu, Hawaii, USA, on 29 June 1978 to her father, Alfonso Valiente, and her mother, Rosemary Elikolani, Nicole descends from a mix of Filipino, Hawaiianese, and Ukrainian ancestry. Following her parents' separation when she was a baby, Nicole spent the first six years of her life on Ohau, Hawaii, before moving to Louisville, Kentucky, where her mother married her German-American stepfather, Gary Scherzinger.
Nicole accepted her stepfather's surname when he adopted her, and since then people have come to know her by the name Nicole Scherzinger.
While at school, Scherzinger excelled in theatre and music, initially at the Youth Performing Arts School. In 2007, Nicole received an honorary induction to DuPont Manual Alumni's Hall of Fame, among the youngest ever to be so honored.
She furthered her studies at Wright State University in Ohio, attending with an earned scholarship to study theatre arts with a minor in dancing. While still at university, Nicole landed leads in local stage musicals such as 'Chicago', 'Guys and Dolls', and 'Show Boat'. However, in 1999, the rock band Days of the New hired Nicole as a contributing vocalist, and in support of Travis Meek and the band, she dropped out of college to accompany them on tour.
Two years later, on the suggestion of her mother, Nicole abandoned Days of the New and auditioned for the show 'Popstars' with the hope of starting her solo career. She gained the chance to become a member of the short-lived girl band Eden's Crush. Although at first reluctant to join another group, Nicole accepted because it provided her with an opportunity to travel to Los Angeles.
Eden's Crush would have become a smashing success, achieving consecutive top ten billboard singles, but after their label went bankrupt, sadly the band discontinued. Despite this misfortune, Nicole continued to strive for a place in the music business, landing an opportunity to become the fourth member of Black Eyed Peas. Outdone by Fergie, Nicole nevertheless gained recognition from will.i.am, who recommended her to Robin Antin, the creator behind the well-received success of The Pussycat Dolls.
As one of the world's most successful artists, and as expected, Nicole's dating history includes high profile names, as well as some of the world's most attractive bachelors. Her dating history has certainly been comprehensive, but the 42-year-old starlet is yet to settle down.
Nobody would have ever known, or found out about the quiet and secretive relationship Nick Cannon and Nicole had, back in the day, if Cannon hadn't shot his mouth off during a radio interview in 2014.
Since he slipped to Big Boy, the radio host, that he had had an encounter with Nicole, gossip writers went all out to try and dig up dirt about their relationship. However, Nicole has remained quiet about her past fling, so details are scarce and hard to find, leaving their relationship to nothing more than wild speculation.
Of course, Nick's most famous relationship remains his five-year marriage to singer Mariah Carrey, who is the mother of his two children. Most believe his fling with Nicole happened long before he was married. The earliest date gossipers can place on their encounter possibly happening is anytime between 1999 and 2004, but it might be nothing more than speculation. At the time, Nicole was in a long-term relationship with Nick Hexum, reducing the probability that it happened as early as 2000.
However, in 2003, Nick starred in the film 'Love Don't Cost a Thing', in which Nicole had a small cameo role, attempting to make a breakthrough as an actress.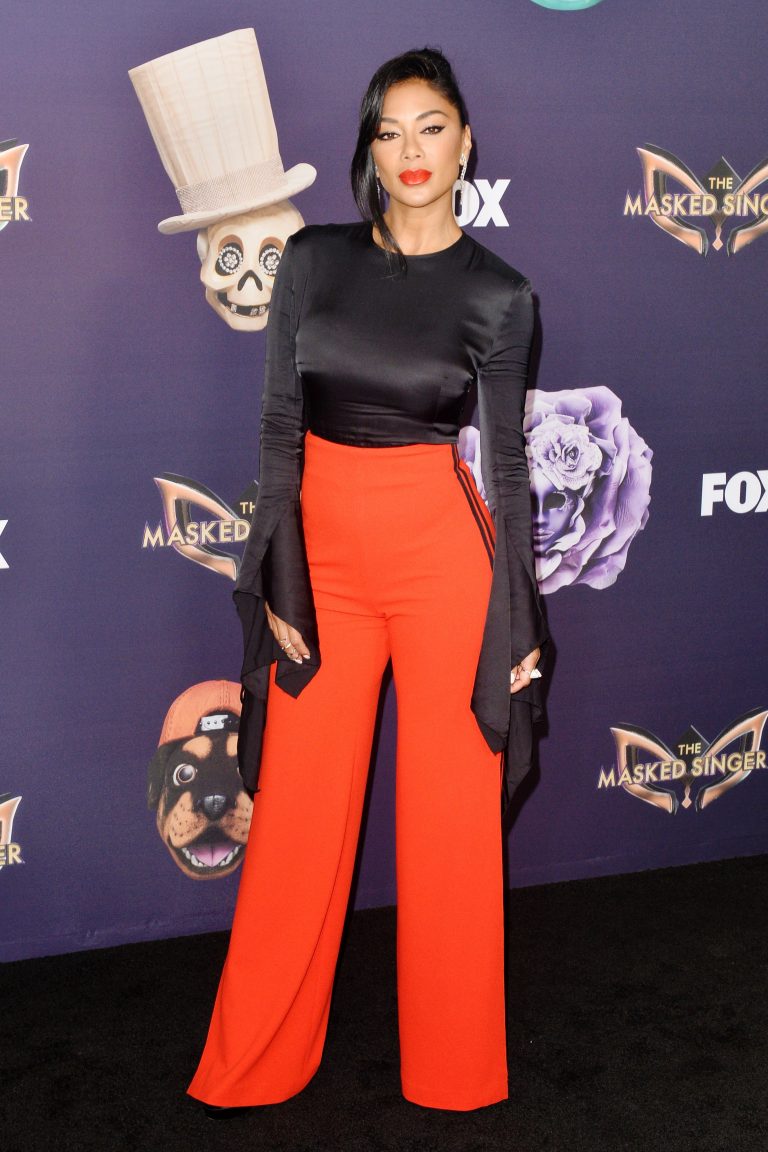 In all likelihood, this would be the most probable time the two could have had an encounter. Other speculators consider that they may have dated for about a year, suggesting it took place between 1999 and 2000, but these seem a little far-fetched. In 2019, they reunited with the production of the show 'The Masked Singer' – Nick presents, while Nicole serves on the panel of judges.
Their chemistry portrays little friction, suggesting that their relationship was more of a casual nature, or that things between them ended on good terms. Whatever may be the case, only they would know the truth, but it did supply gossip writers with a juicy story for a while.
Nicole's first serious relationship was with Nick Hexum, the frontman of the popular rock band 311. The pair met in the year 2000, backstage at a concert where 311 performed, and they started a relationship that would last four years.
At the time, Nicole was still a budding musician, so the relationship never gained too much media attention. As such, most of the details about their romance are a well-kept secret, but speculators consider that at some point, the two planned to get hitched. Neither Nicole nor Hexum ever confirmed the engagement rumours, and anyway in 2004 they ended their relationship without giving any reason.
Perhaps though, the cause for their separation may have been Hexum's interference with Nicole's career. According to will.i.am, Nicole's rise to fame could have taken a different route than it originally did. In an interview with Metro.co.uk,
Will revealed that the only reason Fergie made the cut to join The Black-Eyed Peas instead of Nicole, was because her boyfriend at the time refused to allow her to join the collaboration group in 2001.
I just found out that Nick Hexum & Nicole Scherzinger were together from 2000-2004. Also, "Amber" was written about her. Mind. Blown. 😱

Posted by Tawny Lara on Saturday, April 29, 2017
Despite the hex that Nick put on Nicole's early career, they continued to date for three more, which suggests that Nicole really loved him. Luckily for both Nicole and all her fans, she found her rise to fame, despite all the people and circumstances that might have tried to keep her down.
Before Nicole's most famous relationship, she dated the 'Laguna Beach' star, Talan Torriero, who was actually nine years her junior. Torriero has a history of dating high-profile women, including Lindsey Lohan, Hilary Duff, and Rod Stewart's daughter Kimberly. However, of all the relationships the actor can boast about, the most influential seems to be his romance with Scherzinger. Few details are on record about how they met, but the couple dated from 2005 to 2007, during which time Talan inked Nicole's name on his body.
After the couple separated, several theories as to why their relationship ended were aired, with some claiming that their age difference may have been the biggest factor.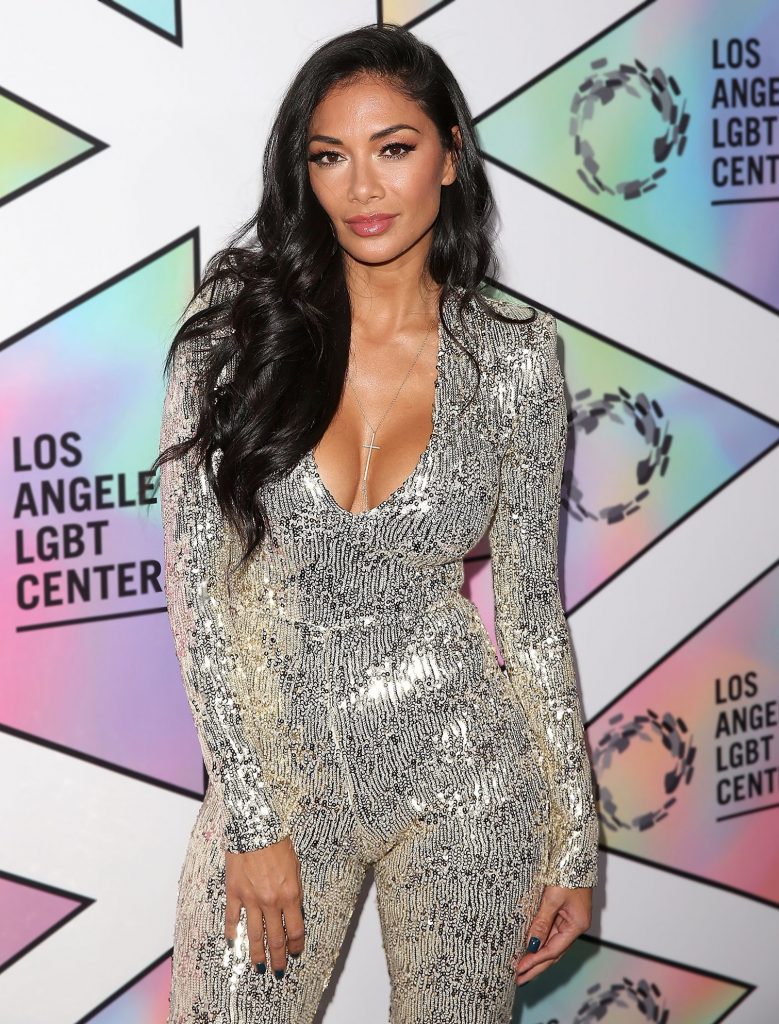 However, Nicole stated that she had no time for an intimate commitment, and that she ended the relationship to focus on her music career. At the time, her music progressed into a more adult direction, and while Talan struggled with the break-up, those close to Nicole were happy that she ended things with a younger man, hoping that her life would accurately reflect her music.
In October, following Nicole's break-up with Torriero, paparazzi spotted Nicole out one night with Dane Cook. It sparked rumours that the two were hooking up, but unfortunately the romance between them did not last too long. Despite the hopes of those who wished that both Dane and Nicole would get involved with partners of a perceived appropriate age, their fling never reached anything serious.
Shortly afterwards, Nicole started dating the British Formula 1 racing champion, Lewis Hamilton, and their rocky relationship would go through seven years of on-off complications.
During one period in 2008, when things seemed uncertain between Hamilton and Scherzinger, Nicole spent some time with her good friend will.i.am. According to gossip reports, on the night of 21 July, while attending the Opera Nightclub in Hollywood, the two flirted wildly with each other. At some point they even made out, but both artists denied that anything romantic could exist between them. Will calls Nicole family, and she refers to him as a brother to her.
Nicole met her long term boyfriend, Lewis Hamilton in 2007, at MTV's EMAs. Nicole's good friend with whom she collaborated on a few singles, will.i.am, claimed that he was the one who introduced them to each other. For the next number of years, until 2015 when they split for the fourth and final time, the two would engage in one of the most talked-about romances among their high-profile circles. While many might think that the long distance between them played a major role in their break-up, according to Nicole it didn't seem to be the problem.
Lazy days 😴 pic.twitter.com/z0b5qxhLUE

— Lewis Hamilton (@LewisHamilton) November 17, 2020
With Hamilton living in the UK and Nicole travelling to various countries for her music, and as a judge on numerous talent shows, the distance would prove difficult for most, but somehow they maintained their relationship for the better part of eight years.
Sadly, the pair ended their relationship, despite the hopes of their fans who wanted to see them tie the knot. According to Nicole, who let this detail slip in an interview, the reason they separated was because of Hamilton's gamophobia. Nicole stated that despite her desire to get married, Lewis was too afraid to make the long-term commitment, and it resulted in the end of their relationship.
She added that she loves him, and that she knows that he loves her. She wishes him the very best and all the happiness in the world, and said that they hold no hard feelings towards each other, but at the time of their break-up, she focused on staying strong and dealing with the heartache in her own time. Later, appearing on "The Jonathan Ross Show", Nicole said that it is natural for people to separate, and that they have to be adults about it.
Despite their separation, the couple shares many memorable moments. Hamilton supported Nicole during her rise to fame, while Scherzinger became a regular supporter at racing circuits. Nicole was there in Brazil by his side when Hamilton received his crowning as Champion in 2008.
They split for the first time in January 2010, blaming hectic work schedules, but it didn't take long for them to rekindle the passion, after which Nicole's dad shared a Tweet in which he suggested that the two were engaged. Nicole quickly denied the claim, and by October that year they again announced their split.
During this time, rumours suggested that Nicole moved on by celebrating her single status by hooking-up with several men, including Drake and Chris Brown. Nicole denied these rumours, saying that she will always be classy and has good morals. In 2012, they got back together, and their relationship seemed better than ever, but in July they split for the third time.
This came even after Lewis told The Sun that in the near future he possibly intends to pop the question, hopefully before they reach the six-year mark of their relationship.
Sadly, Hamilton never reached this point with Nicole, as their relationship eventually saw its end in February 2015. In a 2017 interview with The Sun, Hamilton admitted that the reason they broke -up was that he prioritised his cars and career over the women in his life.
According to rumour, in 2014 Nicole became involved with the record producer, Jay-Z. Their affair would receive heavy publicity and speculation, not least because of Jay-Z's marriage to Beyonce. It was not the first scandal that Jay-Z was involved in, as several rumours surfaced includes suggestions of affairs with Rita Ora and the small-time rapper LIV. These rumours, originally spread by an anonymous insider, can't be confirmed, since neither Nicole, Jay-Z, nor Beyonce ever commented publicly about them.
This supposed incident happened while Nicole had temporarily separated from Hamilton, yet the only evidence that exists seems like wild speculation.
Following her separation from Lewis Hamilton, Nicole apparently became involved with a couple of men, but none of these relationships ever seemed as serious as her involvement with the Formula-1 racer. In June of 2015, Nicole dated Swiss footballer, Pajtim Kasami, but that only lasted two months. In August, Nicole spent some time relaxing with singer Ed Sheeran, but later confessed that the two are just friends. Ed had shown her around his hometown, sights like the Castle on The Hill that featured in his song of the same name.
The following year, while serving as a judge on 'The X-Factor', Nicole surprised fans by displaying unprofessional fascination and affection with the 2016 winner, Matt Terry. As per usual, their behaviour sparked relationship rumours, but the gossip soon died down for lack of any proof.
We're back in a few hours! #TheMaskedSinger https://t.co/RDGL91w53F

— Nicole Scherzinger (@NicoleScherzy) November 18, 2020
More rumours surfaced after she hung-out with DJ Calvin Harris, but Nicole denied any involvement, because at the time she had started seeing the only other long term boyfriend on her list of romantic interests.
In 2016 Nicole began dating the Bulgarian tennis player, Grigor Dimitrov, but due to clashing schedules and the long-distance nature of their relationship, the couple finally split in 2019.
Current reports on Nicole's relationship status confirm that she is single. Regardless, Scherzinger is making headlines for appearing too friendly with several of the contestants on the shows she presides over as a judge. While it seems innocent, fans seem to believe and support the fact that it is unprofessional to flirt with the contestants.
So for now in late 2020, Nicole seems to enjoy her status as a bachelorette, although fans believe somewhat reluctantly.