Who has Noah Beck dated? Girlfriends List, Dating History
• Noah Beck is a 19-year-old social media star with 14 million followers on TikTok
• His recent controversies include a large 21st birthday party, and evidence of homophobic and racist Tweets
• Rumors of a relationship with fellow TikTok star Charli D'Amelio have been circulating
• Dixie D'Amelio, Charli's sister, has been spending more time with Noah
• Noah has confirmed that he is currently single and focusing on himself
With nearly 14 million followers on the social; media site TikTok, Noah Beck became one of the most-watched stars trending on the social media platform. Undoubtedly, Noah's impressive physique adds to his fame, but in recent times, fans have become disappointed in the 19-year-old socialite.
Born on 4 May 2001 in Arizona, Noah expressed an interest in fitness and sport from a young age. Although there may be little information about Noah in circulation, fans are aware that he has two older sisters, Tatum and Haley, that he attended the University of Portland, and played football during his early and later educational years.
Apart from the personal infringements that upset fans, as a fellow member of the Sway House, Beck, received plenty of criticism from their neighbours for loud and party-boy mischief.
He also gained negative attention for ignoring the social distancing guidelines after organising a large and lavish 21st birthday party for fellow house member, Griffin Johnson.
As punishment for their rule-breaking, Sway House forfeited their utilities for a short time, as authorities cut off their electricity. This may have given their neighbours a little peace after they filed complaints of disturbances that included loud music, excessive drinking and driving around the neighbourhood in an old and loud beaten-up sedan.
Fellow residents of the quiet Bel Air neighbourhood in Los Angeles expressed their concern, wondering mostly how these unemployed young men could even afford the rent. However, the richest TikToker, Charli D'Amelio, reputedly makes up to $48,000 a post, and most likely that is how Sway House members can afford to live in an upbeat suburb.
With the latest controversies that Noah stands accused of, nobody can be certain how long his TikTok fame is going to last. Due to several mistakes made by the social influencer, a raging trend, 'Noahbeckisoverparty', took Twitter by storm.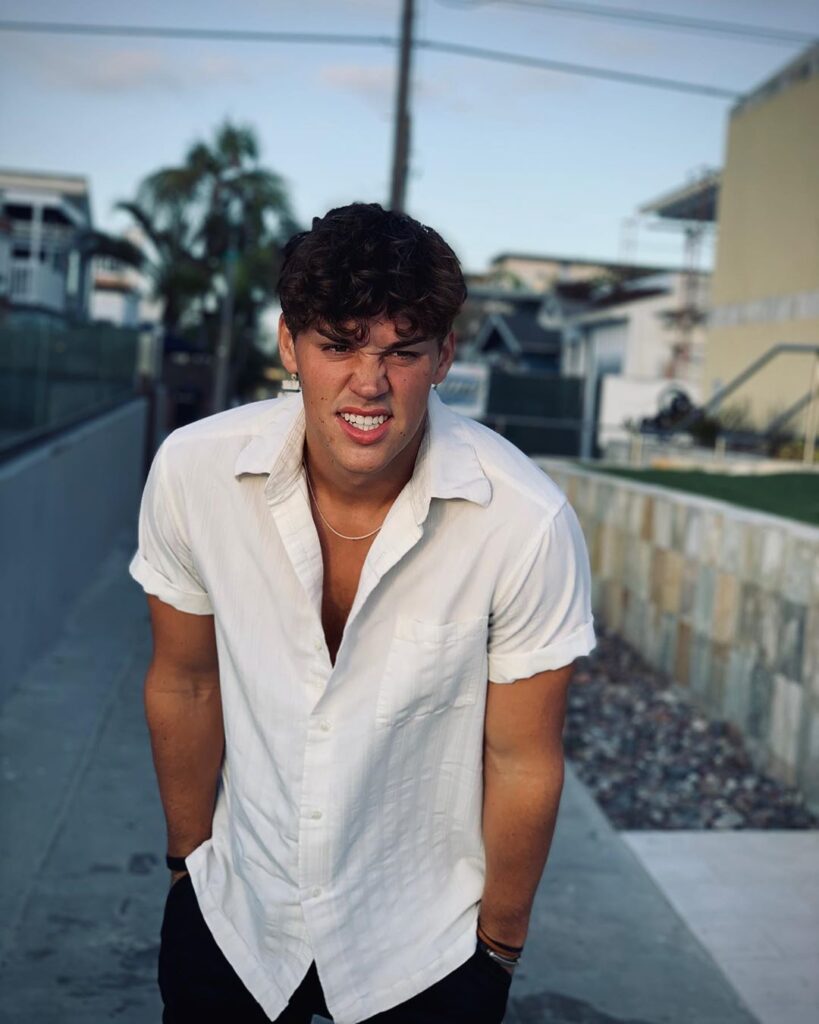 Following a recent upload by Sway House in which they performed to Eyo Aisha's song 'Eisha No', the LGBTQ community took offence to the video, claiming that it seemed as if they intentionally wanted to make fun of gay men.
Although no one commented on the raged remarks about the video, some fans took it upon themselves to dig deeper, and uncovered damning evidence on Noah's past Twitter activity. This evidence strongly suggests that Noah shows little love or respect for the LGBTQ community, and included likes on Tweets that spoke out against same-sex relationships, and with outright disrespectful commentary.
One of the Tweets stated that the LGBTQ community is rudely annoying, and another said that they were out of control. Sadly, it was not the only controversial evidence uncovered. Other Tweets liked by Noah were concerned with the presence of migrants in the US. Some of the comments were downright hateful and inappropriate, considering the vast majority of citizens are at least descended from migrants.
Considering that Noah's audiences are easily influenced members of the younger generation, fans were upset with him and expressed their frustration about his political and social views, following the trending hashtag on Twitter.
One person commented how ridiculous the idea of Beck having a career that could end is.
hii im hoping to make more friends who like noah beck🥺🥺please interact if you're a fan🥺😖 #noahbeck #SwayHouse pic.twitter.com/D8qXktjJ07

— noah loves you🙉⭐️💫💞 (@noahbeckluver) October 12, 2020
Unfortunately, it does not end there. In light of the growing BLM movements in the US, the last offence for the influencer might be an extremely damning one. A video in which Noah sang along to the lyrics of a rap song and mumbled a racial slur went viral, but instead of gaining favour, it caused massive outrage.
Some fans tried to defend him, but the evidence is pretty damning. As of yet, Noah hasn't commented concerning the video, nor has he spoken about the growing Twitter trend.
As easy as it might be to learn more about Beck's controversial history, finding his past relationships and romantic interests is a lot more difficult.
It appears that the TikTok socialite may not be dating anyone, despite a couple of rumours going around. The controversy in his life seems mostly focused on his social and political perspectives, and certainly not about his love life.
In July 2020, following a video uploaded to YouTube by Bryce Hall, who gushed about an upcoming collaboration between Beck and James Charles, rumours went rampant that suggested they are dating.
In the video, Bryce said that he thinks that James and Noah are dating. Shortly following the start of these rumours, James and Noah uploaded a video in which they sang and danced together, making fans even more suspicious that these rumours might be true.
However, Noah filmed a follow-up video in which he reacted to the rumours, and cleared the air of all misconceptions. Noah stated that he was simply dancing with a friend, and despite caring for James, Beck confirmed that his sexual preferences are towards women.
Considering the recent controversies Beck has been involved in, undoubtedly he wouldn't be dating James Charles. However, if Beck considers James to be such a close friend, why would he support homophobic views?
Of course, a person can change their opinions, including about people, at any moment, and likely Beck has done that, but it makes one wonder nonetheless.
Other rumours floating about on the Internet, suggests that some romantic development between Beck and a fellow TikTok star, Charli D'Amelio, might be brewing in secret. The rumours started after Noah liked her social media posts, but in an interview, Beck corrected the mistaken assumptions by stating that he likes all his friends' posts, not only Charli's.
Regardless of this statement, recent video posts about Dixie D'Amelio's music video makes it seem lthat something more than the friendship they claim to share goes on between them. Dixie, Charli's sister, has long been known to get into each other's hair, sometimes about little things, but it seems that they may have been competing for the same guy.
Dixie, however, was in a previous relationship with Griffin Johnson, but since she split from him, has started spending more time with Noah. In behind the scenes footage of her latest music video, it looks as if Dixie and Noah are about to kiss. Regardless, these rumours still need to be confirmed, and Noah stated in an interview that he focuses more on himself at the moment, and simply enjoys being single.
Nonetheless, fans are staying tuned to see how things may develop between these two. Is it worth holding your breath, in anticipation of….. more controversy?