Who has Odell Beckham Jr dated? Girlfriends List, Dating History
Odell Beckham Jr. is an American professional football player in the National Football League (NFL) with the position of a Wide Receiver. He played five seasons with the New York Giants after being drafted during the first round of the 2014 NFL Draft, before he was traded to the Cleveland Browns in 2019. His illustrious college football career ended with him getting the Paul Hornung Award, and when he went professional, it didn't come as a huge surprise that he also took home the NFL Offensive Rookie of the Year Award.
This Baton Rouge, Louisiana native had received recognition in several types of sports when he was in high school. He excelled not only in football but also in basketball, soccer, and track & field; he was what people in the athletic department called a letterman in these sports. There was even a time when he wanted to be like his childhood soccer hero, David Beckham. One of the soccer club coaches encouraged him to try for the junior national team, but he rejected the idea only because it would warrant some time training overseas, which he didn't want to do.
Odell Beckham Jr., the NFL wide receiver, is the latest celebrity to join the SPAC frenzy https://t.co/IHb9SkLsOH

— The Wall Street Journal (@WSJ) March 25, 2021
He also ventured into track and field as his mother had, and excelled in competitions such as winning silver in the long jump event during a school district invitational. However, he prioritized football among the other sports, because his stats were quite remarkable. During his freshman year at Louisiana State University he didn't disappoint, as he was included in the All-SEC selection.
Odell being named to the Pro Bowl for three consecutive years from 2014 to 2016, and 2x All-Pro for 2015 to 2016 certainly landed him on the sports page of every newspaper or online news site. However, his amazing skills were often eclipsed by immature antics during the game, and his personal activities and puzzling behavior off the football field, such as partying, gay rumors, and a colorful dating history.
Misconceptions about His Sexuality
Athletes rumored to be gays have been such goldmine topics since time immemorial, but more so today when everything could be talked about on social media apps such as Twitter, Instagram, and Facebook.
https://www.instagram.com/p/CPrI-ddBo1L/
Odell's photo with teammates sharing a hot tub went viral, and singling him out as "excited" resulted in some people calling them closeted gays. This was what started the gay rumor about him, and his reluctant attitude in sharing his love affairs with the public added fue tot the fire. Speculations about his sexual orientation had been blown out of proportion, since more people pointed out that Odell was always surrounded by men, and never by women. The fact that he enjoyed dancing also made some people absurdly associate him with homosexuality. Some would even say, 'look at this car, it's too orange,' and 'he's such an emotional player,' which some malicious minds translated to being a low-key gay person. When such comments piled up on his Instagram account, he shut everyone up by telling them that he's straight. He also said in a 2019 GQ interview that while he's not offended by the rumors, as he had gay friends, 'I'm usually always going to go to the opposite way of what you want me to go. I would almost mess with them even more.'
Dating History and Rumors
Odell tried his best to protect his privacy, as he didn't want to talk about his relationships and didn't want the media to get too nosy about whom he dates. Unfortunately, whether he liked it or not, fame has a price, and everything he did would end up online with matching revealing photos, and true enough, some of his dating escapades even topped the trending topics on social media.
Amber Rose – Just Close Friends (2015)
Odell and Amber Rose were often seen together, and the media couldn't help but assume that they were dating back in 2015, when he was still playing for the New York Giants. At that time, TMZ reported that according to their sources, the two were in the getting-to-know stage, and he had already pursued Amber for months. They learned that they frequented TAO restaurant for dinner in August 2015.
The American model turned actress-singer first gained national attention when she was featured in the 2008 music video called "Put On", by hip-hop artists Kanye West and Young Jeezy.
She dated Kanye afterwards, and later married another rapper, Wiz Khalifa in 2014, but divorced after a year. However, Amber denied the rumors, and said that Odell was just a close friend even when they were seen cozy with each other in various events.
Before Odell was rumored to be dating Amber, she was also reported to be dating NBA player James Harden in early 2015, but it didn't work out. The media would later call her the ultimate jersey chaser, as she would be involved with other NBA players, including Terence Ross of the Orlando Magic, and Monte Morris of the Denver Nuggets.
Zendaya "No Bitter Break Up, He's My Homie" (2016)
Odell was in the headlines once again with another beautiful woman on his arm, walking the red carpet at the Grammys in February 2016 with actress-singer Zendaya. Most fans welcomed the idea, as Zendaya was seen as a nice girl who could somehow help Odell be a little grounded and focused, thus avoiding engaging in questionable stunts. She started as a child actor, and later became known for her Disney Channel series character, Rocky Blue, in "Shake It Up" in 2010.
She ventured into singing, and released her debut single, "Replay," which peaked at No.40 on Billboard's Hot 100, from her self-titled album, which entered the Billboard 200 chart at No.51. In 2019, she took home the Outstanding Lead Actress in a Drama Series for her role as a teen addict in the HBO series "Euphoria."
People assumed that they were a couple, but the 2019 movie version of Spider-Man's Mary Jane was quick to explain that they weren't exactly on a date. She said that they had been together at some events and became friends. People weren't buying her explanation that they were together with a huge group, since only the two of them walked on the red carpet. Later on, she elaborated that Odell was "auditioning", and because he's in the NFL, he could easily get past her dad. To sum it up, they were still in the get-to-know-you stage at that time; during an ambush interview with TMZ Sports in June 2016, Zendaya said that Odell was her homie.
However, they were seen again in November 2016 hanging out at a New York Knicks basketball game.
People thought it was an indication that they were dating, and fans approved of it as they both seemed to be having fun doing couple-y stuff while watching the NBA game. As per entertainment sites, the official word at that time was that they were still just friends, but the 20-year-old Zendaya no longer had her usual chaperones with her, either her mom or her dad.
Both were quite private and no one knew if they really dated and for how long. They were seen together in public once more in 2019, but it was all a chance meeting at Paris airport. If they really dated in the past, it would seem that it ended well, since Zendaya tried to sneak on to an unsuspecting Odell who was quite busy with his 'phone, and hugged him. They were both happy to see each other in France, but they were there for different reasons and with different people.
Khloe Kardashian "Innocent Flirting" (2016)
In 2016, photos of Odell and Khloe Kardashian together at a private party reached TMZ, and everyone believed that there's a new couple in town.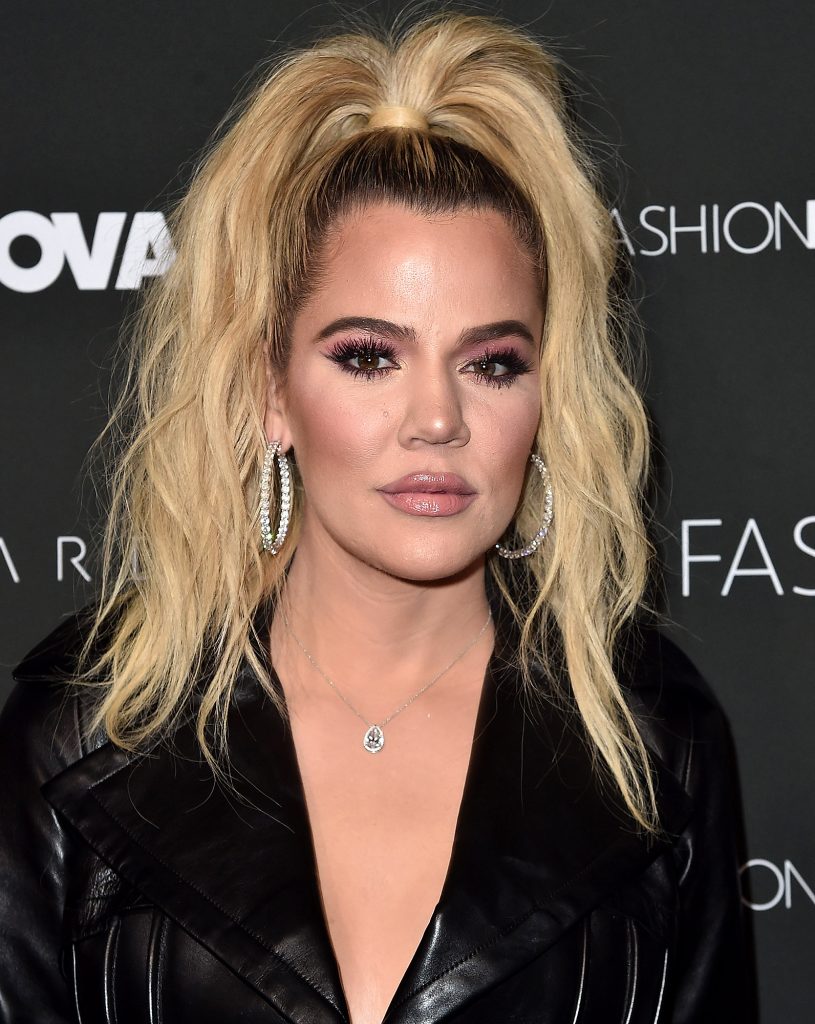 Khloe, a socialite, reality-TV star, and model, whose stardom skyrocketed in 2007 due to the reality-TV series with her controversial family called "Keeping Up with the Kardashians," wasn't fazed with the dating rumors. She was newly divorced from the former NBA player Lamar Odom, and most of her fans were hoping she'd start dating again after having experienced a terrible marriage. Some welcomed the news, and salivated at the photos in which Khloe was getting too cozy with Odell.
It didn't take long before both of them denied the dating rumors with Khloe bursting everyone's bubble by posting this on her Instagram, 'When a couple drinks, a little flirting and an invasion of privacy collide, things may look crazy. However, this ain't that and that ain't this.' Apparently, the party was thrown by rapper superstar Drake, and the photos were taken in his kitchen. While it was just innocent flirting for Khloe, it almost messed-up Odell's relationship with another girl. He said he needed to make some explanation as the photos caused major drama. Netizens couldn't blame the girl Odell's dating at that time, since everyone could see Khloe's curvy ass was getting up close and personal with Odell even if he claimed it was the first time he'd met her.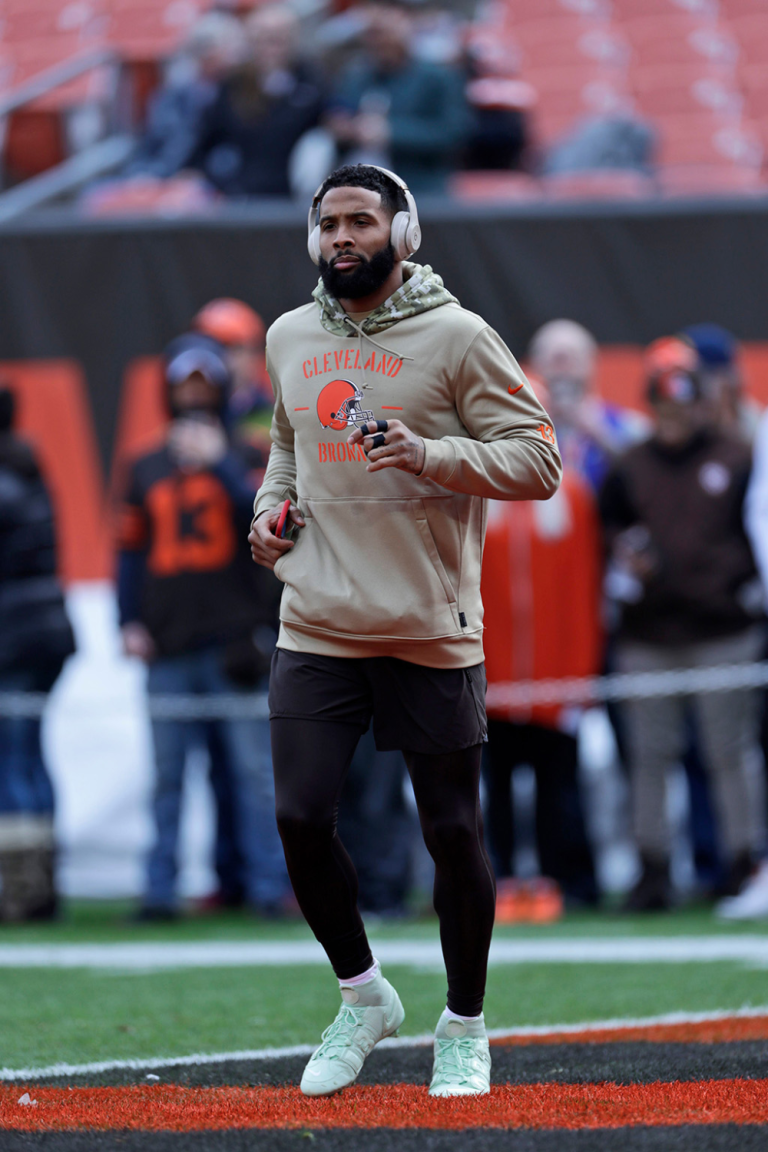 When people analyzed the body language in the photos, Odell's hands were no way near Khloe's curvy behind, and it was mostly her leaning towards him.
It was quite funny that when rumors of their dating came about, it was also said that Odell's teammates and family were blowing up his phone, warning him not to get into a relationship with Khloe. They all believed that he would get the short end of the stick, as dating a Kardashian would be as toxic as hell and would just mess up with his psyche, as had happened to other ballplayers who hooked up with the Kardashian sisters.
Bella Hadid, "Flirting Online" (2016 and 2018)
Gossip sites were busy trying to peddle the Odell-Bella connection, when they were supposedly spotted hanging out together at the UFC 205 in 2016. Isabella Khair "Bella" Hadid, the newly minted Model of the Year at that time, just came from a high-profile relationship with Canadian singer-songwriter Abel Makkonen Tesfaye, popularly known as The Weeknd. It was an on-and-off relationship, so fans were now confused as to the legitimacy of Odell's relationship with Bella.
However, nothing really came of it, as there was no proof of them being together, and everyone was just speculating the 'what if's.' Fast forward to 2018, the gossip mills went ablaze with Odell's post 'Valentines alone…the best way' with a winking emoji and Bella's Instagram post, 'Happy VDay to myself too I guess.' Fans instantly latched on to the idea that they might have been flirting through social media, but again nothing interesting happened afterwards. It seemed that Bella – just like her sister Gigi – was a social media darling, and anything she did became a trending topic.
Polyxeni Ferfell, "The Greek Girlfriend" (2017)
'Odell got a new hot girlfriend,' was mostly the headline on several online news sites, as photos of him frolicking at a Cancun beach during a hot summer in 2017 went viral. The curvaceous girl with him was the Greek Instagram model, Polyxeni Ferfell. They were first seen having a date at the Six Flags Magic Mountain. Tongues were wagging when photos of them holding hands while riding rollercoasters in the amusement park came out.
Everyone was curious about his latest girlfriend, and most people only knew her because she was previously linked to the British pop superstar, Harry Styles. Before she became a social media influencer, she used her Management and Finance college degree from Regent's Business School by working in the Romanian company called Elgeka-Ferfelis SA. However, when she had built a decent number of followers online, she said goodbye to the corporate world.
Odell liked to keep his relationships low-key, but being one of the best wide receivers in the NFL made it difficult for him to do that. Each time they stepped out in public together, it was documented. After a while, it seemed that the relationship went down the drain, and no one knew the reason why.
Laura Cuenca "Cocaine Sniffing French Model" in Paris Fashion Week (2018)
One couldn't fathom what Odell was thinking when he dated this Instagram model during the Paris Fashion Week. The girl leaked his infamous video in March 2018 that angered many people, including the New York Giants management, to the point that some football fans from the older generation were demanding that the Giants organization should consider trading him.
IG Model Laura Cuenca Speaks on Her Night of Pizza & Cocaine With Odell Beckham Jr (Pics-Vids) https://t.co/hkPQlBrBIP pic.twitter.com/gpODxVNMXW

— Robert Littal BSO (@BSO) March 11, 2018
The video showed Odell lying on the bed holding what appeared to be a weed or a blunt, and talking about sex with the girl in the room. It shouldn't have been such a huge deal, but the girl was holding a credit card chopping down white powder that everyone believed to be cocaine.
Laura Cuenca, an aspiring Instagram French model, met Odell at a Paris nightclub, and recorded a Snapchat video when they went back to his hotel room. She claimed that she didn't have any idea that he was a famous NFL player back in the US, only realizing it when Odell later demanded that she remove the online video. Laura also said that Odell never did drugs that night, but she never mentioned anything about the white powder and the credit card in her hand.
Odell posted some cryptic message on Twitter, 'Old news still makes a good story I guess,' with the hashtag, 'CatchUpWereIn18'. He somehow alluded that the video that went viral might have been old, however, fans were quick to compare the timeline of the tattoos on both of his arms, indicating that the video was made recently. It was also confirmed by Laura that the video was quite recent, and she even inserted a timestamp to prove it. She confirmed that the Giants organization already contacted her.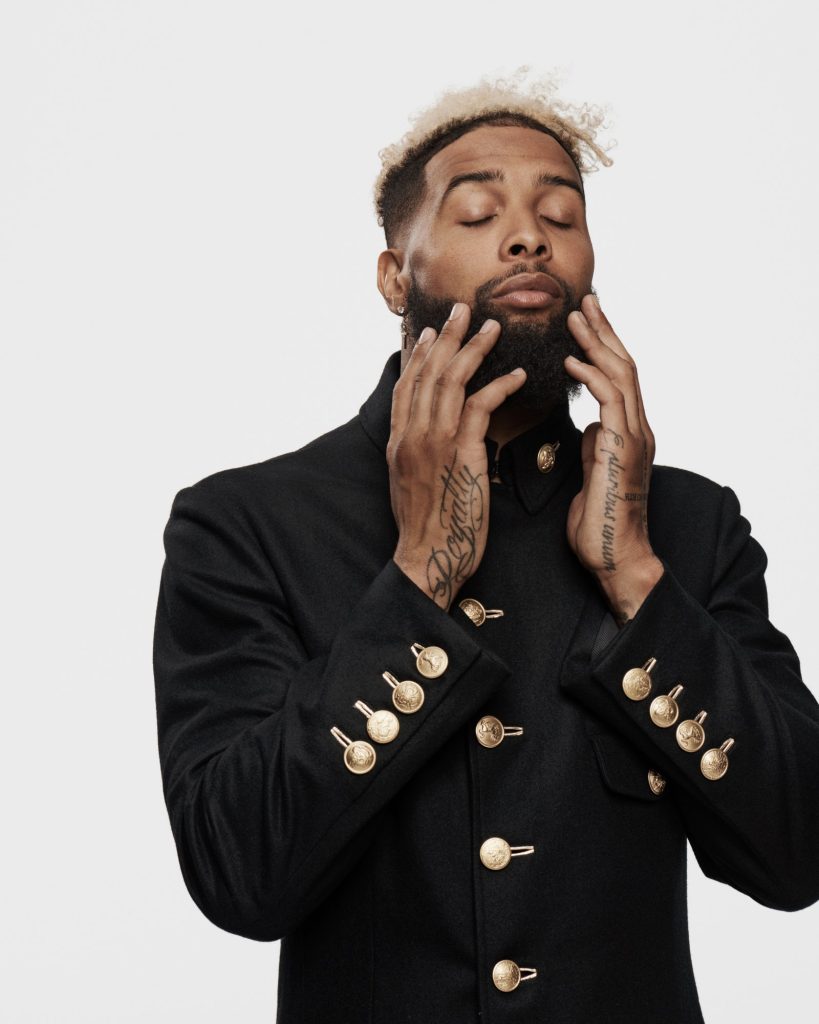 Odell was branded as stupid and irresponsible by many sports commentators and analysts. It wasn't a surprise that pro ballers would constantly date beautiful women, but to be caught in a hotel room with cocaine would not only hurt his brand, but also disappoint kids who were looking up to him. People called him stupid for not being cautious, especially when he was asking for an extended contract that would make him the highest-paid NFL wide receiver. While he concluded his $95 million deal in August that year, it didn't take long before he was traded to the Cleveland Browns.
Nevaeh Jolie, "R&B Sweetheart" (2018)
Up and coming R&B singer, Nevaeh Jolie, made the headlines by being the new girlfriend of Odell Beckham Jr. Football fans were overjoyed that Odell seemed to be turning a new leaf by hooking-up with someone decent for a change. Nevaeh was born in Florida, but was raised in New Jersey. She started singing at 10 in Broadway musicals, and was then professionally trained with a girl group. Later on, she pursued a solo career with self-composed songs, and was signed to the hip-hop record label, Def Jam Records
It was reported that people close to the singer said that Nevaeh didn't want to deal with a 'fuckboi', and that Odell should be on his best behavior for it to work out. Everything seemed to be going great for the couple, and would soon make their relationship public.
However, during the interview Nevaeh had with Shannon Mack on her TV show, "Pedis & Mimomas," she denied the dating rumors. In one of the segments in which she had the choice to answer controversial questions or plead the fifth by drinking the Mimosa, she was asked if Odell was a good kisser. She replied by saying that she definitely and positively did not know. Nevaeh also said that she was quite surprised by the dating rumors when she learned about them from the Internet. No one knows if she and Odell wanted to keep it low-key, or that they didn't date at all.
https://www.instagram.com/p/CP9Tt06BqDS/
Lauren Wood, "Current Girlfriend" (2019 – present)
Odell might have suffered an ACL in 2020, ending his football season prematurely, but someone's taking good care of the NFL superstar at home while he's recuperating. His new girlfriend, Lauren Wood, a social media influencer, who was first noticed when she appeared in the sixth and seventh seasons of MTV's 2015 improvisational comedy show, "Wild 'N Out," and later made a guest appearance in the TV show "Ballers", starring Dwayne Johnson. She had more than 1.5 million followers on Instagram, and had sponsorship deals with Hot Miami Styles, Fashion Nova, and Pretty Little Thing. She's also an online fitness guru, and shared workout videos with her followers.
Odell and Lauren's first online public post was around two years ago during his 27th birthday in November 2019. The news that Odell was seeing someone like Lauren might have devastated some of his fangirls, but most of his football fans welcomed her presence in his life, since they believed Odell needed to be in a serious relationship with a grounded woman.
It seemed that the couple decided to share what they could with the public, but kept it low-key as well.
She would update fans on his status during that time, but wouldn't share so much about him except for special moments that happened with them. In January 2021, she shared when Odell surprised her with a private plane ride that took them to Sedona for what she called a daycation. Another post was when they went for a winter vacation in February 2021, complete with photos of them snuggling together with a snowy background and a bunch of elk or moose walking around the place. They recently went sailing on the ocean aboard a yacht in April 2021, and had fun jet skiing in the open sea. From the Instagram posts, it seemed that both were quite happy with each other, and it wouldn't be a surprise if they end up making the relationship permanent.
However, knowing of Odell's past daliances with various women, don't be surprised at whatever eventuates between the two,… or nothing at all!