Who has Penn Badgley dated? Penn Badgley's Dating History
• Penn Badgley is a 33-year old American actor and musician, best known for his role as Dan Humphrey in 'Gossip Girl'
• He is married to British-American musician Domino Kirke
• He previously had a relationship with Blake Lively, which lasted 3 years
• He was then with Zoe Kravitz for 2 years
• He and Domino have been married for 3 years, and are expecting their first child together
American actor and musician Penn Badgley, who is best known for portraying the character Dan Humphrey in 'Gossip Girl', has been making the hearts of teenage girls throb wildly ever since his first appearance in the ever so popular teen-drama. Despite his good looks – which once afforded him a modelling position for Abercrombie – the young actor has had a selective history of romances.
Penn, who is married to the British-American musician, Domino Kirke, has only had two previous relationships that attracted the attention of the media. Similar to his character Dan, who has often been called the lonely boy of 'Gossip Girl', it seems that Penn is a sentimental romantic who prefers to remain loyal to his chosen partner.
Of course, his on-screen romance with Blake Lively's character, Serena evolved into marriage but it did not turn out the same for their incredibly famous off-screen in-real-life relationship.
Sadly, as much as fans wanted to see their relationship blossom into a family, they separated long before the end of 'Gossip Girl'.
Now each has found their soul mate; the 33-year old 'You' star has since married, and Blake has had a couple of kids since then with her husband Ryan Reynolds.
The Real-Life Dan And Serena Romance
Penn's off-screen romance with Blake was the first relationship that caught the attention of the media, but for some time their relationship had been one of Hollywood's best-kept secrets. When 'Gossip Girl' began to air on television in 2007, and made Upper East Side one of the most popular trends among teenagers of the time, everyone was fascinated by the on-screen heat between Dan and Serena, blissfully unaware that they were seeing each other in real life.
As it turns out that during the first three seasons of "Gossip Girl", Penn and Blake had been dating.
According to some, their hook-up started in May of 2007, and following a whole year of secrecy, was finally made public in 2008. The couple continuously denied that they were seeing each other off-screen, but the on-screen chemistry may have seemed incredibly natural for a reason.
When questioned by People magazine about the possibility that she could be dating Penn, Blake denied it outright, saying that it was silly. Blake spoke at length about how the tabloids always attempt to dig into the past and present life of celebrities, and if they can't find substantial gossip, would try to create what isn't there.
At around the same time, rumours had also gone around that Blake had plastic surgery done before appearing in 'Gossip Girl'. While some rumours may never be true, the truth about her relationship with Penn Badgley did surface, although during interviews, Penn also denied allegations of being romantically involved with his co-star.
However, like the gentleman that Penn is known to be, so unlike his character Joe, he could not deny it without being appreciative of his secret girlfriend. Penn told People how incredible he thought she was, saying that she was an amazing person, beautiful, and that there is very little to dislike about her.
Penn still denied being involved with Blake, but a couple of months later the secret was revealed in true Hollywood fashion. While on vacation in Cancun, the couple was seen sharing an intimate kiss that had been suggestive of what the tabloids had long been suspecting. The pictures spread quickly, and soon everybody knew. Penn and Blake became one of the many 'It' couples of their time, and their relationship was celebrated by the many fans of 'Gossip Girl'.
During the span of their three-year relationship, the couple was seen enjoying low-key activities.
Unlike most Hollywood couples, it appeared that they preferred the simple things in life. The couple made claims that the reason they kept the first year of their relationship quiet, was because they were afraid that the producers and writers of 'Gossip Girl' might be influenced by it; Serena and Dan were known for having on-off occasions, but as die-hard fans would know, it ended in a happy-ever-after marriage.
At one point during their real-life relationship, Dan had introduced Blake to his mother, who's opinion on her had been of high regard. It certainly meant the two were serious about their relationship, and during the first period, keeping it private had been a priority for Blake. Sadly, in 2010, following many rumours and Blake trying to put out fires, the couple separated in early September. The split happened quietly and swiftly, and no details were shared by either one as to why.
Despite their separation, their on-screen romance continued. The couple was able to hide the truth about the break-up as effectively as they did the initial hook-up, so much so that co-producer and writer, Joshua Safran, only found out months after they split. The pair proved themselves to be professional, as despite being on set with an ex-lover, they were still able to complete the filming of 'Gossip Girl' without any difficulty.
Penn later revealed that he saw the flaw in dating a colleague since it could have turned out much worse. They had to be constantly professional while sharing the set of 'Gossip Girl', and the way they handled the awkward situation that was complicated by any standard, should earn them at least a pat on the back, revealing these details during a 'Gossip Girl' anniversary interview years later in 2015. Among the many awkward situations that surfaced after the break-up, Penn stated that Blake had been both the best to kiss on-screen, while they were still seeing each other, and by far the most awful following their doomed relationship.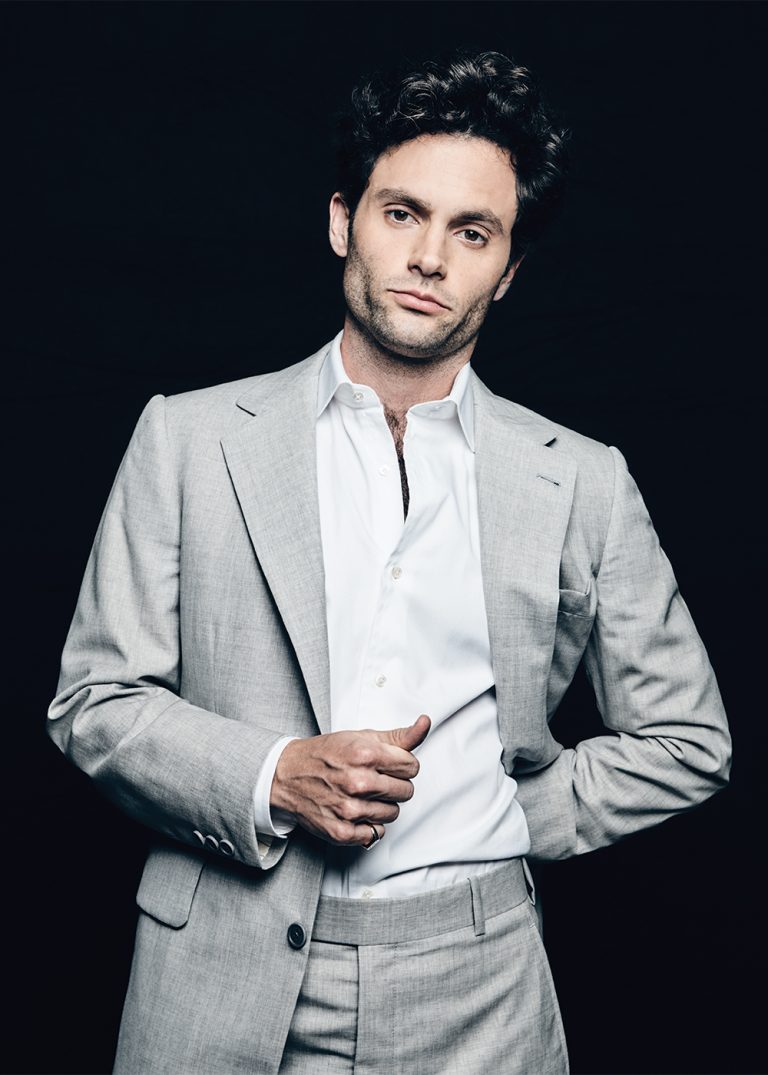 However, as strange as it might be to kiss your ex-girlfriend after you've broken up, it would be far stranger to walk down the aisle with her, and this after she married Ryan Reynolds.
Fans of 'Gossip Girl' should, therefore, be grateful that the actors were as professional as they had been. Since his experience on the set of "Gossip Girl", Penn has been in no less than eleven on-screen match-ups, which includes a romance with Emma Stone in 'Easy A', but hasn't made the same mistake of dating a co-star again.
Penn's Second Girlfriend Zoe Kravitz
It seemed that Penn was slow to move-on from his relationship with Blake, as it was a year later that he became involved again. This time around it was with American actress Zoe Kravitz, the daughter of Lenny Kravitz. Penn and Zoe have been linked since July 2011 after the two were spotted in Union Square.
Zoe Kravtiz for Rolling Stone (2018) #ZoeKravitz #Catwoman #Batman pic.twitter.com/kSoW2wq3w6

— Jessica Chastain is Poison Ivy🍥 (@ChastainxMargot) September 11, 2020
Badgley had his arm around Kravitz, which sparked rumours that they were dating.
Their relationship was made official in October later that year – in an interview with Elle, Penn revealed a few insights into the nature of his relationship with Zoe. Among the topics of discussion, Badgley was questioned about Lenny Kravitz' disposition on their relationship. Penn stated that he had a healthy relationship with Zoe's dad, and as a fellow musician, appreciates the wisdom of the art that Lenny shared with him. Penn stated that he gets along with Lenny, and at one point was invited to see a jazz show in Harlem with him. The show was held in the back of a small church with bad lighting and a small stage piano, but it did not affect the quality of the band.
Penn also shared an insight into his own philosophy for making a relationship work. This was following a question from the interviewer whether travelling and busy schedules put any strain on his relationship with Zoe.
He said that there are no secrets between them, and that the best philosophical approach to a relationship would be to maintain honesty, even if it led to arguments. Safe to say, he added, that there will always be arguments but honesty will reduce the risk of escalating into bigger problems.
Despite Penn's personal views on shaping a good relationship, he and Zoe nonetheless separated. After their split following nearly two years of dating, the couple stated that it wasn't a sad breakup. They blamed their busy schedules, stating that because they are at different stages of their careers, they simply don't have time for each other.
The relationship was ended in June 2013, although in 2012 a report in the New York Post hinted at the possibility that Penn and Zoe were experiencing trouble in paradise, and might be on the verge of a break-up. This followed after Badgley was seen in a New York Nightclub dancing with other female patrons.
Although nothing came of the incident, as Penn and Zoe were seen together kissing in public soon afterwards, quite possibly in an attempt to dispel the rumours of splitting, their relationship nonetheless took a turn for the worse.
However, Penn's possible infidelity may as well have been the unspoken reason for their separation the following year, though no-one can argue that the actors did not have busy schedules. At the time Zoe had her success with 'X-Men: First Class', and was set to appear in the latest 'Mad Max' film alongside Charlize Theron. Penn too had a busy schedule and was busy with the biopic 'Greetings From Tim Buckley', and the film 'Parts Per Billion'.
The couple was clearly not meant to be, as Zoe married Karl Glusman on 29 June 2019, after dating since 2016. Penn moved on from his relationship with Zoe, and is also apparently happily married.
✨ Penn Badgley ✨ #You pic.twitter.com/srovdwCqpT

— Netflix Diaries. (@netflxdiaries) June 29, 2020
Lonely Boy's Miss Perfect – Domino Kirke
Penn and Domino Kirke, the older sister of actresses Jemima and Lola Kirke, were first romantically linked in 2014, after a US Weekly 'new couple' alert was published. The couple was seen together being very friendly in New York City, which sparked several rumours, but neither of the two musicians confirmed anything.
However, an insider said that they had been dating for a while, having met through mutual friends. Exactly when and how the two got together is not widely known, but by the time the public realised what was going on, their relationship was already in its later stages.
They share plenty in common, including a circle of mutual friends, and according to the inside source, she is the perfect match for Penn since she too is a musician and their interests align. Penn had ended his relationship with Zoe the previous year, and Domino was previously involved with another musician, Morgan O'Kane, with whom she had a son, Cassius Riley.
It seems Penn is a very supportive step-father, and appears to have a healthy relationship with Domino's ten-year-old son. Their courtship remained quiet for some time, seemingly because Penn has never been fond of spending too much time in the limelight. Domino was the one to occasionally share pictures and stories of their relationship on her Instagram.
Eventually they made it public, and after three years of dating, the 'You' actor finally asked the big question. During an interview with Hey Mama, Domino shared her insights about the early stages of their relationship. She voiced her concern about being a single mother, considering that she was growing used to it and had a good relationship with her child, but was afraid that she might have been getting too used to it.
Although she was seeing Penn, she did not consider their relationship too seriously, and never thought that marriage had been on the cards for them, Domino confessed when she also shared the news of her recent pregnancy.
Their ceremony was held as quietly as their relationship, and took place in private at a Brooklyn courthouse on 27 February 2017. They held a formal ceremony later that year on 24 June, when more than 200 guests from around the world attended their outdoor wedding in the garden of Kirke's mother's upstate New York home in Lake Waccabuc, including several A-list celebs such as Debra Messing.
Their union has been ongoing now for six years, of which they have been married for three, but it has not been without tribulation. The couple has tried several times to conceive, and unfortunately Domino has suffered two miscarriages. In February earlier this year, Domino announced the great news of her pregnancy, which has to date, been going well. Penn, like his character in 'You', is soon going to be a father, and allegedly things can't be any better for the actor and his wife.