Who has Post Malone dated? Girlfriends List & Dating History
• Post Malone is an American rapper/singer, songwriter, actor and record producer born in 1995.
• He is well-known for his eclectic blend of music and vocal style.
• He taught himself to play guitar through Guitar Hero and formed the music group BLCKVRD.
• His most popular tracks include "White Iverson" and "Rockstar".
• He is currently single and living in Los Angeles, ready to tackle his upcoming 2021 tours.
Post Malone is an American rapper/singer, songwriter, actor and record producer. Born Austin Richard Post on 4th July 1995, in Syracuse, New York State, he was raised by his father and stepmother in the suburbs of Dallas, Texas. His father was a DJ in his younger days, and thanks to him, Post was introduced to a broad spectrum of music genres, and is well known because of his ability to bend genres with his own eclectic blend of music and taciturn vocal style.
Post taught himself to play guitar through the video game, Guitar Hero, and played in a metal band while in Grapevine High School.
He then attended Tarrant County College but dropped out, and moved to Los Angeles, California. In 2010, he applied to join the band Crown the Empire, but as a result of his guitar strings breaking during the audition, was rejected by them. So Post, together with other producers and artists, formed the music group BLCKVRD.
When Post was around 14 or 15 he chose this as his stage name, taking his surname as his first name, and using a 'rap name generator' to get the name 'Malone'. Post was inspired by Bob Dylan, but has described his music as 'genre-less', with which most people agree.
Singing, rapping, hip-hopping and rocking all make up his repertoire, and to boot he has collaborated with musicians from as differing a sound base as Khanye West, Ozzy Osbourne, Quavo, Tiesto … as well as his friend, Justin Bieber, whom he accompanied and opened for on the Purpose World Tour in 2016/2017. In 2017, Rolling Stone cited him as 'one of the most popular musicians in the country'.
Post first made his mark on the entertainment world in 2015, when at the age of 19 he released his debut single, "White Iverson".
At that time he was going through a rough patch financially, even sleeping in a friend's walk-in closet in Florida. When he posted the track to social media it became an instant hit, and within a month reached a million views. This opened doors and led to his being sought after by record labels, and he subsequently he signed-up with Republic Records in 2015.
The now 25-year old Post, who is sometimes also known as Young Stoney, catapulted to fame, and his tracks are often heard spilling out of coffee shops and bars worldwide. He's 6 ft (183 cm) tall, has a nice, friendly face with blue eyes and braided dark brown hair.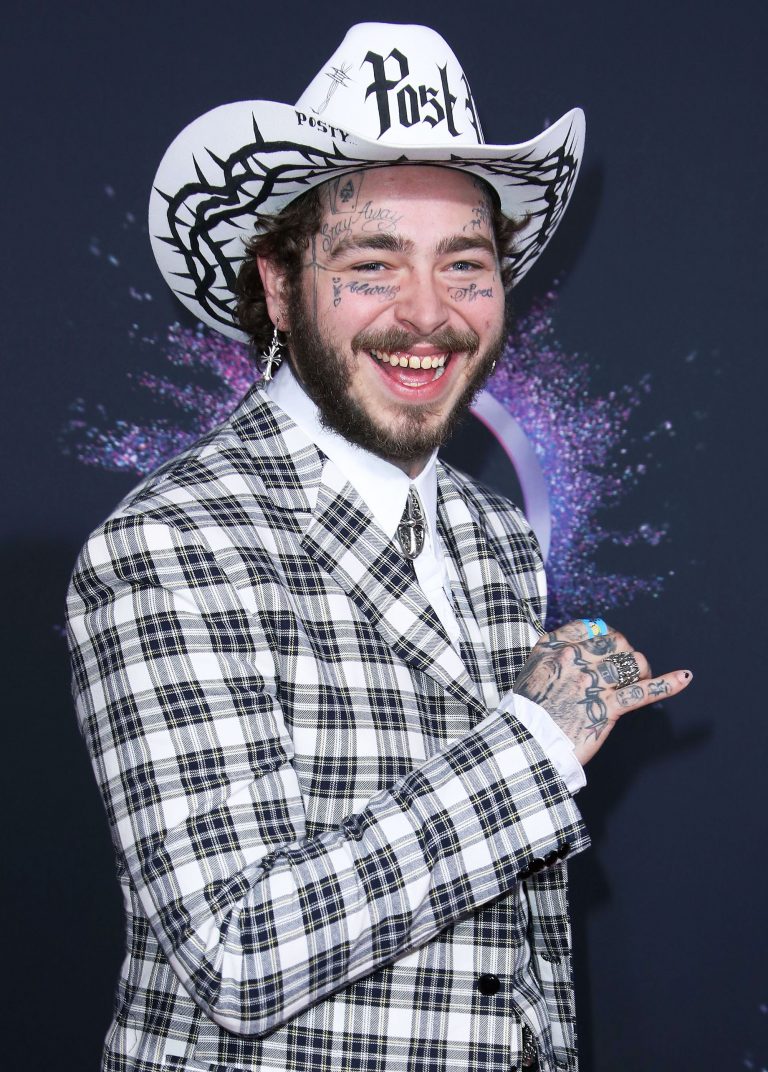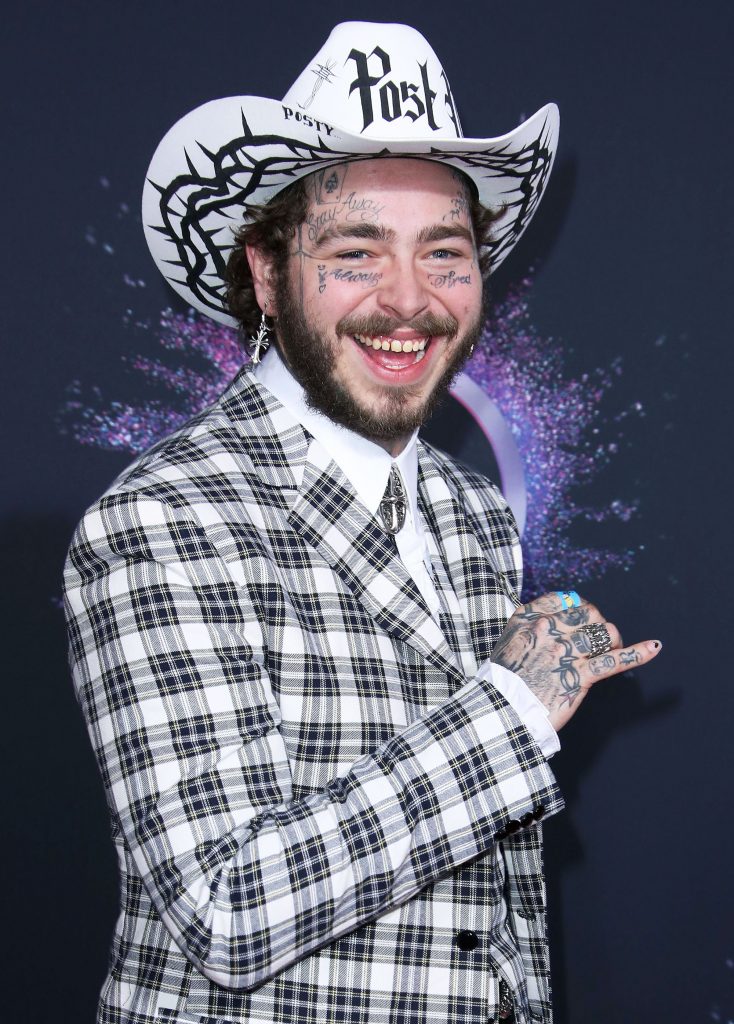 His distinguishing features are gold grilled teeth, or grillz, which was started off by popular hip hop stars and has now become a fashion trend. He also sports many tattoos, some of which he inked himself, and has tattooed others too. Under his chin he has tattooed "Stoney" – the name of his debut album. His body is covered in artwork, and his face has a fringe of barbed wire, the Ace of Spades and wording here and there, including "Stay Away" above his right eye.
Much of Post's popularity could stem from the fact that he comes across as just a regular guy, even though he's hugely famous. The album "Beerbongs & Bentleys" smashed records on its first day's streaming on Spotify, with over 78 million streams globally.
The album went platinum after four days, with the track "Rockstar" winning multiple awards. Post has several signature tracks including "Sunflower" and "Congratulations". His shows are understated and simple with no big props – only the strength of the heartfelt music he delivers. He likes wearing his Crocs, comfy baggy trousers and T-shirts, and has promoted the brand, Bud Light.
Post is known as quite a gentle guy who likes people, and when he's not doing the rockstar thing and partying hard, he enjoys staying in and playing video games. His desire is for his music to remain organic, and one could say that there is something peculiarly unique about the sounds he churns out, which has attracted much attention, including over six million followers on Facebook, 22 million on Instagram, almost seven million on Twitter, and 19 million subscribers on YouTube.
Post has achieved great financial success through his music, but hasn't stopped there. He's also involved in clothing, hemp and even wine production. In France he launched his wine brand, Maison No. 9, claiming that the name comes from a spooky show he saw where the nine of swords in the tarot deck stands for anxiety. As he has known anxiety, it seemed a perfect name for a wine that takes the edge off.
Well now that we know a little about this superstar, what about his love life?
Post followed Ashlen Diaz, an American music promoter on Instagram, but she didn't pay him much attention.
From 2013 to 2016 Ashlen worked for Cashaveli TX, after which she went independent. She promoted Post before he became famous in 2015. They met for the first time at a night club where Ashlen had booked him on a show. It was instant love for Post, and as he puts it, "It was snowing, and I just came, and I met her, and I fell in love with this woman."
Ashlen was often seen with Post in public while she supported his ventures. They started dating in February 2015 but it was only in December of that year that Post wished her a happy birthday and expressed his love for her on Instagram, saying 'happy Texas time birthday to most wonderful thing to ever happen to me Ashlen Nicole Diaz. I love u.'
This created media hype, and suddenly the unknown Ashlen became a talking point, and she remained in the spotlight throughout their relationship, accompanying Post on his long tours. Post quoted, "I'm not a normal person. I'm a weirdo. I'm a different type of man. She's an angel. She's an incredible person …"
Ashlen was born in Dallas, Texas, on 19th December 1995.  She is quite shy, and although previously active on social media, now she isn't really visible, and has withdrawn from the public eye. In fact, there have been some reports that she suffers a social anxiety disorder, and she herself had previously admitted how her shyness limited her from so many opportunities.
Ashlen has Spanish ancestry and is an attractive, tall brunette with warm brown eyes.
Post and Ashlen's relationship wasn't without rocky periods. In 2016, they both attended an interview with The Breakfast Club which turned out to be quite awkward, perhaps more for Ashlen, as it was intimated that Post, being so famous, was hot property and many girls would be after him. Would Ashlen be able to handle that? Would Post be able to behave? This put them both on the spot and what could one say to such a question anyway? Ashlen timidly said she was a little concerned and she wasn't sure, but she probably would give him only one chance if he cheated on her.
At home with the new @Arnette Signature Styles. #PostMaloneXArnette pic.twitter.com/WXRDpdZh8M

— Posty (@PostMalone) October 22, 2020
Post declared that Ashlen didn't have to go with him everywhere, but was his 'cheerleader' and knew how to fight off the girls; also that he was a loyal boyfriend. Later Post admitted that it was tough for him to keep a balance between dedicating his life to music and spending time with Ashlen because he's real busy. That's understandable, as this musical dynamo doesn't stop churning out the tunes and playing shows.
In 2018 Post won an MTV Video Music Award for his hit single, "Rockstar" in August, and Ashlen congratulated him on Instagram. On 28th August that year Post had a narrow escape when his plane was diverted and had to make an emergency landing.
Ashlen's reaction on Instagram was 'Thank God'. Shortly afterwards Post was spotted cuddling with a mystery female on a yacht in St. Tropez – some reports say that it could have been Ashlen, and others that it was another woman. The rumors were quashed when it was supposedly confirmed that Post was doing a musical video shoot, yet later, no female appeared in the video "St. Tropez", nor did a yacht. It was also alluded that Ashlen had shared details of the break-up on Instagram, but later deleted those posts and most of the pictures of the two of them together.
Post and Ashlen had apparently broken-up a couple of times, but in November 2018 the tabloids confirmed the news that they had split.
It's not known who broke up the relationship, and there were varied stories, but in the end it seems that it was mutual.
Not long afterwards, Post was spotted at the George Bush Intercontinental Airport in Houston with a woman who may well have been the mystery St. Tropez woman. When raunchy pictures of the woman were posted on an Instagram account that was later deleted, it sure touched a nerve, and Post spouted off on Twitter that some of his fans were trying to ruin his new relationship. Of course, this tirade only confirmed that he was in a relationship, but since then, nothing much has surfaced to prove that he was, or perhaps still is, with her. Since then his love life has become a completely private affair, so it's assumed that he's still officially currently single.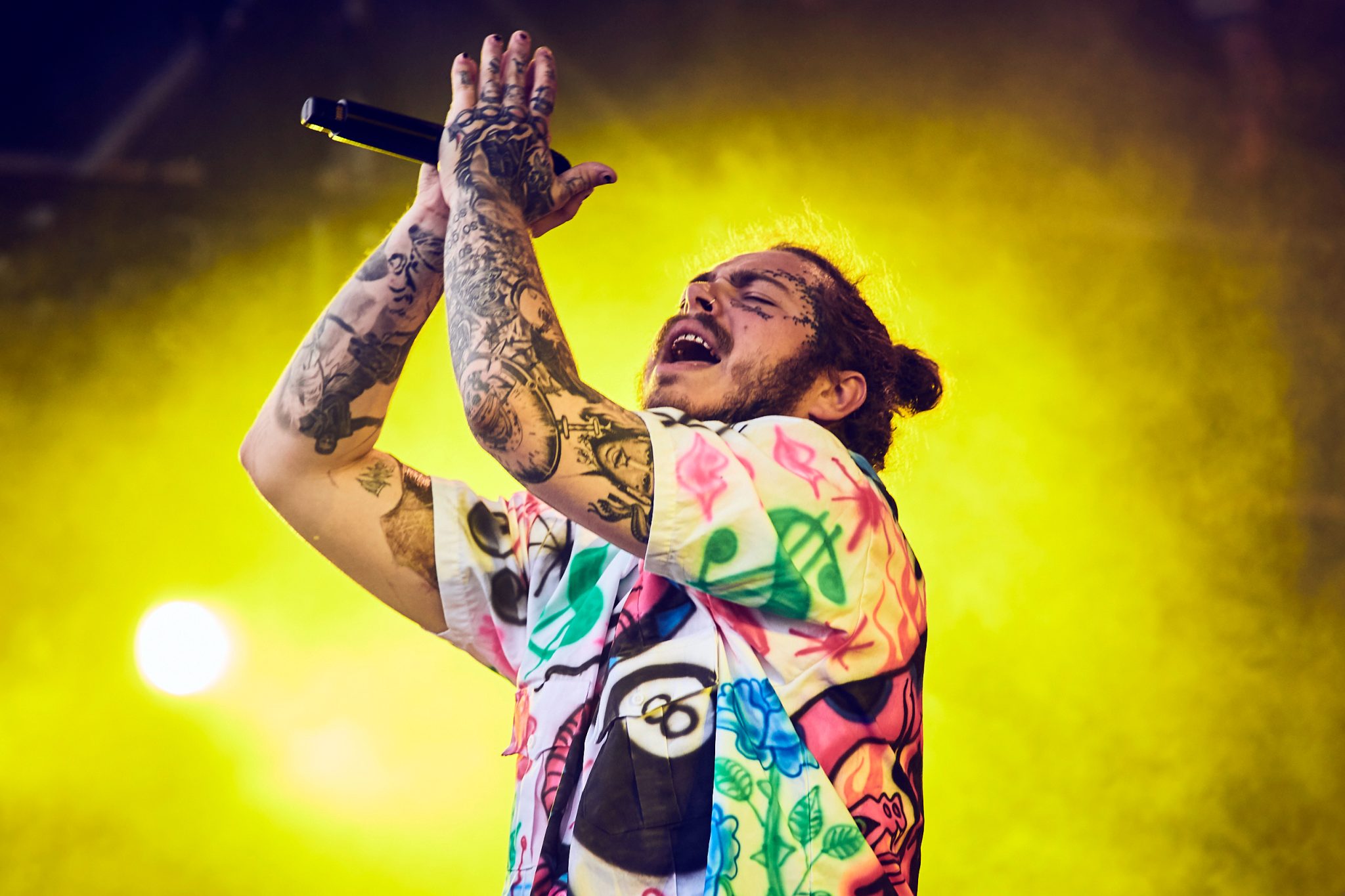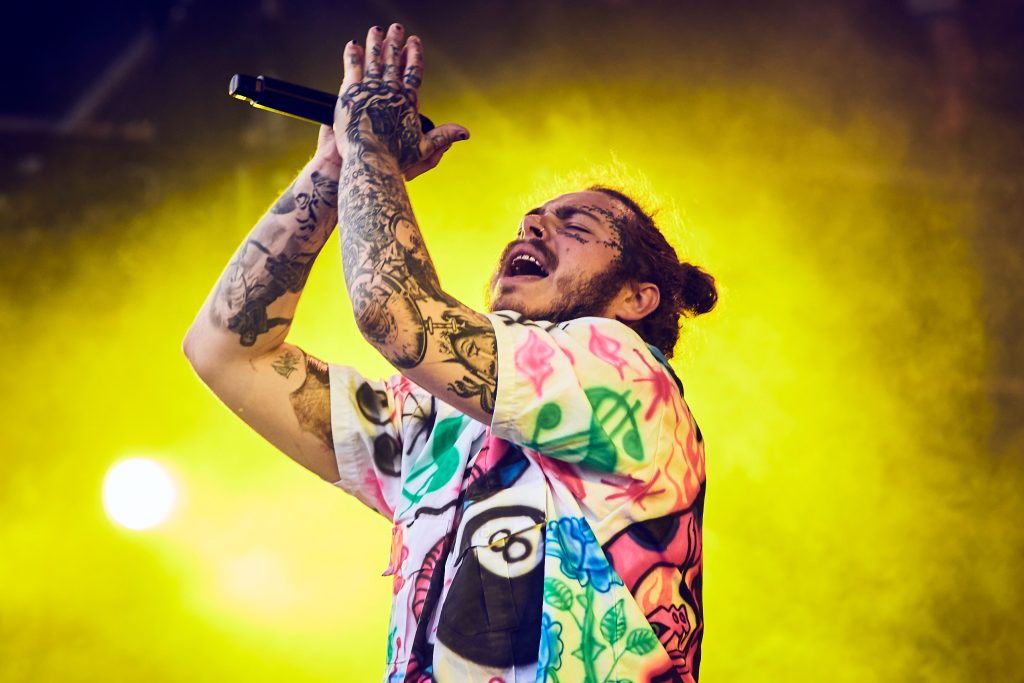 Post lives in Los Angeles ,and also has a multi=million-dollar home in Cottonwood Heights, Utah. He released his third studio album, "Hollywood's Bleeding" in September 2019, and it became the longest-running chart-topper in first place for five intermittent weeks.
In an interview with  Zane Lowe of Apple Music in September 2019, Post declared that he wants to be the best person he can be. Also, that he can give his family everything they need. Well the guy is still young and has a lot going for him right now. Why stop?! No time for him to be "Rich and Sad". He can be what he wants to be, do what he wants to do, and with bookings open for several tours in 2021, looks like he's goin' hard. Perhaps love will find him along the way, but it looks like it's not going to slow him down professionally for some time to come.