Who has Priyanka Chopra dated? Boyfriends, Dating History
Priyanka Chopra was born in Jamshedpur, Jharkhand, India, on 18 July 1982 under the zodiac sign of Cancer. She has come to prominence as an actress, film producer, model, and singer, and being one of the most popular entertainers in India, she stands for one of the highest-paid actresses in the country.
Priyanka is also named one of the 100 most influential people in the world by Time magazine, as well as one of the World's 100 Most Powerful Women by Forbes magazine. Since she made her debut appearance, she's caught the attention of large numbers of the male audience, initially due to her attractive appearance.
So, it's not a surprise that her dating history is rich. It's known that the beautiful lady has been romantically linked to seven famous personalities, before she settled down with the love of her life – handsome singer Nick Jonas. So, let's dig deeper into her personal life, and find out more about those men – we may discover something interesting!
Relationship with Aseem Merchant
At the very beginning of her successful modeling career, Priyanka Chopra was reportedly involved in a relationship with handsome actor Aseem Merchant, known for starring in such Bollywood film titles as "The Train" and "Wanted". It's believed that Aseem was her first boyfriend, but that their romance didn't last long. The model-turned-actress allegedly kicked him off as soon as she made her film debut in the early 2000s.
According to Business Standard magazine, Priyanka's ex-manager, Prakash Jaju claimed in a series of tweets that she used to fight frequently with Aseem, and she even tried to commit suicide several times because of the stress. He wrote, "PC may look very strong now, but she was also very vulnerable in struggling days, tried to commit suicide 2-3 times but I managed to stop her," and added, "Daily PC and Aseem used to fight… She used to call me at 2 am in the night, crying… And I used to take her from Aseem's house, make her understand and drop her at her home."
He also wrote, "Once madam went to Vasai to attempt suicide after fighting with Aseem. I got her back. Girls don't act intelligently at the age of 18-19." Moreover, he claimed that Priyanka was very close to Aseem's mother, and that "she tried to jump off Karan apt to commit suicide" after his mother's death back in 2002.
Priyanka eventually opened up about those claims in an interview with the Times of India magazine, saying "First of all, it's so sad that Indian media has given credibility to the man, who was in jail because of harassing me, without checking the history who the person is. So, I have nothing to say because there is no credibility to this person, who media is giving credibility to." According to India Today magazine, Aseem also denied those tweets, and said that Priyanka is "one of the nicest, most hardworking and family oriented girl I've ever known. I always wish her the very best!!"
Between 2004 and 2005, Priyanka Chopra starred with handsome actor Akshay Kumar in such Bollywood film titles as "Waqt: Race Against Time", "Aitraaz", and "Mujhse Shaadi Karogi", among many others.
Their characters were frequently involved in a relationship, so many believed that the actors were an item in real life, even though Akshay was married. As soon as those rumors started flying around, his wife Twinkle Khanna reportedly forbade him to work with Priyanka. However, he denied it during his appearance on "Aap Ki Adaalat". According to India Today magazine, the actor said, "There is nothing like that. I have worked on five films with Priyanka. It's not like I don't want to work with her. […] If there is an opportunity, I will surely work with Priyanka Chopra."
Next, Priyanka Chopra and Harman Baweja met each other on the set of the 2008 film "Love Story 2050" – of course their characters were romantically linked in the film, and it didn't take long for them to make their onscreen romance a reality, much to the delight of their fans, al;though their love story didn't last long! They also starred with each other in the 2009 film "What's Your Rashee", but they had already broke-up – it was rumored that the failure of "Love Story 2050" was the reason for their split.
78960-priyanka-chopra-and-harman-baweja-at-what-your-rashee-music-laun.jpgPriyanka Chopra and Harman Baweja at "What''s Your Rashee" music launch in Mumbai http://www.bollycurry.com/

Posted by Priyanka Chopra Türkiye Fans on Sunday, July 15, 2012
According to India Today magazine, Harman would later open up about that, saying – "I blame myself. She kept asking me to give her time but I didn't. I couldn't. After two flops, I felt a lot of pressure to do well in my third film. I got too engrossed in it. I got too close to the project. Too involved. In fact, Ashu Sir (Ashutosh Gowariker) used to tell me, 'we are not used to people getting into our space. We don't let any actor do that.' But I crossed all boundaries. I was involved at every stage, every level. "What's Your Raashee" was very important to me".
Many believed that Pryanka was the one who ended things, because he failed to succeed as a professional actor, but Harman said, "I have never believed that. And only two people know what went wrong between them. And I don't think success or failure changes anything friendship of relationship." adding "We've been great friends and we still are great things. It was fabulous working with her earlier. It's fabulous now. I don't think personal relationships should affect the quality of my work."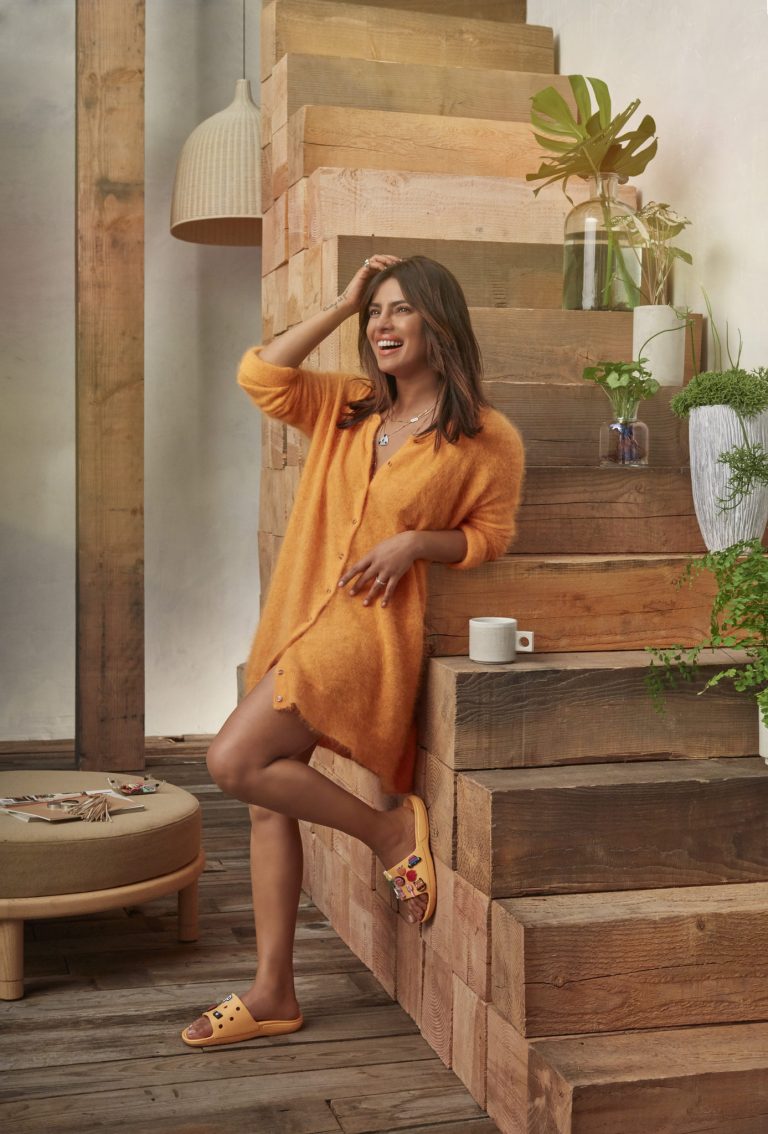 In 2018, he was spotted attending Priyanka and Nick's wedding reception in Mumbai, which shows that they remain on good terms. An insider told Masala! magazine, "Everyone was surprised to see Harman there, knowing his history with Priyanka. He greeted the couple warmly, spoke to them and then left. It was a gesture that won hearts that evening."
Romance with Shahid Kapoor
Following her split from Harman Baweja, the attractive actress soon fell in love with her "Kaminey" co-star Shahid Kapoor – they met while they were filming it in 2009, and reportedly dated for two years. During that time, they never spoke about it in public, until in 2011, the news about their relationship hit the headlines after income tax officers came to her residence, and the handsome actor opened the door in his boxers. During her appearance on an episode of Rajat Sharma's show "Aap Ki Adaalat", she said that Shahid was her neighbor, and since her parents weren't at home at the time, she decided to call him to be with her during the I-T search.
A source told The Times of India magazine, "Both Shahid and Priyanka were quite shocked by the raid. Shahid could not leave immediately. So, he remained there for some time," and added, "Yes, Shahid was present at Priyanka's place when the IT raid happened."
According to Bollywood Shaadis magazine, Shahid confirmed that they were romantically involved in a relationship during his appearance on the show "Koffee With Karan", but said that his relationship with Priyanka was shorter than with his previous girlfriend. When he was asked if he would delete any relationship memories, he said, "I think the man that I am today is because of all the experiences that I've had. So I wouldn't want to delete any of the memories. It's taught me a lot." He remains friends with Pryanka, and praises her successful career. According to the Times of India magazine, he once said, "Priyanka is doing amazingly well, I am very happy for her. She has made all of us proud. She always had the potential to become an international star and she has proved it." He also attended her and Nick's wedding reception in Mumbai, with his wife Mira Rajput.
Meantime, in 2009, Priyanka received a marriage proposal from handsome Hollywood heartthrob Gerard Butler. He traveled to India where she hosted a party in his honor at his residence. Throughout the evening, the "300" star proposed to her every half hour, as he was so fascinated by her beauty. A source revealed to The Times of India magazine, "Of course the party was for Gerard who was completely besotted by Priyanka and kept proposing to her every half hour. It's become a standing joke rather a 'kneeling' joke between them. 'Will you marry me?' he knelt and said every half hour while she would burst into laughter. She's clearly not interested in being Mrs Butler." He would later joke about the whole episode, and in his 2012 interview with Firstpost magazine, said "I am still single because I am waiting for Priyanka Chopra,".
Priyanka Chopra met Shan Rukh Khan on the set of the 2006 film "Don", in which they starred in leading roles.
Five years later, the two reprised their roles in the sequel "Don 2", during which the chemistry between them on screen was so strong that it led to rumors of romance. According to Catch News magazine, the famous actor eventually shut down those rumors about them, saying, "To be honest, I can be a little less confluent with the actors. But Priyanka always makes me comfortable. If my hair gets worn then she fixes it." He continued, "It's good to work with such friends. Apart from this, only I know what things I want to do inherently. When you work with an actor for so many hours and build a good relationship with each other, it brings great happiness. It only feels sad when outside people give a wrong name to this relationship." Nonetheless, Priyanka appeared in the show "Dirty Laundry" in a leather jacket, and revealed that it belonged to her ex-boyfriend. She said, "Things get exchanged. But this one I really really loved because it kind of became mine. It stopped being him like after it stayed back in my house once, and I just kind of wore it."
Stunning Priyanka Chopra#PriyankaChopra pic.twitter.com/fdQQ50IZkE

— asianfilmposters (@asianfilmposter) October 9, 2020
Following this appearance, the picture of Shan wearing the same jacket went viral. So, it seemed that the rumors were true after all,  and were followed by rumors that Bollywood boycotted her, and many tagged her as a home breaker. Moreover, Shan's wife Gauri Khan allegedly asked him to keep a distance from Priyanka. Since then, the actors haven't worked together again.
Priyanka sparked rumors that she started dating Tom Hiddleston, known for landing the role of Loki in the Marvel Cinematic Universe, when they presented the Emmy Awards. It was rumored that the two of them were flirting and getting cozy at the after-party. An eyewitness told E! News magazine, "Tom had his arm around her and held her close. Afterwards, Tom and Priyanka talked closely and were holding hands at one point for a few moments. Priyanka fixed Tom's bow-tie and then the two kissed on both cheeks." They allegedly exchanged their 'phone numbers.
Two years later, she denied those rumors on Andy Cohen's show "Watch What Happens Live" – "We were presenting for like 10 minutes. I met him for 15 minutes. We were behind the curtains for 10 minutes where he was adjusting my dress since it had a long train. We had to figure out how to manipulate it, not tripping," Priyanka explained.
According to their 2018 cover interview with Vogue magazine, it all started when Nick Jonas made the first move, sending Priyanka a direct message on Twitter back in 2016. He wrote, "I'm hearing from a few mutual friends that we should meet," while she responded, "My team can read this. Why don't you just text me," and sent her phone number. So, they would text for the next several months, and eventually met at the Vanity Fair Oscars party in February 2017. During the same interview, Nick recalled the moment he saw her, saying "And I put my drink down, get on one knee—this is in front of a bunch of people—and I say, 'You're real. Where have you been all my life?' Like, loud".
Two months later, they went out for a drink and then spent the rest of the evening in her apartment. Priyanka said, "We hung out for a couple of hours. He patted my back before he left," and Nick added, "There was no kiss. There was nothing." Afterwards, they attended the Met Gala event and after-party. Nick's brother, Joe Jonas, told the magazine that Priyanka "kind of knocked him off his feet. He was just this little puppy dog." Although after that night, Nick and Priyanka didn't see each other until the next Met Gala event.
In May 2018, US Weekly magazine reported that the two became a couple after being spotted together at several different occasions. An insider confirmed the news, saying "They are dating and it's brand new. It's a good match and they are both interested in each other." Another insider revealed to People magazine, "They're flirtatious and have been hanging out and texting all the time," but describing their relationship as "very casual". Furthermore, they even earned the celebrity couple nickname 'Prick'.
Two months later, the beautiful actress allegedly met Nick's parents. A source close to them told the magazine, "It's a huge deal that Nick brought Priyanka to his cousin's wedding," and added, "He's dated a lot over the last couple years, but it's never been anything serious, so this is a big step." The source continued, "Nick and Priyanka really like each other, and his family enjoyed getting to know her as well. She fits right in!" Shortly afterwards, it was reported that the couple flew to India for a vacation, and so that Nick could meet her family.
In the following month, they were seen wearing matching gold bands. Around the same time, a source revealed more details about their romance to E! News magazine, saying "Priyanka and Nick are still very serious. They have a very healthy relationship and truly are a good pair. Nick has basically been living in Priyanka's New York City apartment with her, and they spend a lot of time together. The next step is him permanently moving in, and it has been discussed."
Engagement
After dating for two months, the lovebirds took a step closer to marriage when they became engaged on 27 July 2018. According to People magazine, Nick popped the question and proposed to Priyanka on her 36th birthday, during their vacation in London, England – a source revealed that the handsome singer shut down a Tiffany store to buy an engagement ring. Nick would later describe their engagement to Vogue magazine, saying "I got down on one knee, again, and I said: Will you make me the happiest man in the world and marry me?" He continued, "No joke—she took about 45 seconds. Forty-five seconds of silence," and added, "I'm going to put this ring on your finger now unless you have any objections."
Shortly afterwards, E! News magazine reported that the Jonas family traveled to India to meet Priyanka's parents, and attend an engagement party hosted by her family. A source said, "It's going to be the first time that their families intermingle and get to know each other," and added, "It's a tradition for them to meet before the wedding, and Priyanka's family insisted on hosting the Jonas family in their country."
Thank you ❤️ #Unfinished Pre-Order Now https://t.co/HUNkSzM7sW pic.twitter.com/n8K3hqHhFc

— PRIYANKA (@priyankachopra) October 9, 2020
The source continued, "Priyanka wants everything to be traditional to respect her family's values, and definitely an Indian wedding. Priyanka and Nick are excited for everyone to meet and to celebrate. Everything is very secretive but guests are expected to head there starting tomorrow. All of the plans are moving quickly, as Priyanka and Nick do not want to have a long engagement."
The couple finally confirmed the engagement news by posting their matching photos on Instagram. Priyanka wrote in the caption, "Taken.. With all my heart and soul..," while Nick captioned it, "Future Mrs Jonas. My heart. My love." It was followed by a set of the photos from their engagement party, which Priyanka captioned, "The only way to do this… with Family and God. Thank you all for your wishes and blessings," while Nick wrote, "Prayer, family and loved ones as the foundation to this new chapter."
In October 2018, US Weekly magazine reported that the couple had started planning their wedding.
A source said, "The wedding is coming soon and they really want to blend wedding traditions from both of their cultures that are important to them. Priyanka is having a really good time planning the wedding, because it's a mix of Indian and American styles and customs, which she knows so much about."
Priyanka Chopra and Nick Jonas finally exchanged their wedding vows at two lavish ceremonies in India. The day before their first wedding ceremony, the couple had a traditional pre-wedding Mehendi ceremony. They shared the photos from that day on Instagram, with the caption, "One of the most special things that our relationship has given us is a merging of families who love and respect each other's faiths and cultures. And so planning our wedding with an amalgamation of both was so so amazing. An important part of the pre wedding rituals for the girl in an Indian wedding is the Mehendi. Once again we made it our own and it was an afternoon that kicked off the celebrations in the way we both dreamed."
On 1 December 2018, the lovebirds tied the knot at the Christian ceremony, officiated by Nick's pastor father, Kevin Jonas Sr. The bride wore a Ralph Lauren gown with a stunning 75-foot long veil, while the groom wore a suit by the same designer. Priyanka told People magazine, "It was all tears. All tears. […] But as soon as the curtains opened and I saw his face, it was just like everything settled and I knew I was making the best decision of my life." The following day, they exchanged their wedding vows once again in the traditional Hindu ceremony, which took place at the Umaid Bhawan Palace in Jodhpur, Rajasthan. The bride was dressed in a red sari, while the groom wore traditional clothes and turban. A source told the magazine, "It is super important to Priyanka to have an Indian ceremony that honors her heritage and culture, just as it's important to also have a Western ceremony that honors Nick's Christian upbringing." The weekend was concluded with a Bidaai ceremony.
In May 2019, the couple performed as a co-chairs for the Met Gala event, at the place where everything began.
During the same month, Nick posted their photo taken at the Cannes Film Festival on Instagram and captioned, "One year ago today I went to go see Beauty and the Beast at the Hollywood bowl with a group of friends. One of those friends was the woman that would become my best friend, my confidant, my muse, my beautiful wife. I am so grateful for our journey together so far. You make me smile every day and you inspire me to be the best version of myself. I am honored to be your husband. I love you," with the heart emoji.
In her July 2019 interview with Elle UK magazine, Priyanka opened up about their marriage, saying "I'd never realized having a husband and a boyfriend are such different things. When you say your vows, it's like, this person is my family, and it's the family I chose. There's a weird responsibility to them. And a safety that comes from it. We are learning about each other every day."
She would later reveal more details in her March 2020 interview with Diane Von Furstenberg on her podcast, "InCharge", saying, "We wrote like five things that we love about each other, and the first thing he said was 'your ambition.' I've never heard a guy say that."
The couple continued celebrating their love every single day, and sharing their special moments on social media. In May 2020, they celebrated their two-year relationship anniversary. Priyanka posted their first selfie on Instagram, and wrote, "2 years ago today we took our very first picture together. Every day since then you have brought me endless joy and happiness. I love you @nickjonas. Thank you for making our life together so incredible. Here's to many more date nights…" In turn, Nick shared another photo of them and captioned it, "This beautiful woman and I went on our first date two years ago today. It has been the best two years of my life, and to think I am lucky enough to get to spend the rest of my life with her is such an incredible blessing. I love you babe. Happy two years."
We can only wish them to live happily ever after!