Who has Rachel McAdams dated? Boyfriends, Dating History
Some of the most devoted fans of the Canadian actress Rachel McAdams know that it was a chance they could see their favorite actress on the screens of their TVs only during ice-skating championships: Rachel did competitive pair skating until she turned 18, winning local tournaments. However, we all know her as a brilliant actress too, who changed her mind and pursued her acting career, but keeping ice-skating as a life-long hobby. Choosing acting as her job, Rachel met her boyfriends mostly on the set of the movies she's appeared in – including the father of her son, screenwriter Jamie Linden.
Born on 17 November 1978, Rachel Anne McAdams is the elder sister to celebrity make-up artist Kayleen McAdams, and personal trainer Daniel "Dan" McAdams.
Their father, Lance McAdams, worked in London, Ontario, Canada as a truck driver, then after his wife, nurse Sandra Gale McAdams gave birth to their first child, the family moved to St. Thomas, Ontario. At the age of four, Rachel started taking figure skating lessons, and then performed in pair skating, quitting the competitive sport only in 1996.
Her passion for acting also started at a young age, as she attended Disney and Shakespeare summer camps from the age of seven. In 1995 Rachel won her first award for performing, in Central Elgin Collegiate Institute's production of "I Live in a Little Town", which was featured at the Sears Ontario Drama Festival. It was the moment Rachel understood that she was on the right path, and focused on her drama and stage performance classes. In 2001 she graduated with a BA in Fine arts with honors from York University after a four-year theatre program, during which she also performed with the Necessary Angel Theatre Company, both located in Toronto.
Before Rachel became a worldwide famous movie star, she dated Andy Williams, an ordinary guy she met while studying at York University, though they could have known each other much earlier, as Andy also grew up in St. Thomas. Rachel dated him for six months, and according to him was always dreaming of the stage: 'She wanted to do live theatre, like Broadway plays, because that's what she was doing at York. She's very talented', Andy recalled in his interview with Canada.com. When asked if he was uncomfortable watching his ex-girlfriend having a hot scene in movies, he answered that he wasn't at all bothered, as they separated amicably and still remain good friends. Andy now works in London, holding a prestigious position in an insurance company.
When Rachel landed the role of Allison Hamilton in "The Notebook", she was already famous for her super-successful performances in "Mean Girls" as Regina George, "Hot Chick" as Jessica Spencer and "My Name is Tanino" as Sally Garfield.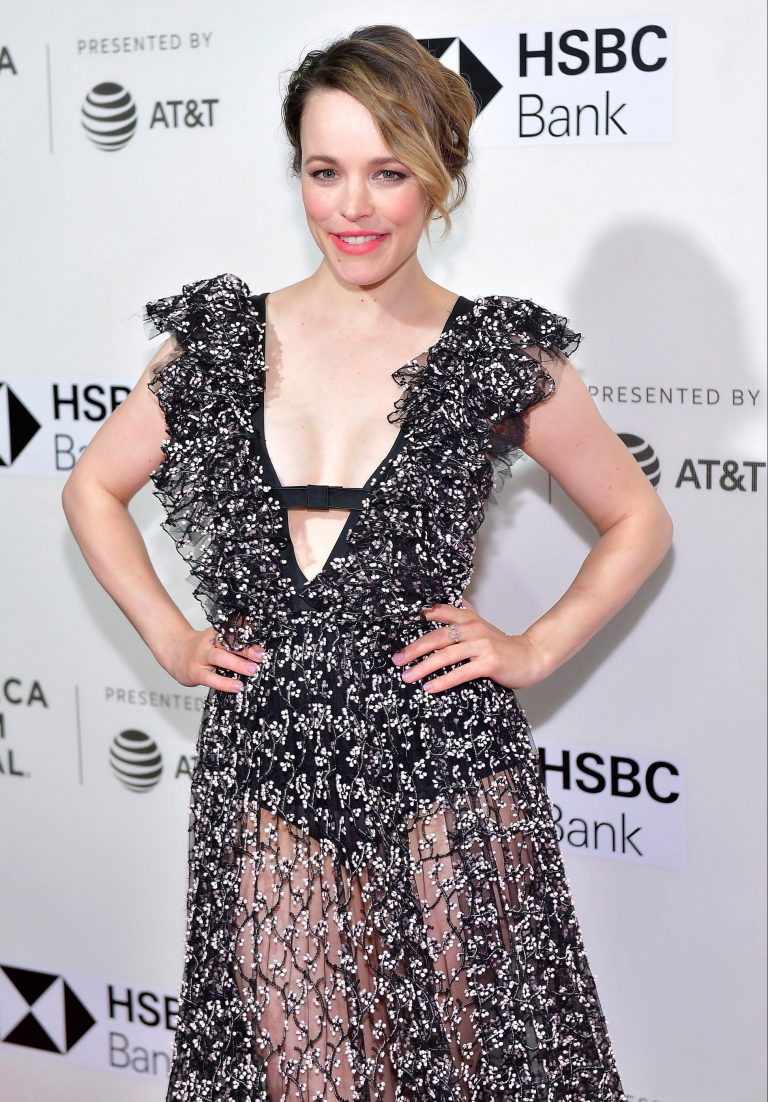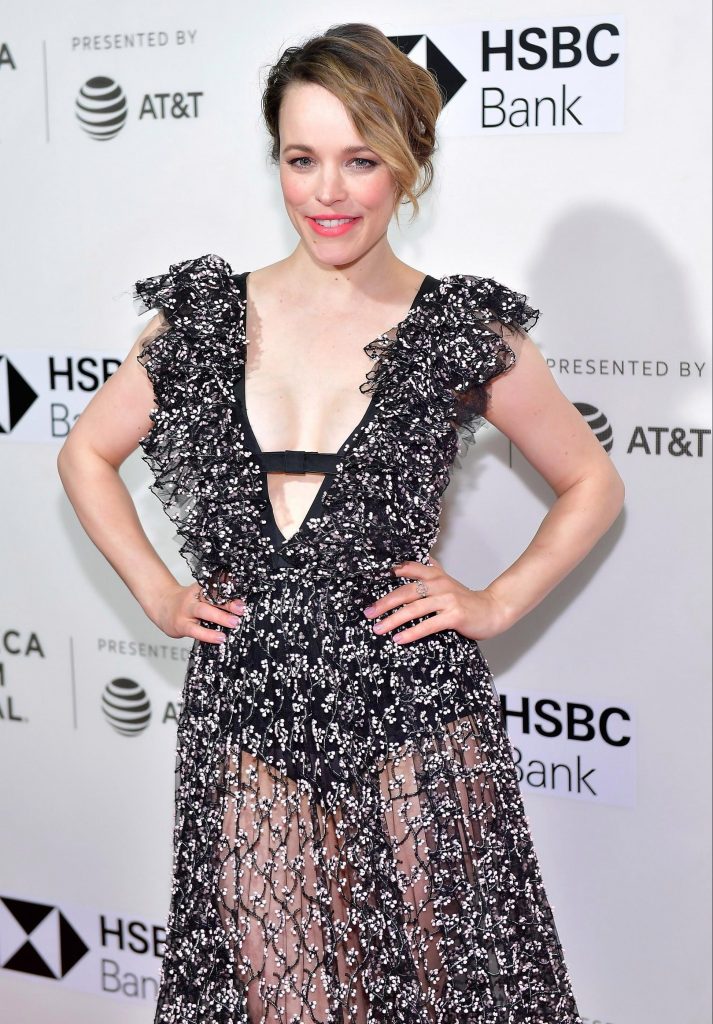 However, Nick Cassavetes' film had a major effect on her life and career, and the movie made it to the list of "The 30 Most Romantic Movies of All Time" by US Weekly, also ranked as the third Top Romantic Movie by Boston.com. It not only gained McAdams several nominations and awards for her performance, but also gave her a boyfriend for the next four years! Ryan Gosling, who landed the role of Rachel's on-screen love interest, took the chemistry between them off-screen. However, at the beginning of shooting "The Notebook" not everything went smoothly. It is hard to believe, but Ryan apparently hated Rachel, and even asked Nick Cassavetes to replace her with another actress – Britney Spears, Jessica Biel and many others tried out for Allison's part, so there were plenty of options. Cassavetes later explained how they dealt with each other: before shooting another scene together, they were locked in a room with the producer, and yelled at each other until they said all they had in their hearts.
It took the actors as long as it took Nick Cassavetes to finish smoking the cigarette he lit at the start of their conversation, later saying: 'I think Ryan respected her for standing up for her character, and Rachel was happy to get that out in the open. The rest of the film wasn't smooth sailing, but it was smoother sailing'.
The couple started dating soon after the shooting process was over, heating the hype over their mutual Teen Choice Awards nominations in such categories as "Choice Movie Liplock", "Choice Movie Chemistry" and "Choice Movie Love Scene". In 2005, Rachel and Ryan won all three awards, making a mess on the stage of the event: when called out as winners, Gosling and McAdams headed to the scene hand in hand, but when they got on the stage, Rachel decided to repeat the kiss they had been awarded for, but… chose the wrong Ryan! Ryan Reynolds was standing on the same stage, ready to present the trophy to Rachel, when she suddenly started kissing him hard in front of the shocked audience, and a no less shocked Ryan Gosling.
'I think I got the wrong Ryan', said Rachel, awkwardly smiling, 'they are both Canadian … and, em… they both have facial hair', she went on explaining her mis-kissing, cheered-on by the audience. However, on the stage of MTV Movie Awards everything went just right: McAdams and Gosling won another "Best Kiss" award, and repeated the scene they had in "The Notebook" – running to each other and locking their lips after McAdams jumped into Gosling's arms.
The first news of Ryan and Rachel's separation hit the tabloids in April 2007, when Ryan was hesitant while commenting on their relationship status. People Magazine reporter asked Gosling if they were still together, as he appeared at the screening of his upcoming film "Fracture" in New York without McAdams by his side, accompanied by his sister and mother. Ryan answered: 'No idea. No comment'. At the Los Angeles screening of "Fracture", Gosling was more open: 'She's working. We go back and forth. That's just the way it is right now'.
They were rumored to have split, but were eventually spotted together enjoying dinner in Toronto in 2008. To the greatest disappointment of their fans and especially of Ryan's uncle, Kevin Gosling, who loved Rachel for her being 'so down-to-earth' and drinking beer with him, Gosling and McAdams finally broke up in November 2008. Ryan is now a happy father of two with Eva Mendez, who he started dating in 2011, albeit at the dawn of their affair claiming that he doubted his fling with Mendez would lead to anything serious: 'I had two of the greatest girlfriends of all time (- referring to Sandra Bullock who he dated from 2002 to 2003 and Rachel McAdams). I haven't met anybody who could top them', he told The Times.
From January to August 2009, Rachel dated British actor Josh Lucas. Born Joshua Lucas Easy Dent Maurer, he was mostly famous for starring in "Sweet Home Alabama" alongside Reese Witherspoon, "A Beautiful Mind" and "American Psycho" amongst other movies.
In March 2009 the couple was spotted kissing in the streets of Toronto while shopping together. Nevertheless, Rachel and Lucas soon broke up, never mentioning the reason for their split. In just two years, Josh would find his future wife, Jessica Ciencin Henriquez, walking with his dog in the dog park – they became engaged after only six weeks of dating.
Rachel then dated Ben Jackson, who she met on the set of "Sherlock Holmes", in which she landed the role of Irene Adler. A former model, Ben worked as Jude Law's assistant, so they spent a lot of time side by side while shooting the movie. Rachel and Ben were seen walking hand-in-hand many times, enjoying their shopping in New York, however, they soon separated.
Following her habit of finding boyfriends on film sets, Rachel met Michael Sheen while filming for Woody Allen's "Midnight In Paris" at the end of 2010. Rachel landed the role of Inez, a materialistic fiancée of Gil Pender, a Hollywood screenwriter, portrayed by Sheen.
The chemistry between the two sparkled, and they started dating in real life. However, they often stated that they felt quite uncomfortable being apart a lot. While Rachel lived in Toronto, Michael alternated between Los Angeles and his homeland of Wales. 'Michael and I never spend more than three weeks apart – we rack up a lot of air miles – but you have to be quite adaptable in this business whether you are in a relationship or not' said Rachel, trying to explain how they keep their relationship going.
In October 2012 Sheen had to quit Twitter as some of Rachel's fans wrote that they didn't understand how 'such a beautiful woman can date someone like Michael' – the actor couldn't stand such comments, and deleted his social media accounts not to see such gossip. In February 2013, US Weekly reported that Rachel and Michael had split after two years. The source reporting the separation stated that they had 'different visions for the future', although neither Rachel nor Michael ever confirmed the reason for their break up.
Morning Glory (2010) #레이첼맥아담스 #RachelMcAdams

🔗https://t.co/bV7AVsh3lr pic.twitter.com/j86dAzNE1c

— 𝐃𝐚𝐥𝐌𝐨𝐨𝐧 (@__DalMoon) October 10, 2020
A Friday night in Toronto on 23 May 2013 went 'full moon crazy', as one of Rachel's fans tweeted later that day. McAdams and the star of the "Game of Thrones" series, Kit Harington, were spotted getting cozy in a Toronto restaurant. Was Kit cheating on his then-girlfriend Rose Leslie, who he started dating in 2011? No one really knows. It was only a month after the rumors on Rachel's link to Bradley Cooper, her co-star in "Aloha", occurred, yet Cooper also had a girlfriend at the moment the alleged romance hit the tabloids' headlines. And then came Harington, who entertained in a lazy evening with his fellow actor. However, Yahoo News then reported that Harington was visiting Toronto not to have a date with McAdams – which happened occasionally! – but to film "Pompeii", an historical disaster film by Paul W. S. Anderson. Kit also attended several sports events in Toronto, so it was obvious that his meeting with Rachel was much ado about nothing, although the tabloids hurried to link the two actors.
In July 2013 Rachel was spotted enjoying a dinner with talent manager Patrick Sambrook, mostly famous for working with the rock band The Tragically Hip and the singer Sarah Harmer. The two shared a mutual interest in sports, as they were seen attending a sports club playing tennis together. In May 2014 Rachel and Patrick were spotted kissing in the streets of Toronto; Sambrook was also often seen on the set of the "Spotlight" movie, in which McAdams landed the role of Sacha Pfeiffer. It was Rachel's birthday on 17 November, so the crew congratulated her with a flower bouquet, while Sambrook ordered a special dinner for his girlfriend to brighten up that snowy day. However, the couple split before the end of the year.
Apparently devastated by her break up from Patrick Sambrook, Rachel McAdams knew very well where to go to lick her wounds – to the set of the next movie she landed a role in.
As often happens with Rachel, fortune was on her side, as she found her next boyfriend while shooting for "True Detective". Born on 8 April 1981, Taylor Kitsch was three years younger than Rachel, and was mostly famous for starring in TV series "John Carter", "X-Men Origins: Wolverine" and "Friday Night Lights". In July 2015, US Weekly reported that Rachel and Taylor were 'really into each other', while another source close to the couple also said that the actors were 'friends for years' as they were both Canadians, but got much closer while working on the set of "True Detective". Despite McAdams' once saying a set was not a very conducive place for finding love, it worked again, for a while. Rachel and Taylor dated for a year, separating in May 2016, although rumors of their break-up surfaced in early January.
Moving right along, this time Rachel entered from the backdoor, and found her new love interest among the writers' crew. Jamie Linden, born on 3 September 1980, in Winter Park, Florida USA, was mostly known as the screenwriter for "We Are Marshall", starring Matthew McConaughey, Matthew Fox and Kate Mara. In 2010 Jamie was the writer for "Dear John", starring Channing Tatum, as well as for "10 Years", also starring "Step Up" lead actor. Rachel and Jamie were rumored to start dating in April 2016, although according to several sources, Rachel was still linked with Taylor Kitsch, and fans were not sure if they had separated or not. However, in August 2016 McAdams and Linden were seen together, which showed that their relationship wasn't a rumor. Nevertheless, the two were very low-key about their affair.
In February 2018, Rachel was spotted in Toronto airport, wearing a sporty jacket to cover her baby bump, but it failed to hide it, revealing McAdams' pregnancy. In April 2018, People Magazine reported that Rachel gave birth to her son with Jamie; the name of their child is still unknown. Since Rachel doesn't have any social media accounts, she doesn't share any photos of her private life and her son, so details of her motherhood are still a mystery. After starring in "Game Night" in 2018, Rachel took a two-year break from filming, returning to the industry only in 2020 when appearing as Sigrit Ericksdóttir in a short video for "Eurovision Song Contest: The Story of Fire Saga", alongside Will Ferrell and Dan Stevens. She is also rumored to appear as Irene Adler in another "Sherlock Holmes" movie, sharing the screen with Robert Downey Jr. and Jude Law.
For now, all seems sweet between Rachel and Jamie, but anyone familiar with the entertainment business will need to be convinced over a longer period of time. We do hope that fans of the couple aren't disappointed!