Who has Rita Ora dated? Rita Ora's Dating History
• British-Slovakian singer, songwriter, actress, and philanthropist, Rita Ora has had a successful career in the UK and US
• Fans have accused her of 'blackfishing' and gaining superficial attention
• Rita has had a number of romantic relationships and flings, including Bruno Mars, Rob Kardashian, ASAP Rocky, and more recently Joey Essex and Andrew Garfield
• Her longest relationship was with musician Andrew Watt, lasting nearly three years
• Rita is currently single, and not married nor with children
British-Slovakian singer, songwriter, actress, and philanthropist, Rita Sahatciu Ora has had a successful and celebrated career in the UK as well as the US. However, her rise to fame, which gained true prominence in 2012 with the release of a collaborated single featuring DJ Fresh, and entitled Hot Right Now, hasn't been without controversy.
People are now wondering whether her success should be questioned after the actress had recently been named for 'blackfishing'. Despite being among the most successful female British artists, with more than 13 chart-topping hits on the UK billboards, fans have accused the actress of gaining superficial attention for appearing to be of African heritage.
However, it has now been found that both her parents are of Caucasian descent, and there are claims that her success would have been less prominent if she had not assumed false ethnicity.
But why am I in a bush though? Happy Saturday everyone🍷 pic.twitter.com/HuMEHXF81M

— Rita Ora ⚡️ (@RitaOra) September 12, 2020
This may not have been the only controversial act the 29-year old has committed to gain success.
The attractive singer from Notting Hill, London, England, iconised for her tan skin tone and provocative figure, has certainly had a lot of past flings and flirts, dating some of the most successful international artists and sports stars, as well as rousing gossip due to high-profile encounters.
Undoubtedly, as it appears, men just can't get enough of her, and it seems that the opportunistic diva uses this to her advantage. Rita's career as a singer began as a humble performer at open mic nights in London clubs, including her father's pub, but her success sky-rocketed only after she signed with Jay-Z's prominent Roc Nation label.
Rita signed a recording deal with Roc Nation in 2009, and this was subsequently the beginning of her rise to fame. However, as many people suspected, it may have come at a price that did not involve any kind of money, but rather a currency of courtesy.
Jay-Z has been married to Beyonce since 2008, and said his vows after six years of dating, but this didn't stop him from creating rumours of signing young female artists at the cost of sexual favours. Such as suggestion involving Rihanna surfaced when she first signed with Roc Nation, and again when Rita signed her recording deal. Naturally, all these rumours were denied and brushed under the carpet, but if they're true, only Jay-Z and the other parties involved would know.
Beyonce's marriage to the iconic rapper has been kept very private, and to the naked eye the only problems they were likely to experience were related to distance, and in no way tied to infidelity.
When questioned about allegations of an affair during a radio interview with Power 105.1's 'Breakfast Club', Rita neither confirmed nor denied these claims, simply saying that it is disrespectful towards Beyonce to make such allegations.
However, more rumours came to light, suggesting that Jay-Z may have been involved with plenty of other women.
Nonetheless, true or not, it was a scandalous start to Rita's career, but her reputation survived it and she became one of the best British female artists of our time.
One of the earliest romances that Rita enjoyed was with none other than pop music gentleman, Bruno Mars. Although it was relatively unknown, Rita did later confess that there was something between them when they had been younger. This was in 2009, shortly after Rita signed with Roc Nation, and Mars had been a struggling musician who was hired as a songwriter for her debut album. Speaking about the relationship, Rita confessed that they had a wonderful time together, and that it was love at first sight.
Although among her best romantic experiences yet, fans of both Rita and Bruno were surprised to find out about their past fling. Then, following her confession and after being spotted together on several occasions, rumours were sparked that they might be rekindling their passion.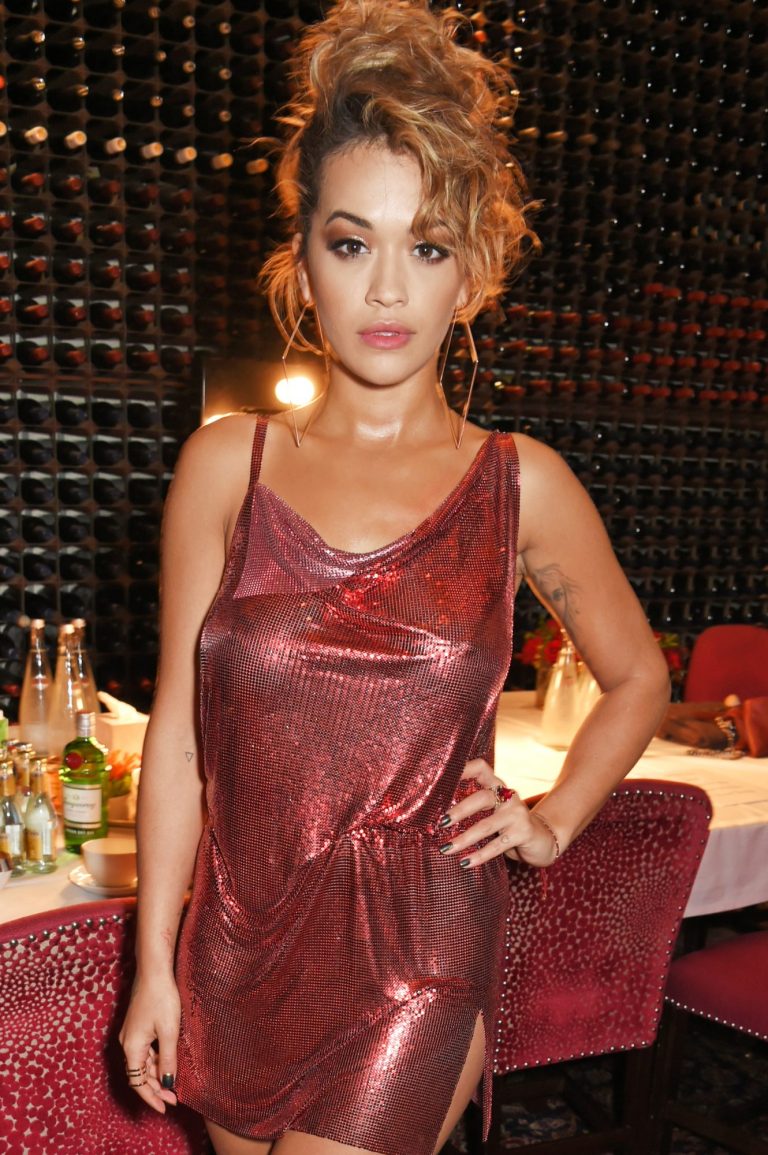 Both artists denied that they were getting back together, saying that they are simply still good friends despite the breakup. Their initial agreement for ending the relationship was blamed on their rise to fame, and subsequent busy schedules.
It was rather unfortunate that the world could not have shared in their joy, as many of their fans believed that they would have made an adorable couple, and thought perhaps Rita may have been the one to whom Bruno's 'Breathless' could have been dedicated to.
For some time from 2011 to 2013, Rita and supermodel Cara Delevingne had been making headlines in the gossip tabloids for their wild party lifestyle, and incredibly close friendship. So much so that some had even believed that their friendship had progressed to the point of intimacy. These rumours were supported when Cara declared that she is bi-sexual, and of course the way the pair referred to one another as 'wifeys'.
Although it was not as controversial at the time as it may have been in the '90s when Madonna started a homosexual trend, the couple continuously denied that anything romantic between them was ongoing.
However, with Rita's second studio album released in 2012, it came to light that there certainly was more than a casual friendship brewing between Ora and Cara. Just listening to Ora's raunchy single 'Girls', would give you a clear indication of the true nature of their relationship. However, Rita continued to deny that they were intimate, and claimed that the song was more about building a closer friendship with one's girlfriends. Nonetheless, whether romance or friendship, the couple began a trend.
Tragically in 2013 their friendship was put on the line due to a disastrous DKNY fashion party. In a more recent interview with #Legend Magazine, Rita confessed that their relationship had been sexually ambiguous, adding that they were on fire back then, and that Cara will always be one of her favourite people even now, after their friendship ended.
Considering that at the start of their friendship Rita had been dating Kardashian sibling, Robert, she may have been reluctant to admit the whole truth. According to her, it will always only be a very close friendship.
In 2012, Rita had a short-term relationship with Rob Kardashian which lasted only two months. Rob ended the relationship after accusing Rita of cheating on him with at least twenty other men! As absurd as his accusation sounded, the end of their relationship was later blamed for Rob's downward spiral into depression, and caused the Kardashian sibling to have a go at Rita on social media.
Things got a bit out of hand and resulted in Kim Kardashian having to step in to keep her brother under control. In a radio interview later that year, Rita confessed that she did not want to talk about it, only admitting that it was a phase, and the only way to go now is onward and upwards. However, during the Twitter rant, Rita made an insulting comment about Rob's manhood, claiming it was the reason she had to get it somewhere else.
When asked if she paid any attention to his insults, she merely replied with a no, saying it's not worth it.
Among Rob's accusations, he claimed that Rita had a one night encounter with American actor/director Jonah Hill, but that rumour was never confirmed.
Following her bad experience with Rob, Rita was seen later in 2012 passionately kissing Canadian entertainer Drake backstage during his tour of the UK. The two had been linked together for some time, with a friendship apparently flourishing between them, as well as Drake receiving writing credit for Rita's song 'R.I.P.
Rita was supporting Drake as an opening performer, and was later spotted literally getting close to him, making people believe that there was something developing between them. It's believed that they dated for just two months, but obviously never became too serious.
During Rita's 2012 dating spree, she also hooked up with the rapper ASAP Rocky, but things ended in a bad turn that was followed by severe aftermath.
After releasing the song entitled 'Better Things' on one of his albums, Rocky became the centre point of a backlash from Ora's fans, whose hatred wasn't completely unfounded. In the lyrics of the song, Rocky goes into explicit details of their sexual experience, and was incredibly disrespectful towards Rita, madking their affair far more public than it should have been.
When questioned about it, ASAP Rocky continuously tried to brush things innocently under the carpet by claiming that it was an old song, and not relevant to what was happening in their relationship at the time. Nonetheless, the explicit lyrics did not sit well with many, and caused a lot of controversy. The way it seemed, it was a good thing that Rita didn't stick around with Rocky, or even worse things may have been brought to light, fact or fiction.
Between 2013 and 2016, Rita had a long series of love interests, and it didn't seem that she was going to settle down any time soon, as none of her interests developed into anything more than a short-term flirtation.
Among the men she dated during this time, and a few rumoured encounters, the most notable names would be Evan Ross, Dave Gardner, Calvin Harris, Justin Bieber, Ricky Hill, and Travis Barker.
Some of the rumours included possible hook-ups with Snoop Dog, Wiz Khalifa, and Chris Brown.
After being spotted at a party in New-York making out with Diana Ross' son Evan, rumours were flying high that they could be an item. However, when Evan came forward on social media saying that it was no big deal, these rumours were quickly silenced. It seemed that Rita was only out to have some fun, and wasn't interested in anything serious.
Two months later, Rita was spotted leaving the home of football agent Dave Gardner, in a manner suggestive that they had had a fun encounter. Rumours once more ran rampant, but nothing serious developed.
Following her two high-profile flings, Rita began dating Calvin Harris as of May 2013, but the couple somewhat unexpectedly broke up in early 2014, after which things became nasty, attracting unwanted public attention, this after Calvin claimed that he wanted more privacy.
However, it later came to light that their separation may have been caused by an encounter that Rita had with Justin Bieber. The two were recording 'All My Life' together, and were said to have become cosy with each other in the studio, which, of course, did not sit well with Calvin.
Shortly after breaking things off with Calvin, Rita was spotted with Tommy Hilfiger's son, Ricky Hil. The two later confirmed their relationship and dated from June 2014 until their mutually agreed separation in July 2015. They confirmed their relationship by sharing the same picture on Instagram, in whic they were holding hands, but despite thing seeming to be serious between them, it didn't develop into anything too intimate, certainly not long-lasting.
From 2016 to the present day, Rita has added nine more men to her long list of flings and flirts, with only a couple of them developing into longer-term relationships. These included Andrew Watt, Tyrone Wood, James Arthur, Lewis Hamilton, Fai Khadra, Andrew Garfield, Joey Essex, and rumoured flings with Brooklyn Beckham and James McGregor.
Among all these men, her most noteworthy relationships were the two most recent, with Andrew Garfield and Joey Essex, but both relationships still only lasted four months.
The other men she dated in most recent times had only been short-term flings, except for her friendship with musician Andrew Watt, which has lasted for nearly three years in an on-off complicated situation.
Judging by her continued supposed failures – and only Rita can say if they were that or not – it doesn't seem that she's intent on settling down any time soon, but her fans continue to keep their hopes up, waiting for the day she finally meets the man who will tame her wild and free spirit. For now, though, the singer-turned-actress is officially single, certainly hasn't married, and as to children… well, wouldn't they just get in the way of her having a good time!?