Who has Rosie Huntington-Whiteley dated? Dating History
• Rosie Huntington-Whiteley was born in Plymouth, Devon, England in 1987.
• She experienced discrimination and bullying in school due to her physical appearance.
• She began her modelling career at the age of 16 and later ventured into acting.
• In 2009, she ended her two-year relationship with Tyrone Wood.
• In 2010, she began dating actor and film producer Jason Statham and the couple are still together.
English model, actress, designer and businesswoman, Rosie Huntington-Whiteley was born on 18 April 1987, in Plymouth, Devon, England. She grew up on a farm in the vicinity of Tavistock towards the west of Devon, one of three children born to Fiona Jackson and Charles Huntington-Whiteley.
Her mother worked as a fitness instructor, and her father was a chartered surveyor. The Huntington-Whitley family are members of royal heritage related to 1st Baronet Sir Herbert Huntington-Whitley, a Baronetage founded on 8 February 1918.
Although growing up in an affluent environment, Rosie revealed that difficulties plagued her early life. While studying at Tavistock College, Rosie revealed that she was the victim of discrimination, often made fun of and bullied for having small breasts, full lips, and her double surname. Despite the early ridicule about her physical appearance, Rosie became a successful model by the age of 16.
In 2006 at the age of 18, Rosie signed with Victoria's Secret, and has since featured in numerous high profile events, campaigns, and shoots.
In addition to her modelling career, Rosie also ventured into acting. In 2011, she landed her first starring role as Carly Spencer in 'Transformers: Dark of the Moon', and in 2015 she starred as The Splendid Angharad in 'Mad Max: Fury Road'.
Regardless of all the accolades and praise Rosie's beauty has earned her, which includes a couple of model of the year awards, the English model's romantic life appears conservative and modest.
Though it seems hard to believe, Rosie has admitted that she never had a high school sweetheart. Despite being one of the most attractive women in the world, Rosie's first love was Tyrone Wood, an art dealer but perhaps best known as the son of Rolling Stones rocker, Ronnie Wood.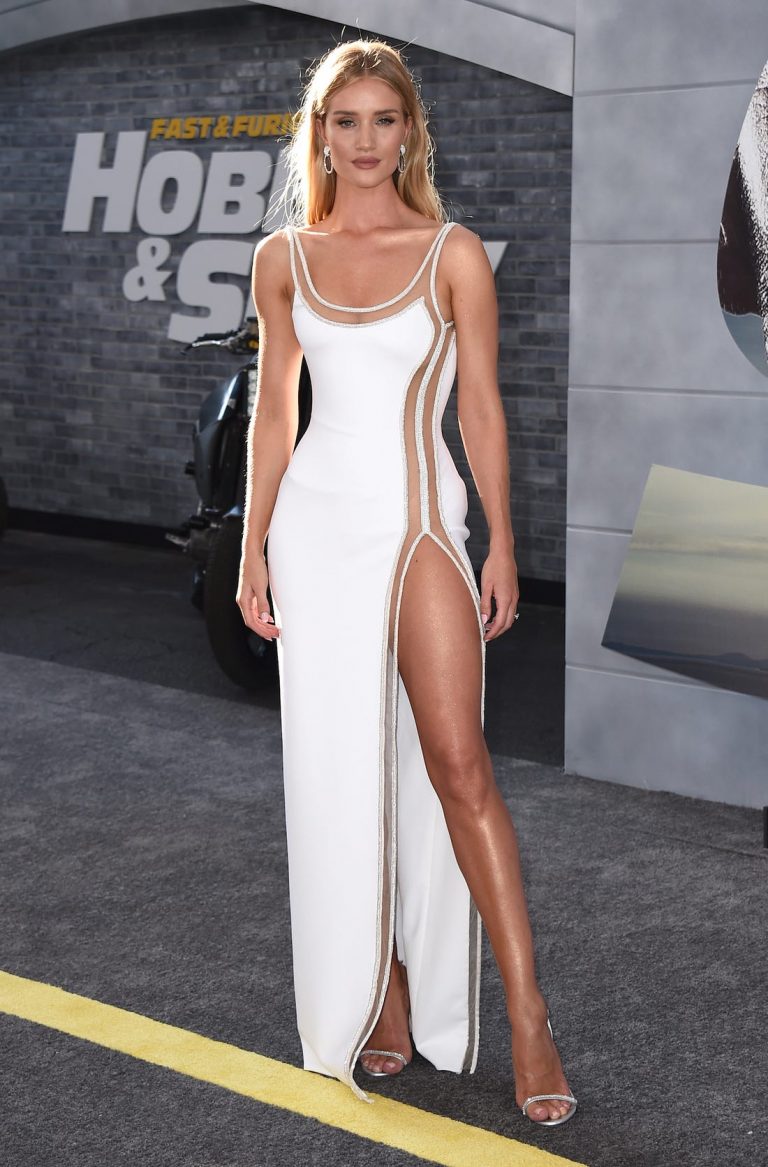 Tyrone met Rosie at a Rolling Stones concert in 2006, and by August that year they became an official couple, and dated for two years before ending things in 2009. The couple spent a lot of time together, appearing at high profile events, and on one occasion were even out for a night of partying with Tyrone's mother.
They lived together for some time in Rosie's Ladbroke Grove apartment in North-West London, and apparently had a sweet romance. Most of their relationship is a mystery though, overshadowed by the gossip and speculation about Jo and Ronnie's famous split – Tyrone's father, Ronnie, left his wife, Tyrone's mother Jo, for his teenage lover, Ekaterina Ivanova, after being married for 23 years.
Shortly after news of Ronnie and Jo's divorce made headlines, Tyrone and Rosie separated. According to most reports, it was Rosie who did the dumping, though she never spoke publicly about her motivations.
Tyrone seemed to be the more devastated of the two, as he left England shortly afterwards to blow off some steam in Los Angeles. However, since their split, Tyrone has recovered and made more headlines by dating other models including Daisy Louwe. Rosie, however, did not take too long to move on from their relationship, and speculators blame her split with Tyrone on the other guy, Olivier Martinez.
In November 2009, Rosie and Olivier became an official couple, and they were soon the 'it' couple who everyone watched, but their French love affair didn't last that long. The two met at the Lexington Armory in New York where Rosie modelled for Victoria's Secret. Martinez is a French actor, who was widely known for being Kylie Minogue's love interest for four years. Despite an age difference of 21 years, Rosie and Olivier's relationship started beautifully – Olivier had recently split from Kylie, while Rosie recovered from her break-up with Tyrone.
Though most gossip columnists speculated that Olivier was the reason for Rosie's failed relationship, it did not seem to be the case, nor did these rumours seem to affect them at all.
While they were together, the couple spent most of their time in Paris and London, but by the beginning of 2010, they had separated. Initially, they blamed busy schedules and long-distance for their break-up. Rosie stated that she hoped it would work out between them, but apparently distance proved too much for their relationship to endure.
On Valentine's Day that February, Rosie spent the time alone in Goa, recovering from the devastating experience. This time around, it seemed that Rosie was the one who was dumped, and close friends said that she didn't take it too easily.
However, not too long afterwards, it seemed as if Rosie had met her soulmate. It was no other than baby daddy, Jason Statham.
In 2010, while filming 'The Transformers' film, Rosie met her future fiance, Jason Statham.
Congratulations Rosie Huntington-Whiteley and Jason Statham! The gorgeous model and handsome actor welcomed their first child, son Jack Oscar Statham, on June 24th!

Posted by Fame10 on Wednesday, June 28, 2017
Of course, everybody knows Jason Statham as the English actor and film producer who gained prominence for his breakthrough role in 'The Transporter', since when Jason has become England's biggest action hero, and is now dating an English beauty queen for the past decade. However, his relationship with Rosie raised some questions, specifically concerned their 20-year age gap. In response to this, 33-year-old model Rosie simply says that age is only a number.
Jason celebrated his 53rd birthday early in 2020, and couldn't seem any happier with his life. The father of three-year-old Jack Oscar Statham initially kept his romance with Rosie secret, but six months after they started dating, the couple moved in together and made their relationship official.
The earliest rumours about their romance surfaced during the 2010 Coachella event, after photographs of them displaying public affection made it to publication.
Soon everyone was talking about the new couple burning up the Red Carpet. During an Elle interview in 2012, Rosie confessed her desire to have children, saying that despite always being busy, she thought that being a mother would become a big part of her life, and that she certainly looked forward to that day.
However, Rosie had to wait five years for her desire to be realised. In 2016, the couple announced that Jason finally asked the big question, and they made their engagement official.
They are yet to marry, but Rosie assured the public that they keep talking about their big day, but aren't too hasty to legalise. She said that the time would come for that, but for now, they are too focussed on their work.
Rosie added that they are also waiting until Jack is a little older before they marry, as she hopes that he would be a part of the ceremony. The most recent news the couple have shared is that Jack currently undergoes potty training. Right now though, Statham's fans are anxiously awaiting his latest film 'Cash Truck', while Rosie's fans are more settled about the viability of her and Jason's relationship, despite the age gap!