Who has Sabrina Carpenter dated? Boyfriends, Dating History
Sabrina Carpenter, the star of the Mean Girls Broadway production, has recently shared that these times of quarantine have changed her personal life dramatically. Locked down in her house with no chance to see the ones she loved made her feel as if she was all alone. However, she is looking forward to returning to her 'normal life' in the nearest future.
Born on 11 May 1999, in LeHigh Valley Pennsylvania USA, Sabrina Annlynn Carpenter is the youngest daughter of Elizabeth and David Carpenter; her older sisters are Sarah (who also tried herself as an actress), Shannon and Cayla (who is Sabrina's half-sister). When she was only nine years old, her father helped her to create her own YouTube channel, on which she posted her singing videos with covers of Taylor Swift, Christina Aguilera and Adele's songs.
The first video of Sabrina's covering Taylor Swift's "Picture to Burn" song was posted in 2009, and attracted thousands of views in just a few months, now having more than 750,000 views in total. David Carpenter also made a music studio for his daughter in the basement of their house, painting it all purple – Sabrina's favorite color. She later admitted that it was her favorite place to spend time when she needed inspiration, or just a peaceful silent place. Sabrina also learned how to play the guitar in her early age and used the instrument in her acoustic covers.
However, music was not the only passion of Sabrina, and at the age of 12 she landed her first acting role in the TV series "Law & Order: Special Victims Unit", portraying Paula in the "Possessed" episode of the show.
It was the starting point of Sabrina's acting career, as she then landed more roles, working on such series and movies as "Phineas and Ferb", "Noobz" and "Gulliver Quinn".
Sabrina has always been an open person, having a lot of friends surrounding her. After she moved to Los Angeles from Pennsylvania, where she was homeschooled, Sabrina found it easy to make friends with everybody she met, so no wonder her first boyfriend appeared by her side around that period of time. Sabrina met Bradley Steven Perry in 2013, when she was filming in "The Goodwin Games" as young Chloe, and even appeared in one of the episodes of "Orange Is the New Black". Being only a year older than Sabrina, Bradley had started his career much earlier than she did. He landed his first role in the drama "Choose Connor" (2007), starring Chris Marquette and Darin Cooper, also appearing in "Without a Trace" and "Magnificent Max".
By 2009 Bradley could boast of his appearance opposite John Travolta and Robin Williams in Disney's "Old Dogs", becoming a Disney actor after that movie.
Sabrina, signed to Disney via "The Goodwin Games", met Bradley after a working day on the set of the series, and they soon became close friends. They had a lot to talk about, having similar teenage troubles, issues on work, etc. They officially started dating in May 2014, when Bradley was cast in his first main role in the "Pants On Fire" comedy, also filming as a regular in the "Good Luck Charlie" series. Sabrina's schedule was as tight as Bradley's, but they found the time to be together after she finished filming music videos for the songs of her own, including "Can't Blame a Girl for Trying" and "The Middle of Starting Over", also exposing her singing talent in her Disney acting projects.
Bradley and Sabrina even made it to the list of "The Hottest Couples of 2014" run by the online magazine J-14, winning the voting with more than 70,000 people participating in the poll.
After Sabrina's big success in "Girl Meets World" in 2014, she still found the time to create music with her band. Matthew Jordan, who still plays the keyboards for Sabrina, posted several photos of herself and Bradley being goofy after recording in the studio. However, she soon asked him to remove the photos, also deleting all her mutual photos with Bradley, as they reportedly broke-up in August 2015. As they were always a very low-key couple, the news of their official break-up didn't appear in the tabloids until months after the actual split, when Sabrina released the song "Smoke and Fire" – the lyrics were quite obviously about the painful break-up taking place in the singer's life. Sabrina later confirmed that whatever happened in her life or came to her mind instantly became the theme of her next song.
In February 2016 Sabrina confirmed that she had broken-up from Bradley, and was single. Some of Sabrina's fans thought Bradley was unhappy with how many male friends Sabrina had while they were dating, and even before that, while the actress didn't want to lose her friendship with the guys she'd knew for ages, so they probably had a lot of arguments over that situation. On 14 August 2015 Sabrina's fans noticed her father had deleted Bradley from Instagram, which probably meant that they really broke-up then. All in all, Sabrina and Bradley dated for more than a year.
As of 2020, Bradley portrays Alec Raday in the "Schooled" sitcom, and is currently dating Camryn Frederickson, an aspiring painter and a freshman at the University of California, Los Angeles.
Corey Fogelmanis has been a lifetime-long friend of Sabrina, and she's been posting their mutual photos for years.
— corey fogelmanis (@coreyfogelmanis) July 26, 2019
He was probably the very person who influenced Bradley Perry's worries over Sabrina's having many male friends. Sabrina has never shared the story of her meeting Corey, but it seems that he has always been in her life, supporting her, having fun and spending spare time with her. Some facts hint that he is a friend of the whole Carpenter family, as he is also close to Sarah, Sabrina's older sister. When Sabrina broke up with Bradley, she started posting more photos of herself with Corey, stating that she loved him and was proud to have a friend like him.
Corey, a painter and human rights activist, also posted photos of himself and Sabrina on his social media accounts. Carpenter's followers accepted that she could have a fling with Corey after a painful split from Bradley, but there is now sufficient information on their affair to show that they were friends and they still are. Nevertheless, it is worth saying that Sabrina and Corey have a very close relationship.
As of 2020, Corey is dating Rowan Blanchard, the actress (Jackie Geary in "The Goldbergs"), painter and model, who was featured on the cover of the Cultured Magazine. However, he couldn't stop saying words of love for Sabrina, posting on Instagram the photo of them hugging, captioning it with the following: 'Baby's first opening night on Broadway. I love you so much. So immensely proud of you'. So are they really 'just friends', or 'friends with benefits'? Even Sabrina's most devoted fans still don't know.
In June 2016 Sabrina could be seen in the sequel of "Adventures in Babysitting" from 1987 entitled "Further Adventures in Babysitting", another Disney Channel original movie, in which she landed the role of Jenny Parker. On the set of the movie, she met her fellow actor Max Gecowets, who portrayed Trey Anderson. Sabrina and Max very soon became friends, and their fans started seeing them together more often.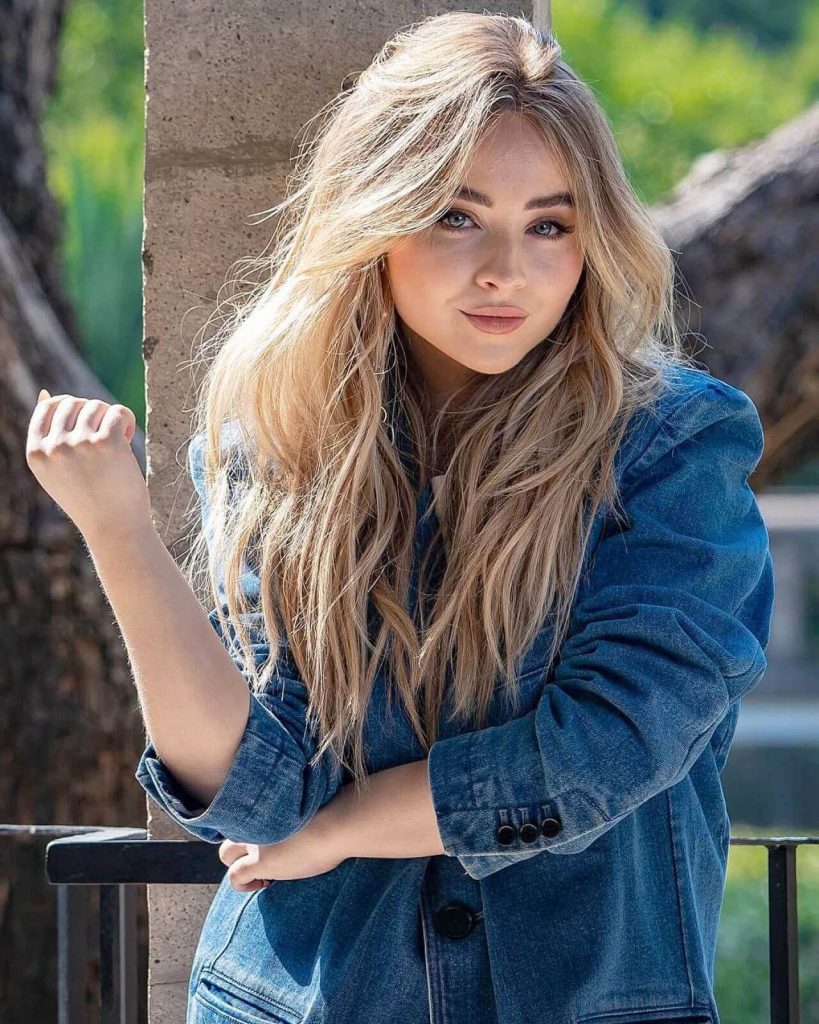 Sabrina poured oil on the flame, constantly posting mutual photos with Max on her Instagram account. Sabrina's fans soon started gossiping over her probable fling with Gecowets, however, Sabrina never really confirmed the seriousness of their relationship, even though her followers witnessed even more of their mutual photos on Sabrina's private Instagram account, but which are now deleted – even that action suggests a rather more serious relationship had ended.
Max later gave up acting, focusing on his studies. He tried himself as a basketball player, a streamer on Twitch, and as a social media personality, but is still searching for his own way forward in life.
As soon as singers record a duo, their fans start flapping their gums over their possible affair. It was just like that for Sabrina, when she recorded the song "Alien", featuring Jonas Blue. Jonas is a DJ, singer and producer from London, UK, who earlier worked with Arlissa, William Singe and Raye.
When he and Sabrina performed the single during  "Jimmy Kimmel Live!" in March 2018, gossip around their supposed fling started circulating on the internet. However, the duo insisted that they were simply colleagues, and that there was never anything else between them.
A similar story was repeated after she recorded the song "Hold Tight" with Uhmeer (born Amir Mitchell-Townes). Sabrina met Uhmeer on the set of "Girl Meets World", when he landed the role of Zay Babineaux. They became friends, and supported each other's music career, since Uhmeer was a musician too. After "Hold Tight" was included on Sabrina's album "Singular: Act I", rumors of their supposed fling very soon appeared. Sabrina posted their photo on her Instagram account, captioning it with the quote from the song: 'i jussss wanna hold tight', persuading her followers to think that there was something between them.
Uhmeer also had a special surprise for Sabrina, secretly appearing on her live show to perform with her on stage, of course making Sabrina's fans think that he felt something for her. However, nothing else is known about the status of a personal relationship between them.
As of 2020, Uhmeer is reported to date Latanya Alberto, a fellow singer with whom he recorded the single "Getaway".
Griffin Gluck and Sabrina Carpenter met each other in January 2019, on the set of "Tall Girl", starring Ava Michelle. Sabrina landed the role of the main character's older sister and prom queen, Harper Kreyman, while Griffin was to portray Jack Dunkleman, who was obviously was in love with Ava's character, Jodi, but couldn't achieve reciprocity due to the difference in their height. Even though the movie attracted mixed reviews from the critics, Sabrina and Griffin apparently used their new relationship to distract from the relative failure of the project.
Before meeting Sabrina, Griffin portrayed Charlie in "Red Band Society", and also landed the role of Sam Ecklund in "American Vandal".
Sabrina and Griffin didn't hide their relationship, and were spotted many times hugging and kissing in the streets, in cafes, etc. In October 2019, Sabrina and Griffin became the topic of many online discussions after attending a Halloween party dressed-up like Britney Spears and Justin Timberlake in their iconic denim outfits. They often visited their favorite Sweet Butter, located in Studio City, Los Angeles, where they were seen enjoying meals and spare time in December 2019.  They appeared together at the Golden Globe ceremony in 2020, and in March 2020 Sabrina accompanied her boyfriend at the premier of his "Big Time Adolescence" movie.
The reason for their subsequent split is still not clear, though some of Sabrina's fans consider that Griffin was jealous of her warm relationship with her fellow actor Casey Cott, with whom she shared the screen in the upcoming Zach Sobiech's biopic "Clouds", produced by Disney Plus – does that sound familiar? Sabrina and Casey were indeed rumored to have a fling, and although that was never confirmed, such rumors can have an effect, and were still possibly the reason for Carpenter and Gluck's separation. No need to say that Sabrina posted a very romantic photo of her and Casey on her Instagram account, taken on the set of the movie. How on earth can a boyfriend let someone go so easily? Of course we'll never know!
Most recently, the "Work It" star and the Radio Disney resident Joshua Bassett were first spotted together during the BLM protests in Los Angeles in June 2020, and some people allegedly witnessed them kissing.
Even before that, Sabrina was spotted in Joshua's new music video "Anyone Else", as her and Joshua's fans recognized her hands, nail length and nail polish shade in the clip – Sabrina shared her photos in May 2020, and had just the same nails on those photos.
A little later, Joshua explained the inspiration for the song, reasoning in one of his interviews  – '"Anyone Else" came about after the sudden realization that I was hopelessly falling in love with a close friend…who was in a relationship with someone else <…> After weeks of denial, in hopes that I'd move on and/or my feelings would subside, I had to finish the song and face the reality'. Apparently the girl Joshua was talking about was not Olivia Rodrigo, his co-star in "High School Musical: The Musical – The Series", who was rumored to be his love interest; it was Sabrina, whom Joshua started dating in the middle of 2020.
✨ Casey Cott appreciation tweet ✨ #CaseyCott pic.twitter.com/439JesWOch

— celebrities (@celebritiess__) July 23, 2018
In August 2020 Sabrina was spotted in her favorite café, Sweet Butter in Studio City, and this time with Joshua, remembering her in the same place with Griffin Gluck.
However, this relationship was also short-lived; in her interview with Entertainment Tonight, which Sabrina shared with her "Work It" co-star, Liza Koshy, she explained that dating during a pandemic made the relationship look like they were chatting on a dating site app. No one knows if that was the reason for the rumors of Sabrina and Joshua's split, but the first signs of trouble between them started appearing at the beginning of August, despite their spending time together in public.
We'll see if Sabrina and Joshua are able to save their love in such hard times, but given her dating history and the difficult current circumstances, we won't be holding our collective breath!