Who has Sarah Paulson dated? Girlfriends List, Dating History
• Sarah Catharine Paulson is an American actress born in 1974 under the zodiac sign of Sagittarius.
• She is known for starring in such film and TV titles as "American Horror Story", "12 Years A Slave", and "The People v. O. J. Simpson: American Crime Story".
• She has been romantically linked to both men and women over the years.
• She was in a relationship with Tracy Letts, and later with Cherry Jones, who is 19 years older than her.
• She is currently in a relationship with Holland Taylor, who is 32 years older than her.
Sarah Catharine Paulson was born in Tampa, Florida USA, on 17 December 1974 under the zodiac sign of Sagittarius. She is one of the most talented American actresses, known for starring in such film and TV titles as "American Horror Story", "12 Years A Slave", and "The People v. O. J. Simpson: American Crime Story", among many others. Her admirable achievements led to huge popularity, which caused media interest not only in her professional but also in her supposed private life. It is known that the famous actress has been romantically linked to both men and women over the years.
Regarding her sexuality, she once said in her interview with BroadwayWorld.com that "the situation is fluid for me," while she would later explain it in an interview with Town and Country Magazine, saying "I do not want to be defined by who I share my bed, my home, my soul with.
My choices in life have been unconventional, and that's my business," but adding, "I do want to live responsibly and truthfully without hiding." Unsurprisingly there has since been a lot of curiosity about her personal life, so we've compiled you a complete list of his real-life partners – just keep listening and check it out!
Before she started dating women, Sarah Paulson had been romantically linked to men. The famous actress was in a relationship with Tracy Letts, who is nine years her senior, and a renowned American actor, screenwriter and playwright, best recognized for winning the 2008 Pulitzer Prize for Drama for his play "August: Osage County". They met each other when she landed a role in one of his plays – "Killer Joe" – in the late 1990s, and shortly afterwards fell in love and started dating.
They soon decided to take a step closer to marriage, since Tracy popped the question and they became engaged. However, Sarah and Tracy eventually broke off the engagement and parted their ways. According to Magazine C, she opened up about their relationship. "I was young — 24. We loved each other, it just didn't work out," she said.
No matter what happened between the two of them, Sarah and Tracy remain on good terms. She confirmed that, since she told the magazine, "He's with Carrie Coon and I adore him and her and their child."  He has been married to "The Leftovers" star Carrie Coon since 2013, and with whom he has a son.
Relationship with Cherry Jones
In 2004, the "American Horror Story" star fell in love with actress Cherry Jones, who is 19 years older than Sarah.
They soon became romantically involved in a relationship, although initially managing to keep their romance away from the eyes of the public. However, the couple eventually stepped out at the 2005 Tony Award event, when Cherry was rewarded with a Tony Award for her performance in the play "Doubt". Sarah couldn't hide her feelings at that moment, so she kissed Cherry to celebrate her win, which revealed their relationship status.
She would later open up about that moment in her 2016 interview with NoTofu magazine, saying "She won a Tony Award, I kissed her, and all of a sudden I was outed. I didn't really think about it in that way at the time—I was just doing what one would do when a person they love has just won a big fat acting prize."
Following the kiss, the successful actress was worried that it would affect her career and position in the show "Studio 60 on the Sunset Strip", which she was filming at the time.
🥳Happy Birthday #CherryJones!
What are your favorite roles she has done?
We want to know! pic.twitter.com/2dvnKwV9IV

— Film Inquiry (@FilmInquiry) November 21, 2019
She told the magazine, "I had anxiety. I was worried that there was going to be some fallout if… anyone knew that I was with Cherry." Fortunately, the creator of the show, Aaron Sorkin became quite supportive; she recalled, "Aaron walked right up to me and says, 'I didn't know you were with Cherry Jones, that's so wonderful. I just want you to know that you're safe here – it was the biggest exhale of my life."
After dating for five years, they decided to end their relationship in 2009, having earlier that year set off break-up rumors since Cherry didn't mention Sarah while accepting her award at the Emmys. In October of the same year, Cherry confirmed the rumors to US Weekly magazine, saying "We're not together anymore, but we're still dearest of friends." She continued, "It's the happiest break up that's ever been. We grew so much together, and now we can send each other off with a kiss and great love."
Sarah revealed more details about their split in her 2009 interview with Broadway Buzz magazine, saying, "We're obviously still very close. We're just in very different places in our lives. I'm 34, so I'm in a "Holy shit, now what?" kind of place about the breakup. Cherry is 52, so I think she's feeling more relaxed," but adding, "I'm emotionally way more freaked out than she is. We couldn't be better friends, and she's right—that amicable feeling couldn't be more there between us. But break-ups are always complicated!"
Sarah Paulson met Emmy Award-winning actress Holland Taylor at a party in 2005. In her 2016 interview with The New York Times, she would admit that she was instantly blown away by Holland's appearance. Sarah described her as "probably the most exquisitely beautiful woman I'd ever seen." However, Sarah was in a relationship with Cherry Jones back then.
A decade later, Sarah and Holland reconnected when they were asked by Martha Plimpton to work together on a PSA for her reproductive-rights organization, A Is For. When their working collaboration ended, the ladies followed each other on Twitter, and soon started exchanging direct messages – Holland was the one who sent the first message. Their online conversation led to a dinner date, and even though there is a large gap in age between two of them, since Holland is 32 years older than Sarah, it didn't stop them beginning their romance. The famous actresses became a couple in 2015, but kept it a secret for a while.
In November of that year, Holland made an appearance on WNYC's "Death, Sex & Money" podcast, and revealed some interesting details about her new romance with 'unknown girl'.
She said, "It's the most wonderful extraordinary thing that could have ever possibly happened in my life." She also opened up about the age difference between them – "There's a very big age difference between us which I'm sure shocks a lot of people, and it startles me, but as they say, 'If she dies, she dies.'" Even though Holland didn't reveal the identity of her girlfriend, she uploaded a photo of Sarah on Twitter later that month, and captioned "When captions fail …" It immediately sparked rumors that they were together.
The couple made their first public appearance together at the opening of Broadway's "School of Rock" in December 2015. Later that month, they were spotted hand-in-hand at the premiere of "Fiddler on the Roof", then in January 2016, Sarah and Holland made their red-carpet debut appearance at the Critic's Choice Awards, and two months later publicly confirmed their romance.
In her 2016 interview with The New York Times, Sarah said, "If my life choices had to be predicted based on what was expected from me from a community on either side, that's going to make me feel really straightjacketed, and I don't want to feel that…what I can say absolutely is that I am in love, and that person happens to be Holland Taylor." Moreover, she mentioned the 32-year age gap between them, by explaining the benefits of a relationship with an older person – "There's poignancy to being with someone older… I think there's a greater appreciation of time and what you have together and what's important, and it can make the little things seem very small."
According to Cosmopolitan magazine, Sarah declared her love to Holland publicly while receiving an award for her role as Marcia Clark in "American Crime Story, The People v. O.J. Simpson" at the 2016 Emmy Awards.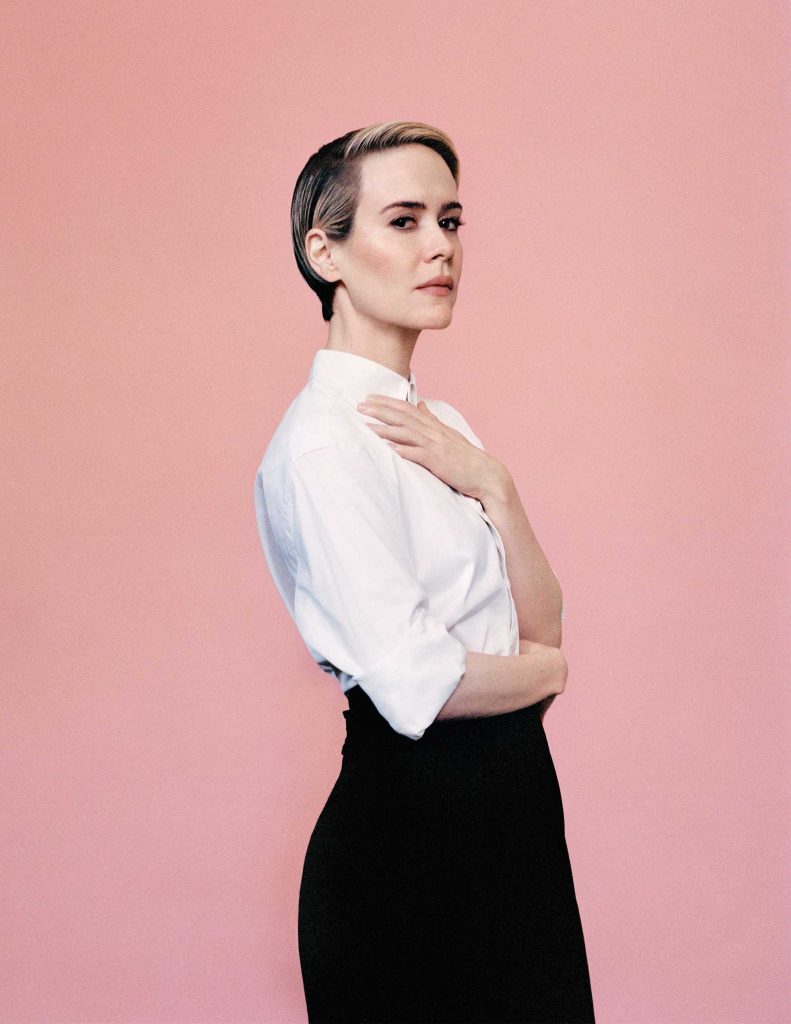 She said on camera, "Hi, Holland! If you're watching, Holland Taylor, I love you." In response to that, Holland tweeted, "If I'm watching … ?? If I'm WATCHING??? YES, I'm watching — !!! good LORD! … I LOVE you!!!"
The "Two and a Half Men" star eventually opened up about their relationship in her interview with Sandra Bernhard on Sirius XM's "Sandyland", saying, "I'm the luckiest person in the world. I can't talk about my life today and not mention this wonderful love." adding, "The relationship has to be part of what is the most wonderful thing in my life. The whole embrace of this wonderful relationship, which makes everything else make sense."
They continued discussing their age difference – according to E! News magazine, Sarah once said, "I'm with a much older person and people find that totally fascinating and odd, but to me it's the least interesting thing about me. I'm a woman of a certain age who chose not to have children, and who has made my career my priority. I am the captain of my own ship, and I've never looked to anyone else to validate that, or tell me it's OK."
In 2018, she told Town & Country magazine, "Our relationship represents a certain amount of hope and risk. Maybe there's something brave in it. Maybe it encourages others to make brave choices. What else can I say? We love each other." She also spoke about their relationship with Elle magazine, saying "I didn't choose to fall in love with the person I fell in love with. But I think why it's interesting to people is that on paper, it's unconventional, but if that inspires anybody else, that can't be a bad thing."
In early 2020, Holland Taylor admitted that "it's kind of a mystery" why Sarah is still dating her. She told US Weekly magazine, "I'm surprised by Sarah. I mean, that we love each other and respond to each other this way is not the surprise, but that she would make a commitment like this and that she would share her life with me is a constant surprise every day really."
She also confessed that Sarah is "obviously at the center of my life". Moreover, Holland described her partner as "very brave" because "a big age span is a challenge to any relationship".
Even though the two have been in a relationship for five years, people are still fascinated with that age gap. Recently, Sarah discussed it again, in her interview for Harper's Bazaar magazine. She thinks that the public's fascination is caused by avoiding thinking about mortality and "our own ageist thinking and the idea that to be old is to cease to have any desire." She also revealed that people generally respond positively to their relationship, but also warned, "Anybody says anything about any person I love in a way that is disrespectful or cruel, and I want to cut the bitch!"