Who has Scarlett Johansson dated? Dating History Since Youth
• Scarlett Johansson is a successful Danish-American actress
• She had a difficult start in life, coming from a low-income household
• She is considered one of the most attractive women in the world
• She has had a subtle dating history, but has expressed a preference for funny men
• She is engaged for the third time to actor Colin Jost, and hopes for a successful marriage
Scarlett Ingrid Johansson is one of Hollywood's most successful actresses, with her films grossing well over $14 billion worldwide, ranking her ninth in the highest-grossing box office stars of all time. The talented and beautiful Danish-American sweetheart has appeared in numerous feature films from a very young age. Scarlett was born on 22 November 1984 in Manhattan, New York City, New York, USA.
Believe it or not, Scarlett has tried her hand at several arts, including stage performances as well as a singing career. Despite the incredible status she's achieved, things were not always easy for the now 36-year-old actress, as Johansson grew up in a household that had very little money.
Her father, Karsten Olaf Johansson, a Danish immigrant who worked as an architect, and her mother, Melanie Sloan, a native of New-York, who worked as a film producer, earned enough to provide for their five children's primary needs. When Scarlett was in her early teens her parents divorced, yet,despite the upsets of early life, Scarlett described her childhood, growing up with a twin brother and older siblings, as pretty much ordinary.
Even then, Scarlett had an interest in the performing arts, and would often put on shows for her family. Her aspirations, under the full support of her family, led her to audition for several commercials, but at one point she lost interest, being devastated when a casting agent preferred one of her brothers over her, so deciding to give up on her dreams, for a short time.
However, luckily for us because who else would be better to play Black Widow than the sultry queen, Scarlett continued to pursue fame as an actress. She enrolled in numerous acting schools, and eventually made it onto the silver screen. Her debut at the age of nine in 1994, was as John Ritter's daughter in the film 'North'.
In the years that followed, she gained minor parts, but still significant roles, in 'Just Cause' alongside Sean Connery, and 'If Lucy Fell'. In 1996 Scarlett and her twin brother, Hunter, starred as the leads in the film 'Manny and Lo', the first of many significant characters that Johansson played.
Today, by mentioning Scarlett, or the nickname she hates so much, ScarJo, anyone would immediately imagine two things – the red carpet and absolute beauty. When it comes to beauty, Scarlett is undoubtedly considered one of the most attractive women in the world.
Maxim has rated her among the Hottest 100 several times, the lowest at number 17 and highest as runner-up.
In November 2006, Esquire referred to her as 'The Sexiest Woman Alive', and in February the following year, Playboy Magazine named her 'The Sexiest Celebrity'. In 2010, GQ picked her as their 'Babe of The Year', and in 2011, Men's Health Magazine ranked Scarlett at number 12 in their selection of 100 Hottest Women of All Time – she's appeared as a regular among FHM's famous hotties since 2005, clearly earning her place as many men's favourite.
Yet, the one question people are asking is what does a guy have to do to charm such a lovely lady. It seems you simply have to tickle her funny bone. Despite being among the most attractive women on our planet, Scarlett has had a subtle romancing history, and in most cases actually falling for funny guys.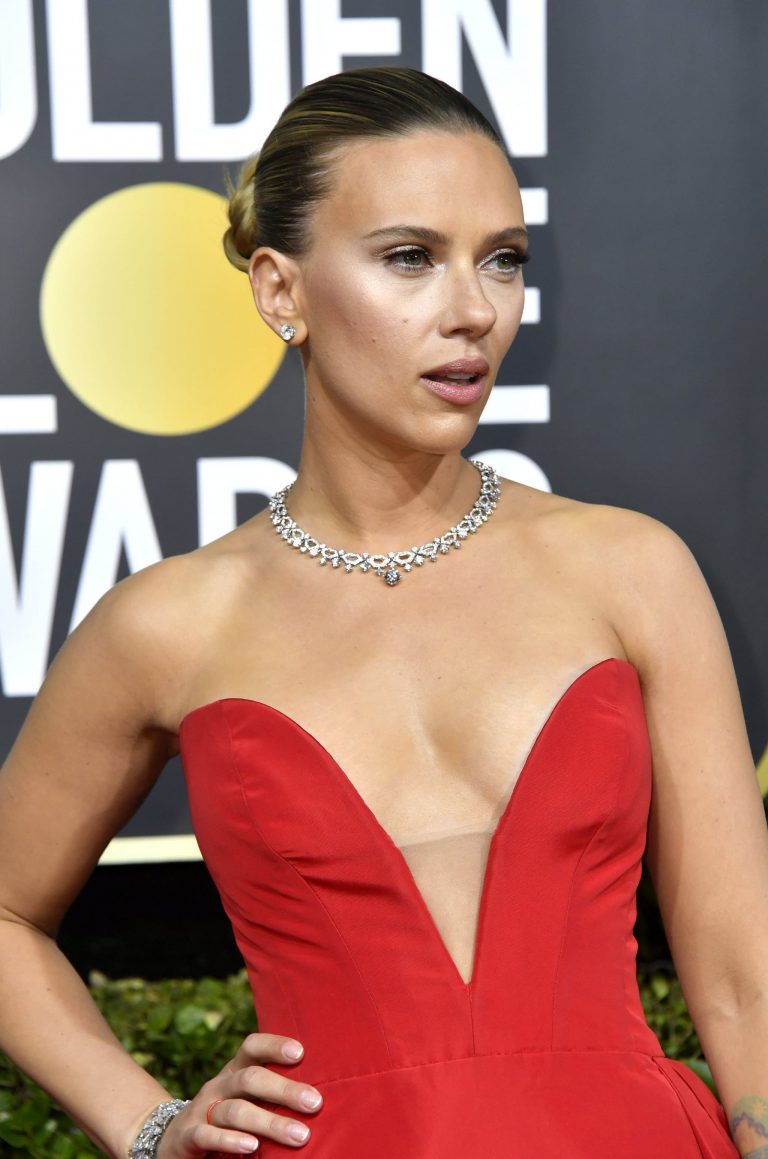 Although she may have been married twice, Scarlett is not known for her promiscuity, but her sex appeal, described by Woody Allen as overwhelming, nonetheless sells out at the box office. So, who are the lucky men to have dated Johansson?
While most men would consider themselves lucky just to be in the same room as her, Scarlett's first known love interest would not agree. The lead singer of the indie-pop band, Bleachers, previously the frontman of Steel Train and now a member of F.U.N., Jack Antonoff, dated Scarlett before her rise to fame. The two were fellow students of the non-profit Professional Children's School in Manhattan, New York City, that educates working and aspiring young actors.
While attending high school, a friend of Antonoff said that the aspiring musician had been completely taken by her beauty to the point of obsession, and eventually started dating her.
She was his prom date in 2002, and for a long time had been his high school sweetheart, but shortly after graduation Scarlett ended the relationship.
According to the explicit lyrics of a song that Jack released while still the lead singer for the rock band, Steel Train, he was utterly devastated by the break-up. In the song 'Better Love', Antonoff is without a doubt singing about Scarlett Johansson, as he mentions not only her surname and first name but also one of her movie titles. He sings that 'scars are a part of her name' and blames the break-up on her pursuit of fame, but while the song may not contain too many insults, fellow band member, Matt Goldman, admitted that Antonoff regrets naming his ex- in the song. It is always the first question that pops up in interviews, and according to Goldman, it was never the band's creative purpose.
In the years that followed, both of them have found fame, and been awarded multiple accolades in their respective fields.
Many may have forgotten about it, but back in 2004, while still rising to fame, Scarlett dated 30 Seconds To Mars frontman, Jared Leto. It may then be true that Jared Leto has had more women swoon over him than hairstyles he has tried, and this includes one of Hollywood's most beautiful. It seems as though Scarlett had a thing for musicians during her earlier years, as Jared was the second rock star she dated. Of course, one of the most memorable photographs of them together would accurately describe the nature of their relationship, and as they say, a picture is worth a thousand words. In the photo, Scarlett was trying to kiss Jared while he was apparently too preoccupied with his 'phone to care.
According to Scarlett, it was not as much of a relationship as many would have thought. In an interview with Cosmopolitan magazine, Scarlett ever so gently alluding the subject, said that once upon a time she was in a relationship with someone who was always so attractively unavailable. While she may have dated several men in the past, this most accurately describes her relationship with Leto.
She mentioned that she struck rock bottom in the relationship when she had to take cab rides to see him at late hours, and waited until the early mornings for him outside bars and clubs, saying that it was at that point that she decided to end it. The romance only lasted a couple of months, and Scarlett soon moved on to date another high-profile celebrity that many have forgotten she was involved with, of course, no other than Josh Hartnett.
Scarlett met Josh on the set of the film 'Black Dahlia' back in 2005, and although the film released in 2006, it is believed that the two started dating long before the premiere.
Although Hartnett is not most famous for comic acting, he can be quite the funny guy in real life, and it might have been the start of Scarlett's interest in a good sense of humour. The two dated for nearly two years before breaking-up in 2007, claiming that their busy schedules and different plans for the future were the reason for splitting.
Josh has since opened up about dating his former co-stars, which not only includes Johansson but a long list of other actresses. In an interview with Elle, Josh spoke about the negative impact dating a co-star could have, not only on your reputation but how it could also lead to making numerous enemies, which could complicate future possibilities, both professional and personal. He added that he would not recommend this to any young and upcoming actors.
Josh also said that none of his friends is ever willing to listen to him complaining about dating beautiful and famous women.
He added in the interview that one of his friends once used the term 'Oh my God, my diamond shoes are on too tight', after he slipped but half a complaint into the conversation.
However sad it was to see the two part ways, things worked out for both Hartnett and Johansson in the end. He is currently dating British actress Tamsin Egerton, and Scarlett is marrying, hopefully, for the last time.
At the young age of 23, Scarlett tied the knot for the first time with her now ex-husband Ryan Reynolds. They began dating in 2007, and in May of 2008, Ryan asked the big question. Although most of their relationship happened quietly away from the spotlight and media attention, Scarlett has since opened up about their marriage, admitting to Vanity Fair that she was too young and far from ready for such an intimate relationship. Like so many other girls, she romanticised the idea of matrimony, and may have rushed things with Ryan.
The quiet ceremony took place in September 2008, but after two years the couple separated, and their divorce went through in 2011. Despite the separation, Scarlett is not holding grudges or any ill feelings toward Reynolds.
Of course, as many know, Ryan went on to marry Blake Lively in 2012 and is now the father of three children with her. Scarlett mentioned in the interview with Vanity Fair that she learned a lot from her first marriage. No reason for their split was made public, but people have speculated that Ryan's competitive nature could have been why things did not work out between him and his ex-wife, or it may have been a dispute about privacy. Scarlett has always kept her personal life quiet, not even owning any social media accounts, while Ryan is known to be explicit with what he shares with the public. It could likely have been Ryan's witty sense of humour that won her heart in the first place.
As sad as their separation was, people are nonetheless happy that Ryan and Blake became one of Hollywood's most celebrated couples.
Following her failed marriage to Ryan, Scarlett may have gotten involved with plenty of men, which includes the likes of Bradley Cooper; however, these are purely speculative rumours, as the only confirmed relationship before her second marriage was with Sean Penn.
It may sound like a miss-match, but Scarlett has since admitted that she had a secret romance with Penn, whom she even called a remarkable person. Sean is 24 years her senior, and although it is not talked about too often, Scarlett said that they got together frequently. By all accounts, they dated for about six months in 2011 until they called things off in July. The entire relationship was a quiet affair, including the reason they broke it off.
In 2012, Scarlett dated an ad-executive by the name Nate Naylor, a New York native like her self, a relationship that apparently only lasted at most nine months.
Scarlett Johansson ❤️🌹 pic.twitter.com/EaGbLHwRt4

— Scarlett Johansson Fanpage (@ScarlettForum) September 1, 2020
Most of the affair was kept secret, and is open to speculation about what happened, as by the end of that year, she had started dating her second husband, French journalist Romain Dauriac.
In 2013, Scarlett married her second husband, Romain, with whom she has a daughter, Rose Dorothy, born on 30 August 2014. The marriage and birth of her child were so secretive and kept under such tight wrap, that even to this day, Scarlett only makes rare appearances with her daughter, and hardly ever mentions her in interviews. When she does, Scarlett only has lovely things to say about Rose. In an interview with Us Weekly, the actress said that Rose adores all things associated with fairy tales and princesses, but what five-year-old girl doesn't?
When it comes to why they divorced in 2017 after three years of matrimony, Dauraic's lawyer only stated that Mr. Dauraic was tired of basing his and his daughter's life on Scarlett's continually shifting schedule.
However, some have criticised him as being intimidated by Scarlett's success, and speculate that the divorce centred around a professional dispute.
Either way, shortly after her divorce's finalisation, Scarlett announced her relationship with her current fiance, Colin Jost. The two dated for nearly two years before becoming engaged, and people are now only waiting for her third big day. They met on the set of "Saturday Night Live", but in light of recent events, people would have to wait a while for the ceremony. Scarlett said in an interview that Colin is very charming, thoughtful and romantic and that she considers him the love of her life. Although she has a child from her second marriage, she believes that she is more than ready this time around. She also loves the idea of raising a family, saying her hopes are high for the upcoming union with Colin Jost.
One would expect that she has more than just hope for this third time on the marriage merry-go-round!