Who has Sofia Richie dated? Sofia Richie's Dating History
• Sofia Richie has been building a modelling career since 14 years of age, appearing in magazines such as Teen Vogue, Elle, Vanity Fair and Seventeen.
• She has also been featured in campaigns for Olay, Michael Kors and Adidas.
• Her personal life is often questioned and misunderstood by the media, making it difficult for her to keep secret.
• Her previous relationships include Jake Andrews, Samir Nasri, Justin Bieber, Brooklyn Beckham and Scott Disick.
• Most recently, she was romantically linked to Jaden Smith and Matthew Morton, but their relationships were either misunderstood or simply didn't work out.
Many people might know Sofia Richie for her booming popularity on social media. She however has been building a prolific modelling career since 14 years of age, appearing in magazines such as Teen Vogue, Elle, Vanity Fair and Seventeen. She has also been featured in campaigns for Olay, Michael Kors and Adidas, making the list of her career accomplishments growing at a fast pace.
Nonetheless, being a renowned model and having millions of followers on Instagram surely has its cons. Sofia's personal life is more often than not questioned and even misunderstood by the media, making her love life a topic overly commented on, and difficult for her to keep secret.
Sofia Richie's personal life is full of rumors, real romance and misinterpreted friendships, so keep watching to know more!
Who Has Sofia Richie Dated?
As the daughter of the music legend Lionel Richie, it's somehow expected of Sofia to have always been under the entertainment world's spotlight.
Much to the delight of paparazzi, Sofia has always been open about her romantic relationships, and isn't afraid of showing herself in public with her partners, though it's also worth noting that this list includes Sofia Richie both official relationships and some of the unconfirmed ones.
Jake Andrews
Jake is Sofia's first publicly known boyfriend. The first time people caught sight of them together was in 2015, when they were shopping around Los Angeles. While the media outlets reported Andrews and her were official, further details about the relationship are still unknown, except for the fact they broke up sometime in early 2016.
The separation seemed to be friendly for the pair, as nowadays they still follow each other on Instagram, and some of their pics together can still be found on Jake's account.
It's worth noting that at the time they started dating Sofia was 16 years old, while Jake was 20.
Jake isn't in the entertainment industry,  but is actually an entrepreneur, and the founder of the sporty fashion brand Shadow Hill. He's also the grandson of famous late Hollywood actor Tiger Andrews.
Samir Nasri
The romance between the French soccer player Samir Nasri and Sofia Richie is still not entirely confirmed, despite how much it was commented on by media outlets. Initially they were caught together by paparazzi in June 2016 in the 1 Oak nightclub in Los Angeles. While that didn't seem to be too much of a reason to speculate that they were dating, the fact they were holding hands and left together in his Rolls Royce was enough for the rumors to start.
Only a few days later, she attended his birthday party in The Nice Guy restaurant in West Hollywood, in addition to the several Snapchat videos she posted celebrating his 29th anniversary, which only made the speculations stronger.
Nasri and Richie's age gap is 12 years, so while the supposed relationship raised eyebrows everywhere, Nasri's ex-girlfriend Anara Atanes was apparently the one who disapproved of it the most, as she and Richie were good friends prior to it. Both girls ended up unfollowing each other on Instagram, though the alleged romance between Sofia and Samir was short-lived anyway.
Previous to his three-year long relationship with Anara, Samir had been dating the tennis player Tatiana Golovin.
Justin Bieber
Rumors about Justin Bieber's romance with Sofia Richie started circulating in August 2016, though it's still unknown how or when they got acquainted prior to that.
The rumors began when Bieber and Sofia posted separate photos of themselves in Hawaii while on an apparent summer vacation. While they didn't appear together in any pic, fans observed their photos were evidently taken in the same place.
Nonetheless, a couple of pics weren't enough proof of their alleged romance, especially considering it was already speculated that Justin's girlfriend was the model Sahara Ray, who was also present on the same Hawaii vacation.
However, everything pointed to Sofia being his girlfriend instead, when she and Bieber were photographed by paparazzis on a beach in Los Angeles a week later. While their pics were pretty much innocent, media outlets reported a few days later that the pair had travelled together to Japan for one of his concerts, officially confirming they were more than friends.
Unfortunately, not everything was bliss for the couple during their summer romance.
Justin attracted a huge backlash from his fans, seemingly for posting too many pics of her on his social media, which not only turned out with Sofia receiving a lot of hateful comments b,ut led Justin's ex-girlfriend Selena Gomez to call him out for his apparently rude attitude towards his followers.
Despite the negativity, Sofia and Justin's romance seemed to be going better than ever when they celebrated her birthday together, and a couple days later, were caught showing a lot of PDA on a trip to Mexico.
However, just as suddenly as it started, it was over. In mid-September their relationship had reportedly ended, for reasons still unknown.
Brooklyn Beckham
The veracity of the romance between Sofia and Brooklyn is still up for debate. Not only are they children of famous singers, they're both prominent models and are very close in age.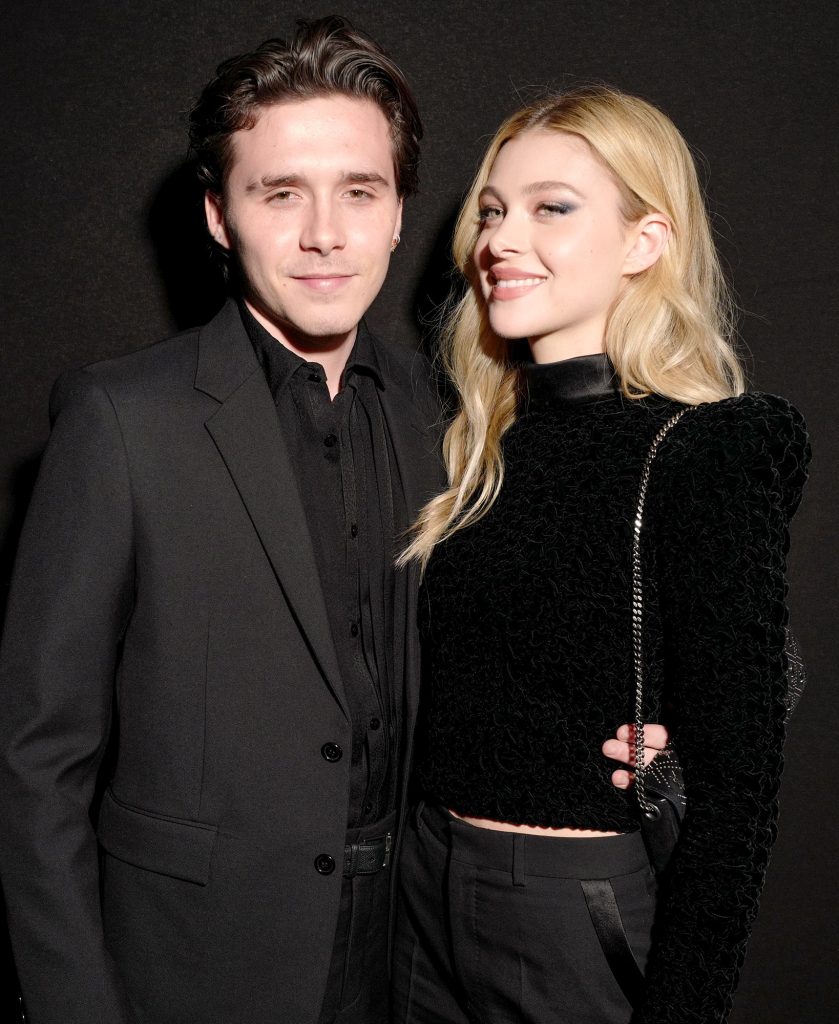 Maybe those similarities are what led them to become friends in the first place, though soon enough their acquaintance was interpreted as a romance, despite the lack of proof that something serious was happening between them.
The dating rumors about the pair started in January 2017, when seen hanging out together in London's bowling place Bloomsbury Lanes. While they didn't show any signs of being in love with each other, they allegedly headed out home together that night.
While the lack of proof of a real romantic relationship wasn't enough to deter people from speculating, the fact that both of them were single at the time only made the rumors look more believable. However, the so-called winter romance between the two soon ended, when Sofia returned to the US and the pair wasn't spotted together again.
Brooklyn's alleged relationship with Sofia started only a couple of months after he and the actress Chloe Grace Moretz had broken up; later in March 2017 he reconnected with Moretz, only for them to break-up for good in April 2018.
Since then Brooklyn has been seen dating several models and actresses, such as Lexi Wood, Lexy Panterra and Hanna Cross.
Scott Disick
If you have been following Sofia Richie for a while, you most likely know how commented upon, turbulent and even scandalous her romance was with Scott Disick, the reality star and ex-husband of Kourtney Kardashian.
It's not really known how she got to meet Disick, though they supposedly became acquainted through mutual friends in California. The first time they appeared publicly together was in a group pic taken in Cannes in May 2017, and while the photos didn't imply that a lot was happening between them, various media outlets reported Sofia and Scott were spotted acting quite flirty while on a yacht. This immediately set rumors on fire, which ultimately led her to take to her Twitter account to deny the speculations.
Despite Sofia's words, she and Scott were spotted several times having dinner together over the following few months. It wasn't until September that year that they were photographed in a more intimate setting, in a New York City bar. As if that wasn't enough, later that month they posted several pics together while kissing at a Miami party, with a congratulatory cake included, making it the final confirmation of a romance everyone already knew about.
Regardless of how well things seemed to be going for the couple, the age gap of 15 years between them was widely commented upon by the media, and gained the disapproval of many.
What Their Families Thought About Their Relationship?
A few years prior to dating Sofia, Scott Disick was in a relationship with the reality TV star Kourtney Kardashian.
Due to the nature of their careers, the former couple's personal issues and subsequent separation in 2015 was well documented by the show "Keeping Up With The Kardashians", and the media.
Despite the separation, there was supposedly no bad blood between the ex-partners afterwards. That's why when Scott introduced Sofia to his three kids during a dinner in January 2018, everyone was surprised that Kardashian didn't take it so well.
As seen in an episode of her family's series, Kardashian was visibly upset after knowing of the encounter, expressing that it was something difficult for her children and her. While that caused a negative reaction from Scott and ensured an argument between him and Kardashian, they finally sorted out their co-parenting issues. Later that year, Kardashian was spotted at dinner with Scott and Sofia in Los Angeles, and by the look of it, they got along well.
On Sofia's side, her family apparently took the news about her relationship more positively.
While Sofia told E! News that her father Lionel Richie was supportive of her dating choices, the singer admitted that he preferred to keep out of it, as his daughter needed to sort out her personal issues herself.
Why Their Relationship Ended?
Regardless of how apparently blissful Sofia and Scott's relationship looked from the start, it was said they argued often, and allegedly broke up several times throughout their three years together.
Reportedly, the couple's first split happened in March 2018, when they unfollowed each other on Instagram. Although days later Sofia denied they had broken up, in June that year the rumors surfaced again when Scott was allegedly caught flirting with an unnamed woman, while attending a party in Wyoming.
At the time, both Sofia and Scott assured once again that their relationship was better than ever, and even went on a romantic vacation to Cannes soon afterwards.
However, in September that year it was revealed that Scott had allegedly talked to his ex-, Kourtney Kardashian about having another baby together, which surely complicated things between him and Sofia, and was probably the reason why she didn't post pics of him for a while on her social media.
Despite the huge negative criticism and rumors they faced, in 2019 Sofia and Scott's relationship seemed to be more solid than ever. Nonetheless, their bliss came to an end in May 2020, as they were reportedly taking a break from each other while Scott went through rehab.
Though they were spotted together again in July, things came to an end by September, when they unfollowed each other on their social media, and this time their split seemed definitive.
Allegedly, Scott was the one who decided to put an end to the relationship, as he wanted to focus on his family, work and health, which were goals that Sofia didn't share with him at the time.
Months after the break-up, Scott Disick started dating the model Amelia Hamlin.
Jaden Smith
Sofia Richie and Jaden Smith were rumored to be dating for a while, but the relationship was either misunderstood or simply didn't work out. While the two have been friends for years, in September 2020 they were spotted having a seemingly fun-time on a beach in Los Angeles.
In the pics posted by Life & Style Magazine, both models looked happy while swimming, holding hands and hugging each other. The same evening, Sofia and Jaden were caught by paparazzi in a cozy double date with the actor Moises Arias and his partner at the Nobu Malibu restaurant.
As expected, Sofia and Jaden's date caused an uproar as her relationship with Scott Disick had just ended. However, soon enough Jaden Smith reacted to the controversy and cleared-up any misunderstanding regarding his relationship with her: 'we're just homies and we love each other and it was fun.' he told US Weekly, also adding that both of them had been regularly hanging out together on the beach for almost 10 years.
Matthew Morton
While Sofia's romance with Jaden Smith was seemingly only speculation, her acquaintance with Matthew Morton was definitely more than friendship.
Morton is an entrepreneur owner of Cha Cha Matcha cafe in Los Angeles, and apparently had known Sofia for a while. Following reports, they texted each other for several weeks until they decided to give it a try, and go out in late October 2020.
Sofia Richie and Matthew Morton out and about in Beverly Hills,California 😍 pic.twitter.com/BNKvcXHQ0L

— Sofia Richie News (@sofiarsupport) November 7, 2020
Fast forward a couple weeks later, they were photographed kissing during a night date in Malibu.
Regardlessthat her family allegedly was very supportive of her dating Morton, the relationship was supposedly just casual, and never became serious. By the end of December, they put an end to their short-lived romance, and weren't seen together again afterwards.
While the news of their separation was somehow sad, it was somewhat expected that their relationship wouldn't last long. Before the break-up, media outlets had already reported that Sofia wasn't interested in having a boyfriend for the time being, and wanted to focus on her family and personal projects first.
This seems rather unlikely, and most likely Sofia will resume her dating life, but whether or not that happens anytime soon, her future relationships will hopefully go well for her. For now, the support of her loved ones and even of her followers is definitely what is most valuable to her.