Who has Stella Maxwell dated? Boyfriend List, Dating History
• Stella Maxwell was born to Northern Irish parents in Brussels, Belgium in 199•
• She is a Victoria's Secret Angel, and the face of cosmetics company Max Factor.
• She identifies as queer, and has been romantically linked to both men and women in the past.
• She's been in relationships with Miley Cyrus, Kristen Stewart, Bella Hadid, Liam Payne, and Jordan Barrett.
• She often collaborates with them professionally, but not all relationships are confirmed.
The beautiful supermodel
Stella Maynes Maxwell was born to Northern Irish parents in Brussels, Belgium, on 12 August 1992 under the zodiac sign of Taurus. She is one of the best-known supermodels in the world, who came to prominence through being a Victoria's Secret Angel. She is also known as the face of cosmetics company Max Factor.
Regarding her personal life, there has been a lot of speculations about her sexuality, since she has been romantically linked to both men and women in the past. Even though the famous supermodel rarely speaks about that, she declares herself as a queer. In her September 2020 interview with Advocate magazine, Stella said that she never worried about her sexuality, and added, "I look forward to the world getting to the point where we don't think about what someone's sexual preference is, what their gender is. Let's really just live and accept and celebrate people's individuality."
She also admitted that she doesn't know if she has a type, saying "I just go with what I feel. I certainly do not fall in love easily. I would say most people I date are my friends. I like spending time with people I, number one, am attracted to, and who I love spending time with."
Stella's dating list is quite long, and features several familiar names, such as Bella Hadid, Miley Cyrus and Kristen Stewart, to name a few. Hereupon, there has always been a lot of curiosity about her personal life. So, we've dug deeper into her personal life, and made you a list of her relationships, rumored or not. Just keep listening and you may discover something interesting!
One of Stella Maxwell's first female lovers appears to be famous American singer Miley Cyrus, who has identified herself as pansexual. They were introduced by their mutual friend and Miley's assistant, Cheyne Thomas.
However, the supermodel joked about that in her interview with V Magazine, saying that they actually met through the gay dating app Grindr.
In July 2015, TMZ magazine snapped photographs of them making out in a Los Angeles parking lot, which went viral and generated romance rumors, that they were a couple. During the same month, it seemed that Stella confirmed their relationship in one of her Instagram posts, since she uploaded their photo and wrote in the caption, "Chillen W my lady @mileycyrus". They even posed together for a W magazine photo shoot.
However, the "Wrecking Ball" singer tried to shut down those rumors during her October 2015 interview with Elle UK magazine, saying that she considered herself as a pansexual personality, and added that she wasn't in a relationship – "I'm 22, I'm going on dates, but I change my style every two weeks, let alone who I'm with."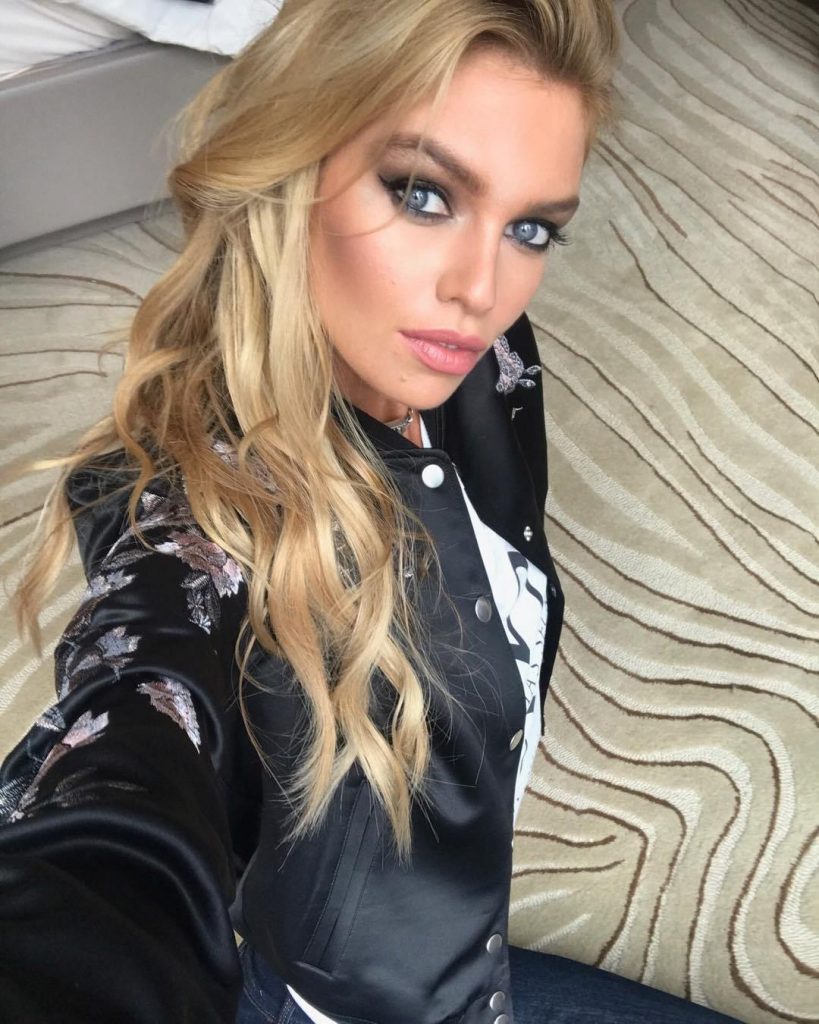 Shortly afterwards, the rumors that Miley renewed her relationship with Australian actor Liam Hemsworth started flying around. The pop singer soon confirmed it, so it was obvious that she and Stella parted their ways. Even though their romance didn't last long, Stella left a strong impression on the singer. Following their split, Miley wrote the song "She's Not Him" with such lyrics as "You're not him / She's not him / No matter what you say / No matter what you do / I just can't fall in love with you / 'Cause you're not him," so many fans believe that the song is about her leaving the supermodel for the handsome actor.
It is known that Stella Maxwell has been very close friend with renowned American model and Victoria's Secret Angel Bella Hadid for year. At one point back in 2015, they even became more than friends.
According to The Sun magazine, the two of them were spotted making out at the party held by LOVE magazine at London nightclub Loulou's in September. An insider confirmed the news to the magazine, and revealed that the girls "only had eyes for each other" and "were kissing passionately and looked to be really into it and having a lot of fun". Regardless, Bella soon went on to date Canadian star The Weeknd, while Stella became romantically involved with actress Kristen Stewart, so – friends, or …?
It remains a mystery how and when Stella Maxwell met the "Twilight" star Kristen Stewart, but it's known that the rumors of them becoming a couple started flying around in December 2016, after the two of them were spotted leaving the Met Gala after-party together.
During the same month, Stella visited the famous actress on the set in Savannah, Georgia, after which a source confirmed their romance to People magazine, saying that they were "having fun" on the set. Another source revealed more details about them, that "Kristen also seemed very happy with Stella around," but adding, "They weren't affectionate, but definitely acted very friendly, and like they had the best time hanging out."
In January 2017, Stella and Kristen finally confirmed their relationship since The Sun magazine had reported that the girls were pictured making out in the back seat of a car during their trip to Milan, Italy. In their relationship, everything was going very quickly – in May of that year, US Weekly magazine reported that the supermodel had moved into Kristen's residence, located in the Los Feliz neighborhood of Los Angeles, California, after just a few months of dating.
However, the duo ended their relationship in late 2018. The last time they were spotted together in public was at an airport in Amsterdam in October, while two months later Kristen was photographed hand-in-hand with hairstylist Sara Dinkin during a stroll in Los Angeles. Just one day after those photos surfaced, a source confirmed the news about Stella and Kristen's break-up to E! News magazine, saying that the girls "are still in touch, but decided it was best to see other people," and adding, "They started to disagree on things and it stopped being fun. Kristen went to Germany to film Charlie's Angels, and they realized that the relationship had run its course and they needed a change." It caused a lot of speculations that the actress left Stella because she fell in love with another woman, but it seemed that the truth was a little bit different.
According to Radar Online magazine, the ex-lovers allegedly made an agreement to keep their private lives on a low profile after their split, as a source explained "not to rub it in each other's faces by dating anyone else publicly for a while," but Kristen ignored it and stepped out in public with her new girlfriend almost straight away. A source revealed that Stela had been "knocked sideways at how brutal Kristen's been," and added that they didn't want to speak to each other at all after the incident. The source also revealed that the actress didn't want to have anything to do with Stella, because "she knows now that Stella was using her to make a name for herself." So the suggestion is that the reason for their split was Stella's obsession with fame.
Then in the spring of the following year, Stella and Kristen sparked rumors of a reconciliation after being spotted together on multiple occasions, even though they didn't show any PDA.
However, the old lovers confirmed those rumors when they were photographed locking lips on a yacht on the Amalfi Coast in Italy in July 2019. However, perhaps unsurprisingly shortly afterwards they called it quits, after Kristen was spotted getting cozy with screenwriter Dylan Meyer in August 2019.
According to E! News magazine, a source confirmed their second split, saying "Kristen is spending time with Dylan and very happy about it. She was seeing Stella for a little bit while it worked, but now she has moved on with Dylan." Moreover, the source explained that it would be very easy for the actress to fall in love again with the Victoria's Secret Angel, since "they have history an attraction. The chemistry is there, and they know each other so well."
Following her first split from Kristen Stewart, the attractive supermodel set off rumors of having hooked up with famous American model Langley Fox in January 2019.
They became pretty close to each other, and were even noticed putting on a cosy display at an intimate party in Los Angeles. Thereafter, the girls were spotted exploring the Rose Bowl Flea Market together, however, neither of them ever confirmed or denied those rumors. Whatever really happened between Stella and Langley remains a mystery!
In May 2019, the Victoria's Secret model again sparked rumors of a romance, with former One Direction singer Liam Payne, just a month after he ended his relationship with supermodel Noami Campbell. The rumors started flying around when the two were spotted enjoying a dinner date, and cozying up to each other at the Grill Royal restaurant in Berlin, Germany. A source told The Sun magazine that they "are both similar ages, and bonded over their experiences in showbiz," and added, "They were seen deep in thought at the dinner, and were clearly having a good time."
In July, Liam shared an Instagram photo of them posing with their arms around each other, and wrote in the caption, "So happy to be working with this one again." So, it seemed that they were just business partners, nonetheless, they hit the headlines one more time, after being featured naked in a campaign for Hugo Boss. Their photos went viral, with Liam describing the photo shoot as "soft-core porn" in his interview with GQ magazine, saying "It just ended up being a lot more naked than I thought it was, and for her as well. She was also naked. And I was just, you know, "Don't look!" She was naked behind me and I was thinking, "Liam, don't look whatever you do."
#Supermodel #StellaMaxwell is the #Queer Girl Next Door https://t.co/Kax9jSK2EB

— Glamour Models Network ™ (@GlamourBazaar) September 22, 2020
However, this event was just a business collaboration, and nothing more than that happened, since Liam started dating model Maya Henry in August, so the romance rumors were immediately shut down.
In September 2019, Stella Maxwell was seen with Australian fashion model Jordan Barrett, after the Fashion For Relief charity party at London Fashion Week. According to Daily Mail magazine, the duo set off dating rumors when they were spotted chatting and laughing while linking arms with each other. However, a year later they haven't confirmed anything. Either they are just good friends, or they are together but they manage to keep their relationship far away from the eye of the public. It remains to be seen, but given Stella's track record, nothing would surprise!