Who has Tom Holland dated? Tom Holland's Dating History
• Thomas Stanley 'Tom' Holland is a 24-year-old English actor best known for his role as Spider-Man.
• Despite being diagnosed with dyslexia at a young age, he pursued a career in acting, eventually earning a Rising Star award at the British Academy Film Awards of 2017.
• He had an early relationship with English director Ellicia Lotherington, but it is unknown when and why they parted ways.
• He was rumoured to have had a fling with Ella Purnell at the 2017 BAFTA awards, but it is also unknown if this relationship was real or not.
• He is currently in a relationship with American actress Nadia Parkes, although they have not officially confirmed this.
English actor Thomas Stanley 'Tom' Holland, is one of the best young actors of the new age, and by far everyone's favourite Spider-Man. His popularity in the role exceeds those of both Andrew Garfield and Toby McGuire.
However, aside from his breakthrough role as the teenage superhero, the 24-year-old Brit has a long list of feature roles on his resume, including the disaster film 'The Impossible' and the drama 'The Current War'.
Born on 1 June 1996 in Kingston-upon-Thames, Surrey, England, he is the oldest of four children born to Nicola and Dominic Holland. Tom's mother, Nicola Elizabeth, works as a photographer, and his dad is a renowned English comedian and writer. His other siblings, twins Harry and Sam, and the youngest Patrick, are all boys.
Tom attended Donhead, an independent boy's school in Wimbledon, South West London, where Tom admitted he received bad treatment from his peers for having an interest in dancing.
Holland later attended Wimbledon College, and from there gained admission into the selective institution of The BRIT School of Performing Arts and Technology in Croydon.
Tom's passion for acting began at a young age, and despite being diagnosed with dyslexia at the age of seven, he continued his pursuit of a career in the visual arts. The youngster's commendable ambition and dedication earned him a Rising Star award at the British Academy Film Awards of 2017, as well as several other nominations and accolades.
Tom made his debut in 2008 at the age of 12 in the title role in the stage musical "Billy Elliot". He played the role until 2010 at West End Theatre in London, making a name for himself on one of the most prestigious stages of the world.
However, in the latter stages of his teenage years, when his acting career seemed as if it was going nowhere, Tom enrolled in a carpentry school of Cardiff, Wales.
Luckily, for all his fans, opportunity knocked on his door, and soon enough, Tom became everyone's favourite friendly neighbourhood Spidey.
As famous as Tom became over the last few years, he is an exemplary icon when it comes to keeping his private life quiet. Little about his dating history is widely known, with only speculation and rumour going around, but if to be believed, Tom's natural charms seem to have the ladies swooning.
The English goof, who immortalised the awkward, improvised hug he gave Tony Stark, is believed to have dated at least five lucky young women. Who these ladies are is a big secret, and most people can only speculate about any current and past relationships the English actor had. Nonetheless, people will know that Tom is not the type to have random flings. In an interview with 'Elle' magazine, Tom revealed that he is not the fleeting type and that it is not his way of life.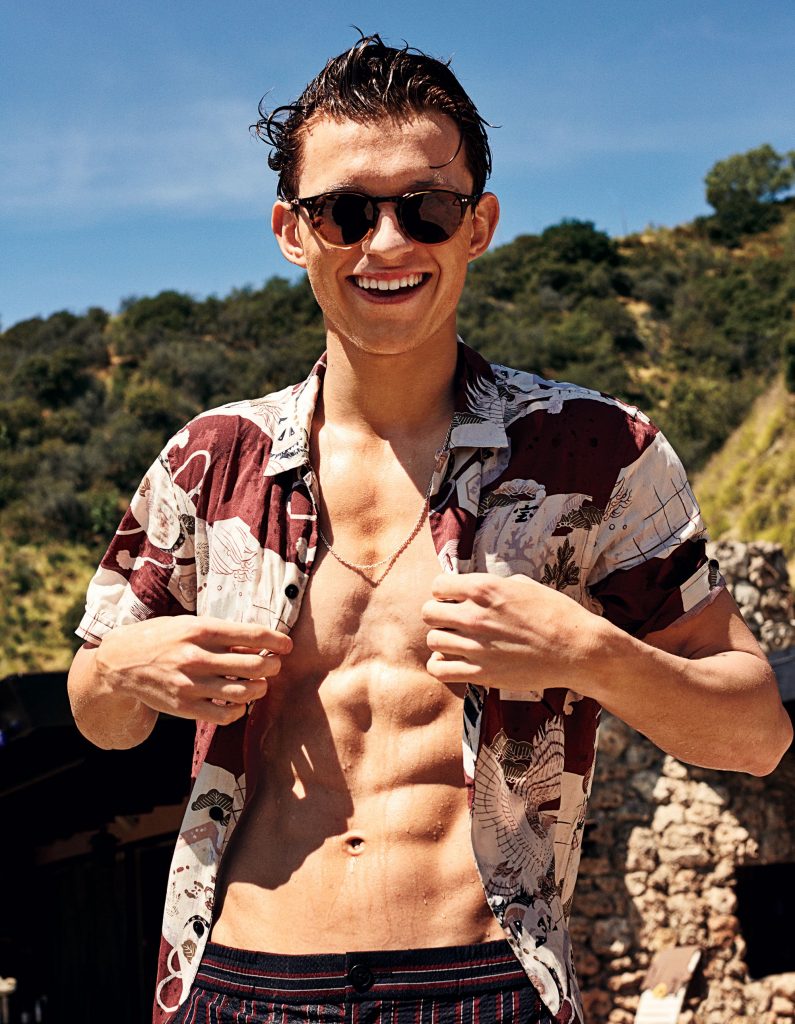 One of Tom's earliest romances started before he became famous as Peter Parker, with English director Ellicia Lotherington, better known simply as Elle. She gained mainstream fame mostly as the girlfriend of Tom Holland, but has one credit as an assistant director of the horror film 'Strangers Within'. By most accounts, the two knew each other for some time, but apparently only started dating in 2015. Most of their relationship remained exclusive, but they often shared now-forgotten stories on their Instagram accounts that mentioned one another. The only confirmation about their romance is from an Instagram post shared by 'Elle'.
In the post she congratulated Tom for landing the role of Spidey, adding that she is a proud girlfriend and that she loves him. Tom later revealed in an interview that he attempted to practice the legendary Spider-Man kiss with an ex-girlfriend, whom most assume could only have been Lotherington.
In 2017, their post began excluding each other, and eventually they even disassociated from one another on their social media platforms.
People believe that this may have been the point at which they broke off the relationship, but since things were extremely private, it is uncertain when or why they parted ways. Still, fans solemnly believe the two dated, but Tom moved on and has been seeing other women.
A fan-made video found on YouTube reveals a little deeper history between the two but shares no insight about their break-up. According to pictures shared in the video, it is possible to believe that they were childhood friends and high school sweethearts.
Most of their Instagram history is now lost, most likely deleted, and it is difficult to confirm the extent of their relationship's history, but it is clear that the two were once very close. Sadly though, things between them did not work out, and it seems that both of them decided to rather focus on their careers than to find love.
Another supposed relationship, neither confirmed nor denied, was between Tom and Ella Purnell, who sparked rumours by enjoying each other's company at the 2017 BAFTA awards ceremony. Gossip writers may have exaggerated things a bit, but the two were having fun, with Tom no doubt celebrating his rising star award.
Both are aspiring actors making a name in the business and do have some common ground. Ella is the star of 'Kick-Ass 2' and by all views a stunning young woman. According to gossip, it appeared that Tom admired her beauty and led her by the hand on the dance floor all night. They enjoyed the BAFTA afterparty at the Rosewood Hotel in central London, leaving that night to head to the Dorchester Hotel where Tom had a room. Allegedly, Tom invited Ella over for some after-party fun. The pair left in different rides, and are said to have met up again at Tom's hotel – it was obvious that Ella didn't have a room at the Dorchester.
What happened then is pure conjecture, as neither of the actors followed up in response to the raging gossip. However, it seems likely that it was an innocent night of fun, as the two never confirmed that anything happened between them. It could have been nothing but speculation that the two even shared a room that night.
Considering that his plus one for the ceremony was his mother, Nicola, it begins to sound more like inaccurate rumours. It's unlikely that anyone would go flirting with random strangers in their mother's company, watching everything you do. In the meantime, Ella is romantically linked to her co-star of 'Miss Peregrine's Home for Peculiar Children', Asa Butterfield.
At the time, Tom was getting over his breakup with his long term girlfriend, Elle. Keeping in mind that Tom is one of the most secretive stars in Britain, it is hard to say if any of the rumours are true, but the fact that the two g were never again seen together, it is likely that they never dated.
To keep things simple, and rather more accurate, they had some fun dancing at a BAFTA award ceremony afterparty, celebrating Tom's success. Nothing wrong with that.
The Internet raged for some time with memes proposing that every short girl needs a tall guy, but when it comes to the most shipped relationship in Tom Hollands history, it seems that fans believe that every short guy should date a tall girl. Ever since their appearance in the latest 'Spider-Man' films, fans have been obsessed with the chemistry between Holland and his co-star, Zendaya.
However, the two continuously denied the dating rumours that rampaged on social media and in the gossip tabloids. The earliest rumours suggested that the two went on holiday together, to which Zendaya responded with a surprising comment, stating that she hadn't had a vacation in a long time.
Tom jokingly responded, asking if the film's press tour counted. Despite their denial, both fans and gossipers could not stay quiet about the possibility that these two are dating.
To further fuel the gossip, Zendaya and Tom were spotted together numerous times. On one occasion, they went for a drive around Los Angeles, trying their best to avoid the paparazzi. Then, after JustJared published an online story about their secretive relationship, a close friend of Zendaya's, Skai Jackson's mother, Kiya Cole, commented that the two were dating but kept things on a the low key.
The comment caused a great amount of commotion, but to make things even worse, Tom posted a suggestive Instagram picture, in which he tagged Zendaya's name in a very awkward and intimate spot. In response, Zendaya claimed that Tom was nothing but incompetent on social media, calling him Instagram stupid, and saying that it was a mistake on his behalf.
Regardless of all the shipping from fans that their supposed relationship got, the two never officially dated.
— Zendaya (@Zendaya) September 8, 2020
Tom only ever referred to Zendaya as one of his best mates, and Zendaya admitted that their height difference would make things awkward!
Family Friend
In July of 2019, photographers spotted Tom out with a mysterious young woman. Rumours began sparking that they were on a date, and it crushed every possibility that many fans shipped a relationship between him and Zendaya. In the photographs, it appears that Tom got comfortable with the young lady, and rumours suggested that – god forbid – they even held hands!
The young woman, later identified as Olivia Burton, happened to be a family friend, and Tom denied ever dating her. In an interview with GQ, Tom stated that it came as a shock to him to find out that he dated somebody, but also said the experience opened his eyes. He realised that this is his life now, and he should be wary of what he does in public. Tom confessed that this was the first time he'd ended up in the tabloids, adding that he is not much of a tabloid person.
Tom prefers to keep his intimate secrets to himself and does not enjoy being involved in apparent scandals, or reaching the front pages of the gossip media. Information later dug up about the unknown Olivia, revealed that she works for a digital production company and is a native of England. The Sun also confirmed that she is a family friend, and that the Hollands and Burtons have a long history together dating back – no pun intended – as far as Tom's childhood. Despite rumours that the two dated for months, Tom never confirmed the relationship. It could be that Tom merely defended Burton, trying to protect her from the prying eyes of the paparazzi and his fans, and did date her.
According to rumour, they broke off the relationship – if there was one – in April 2020. Other speculations published by The Sun suggested that they took their time to find a connection between them, and regardless of not having his fans' approval, Tom and Olivia's families are all for the relationship. Nonetheless, Tom denied the rumours, but fans continue to hope that he gets together with Zendaya.
The Latest Love Interest
The latest development in Tom's love life is with the American actress Nadia Parkes, who plays Claire Clairmont in 'Doctor Who', and also had a role in 'The Spanish Princess'. In July 2020, Tom sparked raging rumours that the two might be dating, after posting a picture of her on Instagram. More rumours had surfaced earlier in May when The Daily Mail reported that the two were quietly seeing each other. Neither one confirmed or denied it, but Nadia shortly after made her Instagram private, making people wonder what it was that she was hiding. When Tom's post went viral, fans believed it was his way of making things official between them. Only by August did Nadia return the favour by posting a picture of Holland. This made fans believe that Holland was more eager to gush about the relationship than Parkes. More rumours surfaced when the London quarantine began, suggesting that Tom and Nadia, along with one of Tom's brothers, were shacking-up together.
These rumours also stated that Tom confessed the relationship to close friends and family, saying that spending the quarantine together so early in the relationship made them grow stronger.
However, they are yet to announce the relationship, but for now their Instagram accounts are filling-up with cute pictures of their relationship. There is a possibility that Nadia's close friend, Sophie Turner, may have introduced the two on her bachelorette trip to Spain, shortly before her French wedding with Joe Jonas.
Sophie has commented on some of Nadia's Instagram posts, further fueling rumours that she is dating Tom Holland. Because it may be that Tom is a very private person, the likelihood of him publicly announcing the relationship is slim. Thus, most fans simply believe that it is already official and that they are dating.
We and the fans can only watch and wait, if we don't have anything else to do!