Who has Willow Smith dated? Boyfriends List, Dating History
• Willow Smith is the daughter of famous actors Will Smith and Jada Pinkett Smith.
• Willow began her career as a child actor and later pursued a successful music career.
• In 2013, Willow revealed that she had struggled with self-harm due to the pressure of fame.
• Willow is currently in a relationship with Tyler Cole and the duo have a music project together called "The Anxiety".
• Willow has expressed interest in polyamory and has been rumored to have dated actors Moisés Arias and Jaden Smith.
Coming from a celebrity family for most people means to be born with a silver spoon in one's mouth, but the story of Willow Smith is not so sugar-sweet. Even though her father, Will Smith, is one of the highest paid actors in the world, and her mother is also a successful actress, businesswoman and hostess, the young girl made her way onto the stage through her own talent, her own courage, and despite her own mistakes, which sometimes cost her a bit more than she expected. Was there someone special to comfort her on a hard day's night?
Born on 31 October 2000, Willow Camille Reign joined the Smith's family in Los Angeles, California USA. At that moment, her father, Will Smith, was seeking a new project that would smooth out the disappointment his latest movie "Wild Wild West" turned out to be, according to most of the critics and the audience. He was also developing his music career, filming one music video after another. His wife and Willow's mother, Jada Pinkett Smith, also paused her acting career after starring in the movie "Bamboozled", to spend more time with the new member of the family, also that Willow's older brother, Jaden Smith, was only two years old when she was born.
She witnessed her family making their ways in the entertainment industry, and soon realized that she liked the idea of being famous and performing on stage. While attending Sierra Canyon School, located in Los Angeles, she debuted when she was only seven years old in the movie "I Am Legend", alongside her father. She later appeared in "Kit Kittredge: An American Girl", winning a Young Artist Award for that work, and the "True Jackson, VP" series, but her music career seemed far more promising. Willow's debut single "Whip my Hair" was a huge success and became certified platinum in the US, so in 2010 she signed a contract with Roc Nation label, mentored by Jay-Z.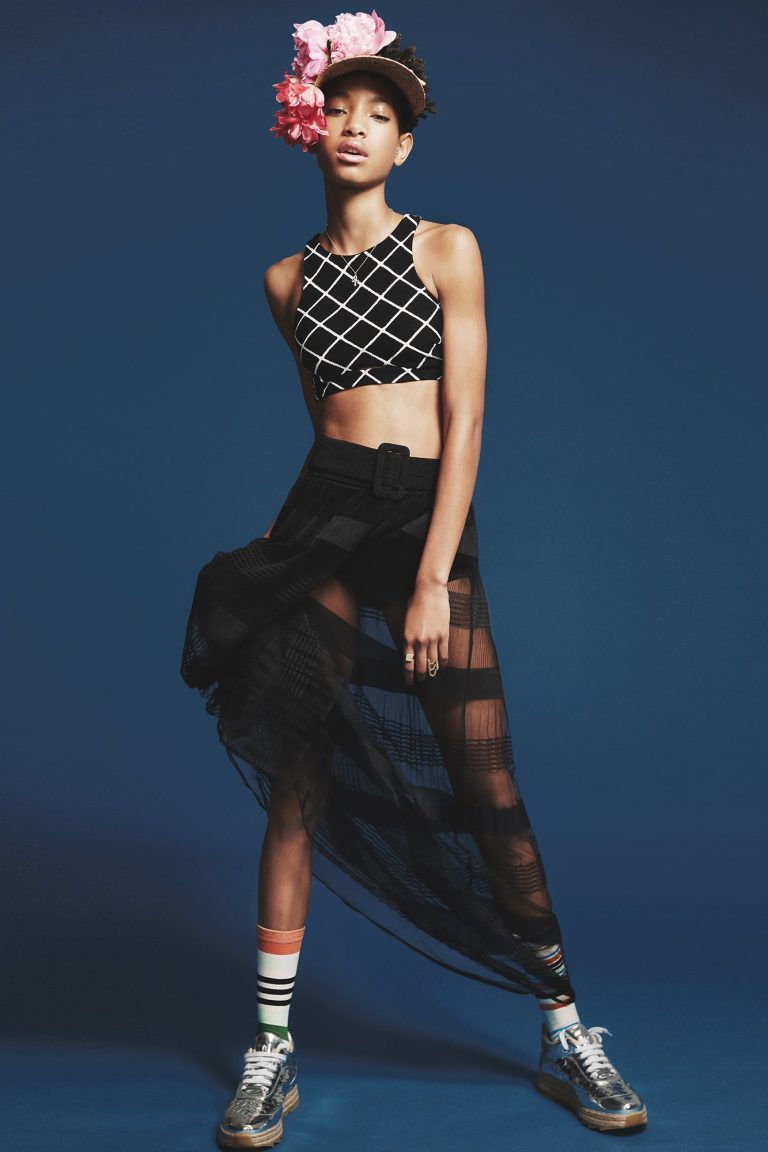 It was only in 2018 that Willow shared that the fame she generated from releasing "Whip My Hair" was more than she could bear, so she started cutting herself, as if trying to give way to her inner emotional pain no one had even noticed. 'I honestly felt like I was experiencing so much emotional pain but my physical circumstances weren't reflecting that', she shared during a talk show episode, hosted by her mother and grandmother, Adrienne Banfield-Norrison. It took Willow more than two years to understand that she wasn't doing anything beneficial to her body, and that her life could become better, so she just stopped self-hurting herself by 2013.
Her mother said that it she herself was ashamed that she didn't notice any signs of her daughter self-harming.
Despite the success of her first two singles, "Whip My Hair" and "21st Century Girl", her duo with Nicki Minaj was a commercial failure, so the release of her LP was postponed and then cancelled. It was only in 2015 that Willow managed to gather enough good material to launch her debut album, "Ardipithecus". In 2017 at the age of 17, Willow released her second album, "The 1st", which received favorable reviews from many critics, and in July 2019 Willow recorded another album, "Willow", which included a duo with her brother Jaden, entitled 'U Know".
Since the end of 2019, Willow has been working on her new music project – a collaboration with her current boyfriend, Tyler Cole, called "The Anxiety".
Willow's first relationship she was rumored to have as a teenager, was with American actor Moisés Arias, who is most famous for starring in "Ender's Game" and "The Kings of Summer". Born on 18 April 1994, in New York City USA, Moisés started his acting career when he was 11 years old, appearing in an episode of the "Everybody Hates Chris" series. He later appeared in several popular Disney series, such as "The Suite Life of Zack & Cody" and "Hannah Montana".
Whoa! A highly controversial photo of Moisés Arias, 20, and Willow Smith, 13, lying in bed together surfaced on Tumblr this week! Check out the pic & tell us what you think: http://bit.ly/1uBM8v7

Posted by Latina Magazine on Wednesday, May 7, 2014
Moisés and Willow allegedly started dating in April 2014, but their relationship wasn't too long. Moisés was focused on his blossoming acting career, while Willow was searching for an inspiration for her upcoming album, so the two couldn't spend too much time on dating, and so broke-up, but that was not the end of the story.
In May 2014 photos of Willow and Moisés were posted on his blog, and made a lot of noise. One of the photos had Arias lying on the bed, shirtless, with Willow cozying up with her head on the former "Hannah Montana" star.
Moisés was 20, while Willow was just 13, so it even triggered an investigation by the Los Angeles County Department of Children and Family Services. Even though the photos were proven to be harmless, and Willow's brother, Jaden, also had photos from that set, lying on the same very bed, the smoke from the whole situation was far from being pleasant. Willow certainly became far more careful with taking photographs which might become controversial.
Willow started dating aspiring musician Tyler Cole in April 2018, though some sources  suggest that their friendship-turned-to-relationship started in late 2017.
However, the first public record of their closure appeared in 2018, when Tyler uploaded an Instagram post with their mutual picture, writing that Willow was his 'queen' and 'best friend'. In October 2018, Willow and Tyler were spotted kissing after a sushi date at a popular place in California, Nobu Malibu. It was the first and still the only PDA of Smith and Cole ever spotted, as they still kept their affair low-key.
On 6 October 2020 Willow invited Tyler to join her on the talk show she hosts alongside her mother and grandmother, "Red Table Talk", and Tyler was introduced as a 'family friend'.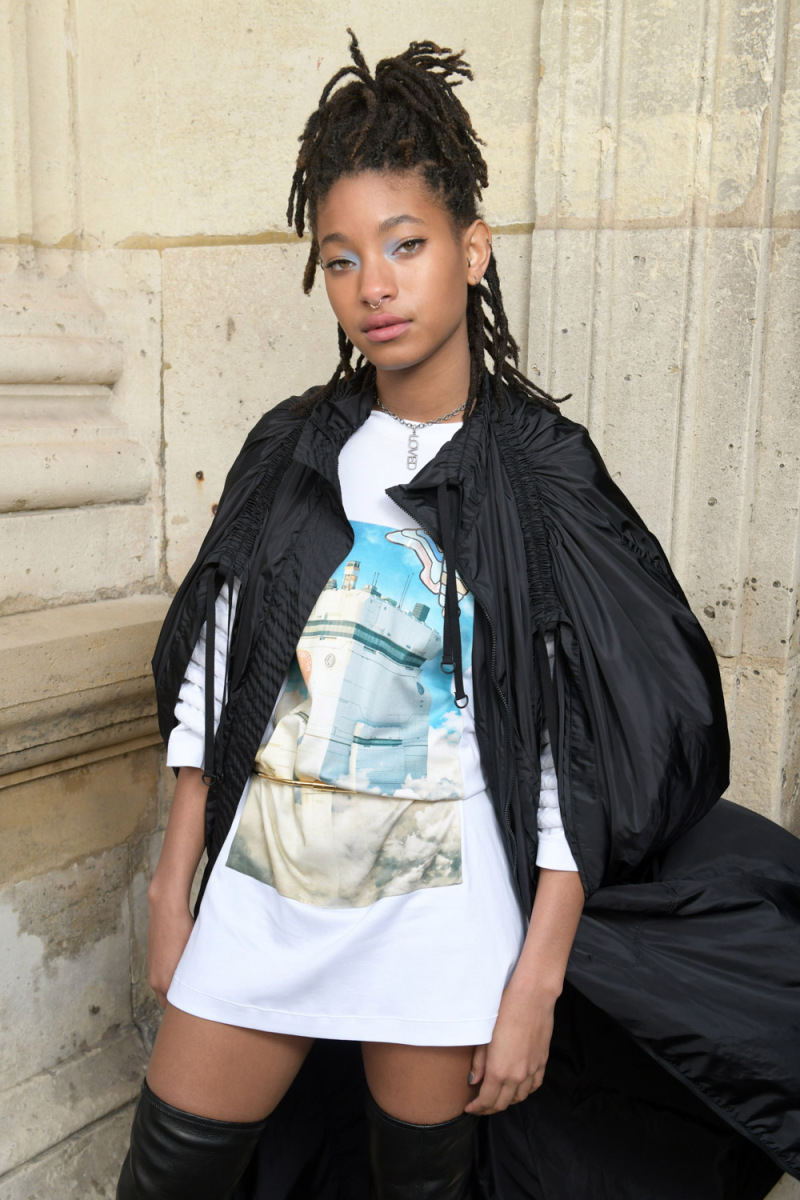 Since 2019 Willow and Tyler have been recording music together in terms of a band "The Anxiety", later releasing the eponymous album in 2020.
Meantime, in June 2019, Willow came out as a bisexual, stating she could imagine herself either with a guy or a girl: 'I love men and women equally and so I would definitely want one man, one woman', shared Smith, admitting that she dreams of being in a polyamorous relationship. 'Do you think you can be in love with two people at the same time?' she wondered during one of the "Red Table Talk" episodes – 'I feel like I could be polyfidelitous with those two people' concluded Willow.
'Whatever makes you happy', said her mother, Jade Pinkett Smith, waving her hand. However, Willow then explained that she considered a monogamous relationship to have a risk of toxicity, as if a person found out his partner fell in love with somebody else, it brought insecurity to their union, which could cause fears, anxiety and, in many cases, violence. It is worth mentioning that Willow's brother, Jaden, was also rumored to have a homosexual relationship with the rapper Tyler the Creator, though the rumors were neither confirmed nor denied by either of them.
All the foregoing may just have been musings from Willow, since as of late 2020, she is still dating Tyler Cole, and they look quite happy together, working on their new songs; they have recently released their new song "Just Different".
Time will show if a third person will ever join their couple, although Tyler hasn't commented on Willow's desire to have a polyamorous relationship, repeatedly calling Willow his best friend.