Who has Zac Efron dated? Zac Efron's Dating History
Zachary David Alexander 'Zac' Efron has always tried to do his best. At school he was said to 'flip out' if he didn't score an "A" and only got a "B" for his tests: he wanted to achieve the best results he could, and to prove everybody what he was worth. Is he as demanding of himself when it comes to his relationships with females?
Looks like it's not a secret at all how and where the two initially met. Zac and Vanessa Hudgens were cast for the "High School Musical" movie, created and produced by the Disney Channel. The movie was released in 2005, and gained generally positive reviews from critics, making Zac and Vanessa new teenage idols. Their fans apparently didn't dream of them being together in real life, as they didn't know Efron and Hudgens were in fact dating – the couple didn't want their romance to be treated as a "promotional trick" of the movie, so they kept their private life low-key.
'If you didn't know they were dating, you wouldn't know they were dating. They're really good at not being obvious', a production source shared with People magazine in 2007. However, Vanessa said in her interview with People in 2019 that the chemistry between her and Zac were 'very evident': 'We created a bond right from the start. We were like, 'We're doing this, it's us or nothing', Vanessa recalls the auditions they had back in 2005.
The fame Efron and Hudgens launched was tough to go through, yet Vanessa remembers that being in relationship with Zac helped her to stay grounded and stabilized even when all eyes were on them. However, their romance was not all-candy-cane-sweet, and they even had fights during rehearsals right on the set, making the cast think their arguments could ruin the whole thing: Kenny Ortega, the director of the movie, also felt pretty uncomfortable, witnessing the scuffle between the lovebirds: 'Oh no, is our movie going to fall apart right now?', he used to ask Vanessa after another episode of their fight.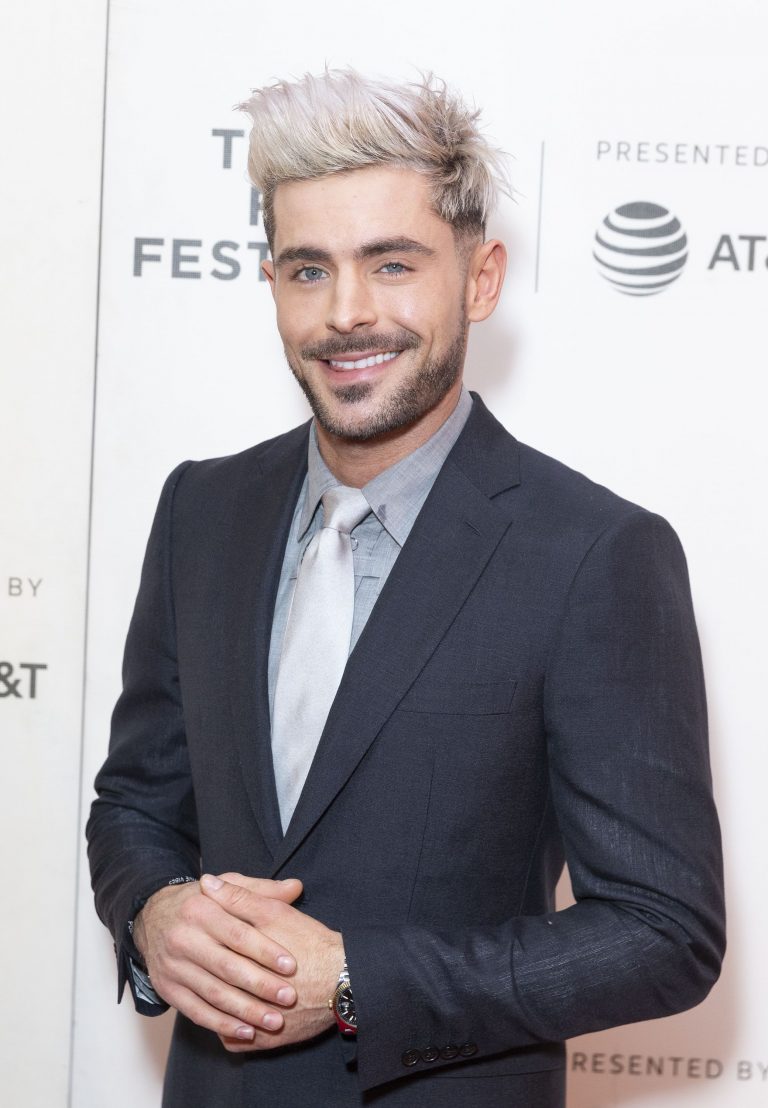 In March 2007 Zac appeared in Vanessa's music video "Say Ok" as her love interest, and in September 2007, a few months after the release of "High School Musical 2", he had to support his girlfriend as she faced a controversy over her leaked nude photos. At the moment when the story became the hottest subject for tabloids, Vanessa and Zac were on their vacation to Australia, and met the news while relaxing after hard-working days on the set of the "High School Musical" sequel. Zac's reaction to the events is still not known, but Vanessa said that he acted like a good friend and 'was cute'.
The leak of the photos was a very traumatic experience for Vanessa, and her fans even expected Disney Channel to find another actress free from a supposed 'dirty' background to appear in the third movie of the High School Musical franchise, however, the Walt Disney Company made it clear that they supposed Hudgens to learn the lesson well, and would not repeat her apparent mistakes again.
Zac and Vanessa could both breathe a sigh of relief – Zac obviously didn't want to have another girl play Gabriella Montez, while Vanessa was afraid to lose her career chances due to that scandal.
Despite being cautious, Vanessa's nude photos, probably taken by Zac on his mobile phone in her bedroom, leaked again in 2009. Hudgens' lawyer sued Perez Hilton, who re-posted the photos, to remove them from the internet as they were reportedly taken when Vanessa was underage, and were 'not new but actually very old'. Zac supported Vanessa in overcoming that hard period of her life, as she was even forced to apologize in front of her fans for such photos being taken.
Further mutual career success
Both Zac and Vanessa were proud to behave professionally, and didn't let their romance impact their work.
After the third movie of the franchise – "High School Musical 3: Senior Year", -was shown on TV in 2008, Zac won several awards such as MTV Movie's Best Male Performance, Teen Choice's Movie Actor: Music/Dance, and CMA Wild and Young's Best Actor International, while Vanessa harvested several nominations from Nickelodeon Kids' Choice Awards and MTV Movie Awards, plus their mutual nomination for Choice Movie Liplock from Teen Choice Awards. The couple couldn't be happier to spend their time together after their hard work. In April 2009 Zac and Vanessa went to Australia, their favorite travelling destination, to spend some time relaxing at the beach. Zac enjoyed surfing, while Vanessa could attend Hillsong Church, located in the Norwest Business Park, as she identifies herself as a non-denominational Christian, supporting the Hillsong Church music production center.
Both seemed to be happy together, with not a single hint of their upcoming split. They also appeared together in the short video "Zac Efron's Pool Party" on 1 April 2009, a funny fraud film about Zac's uncle Hank and his girlfriend Randi, ruining the party Zac organized for his friends. Among the guest stars in the video were Queen Latifah, Carmen Electra and Nicole Richie.
Obviously being a teenage idol, Zac has always been surrounded by attentive females. Vanessa tried as hard as she could not to notice how persistent his fans were, occupying his social media profiles, the cafes they were earlier spotted in, etc. However, her patience ran out, and they decided to split and focus on their careers. 'Girls were running after him', she complained in her interview with People in 2015, shedding some light on the reasons for their separation.
Zac was pleased with all the attention he got, trying to make his fans happy: 'You know, I'm human, I hope I'm not disappointing. Inevitably it's exciting, whatever it is, as long as they're happy – as long as the fans are happy', he said with a laugh while being interviewed by The Sydney Morning Herald. Well, Vanessa had other priorities, and pleasing fans while hearing all the girls around Zac screaming out his name and words of love, she felt she'd had enough of that. She wasn't afraid to admit that she was so jealous that she even gave his fans death stares when they were running after him.
Soon after Zac and Vanessa broke up, she found herself in the arms of Josh Hutcherson, her co-actor from "Journey 2: The Mysterious Island", then switched to Austin Butler, whom she dated for eight years until December 2019. Zac numbed the pain from their break-up in August 2010 by focusing on promoting his most recent project, the fantasy drama "Charlie St. Cloud", in which he landed the title role.
The year of 2011 was rather turbulent for Ms. Lindsay Lohan. In February 2011 she went to jail after she failed a drug test during her probation period, yet the jail was overcrowded that she had to stay at home with a tracking monitor on her ankle for 35 days. As she failed to follow this requirement, the judge gave her 30 more days in jail, that she also mostly spent at home, trying to figure out what could save her from the life she was living at that moment. Zac appeared to be one of those men who comforted Lindsay during that dark period of time, although she seemed to rush from one lover to another, as if searching for proof that she was good and deserved love and attention.
Her relationship with Zac is reported to have occured in April 2011, yet Zac expressed his admiration for Lindsay long before that, in 2008, when they first met at the MTV Movie Awards ceremony, when Lohan presented Zac with his Breakthrough Performance Award for his work in "Hairspray".
In 2010 at the Los Angeles premiere of his movie "Charlie St. Cloud", while he was still holding hands with Vanessa Hudgens, when he was asked about Lindsay, whose mugshot graced dozens of tabloids covers, he simply said: 'She is the best'.
According to Lindsay, she had sex with Zac in 2011, but Zac was far from the only one who got onto the list of Lohan's lovers that year. Even though she claimed she wanted to focus on her returning to Hollywood, as she said in her interview with Vanity Fair: 'And I'm not getting any younger, I want my career back <…> And if that takes not going out to a club at night, then so be it', she promised to her fans not to fail their expectations.
Yet excluding the nightclubs from her life didn't mean laying off her promiscuity.
Love you guys 👊😎❤️ #DownToEarth #netflix pic.twitter.com/e74CbCpF4c

— Zac Efron (@ZacEfron) July 13, 2020
Lindsay exposed to InTouch Weekly magazine her so-called 'sex-list', which mentioned Zac Efron, Heath Ledger, Leonardo DiCaprio, Nico Tortorella and many other men with whom Lindsay revealed  she was intimate with, in fact all in all 36 names well-known in Hollywood. Some celebrities, as Adam Levine and Justin Timberlake, denied any links to Lindsay, but Zac kept silent all the way, not answering any question on the encounter he had or didn't have with Lohan, so nothing is known for sure.
Embarrassed by the gossip on his affair with Lindsay, Zac stayed away from relationship for some time, yet rumors still popped up from time to time in the media. In February 2012 Zac was said to have had a fling with Lily Collins, an American actress of British descent, who starred in "Mirror Mirror" as Snow White playing opposite Julia Roberts as Lily's evil on-screen stepmother, Queen Clementianna. Yet little is known about their actual link, as they weren't spotted together very often.
In July 2012 Zac was caught by paparazzi feeling cozy with Alexandra Storm, an American model signed to MIKAs models. They were spotted having a lunch in a cafe, hugging and kissing, however, no one knows how far that relationship went.
In February 2014, Zac had an encounter with Kaitlyn Farrington, a professional snowboarder from Salt Lake City, Utah. After winning her gold medal at the Olympic Games in Sochi, in her interview with Elle she revealed her long-term crush on Zac Efron, and that she tweeted to him even before winning the Olympics, and he retweeted. 'I picked up my phone and I had an alert that said Zac Efron just followed and tweeted at you. I was like 'Oh My God.' It made me pretty happy', she recalls the moment of their communicating. Nevertheless, it looks like nothing serious actually went on between the snowboarder and the actor.
After a year without rain, Zac found another love interest who was in fact 10 years older than him: during a trip to Sardinia, Italy in June 2014, Zac was spotted kissing Michelle Rodriguez on the yacht they were both relaxing on. The couple was instantly captured by photographers, as their affair would seem Rodriguez was dating men again after claiming she was also interested in women. In 2013, Michelle's romance with Cara Delevingne made her admit that she was interested in 'both ways': 'I am too f***ing curious to sit here and not try when I can. Men are intriguing. So are chicks', she commented about the speculation on her sexuality. During their European trip, accompanied by the choreographer Youseef Giga, entrepreneur Gianluca Vacci and his girlfriend Giorgia Gabriele, Zac and Michelle didn't hesitate to kiss, hug and hold hands, obviously enjoying each other's company. However, the couple split only two months, in August 2014.
On 5 September 2014, Zac appeared with his new girlfriend, Sami Miró, a model and vintage designer. After they started dating, Sami used Zac as her first client who she dressed-up as a designer. She then developed her skills and found more clients who wanted to work with her. During the MTV Video Music Awards in 2016, Zac wore a 'first custom vintage Z bomber', as Sami named it herself; the jacket looked weird sewn with a mix of various denim patches, yet Zac looked pretty posh in it. Sami then worked as Selena Gomez's designer, and prepared her outfits for several ceremonies. Having Selena as her ambassador, Sami gained a massive following after the Hollywood actress started posting her photos on which she wore clothes designed by Miró. Soon Sami became a celebrity herself, so it became hard for her and Zac to find enough spare time to be together, as both were under pressure from their tight schedules.
In April 2016, the couple split on the wave of rumors of Zac having dinners with his fellow actresses Izabel Goulart, Alexandra Daddario and Kelly Rohrbach, with Sami sharing that she was tired of how much attention Zac paid to his female colleagues. Within a few days of their break-up, Sami was already dating DJ Alex Andre, who took her out to dinner on 16 April.
Meantime Zac was reported to be focusing on his next project – "Baywatch" – as he needed to put on some muscle mass to appear as Matt Brody in the movie, and to be fit at least similar his co-star, Dwayne Johnson.
After the rumors of Zac having a dinner with his Baywatch co-star Alexandra Daddario in 2016, the couple was again seen together in May 2017. Portraying an on-screen couple, the two obviously felt the chemistry between each other, and gave their relationship a try.
Initially Alexandra insisted that they were 'just friends', although admitting that he was 'the nicest guy' she ever met: 'He was so nice and obviously incredibly handsome and seems down to earth. I look forward to getting to know him better', she said to People magazine. In March 2018, Zac and Alexandra were spotted walking their dogs together, and doing some spontaneous shopping. Zac also posted their photo on his Instagram account, congratulating Alexandra on her birthday; on that photo she was sitting on his lap, and he was hugging her around her waist. Zac liked almost all the photos Alexandra posted on her social media accounts that year, which made his fans sure there was something between them indeed. Nevertheless, the couple broke up by the end of 2018. Since April 2019, Alexandra has been dating American businessman Brendan Wallace.
Rumors about Zac and Lily's on-again fling spread when in March 2019 they both appeared in an MTV video, talking about their mutual project, the movie "Extremely Wicked, Shockingly Evil and Vile". During almost the whole video, Zac had his arm on the back of Lily's seat, as if they were very old friends, and feeling comfortable with such gestures. More of that, Zac kissed Lily onto her head after finding out that she was a runway model at the age of 16: 'I can't believe we're such good friends and I still know nothing about you!', Zac exclaimed seconds before kissing Lily. The actress said that Zac tempted her to be cast for the role. Later they admitted to escaping their rooms while shooting to have dinner at a restaurant, and then travelled a bit together. However, in July 2019 sources reported that Lily had started dating Charlie McDowell, an American director and writer who earlier dated the star of "Games of Thrones", Emilia Clarke.
After her parents' loud divorce in 2013 (her father is a popular drummer Phil Collins, of the Genesis band), Lily tried to hide details of her private life from reporters, so her fans are still not sure if she really had something serious going on with Zac Efron.
Besides relationship with fellow actors he's been spotted with, Zac was also rumored to have a fling with Melanie Brown – Mel B from the legendary girls' band Spice Girls. They were said to date back in 2014. In January 2019 Zac had an encounter with Sarah Bro, a professional swimmer from Denmark. In January 2020 Zac was seen with Halston Sage, an American actress who played Dazzler in "Dark Phoenix" and Ainsley Whitly in "Prodigal Son" series. Zac and Halston were rumored to date for six months, eventually splitting without sharing any reason for their break-up. Earlier they both starred in "Neighbors" (2014), along with Seth Rogen and Rose Byrne.
As of August 2020, Zac is reported to be single, and focused on his upcoming movie "King of the Jungle" and his own series "Killing Zac Efron".