Who has Zayn Malik dated? Zayn Malik's Dating History
• Zayn Malik first gained fame through the show "The X-Factor"
• Zayn was rumoured to have a romantic involvement with fellow competitor, Geneva Lane
• Zayn was next linked with Rebecca Ferguson, causing controversy due to their age difference
• Zayn and Little Mix's Perrie Edwards had a celebrated four year relationship before ending it
• Zayn is currently in a relationship with American Supermodel Gigi Hadid and expecting a baby girl in September 2020.
Pakistani-British singer and songwriter Zain Javadd Malik, known the world over simply as Zayn, has certainly had an eventful life, certainly since he appeared as a contestant in 'The X-Factor'. Both his career as an artist and his love life have been filled with drama, and plenty of ups and downs. Remembered best as one of the heart-throbs of the very popular boy band, One Direction – or 1D – Zayn has since pursued a career as a solo artist – was the first member to ditch 1D, of course not before Simon Cowel's protegees made it big.
Even back in 2010, competing as a solo artist on 'The X-Factor', Zayn was in the spotlight for drawing attention to his eventful love life. Considered one of the most handsome men around at that time, with his dark complexion but also bad-boy persona, he was bound to attract a lot of attention from the fairer sex, and not only because of his fame, or his voice.
In the days since his time as a boy band vocalist, Malik has secured his place in the limelight. In 2016 he became the first male solo artist to top the charts in both the US and the UK. However, his split from 1D had not been without its fair share of drama, and neither has his personal life. Some of his ex-partners have even branded him as a heartbreaker, and by his fellow band members as a hypocrite.
His initial claim for dropping One Direction was to get away from the spotlight, saying he wanted a normal life, but not long after he called 1D's music 'generic AF'. Clearly his departure was because of creative differences, but as much as his comments on 1D sparked aggression from fans, so have his love affairs. Zayn had followed the example that was famously set by Joe Jonas and Taylor Swift, dumping an ex-girlfriend over the phone, however, this was only the first heart to be torn apart by the 27-year-old 'Pillowtalk' singer.
While competing on "The X-Factor' in 2010 at the age of seventeen, Zayn was rumoured to have a romantic involvement with a fellow competitor, sparked after he was seen cuddling with Belle Amie member, Geneva Lane, at the Nordoff Robbins Boxing Dinner. Photos of Malik and Lane kissing ended up in The Mirror tabloid, and was followed by suggestions that the two were getting cosy with each other. Rumours even suggested that the pair may have already been involved while they were both still competing on the talent show. These photos were taken after Lane's girl band had already been voted off, and Malik said that he was simply showing support for her and her fellow artists, who were providing the entertainment that night.
Despite the provided evidence, both the 20-year-old Filipino singer and Zayn denied the suggestion.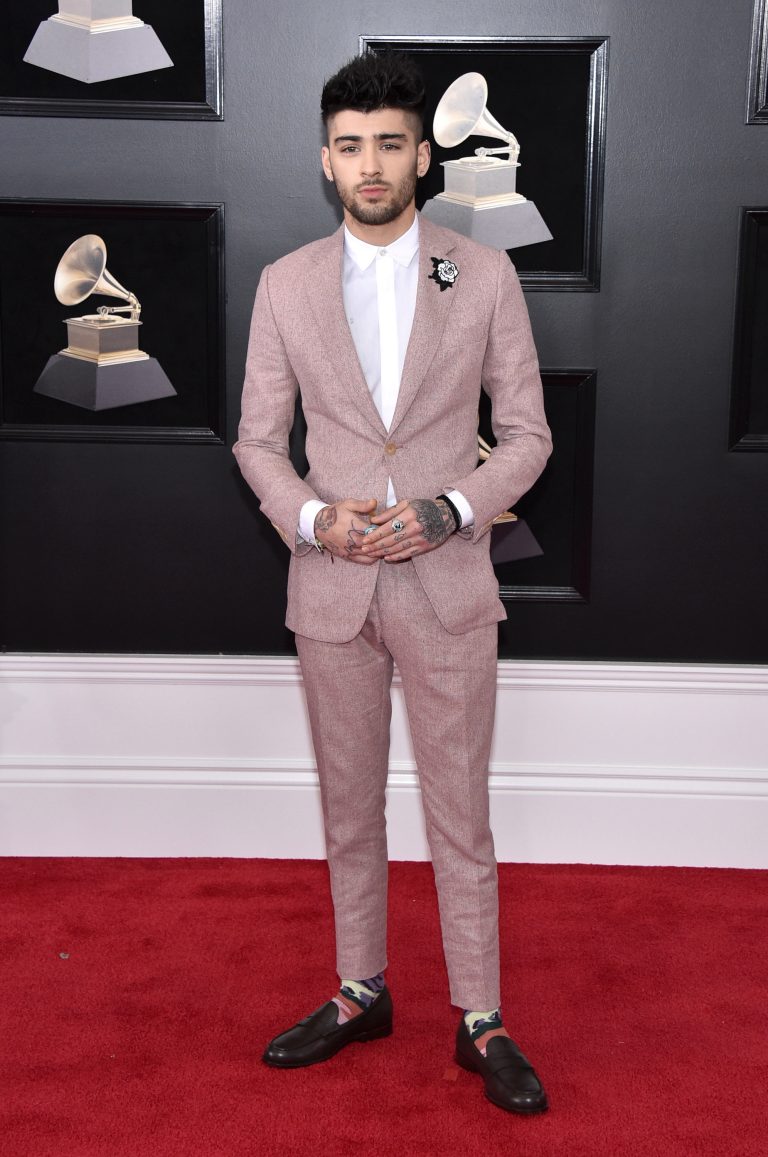 Jumping on to Twitter shortly after being caught out after curfew, Zayn let his fans know that they should not believe the growing hype, and also asked that they should not show hate or jealousy towards Geneva. He stated that they were only friends, and that it had been a friendly kiss, adding that all his fans could have the same – there may be many girls out there who wouldn't mind, especially not a kiss as friendly as was depicted in the photos. Geneva also stated on Twitter that it was just as friends showing support during the finale of the competition, a joke that backfired. She suggested that she was aware that the damage was done, and that she would brace herself for the abuse she was bound to face.
After all that, just a few weeks later Zayn confirmed that he was dating Geneva, but then the relationship didn't last very long, apparently only about four months.
Their split was made official in February the following year, with Geneva taking to social media to express her sorrow, branding Zayn as a heart-breaker, saying that she was dumped by 'phone. She said that Zayn promised her the world, and knew how difficult it was to say no to him, saying that he was very persuasive. She had already announced that her parting of ways with Belle Amie.
After rumours surfaced that Zayn was involved with yet another competitor, Rebecca Ferguson, Geneva expressed her doubt, stating that Rebecca is far more of a grown-up than he is, but saying that if true then she wished them the best.
When pictures of Rebecca and Zayn out on a romantic rendezvous surfaced, opinions raged about their relationship. Although neither denied that they were seeing each other, the public stated their concern because of their age gap – at the time he was 18 and she was 24, as well as a mother of two.
With an age gap of six years, it is not surprising that even Zayn's ex-girlfriend had stated the obvious fact that there was a clear difference between their levels of maturity.
Although the relationship only lasted for a short time, between March and July 2011, shortly after the 'X-Factor' competition ended, Rebecca would later admit that it was a tough time for her, but she had fond memories nonetheless. People questioned once more why the two had any interest in each other, and that things seemed out of sorts. While they were dating, Rebecca had the misfortune of gaining a lot of negative attention, especially on social media, as she suffered scrutiny from Malik's fans especially at the age difference. She would later express how much the scrutiny hurt, but despite the difficulties, she was able to pull through and ended the TV competition as the runner-up.
— zayn (@zaynmalik) March 23, 2019
Nearly a decade later, Rebecca also confessed that she had handled things the wrong way, and wished she had responded differently, blaming her inexperience in the industry, but having grown enough to realise her mistake. She had also stated that the relationship soured to the point that she now completely avoids any contact with Malik. She mentioned that she would have ongoing friendships with other ex-lovers, but it depends mostly on the nature of the person, and she never felt the need to continue a friendship with Zayn.
Zayn eventually opened up, commenting that it should never have happened, saying that it was a mistake made when he was younger, and admitting that things ended on a bitter note – the reason they never talk anymore. Rebecca expressed her surprise, but also said that she was not going to retaliate and get dragged into a war of words with Malik.
After Gigi Hadid shared the latest news of expecting Zayn's baby, Rebecca expressed her good wishes to the couple, but also hinted that she had covered all the expenses of their dates and rendezvous' while they were dating.
Shortly after ending things with Rebecca, Zayn was already putting the charm on his next love interest, British actress Stephanie Davis. It was yet another romance that lasted only four months, between July and November of 2011, but at least it seemed that Zayn had tried someone of a similar age. According to Steph, it was a heated fling that only ended because of 1D's growing fame and busy schedule. The former 'Hollyoaks' actress participated in the celebrity 'Big Brother Show' in 2016, on which she spilt all the beans on what it was like to date Zayn. The two had met through mutual friends, and even after things ended, kept close contact through their circle of friends.
Stephanie revealed that Zayn had invited her out during a three-hour conversation over the 'phone, and she eventually decided to meet him at his hotel in Leeds, where they messed around. Steph did say that they only ended up kissing, and that she was not the kind of girl who would sleep with someone right away. She also claimed that she was the one that ended the relationship, and that she had to change her number because Zayn wouldn't stop calling her. Since Zayn mostly remained quiet about his affair with Stephanie, it would be hard to confirm her claims. However, not long ago and following Steph's disastrous feud with her ex-boyfriend and the alleged father of her child, Jeremy McConnell, close friends suggested that she ended things on good terms with Malik, and that they continue to have contact. They even claimed that Zayn had been supporting Steph on her Big Brother adventure, and that he was aware of her troubles with her Irish ex-. All of it sounds hard to believe, simply because it's more likely that Zayn dumped Steph to be with Little Mix's Perrie Edwards.
While performing as a guest artist on the 2011 'X-Factor' competition with the rest of the 1D crew, Zayn met another of the competing contestants, Perrie Edwards. Even then rumours sparked that suggested the two might be seeing each other, and looked like an adorable couple, so much so that their fans shipped the relationship. Then in 2012 it was confirmed, and Zayn and Perrie became one of the hottest couples in the biz, and the shock of their separation left their fans quite possibly more heartbroken than the two were. It certainly seemed like a match made in heaven, not only because One Direction and Little Mix had achieved such brilliant musical harmony, but because the chemistry between Zayn and Perrie was apparently atomic.
The couple had a celebrated time that eventually led to Zayn popping the big question, and even after cheating rumours on Zayn's behalf surfaced, things did not seem to go wrong.
Shortly afterwards, the couple was spotted buying a puppy, and seemed deeply in love with each other. However, after almost four years together they split, even selling the luxury home they had bought together. Although things ended quietly and subtly, things eventually got dirty. It all started after Zayn made a bad remark on Twitter, which sparked the start of a hashtag hype that implied Zayn had no chill.
Perrie and her fellow bandmates took a swing at Zayn, commenting about their track 'Hair' and how it related to the situation – Perrie even called Zayn a bellend. Later, on Malik's debut solo album, he admitted in one of his songs that he cheated on Perrie, mostly because he considered that she didn't love him. He also had the tattoo of her face covered up, and later revealed that he fell out of love with Perrie, and that was the reason why they broke up. Whatever the case, their separation nonetheless devastated their fans.
Since 2015, Zayn has been in a relationship with American Supermodel Gigi Hadid. Although they have had their ups and downs in an on-off romance, they currently seem closer than ever before, most likely because they are expecting their firstborn, which according to Hadid has brought them closer together than ever before. Her mom dropped the not-so-secret news that Gigi is expecting a baby girl, due to arrive in September 2020.
Since the news went viral, all of Zayn's previous romantic interests have expressed their blessings, and wished them a happy experience as first-time parents. Naturally given Zayn's track record, fans are waiting with interest to see how the relationship now develops, and of course to catch that first glimpse of the new born.