Why Rachel Bilson and Hayden Christensen Split After 10 Years
• Fascination with celebrity love stories captivates people and keeps them spellbound with admiration
• Brad Pitt and Angelina Jolie, Beyonce and Jay-Z, Zendaya and Tom Holland are examples of popular celebrity couples
• Hayden Christensen and Rachel Bilson had a captivating romance from 2007-2018
• They kept their relationship under wraps until 2008, when Rachel appeared wearing an engagement ring
• The couple separated in 2018 due to the strain of their long-distance relationship
What is it about the love stories of celebrities and idols that tend to fascinate people, that seemingly leave them hooked to a point where they can't get enough? What is it that makes them gush over the smallest details, swoon at all the sentimental moments, and likewise, bawl their eyes out when tragedy sets in?
Is it perhaps the supposed realism behind the romance, that compares favourably against fictional love, to keep loyal followers in a tight, spellbound haze of admiration?
Or is it perhaps simply that our own love lives are dull in comparison?
Whatever unseen magic it might be that binds us to follow those Hollywood dalliances, the fact remains that people obsess about celebrity romance.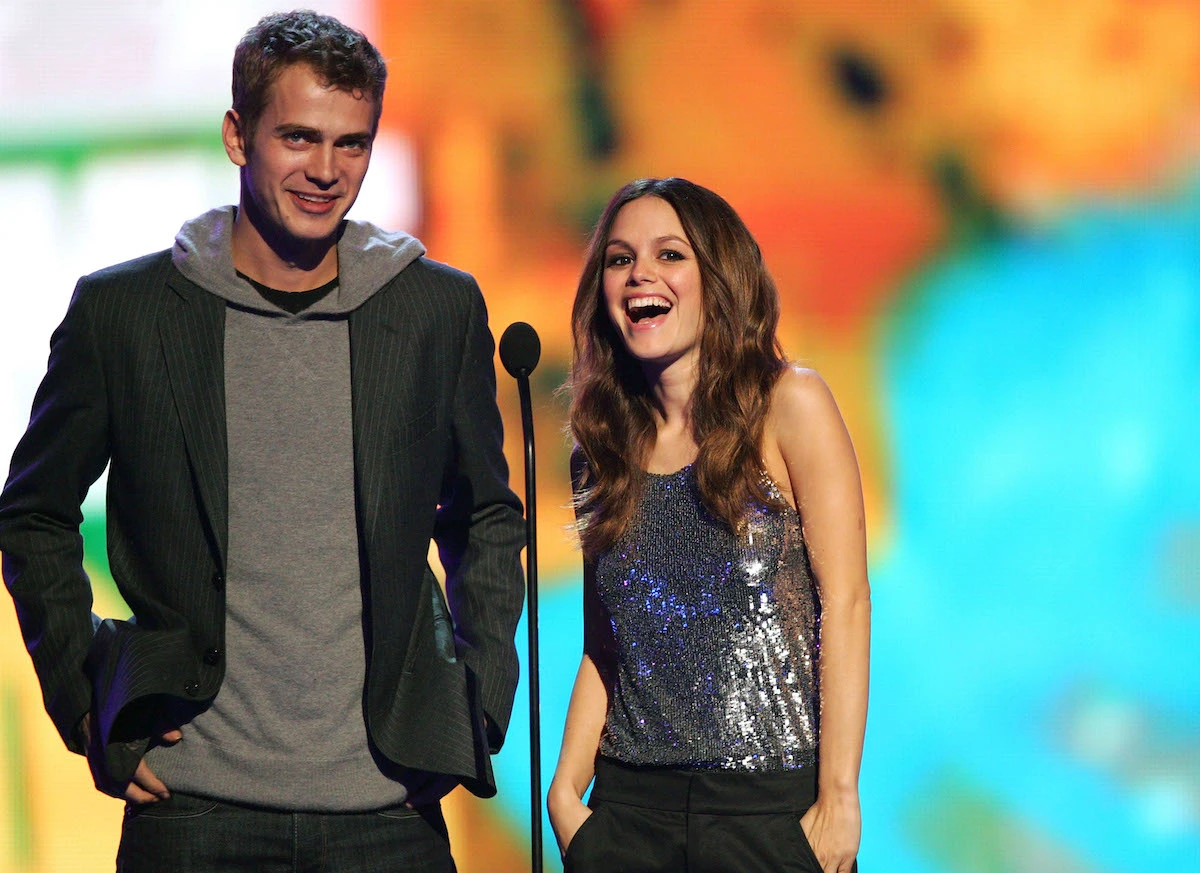 From Brad Pitt and Angelina Jolie's captivating relationship, to Beyonce and Jay-Z's tumultuous love life, which gets close to 50,000 Google searches a month, and more recently Zendaya and Tom Holland's budding love, the world seems to be gullible fools for the latest celebrity match-up.
The following romance, between two celebs who couldn't be from any more different backgrounds, also became a guilty pleasure to many celeb-romance fanatics, and is certainly one of the most talked about and publicised relationships of the last decade.
However, it was also one of those romantic tales that left fans and followers swooning, but then heartbroken.
Although the couple in question broke up in 2018 after ten years of heart-warming passion, people still talk about their liaison, with most questioning what might have caused Hayden Christensen and Rachel Bilson to separate.
From when the couple first appeared in 2007, quietly enjoying each other's company while trying to keep the relationship under wraps, until their sad parting in 2018, the romance between Rachel and Hayden seemed captivatingly spectacular, leaving their followers envious of their explosive chemistry.
However, when everything unravelled and with no hint about what happened, fans weren't only left heartbroken, but also without any form of closure. Hopefully not any longer, as we hope to find an answer to that burning question.
Worlds Apart
Hayden Christensen is a Canadian actor, probably best known for his role as Anakin Skywalker, and later Darth Vader in the 'Star Wars' film saga remake. Born on 19 April 1981, in Vancouver, British Columbia, Canada, he attended Unionville High School in Markham, Ontario, until later relocating to New York, where he studied at the Actors Studio.
Throughout high school Hayden, competed in hockey and tennis, earning a playing position at the provincial level on the tennis court.
Christensen began his acting career in numerous commercials, which he earned through an agent who originally cast his older sister in similar projects. In 1993 at the age of 12, Hayden made his official television debut with a supporting role in the Canadian series 'Family Passions', and the following year was cast in another supporting role in John Carpenter's 'In the Mouth of Madness'.
Hayden Christensen as Skip McDeere, Family Passions (1993). pic.twitter.com/yg2YWGM00m

— Hayden Christensen (@HaydenC_FanFr) February 9, 2014
From 1995, Hayden appeared in a number of film productions, which include notable mentions such as 'The Virgin Suicides', 'Forever Knight', and 'Are You Afraid of The Dark?'.
In the 2000's, Christensen earned critical acclaim for his portrayal of a drug-addicted teen in the drama series 'Higher Ground', and his later role as a misunderstood teenager in 'Life As a House'.
It wasn't until 2002, after appearing in 'Star Wars: Attack of the Clones', that Christensen earned global recognition, followed by his rendition of Stephen Glass in 'Shattered Glass', and later performances in films that include 'Awake', 'Jumper', 'New York: I Love You', and many more.
Rachel Sarah Bilson is an American actress, perhaps best known for her appearance in the main cast of 'The O.C.', as well as the film 'The Last Kiss'. Born into a show-business family in Los Angeles, on 25 August 1981, it seemed as if Rachel was destined for the silver screen from a young age.
At the request of her father, Danny, Bilson attended Grossmont College, and in 2003 earned her first appearances in a number of commercials, including for Subway and Raisin Bran.
Rachel made her official debut on television in 1988 in the series "It's True!", then in '8 Simple Rules' and 'Buffy the Vampire Slayer in 2003, all single episode appearances. Following this, Bilson earned her first major role as Summer Roberts in 'The O.C.' (2004-'07) which would earn her numerous accolades.
Her first film appearance was in 'The Last Kiss' (2006), and would continue to earn several major roles, which included notable titles such as "Jumper', 'Waiting for Forever', and 'The To Do List'. Following her success in 'The O.C.', Rachel was cast in a leading part in the series 'Hart of Dixie' (2011-'15),
She would also leave her mark in the fashion industry, by designing a line of jeans for the brand DKNY known as Edie Rose. Rachel also designed her own line of footwear, ShoeMint, with the help of industry leader Steve Madden.
Despite coming from different worlds, and neighbouring countries, these two actors, Rachel and Hayden, would come together to create not only one of the most celebrated romances in Hollywood, but would also provide us with spectacular entertainment through their on-screen chemistry.
The two actors starred together in the films 'Jumper', and 'New York: I Love You'. How, though, one might ask, did two actors from such different backgrounds come together?
The First Sparks
Hayden and Rachel met in 2007 on the set of their first co-performed film, 'Jumper', in which they would play each other's love interests set amidst the drama and action of supernatural phenomena. At the time, Rachel had recently ended her relationship with 'The O.C.' co-star, Adam Brody, with whom she also shared an on-screen romance.
Initially, the couple did everything in their power to avoid attention from gossip tabloids, keeping as quiet as they possibly could about their budding love. However, with cameras following their every move, the truth would inevitably surface, and although the couple dated quietly for nearly a year, they couldn't keep fans and tabloids alike from speculating.
Eventually, the couple came forward with the truth, announcing to the world at large that they were indeed dating. However, while things seemed quite rosy between Rachel and Hayden, their relationship would not progress without difficulty.
With numerous fans and countless followers gushing over their relationship, keeping the truth hidden from publications, and their personal lives private became more and more difficult. In time one photo after another would surface, as people and lens' celebrated their romance.
Regardless, neither Rachel nor Hayden publicly confirmed the relationship, until in 2008, a year after rumours first surfaced, Rachel appeared in public wearing what many suspected to be an engagement ring. Again, neither Bilson nor Christensen confirmed any of the speculations, that was until 2010.
Only when a media representative of Bilson's addressed the public in 2010, did the couple confirm what everybody already expected. However, with the confirmation about their engagement also came the sad notification that the couple also called it off a couple of days prior to the announcement.
Then, to everyone's surprise, three months later, the couple were snapped together again on what seemed to be a romantic liaison. Days later, the couple announced that the engagement happened to be back on, making it seem as if whatever drama took place before had been settled.
With that, many hoped that Rachel and Hayden's relationship might very likely survive just about any kind of difficulty, then neither Rachel nor Hayden ever addressed the public to explain what went wrong. To this day, all their fans and dedicated followers can only speculate, and as most would suggest, their relationship came under strain from the long distance between them.
For the most part, Rachel spends all her time, both personal and professional, in New York, while the Canadian actor, Christensen, would often return home, or could be found in Los Angeles working on his next blockbuster.
A Ray Of Sunshine
Following their separation in 2010, the romance between the couple seemed to have thickened, as they spent as much time together as they could, seemingly trying to make the best of their long-distance relationship.
Then in early 2014, with the couple celebrating their six-year anniversary, five of which they spent engaged, Rachel shared the most beautiful update about the relationship with her followers. Taking to social media, Rachel announced that she and Hayden would soon be welcoming their first child into the world, and of course fans became overjoyed with the news, maybe even expecting the pair to plan their nuptials.
On 29 October 2014, Rachel gave birth to a daughter they named Briar Rose, after the Disney princess most would know as Sleeping Beauty. However, despite the wishes of their loyal followers, the couple never openly discussed any wedding plans, making it seem as if they might never decide to tie the knot.
Sadly, a couple of years later, the couple would once again experience difficulties, and in 2017, they announced their separation. Once more, Hayden and Rachel would sort out the drama, and only months after the news broke about their parting, they reconciled and reunited, though this would only be temporary.
Later that year of 2017, fans began suspecting the worst possible outcome for Rachel and Hayden's relationship, suspicions drawn from several actions by the couple. The first red flag came in the form of clashing schedules, which they would usually try and organise in such a fashion that they could at least spend a little time together.
However, with Hayden moving out to Toronto, Canada, and Rachel in the States, things between the couple seemed to be approaching an inevitable end.
Aside from this, Rachel and Hayden's followers also noticed a change in their social media presences and behaviour, which became a rather obvious red flag. The couple stopped posting for a while, and would hardly feature each other in any of their stories, pictures and posts.
To add to the suspicions even more, the pair collectively decided to sell their house in Sherman Oaks, making it absolutely obvious that there was trouble in paradise. In September that year, the couple announced that they'd amicably parted ways, and thus came the end of one of Hollywood's most adored couples.
However, since the break-up, Rachel and Hayden have remained in contact, and were often spotted out together, and for the most part, it seems that they agreed to co-parent their daughter in a friendly environment free of any conflicting circumstances.
So far it appears as if they might be doing fine, as most recently, photographers caught them out and about in Christensen's hometown of Toronto for the festive season. During a recent podcast interview with 'Betches Moms', Rachel revealed a couple of odd rules she imposes on her daughter, which includes preventing her from watching the 'Star Wars' saga.
Although that might sound a little suspicious, Rachel explained it was to avoid putting Hayden in a bad light – after all, he portrayed a villain with child murdering tendencies.
Bro, Your pants! Hayden Christensen almost gave us a look at Anakin's lightsaber while out to dinner with ex Rachel Bilson and their daughter.

See more… https://t.co/6pVuvIyifI#HaydenChristensen #RachelBilson #Anakin #LightSaber #wardrobemalfunction pic.twitter.com/JP82GnXU0O

— Hollywood Pipeline (@HlywdPipeline) October 4, 2018
She also added that she hopes to protect Briar Rose from the pressures of knowing how famous mommy and daddy really are, and explained that Briar would only be allowed to watch 'The O.C.' by the time she's in her thirties.
Unfortunately, following the break-up, the couple remained as elusive as ever, and never gave any official reason for their split.
If followers and fans are to take any guess as to what caused the separation, the most likely and only plausible reason would be to blame it on the strain of maintaining not only a long-distance relationship, but also the busy schedules that high demand actors such as Christensen and Bilson need to endure.
Ultimately, no one can really give an acceptable answer to the question that most fans need answered. The only safe answer would be to say that the couple grew apart due to distance, and seem most intent on both focusing on their careers instead.
Regardless, they've agreed to remain amicable for the sake of their daughter, and continue to maintain a good, friendly relationship.