Inside Alexandra Daddario's Relationships
The American actress Alexandra Daddario gained worldwide recognition for her role as the demigod Annabeth Chase, in the 2010 action-fantasy movie, "Percy Jackson & the Olympians: The Lightning Thief." She was featured in the music video of "Radioactive" in 2012 by the pop-rock band Imagine Dragons, which amassed 1.3 billion views. She certainly attracted attention when she appeared completely naked in the HBO anthology series, "True Detective," which helped earn her a spot on Maxim's Hot 100 list in 2014.
Early life, family, and career
Alexandra Anna Daddario was born on 16 March 1986, in New York City. She along with her younger siblings, Matthew and Catharine Daddario, was raised on the Upper East Side of Manhattan. Her parents met in law school in Georgetown – her Italian-Irish father, Richard Daddario is a former federal prosecutor in New York City, who served as the head of NYPD's counter-terrorism unit from 2010 to 2013, and her mother Christina is a lawyer. They divorced when Alexandra was in her early 30's.
Her parents often brought Alexandra to watch a play, and one time she was noticed by a talent manager, who approached her parents to talk about her potential in acting for commercials. They then sent her to have acting lessons, and she was about 10 when she started to audition for commercials. Her first job was at age 12, when she became a hand model for a Barbie doll and said she tried hard to get her face to be seen on the screen.
It was pretty rough for a while as she went through the awkward teenage years, but after that, she began working on one project after another. Alexandra's first acting gig on television was in ABC's long-running soap opera, "All My Children,' in which she was cast for the recurring role of a victimized teenager named Laurie Lewis from 2002 to 2003. It was followed by minor roles in movies, and guest appearances in hit TV series such as "Law & Order," "The Sopranos," and "Nurse Jackie."
After many years in the industry, Alexandra finally landed her first starring role in the movie adaptation of The New York Times best-selling novel "The Lightning Thief" by Rick Riordan, then reprised her role in the sequel entitled "Percy Jackson: Sea of Monsters," which premiered in 2013.
Her rise in popularity brought in more work opportunities, but her acting career really took off in 2014. when she appeared in season one of the TV series "True Detective" in which her character, Lisa Tragnetti, was the young mistress of Detective Martin Hart, played by Woody Harrelson. She said that doing a nude scene was a tactical decision on her part, as she wanted to be taken seriously as an actress, and it worked, as producers and directors saw that she could pull off more mature and bold characters. More meaty or starring roles came her way after that.
Dating history
Attending an exclusive school for girls for a time during high school meant that she didn't really date. 'The idea of boys was amazing to me, like, all I ever wanted to do was kiss boys and be around boys,' she said. It was pretty exciting for her when she made out with a boy for a "Got Milk" ad when she was around 13 or 14 – she knew that her parents didn't know what was happening during her commercial auditions.
Alexandra had an embarrassing date when she was 15 – a friend set her up with a boy for a movie date and she spent two hours putting on make-up for that. After the date, her friend called her up to say that the guy said she looked weird as she had too much make-up on.
— Alexandra Daddario (@AADaddario) September 17, 2021
As Alexandra now says, 'I'm very low-key and pretty much a homebody,' and recalled always wanting to date someone but wasn't successful. Fans found that hard to believe, as she has stunning looks with her striking blue eyes. When she was younger, she was a nerdy kid with braces, so boys didn't want to date her. However, as she became famous, guys started to notice her, and would try to get her attention in different ways, some of them bad. She's said that a man didn't really need to try very hard to get her attention, or have abs for her to be attracted to him. What's way important for her is to connect really well with the guy.
Jason Fuchs
Alexandra's first known boyfriend since she became a celebrity had been Jason Fuchs; they dated from 2006 until 2009, but she's pretty much tight-lipped about their relationship. Being the same age and working as an actor when they were very young, it wasn't surprising that the two hooked-up after they met. Nobody knew why they subsequently called it quits.
BREAKING NEWS: Warner Bros. and DC Entertainment have hired Wonder Woman screenwriter Jason Fuchs to pen a Lobo script.http://www.thewrap.com/wbs-lobo-lands-wonder-woman-writer-jason-fuchs-exclusive/(David)

Posted by DC Entertainment Universe on Wednesday, March 16, 2016
Jason Fuchs is an American movie and TV actor, but it was his work as a screenwriter that landed him on Forbes 30 Under 30 list in 2015. He co-wrote the screenplay of the animated adventure "Ice Age: Continental Drift," the fourth film in the "Ice Age" franchise. It premiered in 2012 and made a killing at the box office taking close to $900 million, making it the fifth highest-grossing movie that year. He co-wrote the story of "Wonder Woman" too, based on the DC Comics superhero of the same name. It was released in theatres worldwide in 2017, and was a huge success with over $800 million in gross earnings.
Trey Songz
In 2011, Alexandra was rumored to have briefly dated Trey Songz. There's not much information about them being a couple, but the speculation started when they worked together in the 2013 horror-slasher, "Texas Chainsaw 3D," the seventh movie in "The Texas Chainsaw Massacre" franchise. When she was asked what it was like working with Trey, she only had nice things to say about him.
They got along really well even before they started filming, with Alexandra saying 'I think that really helps because that kind of chemistry really does show up on screen when you have those people there to support you and encourage you.'
The American rapper, singer-songwriter and actor Trey Songz, was nominated at the Grammy Awards – Best Male R&B Vocal Performance, for "Ready" in 2008 and Best R&B Song for "Heart Attack" in 2013. His fifth studio album, "Chapter V," released in 2012 topped the Billboard 200 chart.
Logan Lerman
Alexandra was in a long-term relationship with her "Percy Jackson" co-star, Logan Lerman, from 2009 through 2015, according to the grapevine. They kept it private, not confirming or denying anything, but according to sources, they continued to hang-out and had been spotted on lunch or dinner dates even after they stopped shooting the first movie. They were said to be engaged in December 2014, but eventually went their separate ways.
Some said that Logan, who's six years younger than Alexandra, was the one who ended things.
For her part, she said that with her work, it was hard to keep a relationship going, as she was away for months at a time.
Around that time, she posted on her Twitter the words: 'Love is a lie.' Some wondered if she was referring to her break-up or just commenting on a Hollywood couple split that was in the news. A few weeks after that, Alexandra sent a flirty message to the American actor-comedian, producer-director and writer named Bill Hader, as she wrote: 'As far as I'm concerned, Bill Hader is a sex god.'
She was interviewed in "Whiskey and Ginger with Andrew Santino" in 2019 in which she shared how she had been in a relationship for six years, but only stayed for the last two because she didn't know how to get out it; the longevity suggests it was with Logan.
Logan Lerman is an American actor, who made his movie debut in "The Patriot" in 2000, as the youngest son of Benjamin Martin played by Mel Gibson. His performance in the family comedy "Hoot" in 2006 earned him the Best Leading Young Actor in a Feature Film from the Young Artist Award.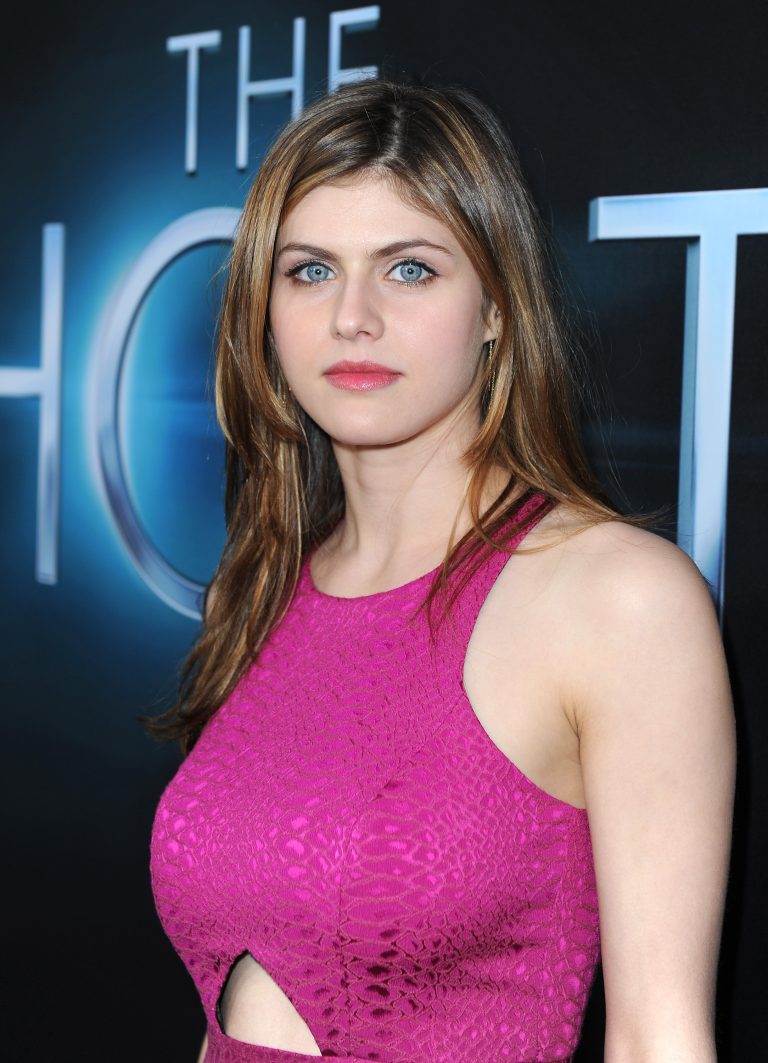 Aside from playing the titular role in the "Percy Jackson" series, he was cast in movies with popular actors including in 2012 "The Perks of Being a Wallflower" with Emma Watson, "Fury" with Brad Pitt, and "Noah" with Russell Crowe, both in 2014.
Ben Verlander
After her break-up from Logan, Alexandra reportedly started dating Ben Verlander, who's six years younger than her. They were introduced by the model-actress and her friend, Kate Upton, who's married to Ben's brother, Justin Verlander, the Major Baseball League pitcher for the Houston Astros. Alexandra and Kate started filming in May 2015 for the comedy "The Layover", and some were wondering if it was around this time when Alexandra and Ben met and then hooked-up.
The couple didn't disclose the status of their relationship, but were spotted together at the Superbowl, Golden Globes after-party, and Los Angeles Clippers game in February 2017, according to sports gossip blogger named Terez Owens.
In an Instagram page dedicated to tracking down the couple and their public outings, a photo of Alexandra was posted holding a 'phone with a photo of a guy, which was presumed to be Ben, as he reportedly left a comment, 'Who's the hot guy?'
Ben Verlander is a hitter and infielder for the Lakeland Flying Tigers of Minor League Baseball. The Tigers Organization first drafted him in 2010, but he eletded to go to the university instead. in Old Dominion in Norfolk, Virginia. Detroit Tigers picked him in 2013 during the MLB Amateur draft, 14th round.
Zac Efron
In the 2017 action-comedy movie "Baywatch," Alexandra played the role of lifeguard Summer Quinn, who's also the love interest of Matt Brody, played by Zac Efron, and they had great chemistry on screen. The movie was filmed in 2016. amid speculation that they were dating due to their playful responses while promoting their movie, and when photos of them looking cozy together surfaced.
Alexandra shared that she had never touched a man with as many abs as Zac's.
She posted a photo of Zac kissing her on the cheek at the backstage of the MTV Movie and TV Awards, but she was rumored to still be dating Ben Verlander in 2017, and one had to wonder the meaning behind Ben's Twitter post more than two weeks after the awards night – 'A rainout tonight turned into a team outing to watch @baywatchmovie! And it was absolutely hilarious'.
When asked during interviews in 2017 if something was going on between them, she said that they had worked closely together and were very good friends. According to Alexandra, 'The fact that people think that I can get someone as hot as Zac Efron, it's cool,' and then added, 'I feel like I'm getting back at all the boys in high school that wouldn't date me.' On Zac's part, he also denied the dating rumors as he said, 'As far as I know, she hasn't said yes.'
However, they were together along with other friends on her birthday in 2018, and he later posted a photo of them snuggling-up with the caption: 'Happy Birthday to one of the most real, down to earth, stunning, intelligent, creative, loving, and most rare Pokemon ever created.' He would often like her posts, and leave comments about her looking hot or dope.
When he posted a photo of a dog he adopted, he tagged Alexandra in the comment section, and said, 'Doggie date?' The two were spotted together walking their dogs and shopping for pet toys. Apparently, she helped him out when he was looking for a dog, and going to a rescue shelter called Bark n' Bitches where he found Maca, a brown and black pit bull that was about to be euthanized, and adopted him.
They were affectionate towards one another, so people couldn't help but assume that they were not so secretly dating, on and off in 2017 or 2018.
Zac Efron catapulted to stardom and became a teen heartthrob when he portrayed the role of Troy Bolton in the Disney Channel Original Movie, "High School Musical" in 2006. It was hugely successful, with 7.7 million viewers tuning in for the premiere in the US alone. In 2008, he starred in another hit musical entitled "Hairspray" with an ensemble cast that included John Travolta and Michelle Pfeiffer. Some of his other commercially successful movies include "17 Again" in 2009, "Dr. Seuss' The Lorax" in 2012, "Neighbors" in 2014,, and in 2017 "The Greatest Showman".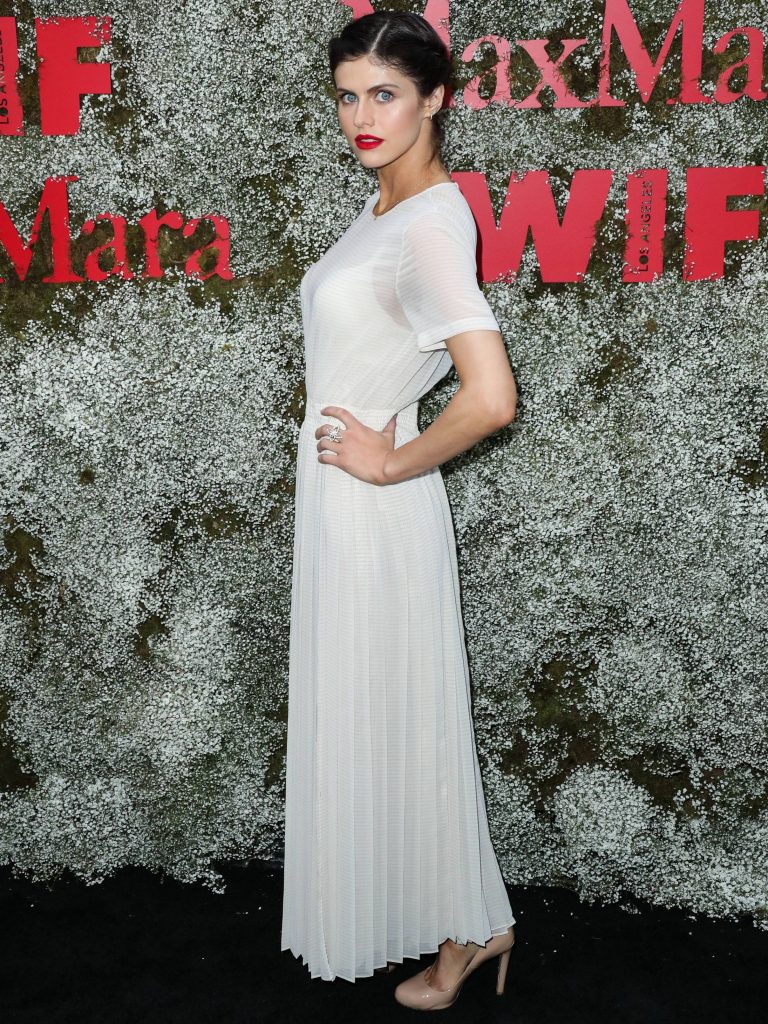 Ari Melber
In August 2018, Alexandra was spotted having lunch with Ari Weber at the Café Cabana in Malibu, California,. It shouldn't have been a big deal, except that after their lunch date, the two were photographed sharing a kiss while she was in the driver's seat of her car, and he was leaning in. Based on her athleisure outfit and her face devoid of make-up, people assumed that their romance had been going on for a while. It certainly wasn't the first time they were seen together, as they were with the comedian Richard Lewis when he celebrated 24 years of sobriety earlier that month – Richard posted a photo of the three of them together.
Alexandra was the first woman Ari was seen dating after his divorce from Drew Grant, in 2017 after four years of marriage. Not much else is known about Alexandra and Ari as a couple, since they kept their personal lives private and were careful enough not to get caught in public again.
Ari Weber is an American journalist who won an Emmy Award in 2016 for his coverage of the Supreme Court.
He's the host of the news and politics show "The Beat with Ari Weber," which received an Emmy nomination in 2020 for Outstanding Live Interview. He's also NBC and MSNBC's chief legal correspondent. His grandparents were Holocaust survivors who immigrated to the US.
Brendan Wallace
Alexandra was next romantically linked with Brendan Wallace, after they were seen hanging out in L.A. The relationship was confirmed when they were photographed during their vacation in Italy in June 2019. It was said that the two had dinner at Pierluigi's Restaurant in Rome, and then went for a stroll looking very much like a couple. Onlookers caught them engaged in some PDAs as Brendan grabbed her butt, and later shared a kiss with their arms wrapped around each other. They also took a selfie at the Trevi Fountain. Some said that they dated for two years and broke up in 2021 although it wasn't verified.
People knew Brendan as the English actress Emma Watson's boyfriend, when the two were spotted enjoying the sights in Mexico for a romantic trip in October 2018.
According to his business profile, he is a 'Co-Founder and Managing Partner at Fifth Wall, where he guides the firm's strategic vision.' Fifth Wall is a venture capital company. He also co-founded a company called Identified, which deals with 'workforce customization data and analytics,' and Cabify, which is Latin America's largest ridesharing service. Brendan graduated with a bachelor's degree in economics and political science from Princeton University, and earned his Master of Business Administration degree from Stanford Graduate School of Business.
Andrew Form
For the first time since Alexandra became a celebrity, she finally made her relationship Instagram-official. She is currently dating Andrew Form, who's 17 years older than her, but one could easily see how they're a couple, as she's shared some of their sweet moments on her social media page. It was quite refreshing to see how she's able to express how happy and in love she is with her boyfriend.
It wasn't known when the two started dating, only that they were ready to announce it to the world through Instagram in May 2021.
Alexandra posted a photo of them snuggling with the caption, 'It was dark and cold and rainy today, a terrible combination, and it didn't make it warmer to wrap him up in my arms but it did make it all seem lovely and nice and joyful.' Several days later, her post was a photo of them kissing, with the caption 'I love you…and even that is an understatement.' According to some reports, Jordana Brewster, Andrew's ex-wife liked the photo. He'd married the "Fast & Furious" star in 2007 and had two sons with her; Jordana filed for divorce in 2020.
The first time Alexandra and Andrew were seen together in public was in June, as they had a dinner date at West Hollywood's Craig Restaurant, and left the place holding hands.
Alexandra has a YouTube account and she shared a glimpse of what her day was like with Andrew in the less than two-minute video entitled "A Brief Summary of a Day", posted on 12 June 2021. It started with her waking up and getting a morning hug from Andrew, and ended with her returning home at the end of the day after doing yoga. Andrew's face was not clearly seen throughout the video.
Thank you for having me @Coach! #nyfw pic.twitter.com/fppPwJVWU6

— Alexandra Daddario (@AADaddario) September 11, 2021
She also posted comments such as 'The only things I want touching my body are @dolcegabbana and Andrew Form' as caption to a photo of them taken during the premiere of her movie "The White Lotus," in July 2021.
Andrew Form is a successful producer and some of the most popular films that he's co-produced include "The Texas Chainsaw Massacre" in 2003), "Friday the 13th" in 2009, "The Purge" franchise from 2013 through 2021, and "A Quiet Place" in 2018, followed by its sequel in 2020.
Some people questioned their age gap, but in her interview in 2018, Alexandra revealed that she's become more confident about what she wants romantically, saying 'People told me that my thirties would be the best time of my life, and I think … it's kind of true,' adding, 'You know, you go through your twenties and you work really hard, and you sort of get to a place in your early thirties where you know yourself better.' Of course, the common expression 'time will tell' can certainly be applied to this relationship!