Inside Hulk Hogan's Affairs, Divorces, and Allegations
Terry Eugene Bollea is an American retired professional wrestler, best known by his iconic ring name, Hulk Hogan, who is widely recognised as one of the greatest wrestling stars of all time. Hogan became popular in the 1980s, and as every fan of the WWE franchise would know, became one of the most popular wrestlers to ever enter into the ring.
As proof of this, Hogan's main event match against Andre the Giant in 1988 set the record for the most views in wrestling entertainment, an unbeatable 33 million views, which made both competitors overnight sensations.
Born on 11 August 1953, in Augusta, Georgia, USA, Hogan and his family moved to Port Tampa, Florida, when he was a year old, where he played in Little League Baseball as a pitcher, earning him the attention of talent scouts from the New York Yankees and the Cincinnati Reds, but unfortunately an injury ended his career before he made it into the Big Leagues.
However, Hogan didn't allow this to damper his spirits, as he turned his attention to bodybuilding at a young age. He became a fanatic of wrestling at the age of sixteen, often attending wrestling matches at the Tampa Sportatorium, where during one match, the wrestler Superstar Billy Graham's inhuman physique caught Hogan's attention.
Inspired by Graham, Hogan would begin training his body to the max, attempting even at that young age to achieve the masculine body commonly associated with wrestlers.
After matriculating from high school, Hogan showed interest in a musical career, and began playing bass guitar including for several Florida-based rock bands.
During this time, Hogan studied at the Hillsborough Community College and later attended the University of South Florida, but with studying coming in the way of his musical dreams, Hogan eventually dropped out to pursue the lifestyle of a rock 'n' roller.
In 1976, with the aid of two other musicians, Hogan formed a band called Ruckus that quickly became popular in the Tampa Bay area, landing gigs at numerous bars in the local region. During his spare time, he continued to punish the iron, working out at Hector's Gym in Tampa Bay.
During one of Ruckus' gigs at a local Florida bar, Hogan's impressive stature caught the attention of two brothers, Jack and Gerald Brisco, who performed as a tag team duo in the local Florida wrestling scene.
After convincing Hogan, the brothers took him to see Hiro Matsuda, a trainer of local wrestlers to compete in the Championship Wrestling from Florida (CWF) promotion, and Hogan began his initial wrestling training. In 1977, Hogan earned his first match in CWF against Brian Blair, and would shortly afterwards assume a masked persona known as The Super Destroyer.
Following his early initiation into wrestling, and after declining an invitation to wrestle in Kansas City, Hogan took a break from wrestling to manage The Anchor Club in Cocoa Beach, Florida, and while working at the private club, became close friends with the proprietor, Whitey Bridges, with whom he later established his own gym, known as Whitey and Terry's Olympic Gym. A little while later, Hogan's friend Ed Leslie, who became known as Brutus Beefcake, joined him in Florida, and under Hogan's supervision, began working on his physical stature.
Impressed by Ed's quick progress, Hogan became convinced that they should form a tag team partnership, sparking his return to wrestling. Soon afterwards, Hogan contacted Superstar Graham, who landed them a wrestling position in Alabama.
In Alabama, the pair performed under the ring moniker The Boulder Brothers, slowly but surely earning respect and renown on the wrestling circuit. They then landed a more profitable offer in Memphis, Tennessee, and started wrestling for the Continental Wrestling Association.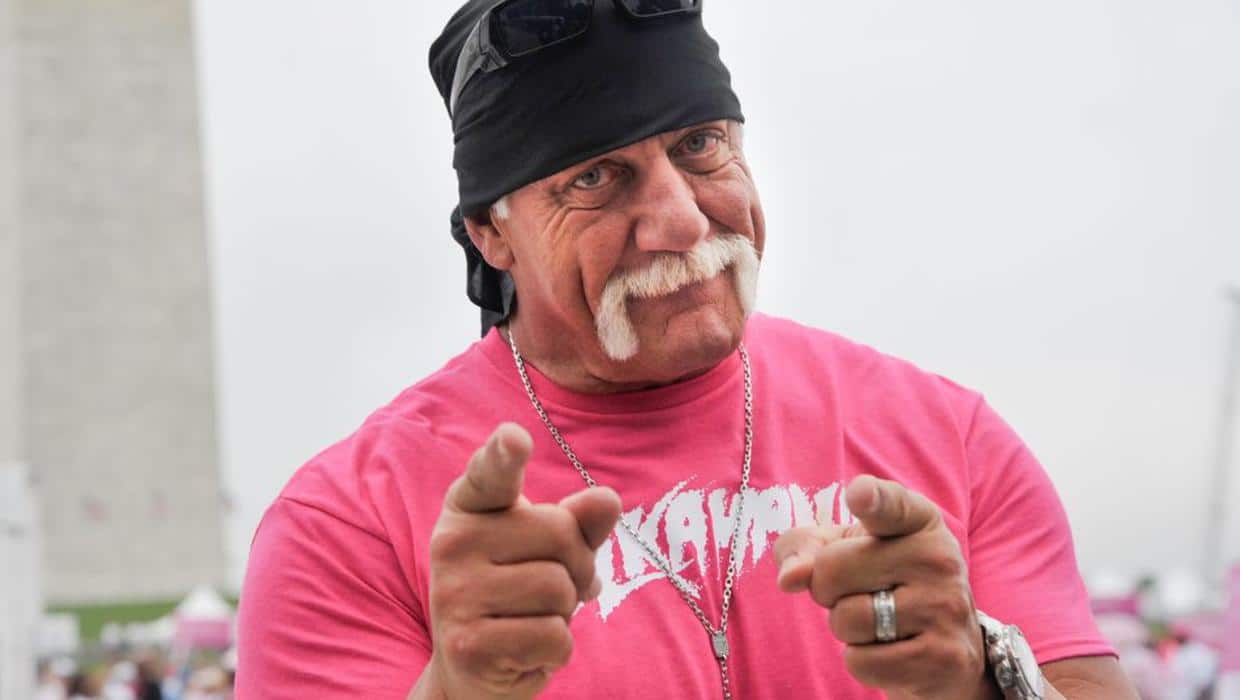 Shortly afterwards, Hogan appeared in a TV talk show with actor Lou Ferrigno, who portrayed the role of The Hulk in the series 'The Incredible Hulk'. After physically dwarfing the original Hulk, Hogan assumed 'The Hulk' as part of his wrestling alias.
In 1979, Hogan met with the owner of the World Wrestling Federation (WWF), Vincent J McMahon, and earned an immediate signing with the company, after impressing McMahon with his charm and stature. Vincent wanted Terry to adopt an Irish name, and dye his hair red, subsequently earning the ringside name Hogan. However, Hogan refused to dye his hair, and so became known as a blonde Irish man.
This marked the beginning of Hulk Hogan's prolific career as a wrestler, who stayed on with WWF for years to come, and became one of the prominent figures behind the wrestling we have all come to know and love, World Wrestling Entertainment, to which the WWF had to change after a legal dispute with the World Wildlife Fund.
Hogan would go on to build an impressive record in the wrestling world, which includes the first person to win consecutive Royal Rumbles in 1990 and 1991, becoming the longest reigning Heavyweight Champion in World Championship Wrestling, as well as winning numerous other titles on various wrestling circuits.
During his career as a wrestler, Hogan also became an actor, landing roles in notable titles such as 'Suburban Commando', 'Mr. Nanny', and in later years becoming the star of his own reality television series – 'Hogan Knows Best'.
However, despite enjoying critical acclaim as a wrestler, actor, and reality television personality, Hogan played host to a number of scandals through the years. From criminal lawsuits and claims of infidelity, to also a racist blunder that nearly cost him his career, Hulk Hogan simply knows what it's like to deal with the drama of the limelight.
Affairs and Divorces
In 1983 on 13 December, Hogan married Linda Claridge, to whom he would stay married for the better part of his most famous wrestling career. On 5 May 1988, Linda gave birth to their daughter, Brooke,  and in 1990 on 27 July, they welcomed their son Nick into the world.
Linda, who earned fame as Hulk Hogan's wife, along with Hogan and their children, became the focal point of the reality television series 'Hogan Knows Best', which premiered on 10 July 2005. The series predominantly focused on the Hogans' family life, and on how he raised his children. The series would later produce the spin-off 'Brooke Knows Best', which specifically focused more on the personal life of their daughter, Brooke.
— Linda Hogan (@LindaHogan) January 3, 2017
Then in 2007, with the series in its third year on air, the Hogan family played host to a scandalous incident that would cause the decimation of the family. The scandal in question involved a close friend of Brooke's, Christiane Plante, a lingerie model who assisted Brooke in the production and recording of her 2006 album.
In 2007, Christiane approached the tabloid newspaper, National Enquirer, with what could be considered one of the juiciest stories ever published by the gossip publication. According to Plante, while filming 'Hogan Knows Best', the father of two and professional wrestler engaged in an erotic relationship with the then 33-year-old model.
Naturally, the publication couldn't decline publishing such a scandalous story, and news of Hogan's infidelity quickly reached his adoring fans, and of course his wife Linda.
With the news out, Linda didn't hesitate to separate from Hogan, and filed for divorce on 20 November 2007. Years later, with the release of his autobiography, Hogan would speak out about the incident for the first time.
Writing in his book, Hogan stated that Linda suspected him of unfaithfulness on numerous occasions, especially whenever he would form friendships and relationships with any new women in his life. However, the wrestler remained adamant that he never cheated on his wife, though regardless of his plea, the divorce went through.
In November of the following year, speaking to the public, Linda stated that her reason for the divorce can be credited to Plante's allegations of an affair. Following the divorce proceedings, Hogan nearly experienced bankruptcy, as he was left with only 30% of the couple's assets, which amounted to a total of $10 million.
During the aftermath of his messy divorce, Hogan entered a dark period in his life, during which he struggled with depression and suicidal tendencies. With the aid of his 'American Gladiators' co-star, Laila Ali, Hogan overcame this difficult time, and claims that if it wasn't for Ali, he might have committed suicide.
Following his separation from Linda, in early 2008, Hogan began dating make-up artist Jennifer McDaniel, and in November of the following year, the couple announced their engagement. On 14 December 2010, the couple tied the knot at a private ceremony in Clearwater, Florida.
Then, in February 2022, pictures of Terry and an unknown woman were featured on the retired wrestler's social media profiles, sparking rampant rumours and speculations concerning his romantic life. Taking to social media, Hogan announced to his Maniacs, as he calls his fans, that he'd divorced Jennifer, and confirmed that the woman in the pictures, Sky, as his new girlfriend.
However, while sharing this news, Hogan didn't elaborate on the reason for his separation from McDaniel, leaving people with nothing but speculation. Thus far, no official explanation has been provided.
Allegations and Implications
Throughout his life and career, Hogan became involved in a number of legal disputes, some of which left the WWE superstar and hall of famer financially decimated. Over the course of all the lawsuits, Hogan's once substantial net worth of over $140 million was reduced to a recent estimation of $25 million, which stands as concrete proof that the superstar saw his fair share of turmoil.
The first lawsuit against Terry happened back in 1985, following an incident that took place on 27 March, only days before Hogan's first-ever WrestleMania appearance. While appearing as a guest on the cable talk show, Hot Properties, host Richard Belzer insisted that Hogan perform some of his signature wrestling moves. He repeatedly declined Belzer's request, the wrestler reluctantly gave in and placed Belzer in a choke hold, which seemed like a modified version of the famous Guillotine Choke, which left the host briefly incapacitated.
Unaware that Belzer passed out, Hogan released him from the hold, which caused Richard to slump forward and hit his head against the floor, subsequently sustaining a cut to the scalp. Belzer ended up in the hospital, and later filed charges against Hogan. The initial lawsuit claimed $5 million, but the parties settled out of court – at first, neither shared any details regarding the settlement.
However, in October of 2006, when Hogan was a guest on the radio talk show 'Bubba the Love Sponge Show', he claimed that the settlement reached the intended $5 million, of which Vincent McMahon paid one-half. In 2008 Belzer appeared on the 'Howard Stern Talk Show', claiming that the settlement's true amount totalled $400,000.
Following this, Hogan once again became involved in a lawsuit, this time possibly facing criminal charges laid by the state, which also implicated his employer at the time, McMahon.
In 1994 scandalous reports surfaced that suggested McMahon and several other wrestlers might have received illegal shipments of steroids over the course of eighteen years, beginning in 1976 until the date of prosecution in 1994.
However, after agreeing to stand witness during the trial, Hogan gained legal immunity, and couldn't be charged for any involvement to which he might confess.
While taking the stand, Terry admitted to using anabolic steroids throughout his career, mostly to gain weight and increase his muscular measurements, but stated that Vincent never sold nor forced him to take any augmentation or enhancement drugs.
Hogan's testimony would prove crucial in the case, as the evidence he provided prevented the state from delivering a guilty verdict against MacMahon, to which a limitation of jurisdiction also added to the verdict.
In 2012 a leaked sex tape filmed in 2007 of Hogan and Heather Clem, the former wife of Bubba the Love Sponge, surfaced, which ultimately implicated Hogan in yet another infidelity allegation, as well as a more serious scandal. Following the leak, Hogan filed a lawsuit against Gawker, the publication responsible, for defamation, invasion of privacy, and emotional damage. Hogan also filed a lawsuit against Bubba and his wife Heather, claiming that he never knew that they filmed his actions.
Hogan would later appear on 'The Howard Stern Show', admitting that it was a low point in his life, and that he has never felt as hurt as he did when the sex tape was leaked.
In October, Hogan announced that he'd reached a settlement with Bubba and Heather, leading Clem to publicly apologise to the wrestling superstar. While the case against Gawker continued, Hogan received aid from the billionaire Peter Thiel to help fund his legal costs.
In 2016, the court came to a verdict, awarding $115 million in favour of Hogan, and also gave him control over the assets of A.J. Daulerio, a former editor-in-chief of the publication who was directly involved in the leak of the sex tape. Gawker later settled with Hogan for another $30 million, of further claims filed by the superstar.
Unfortunately, these lawsuits would not be the only problems to arise from the leaked footage, as National Enquirer and Radar Online published slanderous racial rantings by Hogan in 2015, all taken from the leaked footage.
Admitting to being a racist, paired with repeated use of a well-known slur, prompted immediate action by everyone involved with the retired wrestler.
The WWE franchise removed Hogan from their hall of fame, and video games, and refused to ever sign wrestling contracts with him ever again. Regardless, a number of African wrestlers from the franchise expressed their doubt regarding the authenticity of the footage.
Michael Jones, better known as Virgil, stated that Hogan never gave him the impression of being racist, while Dennis Rodman remained adamant that Hogan isnt a racist. Other wrestlers, which include Booker T and Mark Henry, expressed their disgust, but remained pleased with how the situation was handled.
Following this scandal, other claims also rolled in, with some accusing Hogan of using racial slurs during a phone call with his son, Nick, who had been incarcerated at the time.
Other claims suggested that Hogan also used a homophobic slur during the filming of the sex tape, which eventually prompted the company Mattel to discontinue any and all Hulk Hogan action figures. Companies including Toys R Us, Walmart, and Target removed all merchandise of the wrestler from their store and refused any further business with him.
However, in 2018, following a long journey to gain people's forgiveness, Hogan earned his reinstatement in the WWE hall of fame, thanks to the likes of Dwayne 'The Rock' Johnson and a number of other wrestling superstars, who expressed support for Hogan. In the years that followed, Hogan would make a couple of appearances, but in June of 2022, Hulk Hogan officially retired.
What the future holds for the retired wrestler is anyone's guess, but whatever it might be, we certainly wish him the best, having learned a valuable lesson with all of his scandalous past behaviour.