Liz Hurley's Insane Boyfriend List – 'Only' 16
Elizabeth Jane Hurley is an English actress who the younger generation may not be familiar with, for Liz, as she is commonly referred to, rose to fame during the late eighties and early nineties. However, Hurley might undoubtedly still be a familiar face, recognised for her iconic position as the face and spokesmodel of the American cosmetics company Estee Lauder, which she represented for more than 16 years as of 2010, when she officially retired from modelling.
Born on 10 June 1965 in Basingstoke, Hampshire, England, Liz grew up the middle child of a middle-class family, and attended Harriet Costello School. During her teenage years, Hurley became fascinated with punk culture that grew popular during the eighties, going so far as to dye her hair pink, piercing her nose, and sporting punk-inspired fashion.
She also joined a UK group known as New Age Travellers, which took inspiration from modern beliefs, and freedom of travelling, commonly associated with the hippie movement of that era.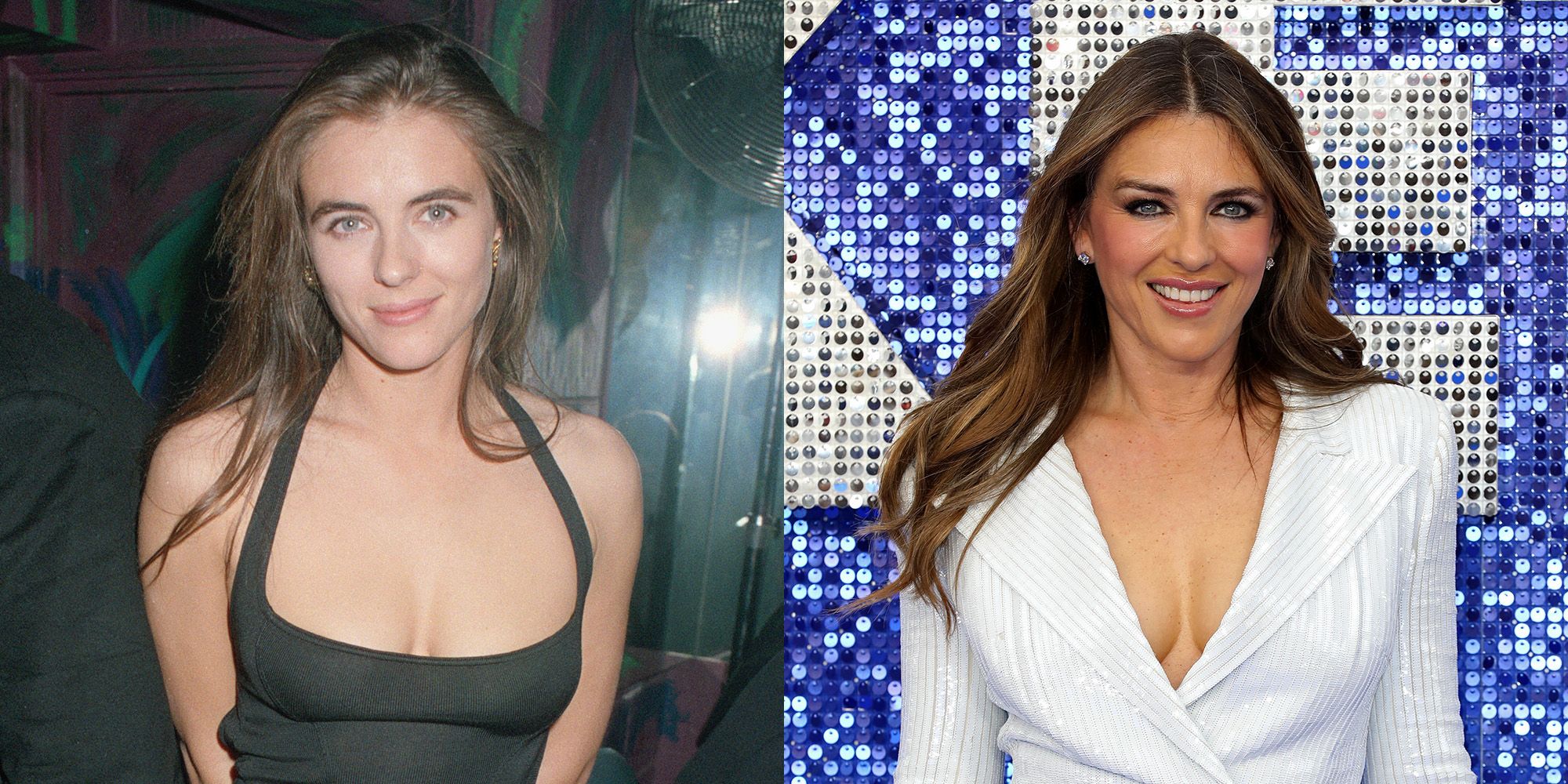 After matriculating, Liz expressed an interest in dance, taking ballet classes during her youth, and later enrolling at the London Studio Centre where she also studied theatre. In 1986, after taking a spontaneous trip to a Greek Island, the institution expelled Elizabeth for non-attendance of her classes, but the now-famous actress and model would fortunately not be hindered by this mistake.
In 1987, Hurley made her acting debut in the film "Aria", and in 1988, her television debut in an episode of the British detective drama 'Inspector Morse', playing the role of a young schoolgirl in the episode entitled 'Last Seen Wearing', then starred in 'Rumpole and the Bailie' later that same year, followed before the end of the year by landing the role of the title character in the four-part television drama, 'Christabell', which marked the true beginnings of Hurley's career as an actress.
In the '90s, Hurley would experience her busiest decade, as she raked in one film role after another, while also starring in numerous television productions. Among Liz's repertoire of films, titles such as 'Passenger 57', 'EDtv', and 'Dangerous Ground', include some of the most notable mentions, and in the following decade, she starred in 'Serving Sara', as well as 'Bedazzled'.
In 1997, Liz earned the ShoWest Supporting Actress of the Year Award for her performance alongside Mike Myers in the spy comic film 'Austin Powers: International Man of Mystery' – to date, this appears to be the only award she's earned through her career.
With Hurley's career progressing from height to height, and her gaining numerous roles on American television, which includes a recurring role on the fifth season of 'Gossip Girl', Liz also dabbled in fashion.
In 1995, Hurley received an invitation from Estee Lauder to become an acting spokesmodel for the brand, and since then, she's continued to leave her mark on the fashion industry, and unsurprisingly the actress also garnered a reputation for being one of the best-dressed to walk the red carpet, often receiving praise for her sharp sense of style.
Although Hurley might not be the most famous celebrity among the long list of the entertainment industry's idols, Liz nonetheless earned a lot of mentions in the tabloids for her romantic interests.
Over the course of more than three decades, Liz dated 16 men the public is aware of, all of whom had some kind of prominent role, from popular actors and successful sports legends, to business moguls.
The actress certainly doesn't assume a modest stance in her dating history. She is famously quoted as once saying that a bit of lusting for someone is good for the heart and skin. This might explain why Liz had so many lovers in her lifetime.
A Grant of Fame
Elizabeth's first romance that attracted the attention of the tabloids, often promoted as her claim to fame, was with British actor Hugh Grant. The couple first met in 1987 on the set of 'Romando Al Viento' (translated to Rowing With The Wind), a Spanish film based on the life of English author Mary Shelley, which, according to most sources, marked the beginning of their relationship.
In the 90s, Hurley made several red carpet appearances alongside her then-boyfriend Hugh, earning her more exposure in the entertainment business, claimed by some as the only reason. However, at the time both Grant and Liz were relative unknowns.
In 1994, Hugh achieved success in the film 'Four Weddings and a Funeral', and Liz accompanied him to the London premiere wearing an iconic black dress designed by Versace. The risky design of the dress, held together by golden safety pins, earned Elizabeth overnight fame, and even became the reason why Estee Lauder approached the actress with an offer she, of course, didn't refuse.
Amber Valletta in Versace

Elizabeth Hurley x Versace at the 1994 "Four Weddings and a Funeral" London Premiere pic.twitter.com/DoXHItxCjz

— Yves – Oh Vetements! – Semi- HIATUS! (@OhVetements) August 11, 2019
The following year, Grant made gossip headlines after being caught, and prosecuted for hiring the services of a prostitute, but in spite of ending the relationship, as many would expect at the time, Hurley remained by her boyfriend's side. However, the relationship would fall apart in 2000, as the couple announced their amicable separation after dating for nearly thirteen years.
Regardless of parting ways, Grant and Hurley remained close friends, with Liz admitting during a candid interview with Andy Cohen on 'What Happens Live' that Hugh will always be her best friend. She also said that Grant can be annoying, and this very likely became the reason why the couple parted ways.
Liz The Man-Stealer
In 1992, rumours surfaced that suggested Liz participated in an affair while still dating Hugh Grant, with reports pointing to English actress Charlotte Lewis, and her boyfriend of the time, William Annesley as the possible partners in crime.
Years later, during a candid interview, Lewis, one of the stars from 'Henry the Tenth', stated that she once maintained a close friendship with Hurley, insisting that the two had such a close relationship that they partook in gay passion with each other.
According to Charlotte, she only engaged in the encounter with Hurley to please her boyfriend, William, and it seemed so did Liz. Lewis would later discover Hurley's nightwear in her boyfriend's bed, realising that the two continued to see each other beyond the agreed-upon threesome they once shared. Lewis went on to call Hurley a backstabbing, man-stealer, as well as a nasty piece of work.
In response to the discoveries, Lewis claimed that she mailed Hurley's garments to Grant, attaching a note that implored him to ask Liz to stop sleeping with her boyfriend. However, Hurley has yet to comment on Lewis' remarks, never confirmed her possible encounter with either Charlotte or William.
Around the same time, more rumours suggested that Liz hosted a brief encounter with American actor Tom Sizemore, with whom she shared the screen in the film 'Passenger 57'. Rumours insisted that Liz and Tom would maintain an affair that lasted for three years – Hurley never confirmed these rumours, but Tom, who recently published his memoir on life in the limelight, shared all the details of their three-year secret romance, which Hurley might rather have wanted kept under wraps.
Sizemore would explain in an entire chapter dedicated to Hurley, how they met on the set of the film, and how he had to compete with Wesley Snipes for Liz's attention. However, Tom indiscriminately described Hurley as a seductive temptress, holding little back on sharing the details of their dalliance. Whether it's the truth, though, is yet to be confirmed by Hurley.
In 2000, gossip publications suggested that Hurley became involved with businessman Theodore Forstmann, though this relationship in Liz's history remained one that is still disputed. No confirmation about their brief romance can be found anywhere, but photographic evidence of their liaison surfaced in multiple gossip publications, thus the rumours might actually be true.
That same year in 2000, rumours concerning Dennis Leary and Hurley having an affair surfaced, but both actors denied these claims. Regardless, Liz and Dennis have always been good friends, as Leary even helped Hurley to land roles in two of the films in which he starred. Dennis also became a godfather to Hurley's son, Damian, and to this day they maintain a good, but clean friendship.
Disputed Paternity
Following her breakup with Grant, Hurley began dating businessman Steve Bing in 2001, and reportedly maintained the relationship with him for up to eighteen months. The couple spent a lot of time together during this period, were regularly spotted together, and as such, earned plenty of mention in gossip tabloids.
However, in 2002, the romance between the couple would sour, as they were caught in a nasty legal dispute concerning their child, which Hurley at the time insisted she conceived with Bing. Steve denied paternity of the child, claiming that he had a brief relationship with Liz in 2001, suggesting that they freely saw other partners during their time together.
On 4 April 2002 Hurley gave birth to her only child, son Damian Charles Hurley, and after undergoing DNA testing, Steve was indeed proven to be Damian's father. Despite the determination, the couple remained estranged, and Bing seemed to hardly play any role in her son's life.
In 2020, Hurley received the sad news of Bing's passing, after the successful businessman took his own life; she took to social media, as well as a couple of other forms of communication to express her condolences to the Bing Family. Damian also expressed his grief on social media, saying that the experience is difficult to deal with, despite not having had a close relationship with his dad.
While dating Bing, rumour had it that Elizabeth had an encounter with Tim Jefferies, an actor often nicknamed the 'Modeliser', his nickname originating from his habit of dating, or more often bedding famous models. Though not a professional catwalk model, one might certainly add Hurley to his long list of conquests. Considering that this encounter happened in 2001, Bing seemed to have a legitimate reason to doubt his paternity to Damian.
More rumours surfaced later that same year, that suggested Liz might be dating Canadian basketball all-star, Steve Nash, after she attended one of his matches in Dallas while filming 'Serving Sara'.
Elizabeth Hurley has been serving glamour since her days as a '90s bombshell, and now her son Damian Hurley is proving that the ability to own a red carpet runs in the family. – – > https://trib.al/3lkMi2u

Posted by British Vogue on Saturday, February 19, 2022
During an interview, one of Nash's agents confirmed the rumours, stating that the relationship is authentic, and that the couple shares exciting chemistry. Their relationship didn't last very long, as before the end of that year, Liz could be seen in the arms of the man she would later marry, Arun Nayar.
That One Time Liz Tied The Knot
In late 2002, Liz began dating Indian businessman Anur Nayar, who owned a small software company and stood to become the heir to a valuable textile monopoly. This became one of Hurley's most publicised relationships, and perhaps also her most successful, as the couple remained exclusive, until in 2007 deciding to cement their relationship, tying the knot in two ceremonies. They hosted the first in the traditional English way, and to honour Anur's cultural traditions complied in performing a second, Hindu ceremony.
The couple remained together until December of 2010, apparently living happily on an organic farm in Barnsley, Gloucestershire, with Anur assuming the responsibility of becoming the father figure in Damian's life. Hurley filed for divorce in April of the following year, citing unreasonable behaviour by Nayar, which is an allowable condition for divorce according to English law. However, specific details of what happened concerning the decimation of her relationship with Anur remained private – Hurley is yet to speak about it publicly, if she ever will. Their divorce was finalised on 15 June 2011.
After her nine-year relationship with Nayar, Liz began dating Australian Cricket legend Shane Warne in July 2010, shortly following her separation from Anur. Three months after finalising her divorce, Liz and Shane announced their engagement, though endured a backlash from the media, who suggested that the couple might be moving on too quickly. Shortly afterwards, the couple bought a mansion Ledbury, Herefordshire, but their four-year relationship come to an ending in September 2013, as the couple announced their separation.
Speaking to the media, Liz has since stated that Warne's relationship with her son, Damian, was like that of having a fun uncle around, and that Anur will always remain the solid father figure in his life.
In March of 2022, Shane Warne departed from the world after suffering a fatal heart attack while on vacation in Thailand. To express her grief for the loss, Liz took to social media saying that it feels like the sun moved in behind a grey cloud forever, and that Shane will be dearly missed, wishing her 'Lionheart' resting peace.
Back on the Market
After her separation from Warne, Liz moved on with photographer and investment banker David Yarrow, with whom she could be seen enjoying several romantic nights out in 2014. However, their relationship only lasted a couple of months, as before the year ended, gossip tabloids reported on the decimation of their romance.
Then later that year, Liz once again made headlines, this time in the arms of Russian billionaire and business tycoon, Evgeny Lebedev. The two earned publication in the tabloids on numerous occasions as they shared each other's company at romantic dinners and cocktail parties, hardly refraining from expressing the affectionate nature of their relationship. Still, once again, despite displays of public affection, the couple split before the end of the year.
Elizabeth's most recent romantic involvements, according to rumours, happened back in November 2018, after she spent a night out with the wealthy property developer, Niccolo Barattieri di San Pietro. However, these rumours were never confirmed, and it appears as if the two may have only engaged in a single encounter, as little other news of the couple reached publication.
In 2019 rumours suggested that Liz might be dating American actor Justin Theroux, of 'Mulholland Drive' fame. However, Hurley quickly doused the fires by denying these rumours in a public statement, saying that she is most definitely not involved with Justin in any way whatsoever.
Following the years since, it seems as if Hurley remained strictly within the rules of pandemic isolation, as no other dating rumours have since surfaced, thus for the time being, it is safe to assume that Liz is at least officially single.