The Truth About Will Smith and Duane Martin's Relationship
• Will Smith is an American actor and rapper who rose to Hollywood success.
• He was raised as a Baptist and committed to never using profanity in his music.
• He starred in the 1993 film 'Six Degrees of Separation', which sparked rumours about his sexuality.
• He is good friends with actor Duane Martin, and their close relationship has sparked rumours of a possible bromance.
• These rumours have been denied, and no proof of a relationship between them has become evident.
Willard Carroll Smith II, also known by his stage name Fresh Prince, and mononymously identified as Will Smith, is an American actor and rapper, recognised as one of Hollywood's most successful African-American icons.
Smith began his career, and subsequent rise to the top in 1985, as half of the Hip Hop duo DJ Jazzy Jeff and The Fresh Prince, of which he remained a member until the mid-'90s. Will then starred in a self-titled sitcom 'The Fresh Prince of Bel Air', marking the beginning of his acting career.
He would later star in the 1995 film 'Bad Boys', often recognised as Will's claim to fame, but it wasn't until 1996 that Will earned recognition as a top box office talent, with the release of 'Independence Day'.
Born on 25 September 1968, Smith grew up in Philadelphia, Pennsylvania, spending his earliest childhood in the middle-class neighbourhood of Wynnefield, where he attended the Our Lady of Lourdes elementary Catholic School, then Overbrook High School.
Raised as a baptist, Smith drew inspiration from his grandmother, who taught him to never use profanity in his rap music, which Will accredited to a message she left him in one of his notebooks. Smith's grandmother convinced him that truly intelligent people do not require vulgar language to express themselves, and as such, Will has never intentionally used profanity in his music.
Smith landed his first big role in the 1993 film 'Six Degrees of Separation', and went on to earn his status as a leading man in the 1998 blockbuster 'Enemy of The State'.
In 1999, Smith's acting career hit what many consider as his lowest point, when he turned down the role of Neo in 'The Matrix', and instead accepted a role in 'Wild Wild West', which became a box office failure.
However, despite this unfortunate turn of events, Smith's career continued to progress from height to height, and today he's known as one of Hollywood's greatest actors, having earned numerous accolades for his roles.
In most recent years, aside from earning praise for his roles in 'King Richard', for which he won an Oscar, and other films, Smith made headlines for numerous scandals. Of course, this includes the 94th Academy Awards Ceremony incident, during which Will proceeded to physically confront the host, comedian Chris Rock.
It also includes all the recent family drama concerning Smith and his wife, Jada Pinkett-Smith, but most recently, Will earned a place in the headlines as fans and gossipers began questioning the actor's sexuality.
For some time now, rumours swirled in Tinseltown that suggested Will Smith might have 'come out of the closet', and that he indulged in a gay relationship with long-time friend, Duane Martin.
With many people being sceptical about the alleged rumours, Smith's adoring fans can't help but question the authenticity of the stories, however, there does seem to be some element of truth behind the Martin and Smith relationship.
Whether simply being friends or actual lovers, there are those close to the actor that might just know the truth.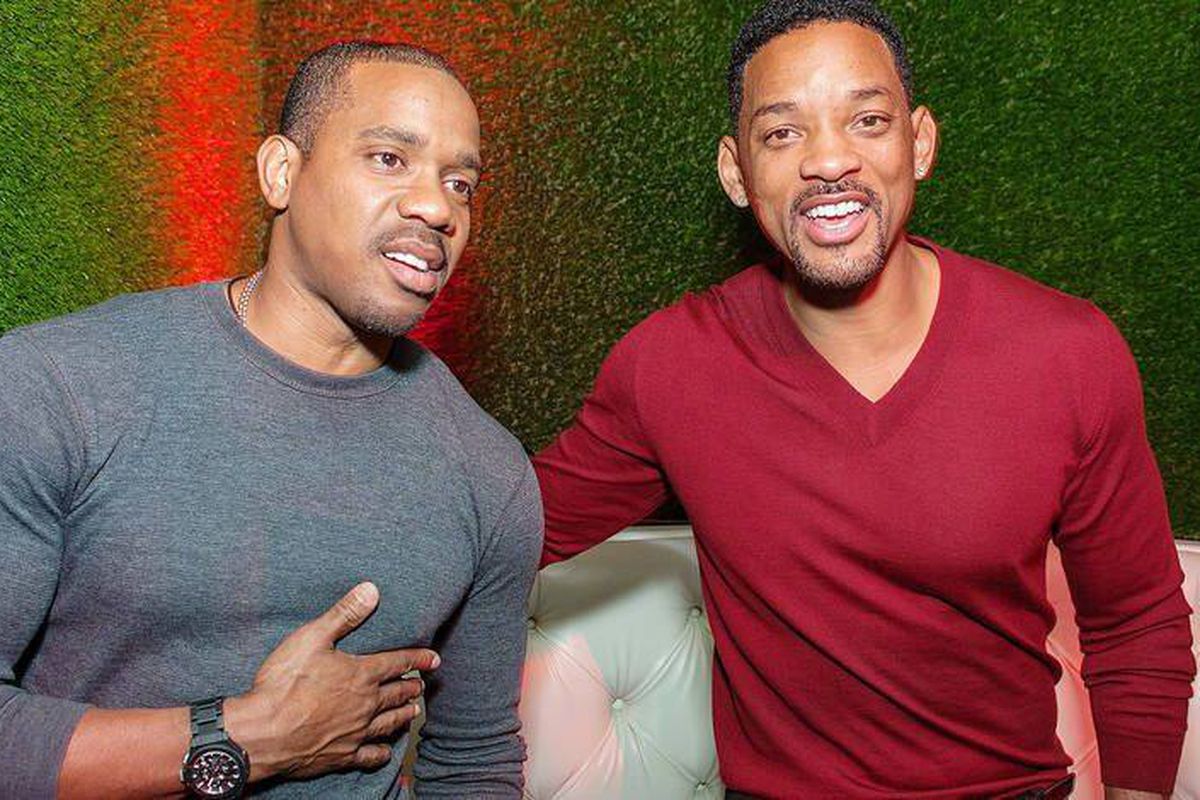 Who Is Duane Martin?
While Smith might be a commonly known name, and most certainly a familiar face, many might still question who exactly Duane Martin is, and how Smith could possibly have come to know him. Well, it's safe to say that the two actors share a long friendship, with professional ties going as far back as the early dawn of both their careers.
Duane Martin is an American actor of modest fame, who appeared in numerous films and television series throughout the '90s, but might be most easily recognised from the reality television series 'Real Husbands of Hollywood'.
Among his repertoire of films, Duane's most noteworthy performances include titles such as 'The Inkwell' in 1994, and the 1997 slasher film 'Scream 2'. He also starred in many television productions, with the most noteworthy including 'Out All Night', of which Duane formed part of the main cast from 1992 to 1993, 'Getting Personal' in 1998, as well as 'All of Us' from 2003 through 2007.
Duane also made appearances in single episodes of television series such as 'Ghost Whisperer', 'Rita Rocks', 'The Game', and several others.
While not of incredible fame, Duane has enjoyed a rather successful career in film and television, which earned him a long-term feature in the reality show, 'Real Husbands of Hollywood', for which he is probably most famous.
Duane's success has already earned him appearances for the coming year, as the actor is set to star in yet another slasher installment from the 'Ghost Face' series, 'Scream VI', and also in a recurring role in the drama series 'Bel-Air'.
Born on 11 August 1965, Duane's early life remains mostly obscure and secretive, as there are few to no facts concerning his childhood. The only history of the actor readily available is that he lived in Brooklyn, New York City, where he actively participated in basketball. Duane would go on to attend New York University, where he played in the National Collegiate Athletic Association Division III of students not offered scholarships, and earned a non-guaranteed contract as an undrafted free agent in the National Basketball Association (NBA) for the New York Nicks in 1989.
However, Duane never earned any court time and soon lost his contract, ending up never actually playing in the NBA.
After his failure in the NBA, Duane went on to earn success as an actor in 1991, when he landed his first role in the television legal drama series 'Against The Law', marking the beginning of a somewhat notable career.
Despite gaining role after role in the years that followed, Duane would eventually earn prominent fame as the husband of the famous African-American actress, Tisha Campbell, though most recently, Martin made headlines due to his possibly romantic friendship with Will Smith.
The Notorious Bromance
Will and Duane first met in 1993 on the set of 'Fresh Prince of Bel-Air', when Duane was featured in the episode entitled 'It Is Better To Have Loved and Lost It…', and would go on to establish a nearly lifelong friendship that's now lasted for three decades.
The pair of actors would frequently share the frame in pictures, and would often get spotted enjoying each other's company as the years went by, and they both continued to earn fame in Hollywood.
Of course, as some might expect, their friendship and the close bond they shared has sparked rumours of an ongoing bromance, with gossip publications insisting that something romantic definitely stirred between Martin and Smith.
In 1993, when Will portrayed the role of a gay con artist in 'Six Degrees of Separation', and coincidentally around the same time met Duane, the rumours about Smith's sexuality really lit up, with most publications taking an adamant stand on Will's homosexuality. However, it should be noted that during the filming of 'Six Degrees of Separation', Will refused to shoot a love scene with another man, and the iconic kiss Smith had to share with the actor portraying his lover, was faked using mirrors and curious camera placement.
During this early rise of gay rumours, both Duane and Will adamantly denied the claims, and as at the time they were both married, quickly leading the rumours to die down.
Around this time, in 1992, Smith married Sheree Zampino, though divorced the actress in 1995, only to marry Jada Pinkett two years later. Duane, on the other hand, dated 'Martin' actress Tisha Campbell, and in 1996 they tied the knot.
However, this wouldn't be the end of all the bromance rumours. In 2013, the hot topic concerning Will's sexuality flared up yet again, this time because of an allusive answer provided by Jada during a candid interview with a well-known tabloid publication.
During this time, rumours swirled that suggested trouble in paradise for the married couple, Pinkett and Smith, even that they might soon divorce. However, as everyone who followed the couple's history closely might know, they survived this troubling time in their relationship, only to end up sparking divorce rumours again nine years later.
During the interview, Jada responded to a tough question with a slightly vague answer in response to inquiring whether or not Will might be into men. Jada stated that she continuously encourages Will to be himself, saying that as long as he can look in the mirror and be happy with who he is, he should feel free to be just that, though insisted that she acts as his partner, and that he should decide for himself.
Although Jada seemed to try her best to avoid answering the question, insisting that Will answer it in person, people took her response as an allusive indication that Smith might be gay, which sparked widespread discussion.
During the same interview, Jada also answered allusively to a question concerning both partners' fidelity in the relationship, and although she never confirmed nor denied it, adoring fans of the couple would later learn the truth. In recent interviews, Jada, of course, admitted to her entanglement with singer August Alsina, and in 2016, Patricia Arquette took to Facebook to express her opinion on the Smiths' non-traditional relationship.
#WILLSMITH #JADAPINKETTSMITH pic.twitter.com/jR88Zl0wHF

— EYE5POTU (@Eyeknowthespot) December 27, 2022
In her rant, Patricia suggested that both Jada and Will displayed homosexual tendencies, with claims going so far as to insist that Jada had a gay relationship with another Hollywood star. However, Arquette's rant was deleted, and her suggestions have since been proven false.
Later that same year of 2016, rumours suggested that Smith may have become involved with 'Focus' co-star, Margot Robbie, after intimate photos featuring the actors surfaced in gossip publications. However, the rumours quickly died down after the film's production crew revealed that the photos formed part of the production, meant as promotional content.
Then in 2020, rumours of shipping Will and Duane once more made headlines, this time because of an Instagram post by Duane's now ex-wife, Tisha, in which she shared a picture featuring a wise quote that alluded to the truth of always being victorious.
The quote also states that lies only delay the inevitable, and rather unfortunately, her followers took it as a subliminal message pointing to her former husband's past behaviour. Some suggestions concerning the post even went as far as insisting that Tisha called Smith out for being gay.
With rumours literally running rampant, Tisha took to Twitter to try and quench as many fires as possible, stating that she would normally ignore any such rumours, but considered that things reached a point where it got seriously out of hand. Considering that the tabloids insisted that the Smiths' alleged divorce might be blamed on Will's friendship with Duane, she most definitely had it right.
Tisha added in her tweet that all the rumours happened to be false, that the Smiths would not be divorcing, and that Will and Duane remain good friends.
However, despite Tisha's adamant stance on the subject, it didn't prevent the tabloids from publishing some wild suggestions. Following an exotic vacation during which Will and Duane were snapped enjoying the cuisine at a local dinner in Trinidad, the tabloids began spreading rumours about Jada's alleged jealousy.
According to these tabloids, Jada felt that it was unfair of them to enjoy exotic vacations while she remained behind at the family home, but, as can be guessed, these were all false rumours.
In 2007, rumours surfaced insisting that Duane Martin filed for divorce from his wife Tisha, and went on to suggest that the actor has come out as gay. However, these rumours were later proven as false, including suggestions that the couple at one point attempted a life of alternative lifestyles, meaning that they might have engaged in a polyamorous relationship.
Regardless, the couple remained married for some time afterwards, and according to more accurate reports, they amicably filed for divorce in 2018, finalised in December 2020, following twenty-two years of marriage.
As far as Will and Jada are concerned, recent rumours that suggest that they are on the verge of separation have been proven wrong, and it appears that the couple is moving on from past problems into a brighter future ahead.
As for Will's sexuality, by no means whatsoever did the actor ever allude to or admit to homosexuality. Thus, his relationship with Duane remains purely professional, and in some ways, they are close friends. After so many years, no proof of a relationship between them has become evident.