What Happened Between Chris Rock and Will Smith?
• Will Smith and Chris Rock have known each other since the beginning of their careers
• They shared memorable moments together, including at the MTV Music Awards, Kid's Choice Awards and while promoting 'Madagascar'
• Their relationship may have soured after Chris joked about Jada Pinkett-Smith's boycott of the 2016 Oscars
• Will then delivered a resounding slap to Chris's face during the 2022 Oscars
• Will was subsequently banned from all Academy events for the next decade
In recent months, social media, gossip publications and the internet in general stirred in ardent excitement about the latest 2022 Oscar incident, discussing the Will Smith and Chris Rock altercation.
Some expressed the probability that it was a staged stunt, opposing those who believed the solemn, upsetting nature of Will's actions, while others simply exploited the event for humorous relief, making amusing comments, and of course posting hundreds of memes all over social media.
Will and Chris, as many would know, are two of the most prominent African-American entertainers currently working in Hollywood, but what few people would know is that they share a long history together.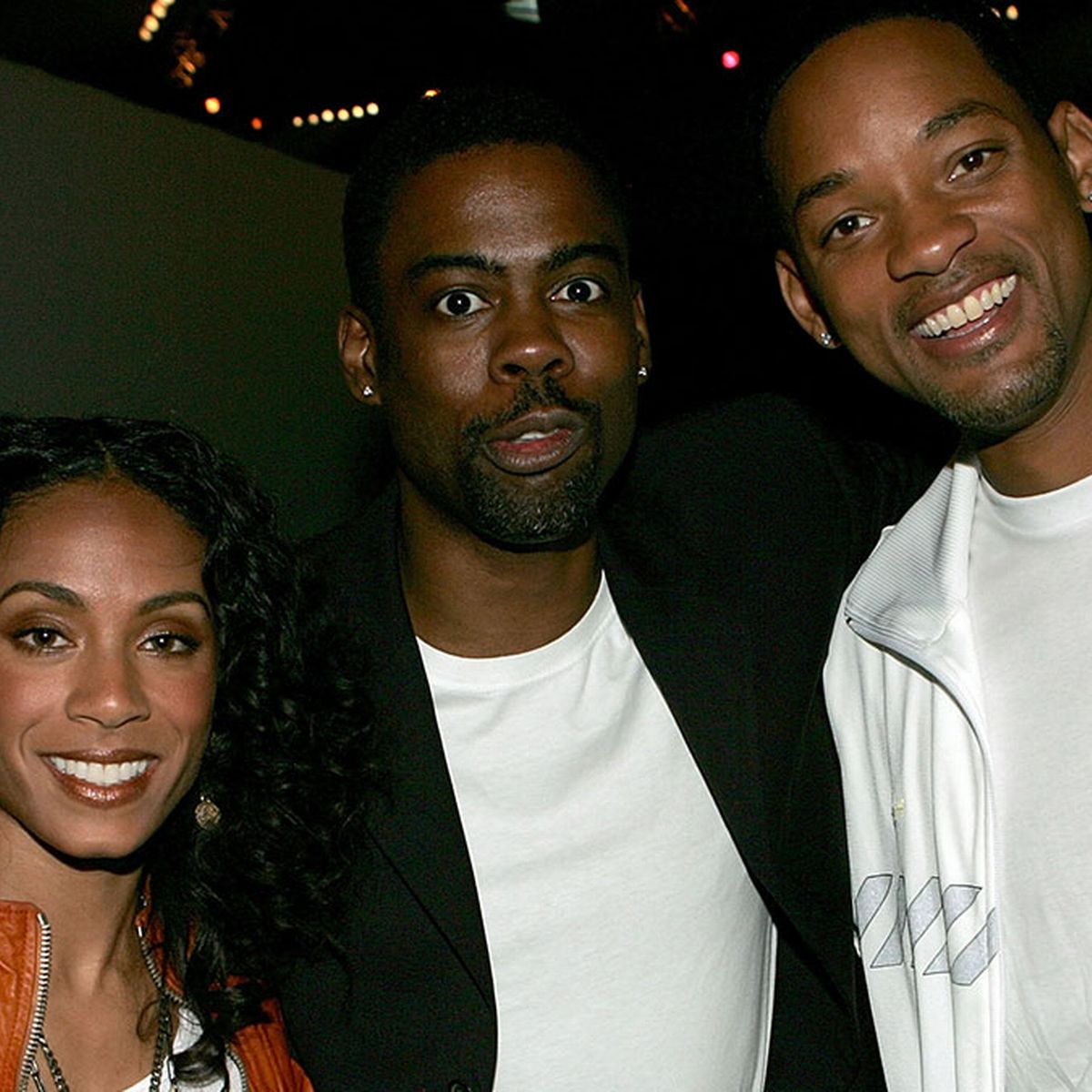 Their relationship dates back as far as the beginnings of both actors' careers, and throughout the many decades that they've entertained us, Rock and Smith once maintained a strong friendship.
Looking at the details of their shared history, it raises the question, what exactly led up to the events at the 94th Academy Awards, and where did things sour between Will Smith and Chris Rock?
An Entertaining History
Smith and Rock's relationship began early on in their careers as comedy actors, back in a time when few now would remember seeing them on television and in film. Chris made his acting debut in the 1987 film 'Beverly Hills Cop 2' after Eddie Murphy spotted his talent as a comedian during a stand-up gig in 1984.
While this was a big break for Rock, his acting career only took off in the 1990s, following a guest role appearance alongside Will Smith. Smith's career began around the same time in 1985, making his musical debut as a rapper in the Hip-Hop duo Jazzy Jeff and the Fresh Prince, but this didn't gain him a prominent place in Hollywood.
In 1990, Smith's charming personality and witty character earned him his first acting role in the comedy series 'The Fresh Prince of Bel-Air', which became a phenomenal hit among younger audiences.
Then, in 1994, Chris landed a two-part role in an episode of 'Fresh Prince', playing the role of Maurice Perry, a famous actor, and Maurice's sister, Janice. The episode aired in 1995, and afforded the two actors' high acclaim. It might even be said that if Rock and Smith did not end up on screen together, their careers could have been completely different.
Regardless, Chris and Will's friendship started on the set of 'Fresh Prince', and grew into a flourishing relationship that entered the spotlight in 1997. The pair of actors shared each other's company at the MTV Music Awards ceremony, having a good laugh together, making it seem as if they had a good relationship going.
Will Smith x Chris Rock pic.twitter.com/r0ViKTkU90

— HIGHEST (@HIGH6ST) January 25, 2019
Four years after sharing the screen for the first time, Chris and Will would star together in the 1999 spoof documentary 'Torrance Rising'. The short film followed the journey of the Torrance Community Dance Group as they earned their place at the MTV Music Awards, and starred many familiar names which included Madonna.
This, however, was not the only awards ceremony where the actors once enjoyed lighter interactions. On two occasions at the Kid's Choice Awards, Chris and Will shared memorable moments. The first happened in 2005 when Will received his blimp award for the best voice in 'Shark Tale' as Oscar, and the second moment took place in 2010, when the two actors reunited backstage to snap a picture with Will's son, Jaden Smith.
However, Chris not only worked with Will throughout his career but also spent time acting alongside his wife, Jada Pinkett-Smith. In 2005, Chris voiced Marty the Zebra, and Jada filled the role of Gloria the Hippo, in the animated film 'Madagascar'.
The film achieve considerable commendation, spawning two sequels which saw the actors reunite again for the same roles in 2008 and 2012. During the promotion tour of the third 'Madagascar' installation, Chris told Jada in an interview that his children happened to be big fans of both Will and Jaden Smith, saying that Lola Simone and Zahra Savannah couldn't stop listening to their music. Considering that Chris Rock has always had a good relationship with the Smiths, at least in the eyes of the public, one might question where things went wrong.
Previous Oscar Drama
In February 2016, the annual Academy Awards earned some considerable scrutiny following the complaints of several Hollywood filmmakers and actors. Among the list of flustered celebs were Jada Pinkett-Smith and the legendary filmmaker, Spike Lee.
Their voiced concerns about that year's ceremony included complaints suggesting that there wasn't enough diversity among the nominations. Whether this was true or not didn't matter, as most attendees that year were hardly phased by these complaints, but this might be where the friendship between the Smiths and Rocks soured.
Jada Pinkett Smith's Powerful Call to Boycott 2016 Oscars. Will you be boycotting this year? Let us know in the comments and share this empowering video.

Posted by Blavity on Monday, January 18, 2016
As part of a protesting act, both Spike Lee and a number of others refused to attend the ceremony, and this included Jada. Unfortunately, most people did not take them too seriously, as their protest became the butt of jokes at the ceremony, some of which were delivered by one of the hosts that evening, Chris Rock.
During his hosting stint, the comedian singled out Jada in one of his jokes, addressing her decision to boycott the Oscars. While it seemed that Chris made fun of Jada's actions, he insinuated that it was pointless, since she wasn't invited in the first place.
He went on further, poking fun at the fact that Will Smith didn't earn any nominations that year, mockingly adding that it wasn't fair. He then referenced one of Smith's worst films, 'Wild Wild West', which performed poorly, saying it wasn't fair that he earned $20 million for such a poor performance.
No doubt, although meant as comic relief, such derogatory comments would have upset the Smiths, and this might have been the turning point in their friendship. Since then, the Smiths and Rocks haven't spent any time together, and it seemed as if their once-friendly camaraderie may have ended.
The Slap That Rang Around The World
Then, during Chris's hosting of the 2022 Academy Awards, the most bizarre thing to ever happen during an Oscar ceremony took place, and while it provided some entertainment for the rest of the world, it was a tragic disgrace to the face of the most prestigious award ceremony held in Hollywood.
While making his speech, Chris may have taken things a little too far after making a comic reference to Jada's latest hairstyle, saying that he's excited about her appearance in the new 'GI Jane 2' film.
Unfortunately, Will didn't take this comment in the lightest of spirits, left his seat, and proceeded to deliver a resounding slap to Chris's face. Smith returned to his seat, telling Chris to keep his mouth off his wife. "Keep my wife's name out of your f**king mouth!"
Within hours of the incident, the rather comic moment ended up on various social media platforms, quickly becoming the joke, or scandal of the year. This also prompted numerous speculations as to what really happened, with some suggesting that it was staged.
Considering the recent marital troubles that the Smiths have been going through, social media pointed out that Will only acted disgracefully to earn Jada's admiration. However, considering the media's coverage in the wake of the incident, theories suggesting that it was scripted might be a little far-fetched.
The Aftermath
Following the incident on March 27th, the Academy delivered an official statement to the public, which condemned Will's behaviour, and saying that they would be launching an official investigation into the matter.
The Academy also stated that they would be taking further actions in accordance with the law of California, as well as their own bylaws and standards of conduct. While the world, and Smith, awaited the Academy's verdict, new reports following the night's events surfaced, according to which Will was asked to leave the ceremony, but refused.
On July 29, Will posted an apologetic video to all of his social media accounts, including YouTube and Instagram, stating that his behaviour was unacceptable and that he was sincerely sorry for assaulting Rock.
He also implored Chris to contact him, and that he was available to talk things over at any time. Following this, Will appeared on 'The Daily Show With Trevor Noah', and once again spoke about his misconduct at the Oscars, saying that the situation was complex, but in the end, he simply lost it, prompting him to act inappropriately.
Smith also stated that he was going through a tough time, and it was certainly not the proudest moment of his life. In September, while performing on a comedy show with Dave Chappelle, Chris voiced his doubt on the authenticity of Smith's apology, openly condemning it.
Chris also added that the smack hurt, jokingly saying that Smith once played the role of boxer Muhammed Ali, and he, Chris, couldn't even play Floyd Mayweather. Despite his discountenance towards the debacle, Chris declined to file a report with the Los Angeles Police Department.
However, this didn't keep the Academy from taking action. Although Smith stood the chance of having his Oscar revoked, which he won that same night for his performance in 'King Richard', he was still treated fairly in the disciplinary procedures that followed.
But before anyone had a chance to punish the 'Bad Boys' actor, Smith resigned from the Academy on his own. Nonetheless, the Academy followed through with their decided punishment, banning Smith from any Academy events, including but not limited to the Academy Awards, for the next decade.
Smith responded by stating publicly that he accepts and respects the Academy's decision. One thing remains clear, however, which is that Chris and Will might no longer be good friends. Whether that may be, followers of both actors hope that they might one day set aside their differences and perhaps reconcile.