Who has AnnaSophia Robb dated? Boyfriends, Dating History
• AnnaSophia Robb is an American actress, singer, and model
• Robb was born on 8 December 1993 in Denver, Colorado and has Danish, Irish, Scottish, Swedish, and English roots
• Her first prominent role was in an episode of 'Drake and Josh' in 2005
• She has dated Josh Hutcherson, Alexander Ludwig, Chris Wood, Colton Haynes, and Emile Hirsch
• In late 2020, AnnaSophia revealed that she is dating a mystery man
AnnaSophia Robb is an American actress, singer, and model, who began her career as a child actress in 2004 as the star of the film 'Samantha: An American Girl Holiday' in 2004. She was born on 8 December 1993 in Denver, Colorado, the only daughter of Janet, an interior designer, and David Robb who worked as an architect.
She was given the names of her maternal great-grandmother and grandmother, Anna Sophie and Anna Marie, and comes from a mixed ancestry with Danish, Irish, Scottish, Swedish and English roots.
AnnaSophia grew her interest in acting by performing on the stage of her local church, where she performed in front of audiences as large as 500. At the age of eight, an agent invited her to Los Angeles, where she attended several auditions that landed her parts in commercials for Bratz Dolls and McDonald's.
The now 26-year-old actress then gained a role in an episode of 'Drake and Josh', her first prominent role, following which in 2005 Robb starred in consecutive roles which would become commercially successful, and give her popularity a vital boost. She played the role of Opal in 'Because of Winn Dixie', and starred as Violet in the Tim Burton remake of 'Charlie and The Chocolate Factory', in which she acted alongside Johnny Depp.
Some of her other noteworthy roles include 'Bridge to Terabithia', a role for which Robb won a Young Artist Award as Best Young Leading Actress in a feature film, and she also starred in 'Race to Ghost Mountain', 'The Reaping', and most recently in 'Words on Bathroom Walls'.
AnnaSophia also has a part in the upcoming release, 'Lansky', and stars in several television shows which include 'Little Fires Everywhere', and 'The Expecting'. Despite her busy schedule, it seems that the talented actress still finds the time for romantic endeavours.
Robb is considered one of the most beautiful women currently active in Hollywood, despite not appearing in any published lists of the hottest celebs. As such, she's dated some of the hunkiest bachelors around.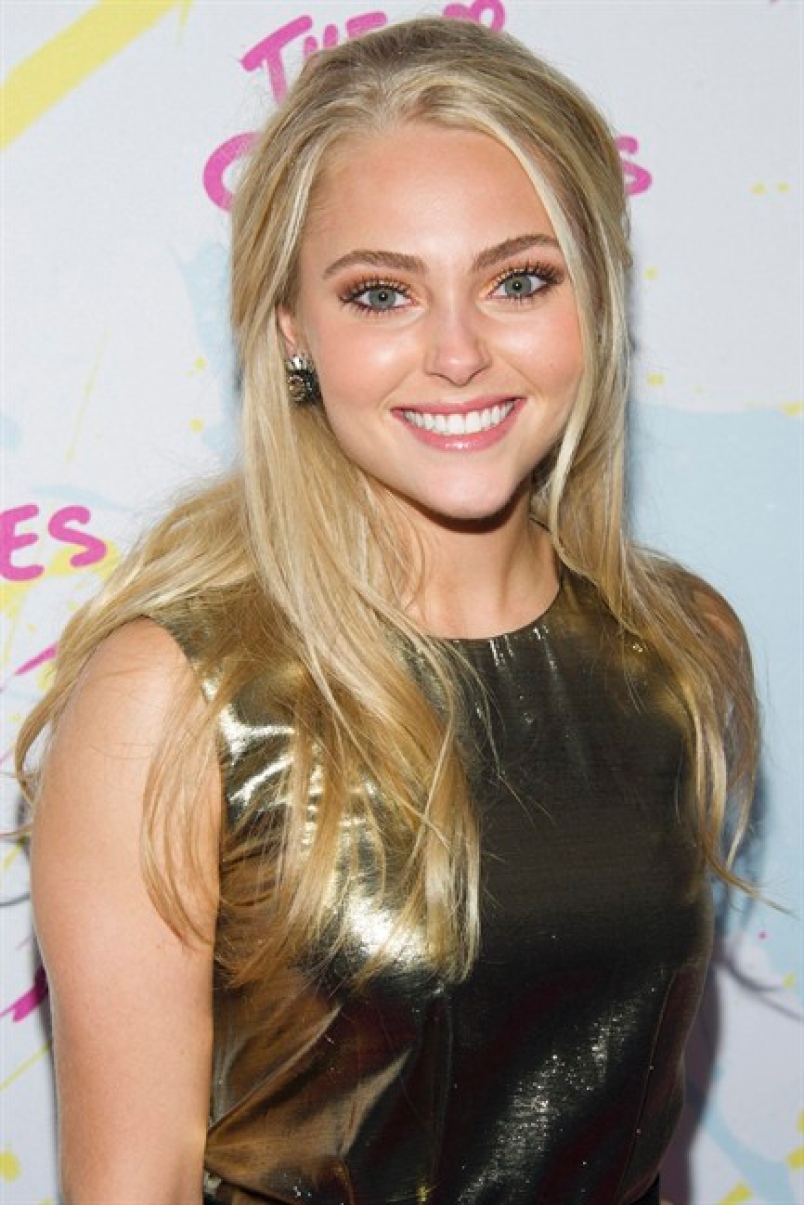 The first rumours concerning AnnaSophia's romantic interests that reached tabloid publications were in 2007, when she was just 13, linked with her co-star in 'Bridge to Terabithia', Josh Hutcherson. However, there was never any confirmation about a relationship between them, and since it happened 13 years ago, any details about their relationship are long lost.
During an interview on the Armchair Expert Podcast, Josh opened up about his relationships with all the women he starred with as a child actor. While this list includes Kristin Stewart, who starred alongside Josh in 'Zathura', and Jennifer Lawrence in 'Hunger Games', the most prominent mention would be AnnaSophia.
Josh mentioned that they had an innocent relationship while working on 'Bridge to Terabithia', but the co-star who totally stole his fancy was Kristin Stewart. Although Josh never shared any details about his relationship with Robb, it nonetheless confirms that something romantic added to their on-screen chemistry.
Although it is unclear exactly when Josh and AnnaSophia split, it's safe to say that their relationship ended the same year. In 2008, while working on the film 'Race to Witch Mountain', Robb met Canadian actor Alexander Ludwig. After completing the film, which became AnnaSophia's first action film credit, they made their relationship official.
While little is known about Alexander and AnnaSophia's relationship, including why they broke up, it is known that their relationship ended in 2011. While he dated AnnaSophia, the couple appeared together on several occasions, and the only remains of the sweet and innocent romance they shared are immortalised in several cute photographs.
Of course, these days Alexander melts the hearts of 'Vikings' fangirls in the role of Bjorn Lothbrok, and his list of romantic endeavours keeps growing longer.
In August 2013, Robb revealed to the world her latest love affair of the moment, with actor Chris Wood. The two met on the set of 'The Carrie Diaries', a spin-off series based on the early life of 'Sex and the City' character Carrie Bradshaw, previously portrayed by Sarah Jessica Parker.
While Carrie may not have been the luckiest woman in love, it turned out the opposite for AnnaSophia, who plays a younger version of the New York writer. Chris, who is also a familiar face from 'The Vampire Diaries', portraying the character Malachai Parker in the sixth season, appears opposite Robb as a potential love interest of Bradshaw.
The on-screen romance, which involved plenty of affectionate scenes, seemed to rub off on the actors, but their real-life relationship didn't last very long. Although most of the details about their affair remained private, it is known that Robb and Wood broke-up sometime early the following year. Neither one spoke publicly about their relationship, and to date, no reason has been given for their split.
While the couple looked both cute on and off the screen, fans of their romance can only speculate about the juicy content Bradshaw might so eagerly divulge.
Despite being one of the youngest actors currently making a name in Hollywood, AnnaSophia already has her fair share of rumoured relationships. The first of these, with 'Teen Wolf' actor Colton Haynes, reached gossip writers shortly after her break-up from Wood.
AnnaSophia spent a night in Colton's company looking quite formal, and as per usual, gossip writers were eager to publish speculations about a possible relationship in the making.
the 90s reign 🙌 shop @Macys for my look and other #throwbacktoschool 90s styles #ad https://t.co/jnIZg4vuSz pic.twitter.com/ehMPGICiVs

— AnnaSophia Robb (@robbannasophia) September 1, 2016
Sadl, though, after the story hit publications and the photographs of their night together reached the world, the two were not seen together again, and the rumours quickly fizzled out. If anything happened between Haynes and Robb, it is a secret only they would know the truth about.
Sometime later in 2014, the 'Soul Surfer' actress attended a couple of formal dinners, socialising with 'Into The Wild' actor, Emile Hirsch. Naturally, this led to the publication of a speculated romance between them, but despite looking very much like a couple, neither one confirmed the relationship. Among the evidence presented, aside from a couple of formal dates, AnnaSophia also published several selfies to 'WhoSay'.
At the time, Emile fathered a child with an unknown woman in Florida, but according to close friends of Hirsch, he has no interest in dating the mother of his child, but will be involved in raising his son, Valor.
Unsurprisingly, not long afterwards, the aforementioned rumours fizzled out, as Robb revealed to the world her actual boyfriend.
In March 2014, AnnaSophia began dating fitness guru and health blogger, Adam Cobb. Their relationship remained private during the two years they dated, with only photographs of the pair to confirm a relationship. As such, and true to form, details of their affair remain obscure, and since neither of the two ever spoke publicly about their relationship, the nature of their love is hard to uncover.
The pair split for unknown reasons in May 2016, after dating for over two years.
Although all the most recent reports state that AnnaSophia is single, it seems not to be true. In a recent interview with Forbes, Robb revealed that she travelled cross-country with a new mystery man in her life. Although she withheld his identity, AnnaSophia stated that once quarantine restrictions are lifted, they will do more travelling.
Naturally her fans are eager to identify and meet the new man in her life, but they will have to wait until the star from 'Little Fires Everywhere' breaks the news to the world. Given the current restrictions courtesy of the Covid-19 virus in late 2020, that may be sometime yet.