Who has Bella Thorne dated? Boyfriends List, Dating History
Bella Thorne is an American model, actress, singer and director, who gained prominence as the street-smart dancer, Cece Jones, in the Disney TV dance series, "Shake It Up," in 2010. She debuted in 2003 with the comedy movie "Stuck on You", followed by a series of minor roles until her performance earned her the Young Artist Award in the 2009 drama series, "My Own Enemy." Since then, she has been seen in many movies and TV shows, including "Alvin and the Chipmunks," "The DUFF," "Amityville: The Awakening," and "Famous in Love."
The talented starlet, who originally came from a poor family background in Pembroke Pines, Florida, was quite adept at being in front of the camera, because she had (unknowingly!) been modeling since she was six weeks old. By 2020, she had been part of more than 30 commercials, and a product endorser for numerous brands, including Neutrogena, Gap, Ralph Lauren, and Guess. She's also appeared in many lifestyle magazines, such as "CosmoGirl," "Elle," "Teen Vogue," and "Seventeen."
Thank u Harpers Bazaar!! So obsessed with these looks and so honored to be on your cover 💙 which outfit do you wish u had??! think my favorite is with the skirt, feeling like a mermaidd. reply 🧜‍♀️ if that's ur fave too pic.twitter.com/0XWIk07Qx4

— BITCHIMBELLATHORNE (@bellathorne) May 17, 2021
Bella also debuted as a singer, when she released her single "Watch Me," in 2011 – the song entered the Billboard Hot 100 at No.86. Her directing debut in 2020 for the adult film, "Her & Him," gained positive reviews. Being a celebrity has its perks, but it comes with a price as it would naturally land her face and name in the headlines, sometimes not in a good way. The self-declared pan-sexual would find herself in the news not so much because of her work, but because of her personal life and dating history.
Bella's Dating Choices through the Years
Her dating list was quite long, but not all of them lasted for years, many fizzling-out quickly. Here are the fascinating loves and hook-ups of Bella Thorne.
Tristan Klier "Puppy Love" (2011 – 2014)
There wasn't much information about Tristan Klier, except that he played football in high school but he made the list because it was Bella's first public relationship. He's not a celebrity, but he developed a small fan base because of his connection with the actress. Fans found their relationship quite adorable, with him giving her a puppy and a promise ring as gifts.
He accompanied her to several Hollywood events, and was photographed with her walking on the red carpet.
Neither were shy in sharing photos, of their trips, hanging out with friends, and even their homecoming dance. Bella dated him since she was 14 years old, and is known to be the longest relationship she has had. They broke up once, and then reconciled during their more than three-year relationship. However, news about Bella flirting with other men, including Ross Lynch and Brandon Lee, didn't sit well with Tristan, so they finally separated in August 2014. Tristan posted a message on his Instagram account that he might not have been the most appreciative of all the experiences she made possible during their time together, such as overseas trips or beach vacations but it meant the world to him, and added, 'I'll never forget it, from the bottom of my heart, thank you.' Bella was asked through Twitter by a fan if she's still with Tristan, and her straight-up reply was 'No. I'm not.'
Brandon Lee "Showbiz Royalty" (2015)
Photos of Bella with Brandon Lee as the new hot couple had been all over the Entertainment news sites. He was the lone offspring of the controversial,'90s couple, Motley Crue frontman Tommy Lee and Baywatch babe Pamela Anderson. People were excited to see Brandon all grown up.
News came out that he playfully used the hashtags #AreWeDating or #WhoKnows on his Instagram account. Bella was asked about him when she made a guest appearance in the popular morning TV talk show, "The View," for her "Alice in Wonderland" promotions. She said they reconnected recently, and that he was really sweet. She'd already met his mom, who only had beautiful words to say about her. After a few days, there were lots of photos of the couple posted on their Instagram accounts, but for some undisclosed reasons, it didn't last as long as everyone thought it would.
Ryan Nassif, "The Model" (2015)
People were surprised that after making headlines with Brandon Lee in March, Bella was having a smooch with the model Ryan Nassif, during a Lakers-Blazers basketball game in April; they were caught on the game's kissing cam and they obliged. Ryan's father, Chris Nassif, is a well-known Hollywood talent agent, and his uncle, Paul Nassif, was the plastic surgeon featured in the popular reality TV show, "Real Housewives of Beverly Hills."
Tongues were wagging in Tinseltown as people were saying that they had a potential new love triangle, which would mean sizzling teenage Hollywood drama, as they believed Bella was still seeing Brandon Lee at that time. Bella and Ryan were seen again getting cuddly in the yearly music extravaganza, Coachella 2015. She even posted a photo of them together with another friend, Shamari Maurice, with the caption 'Coachella with these QTs.'
To be fair to Bella, she said that there wasn't any love triangle; she was just dating again after coming from a super-duper long relationship.
Being a celebrity meant photos with her would go around social media, and people she dated would just have to accept this. On an interesting note, Brandon was also at the music festival, but no one saw them hanging out together.
Greg Sulkin "The 'older' Brit Guy" (2015 – 2016)
It seemed lthat "third time's the charm" for Bella when it comes to dating in 2015. After two potential relationships fizzled out, the one with British actor Greg Sulkin seemed for keeps. They were long-time friends before it turned into romance between the two. Greg started acting at age 14, playing minor roles in the mini-series "Doctor Zhivago" in 2002. He became better known when he was included in the popular Disney Channel series "Wizards of Waverly Place," as the recurring character, Mason Greyback, for two seasons. Since then, he's been in several movies and drama series.
She reportedly started dating Greg in June 2015 – not everyone was keen about it, as some found the relationship uncomfortable since she was 17 years old, still a minor at that time, and he was already 23.
Others would defend it saying she was almost 18, and compared it to the Kylie Kardashian and Tyga relationship which was generally accepted.
Bella and Greg were seen together publicly attending events such as Teen Choice Awards, and MTV thriller series "Scream" premiere. She even gave a Hollywood tour to her boyfriend's parents when they came to visit their son. They looked so good together and their fans treated them as "couple goals." However, after a year, rumors that they'd ended the relationship citing busy schedules went viral. Bella confirmed on Twitter that they had indeed broken-up in August 2016, but remained friends.
Bella Pendergast, "First Bisexual Relationship" (2016)
Fans were shocked when Bella released photos of her kissing Bella Pendergast on Snapchat, confused particularly because Pendergast was her brother Remy's former girlfriend. When a fan asked her on Twitter if she was bisexual, she simply replied 'Yes,' and then thanked everyone for the positive feedback on her coming out.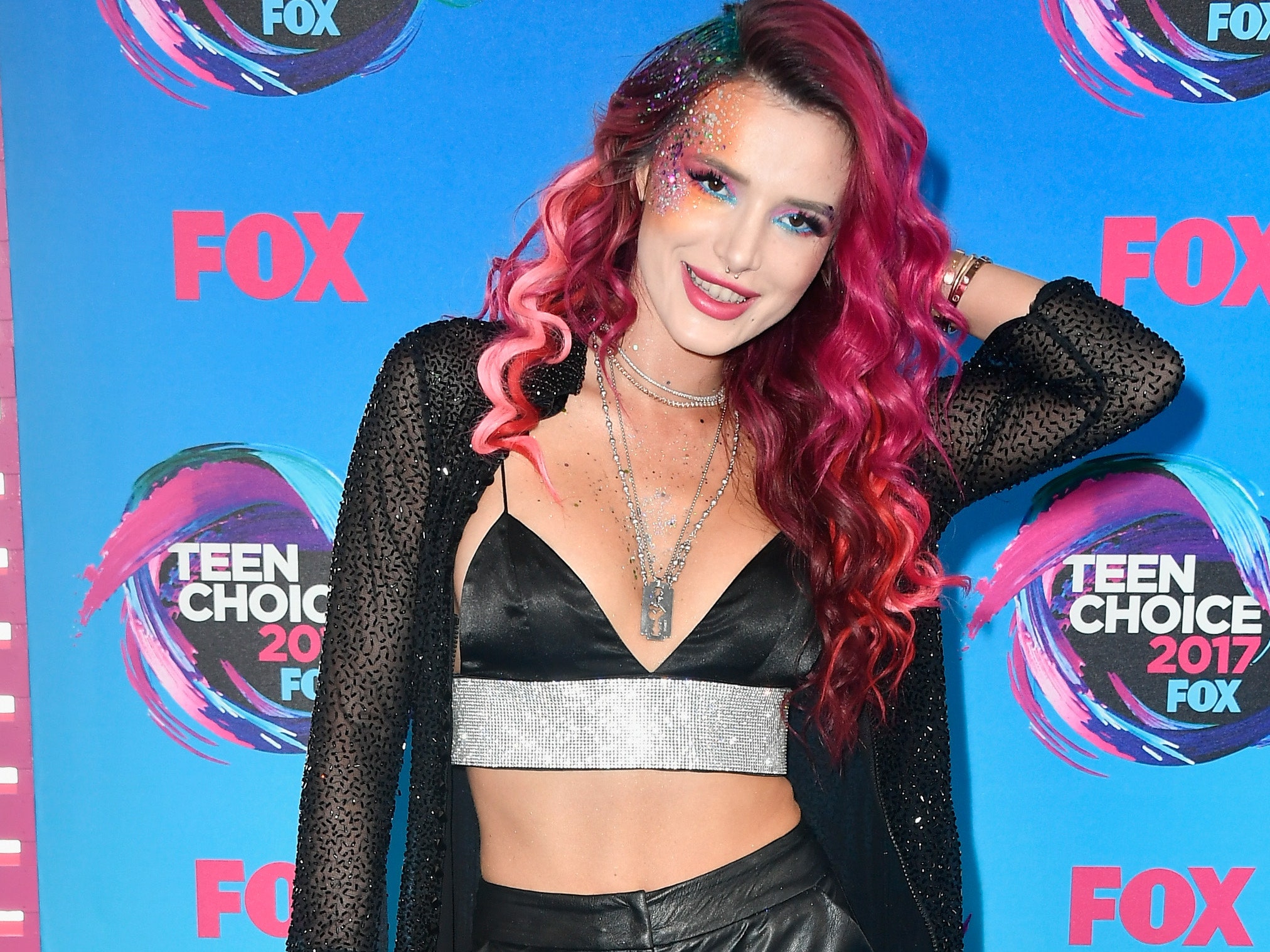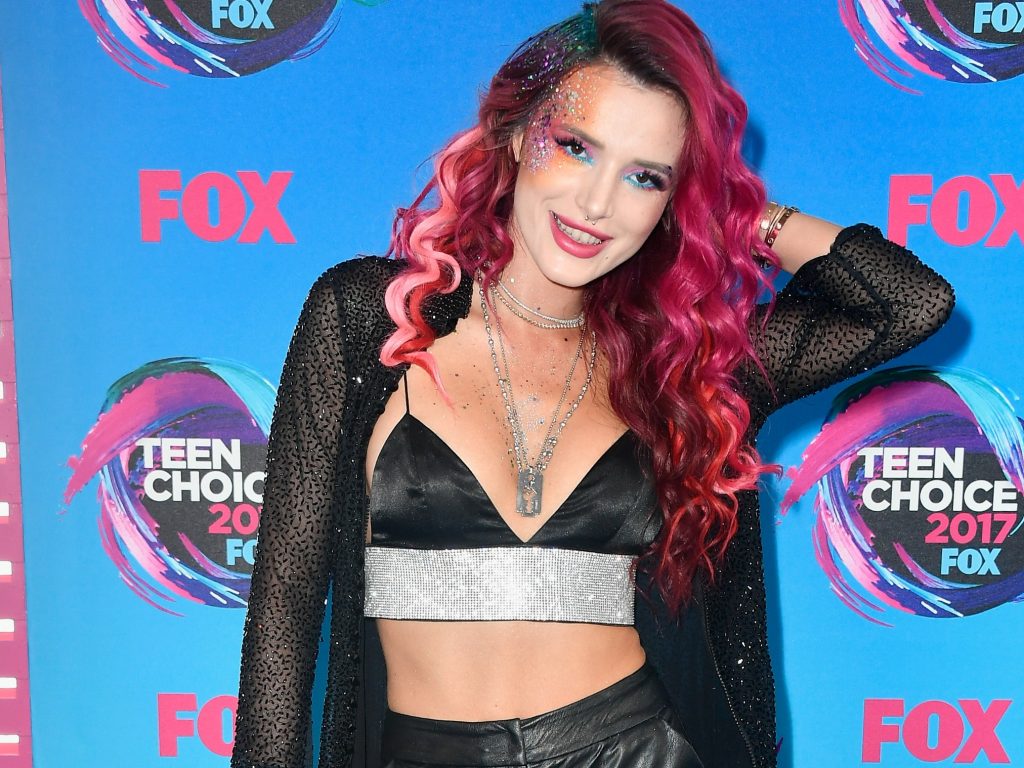 Even after she shared pictures of them kissing and declaring their love for one another, people were still doubtful of their relationship, as Pendergast also posted photos on her Instagram feed getting couple-y with another man. Neither of the two addressed the issue, but if photos were to be believed, they were more than best friends, or their relationship could be categorized as BFFs with benefits.
Tyler Posey and Charlie Puth, "Hollywood Teenage Drama" (2016)
Also in 2016, Bella filled the gossip mills with another potential teenage love drama with two guys, Tyler Posey and Charlie Puth.
Tyler and Bella had something in common, as they were both child actors so they easily connected. He started acting at around nine years of age in 2000, in the movie "Men of Honor," followed by minor roles in many movies and TV series. His breakthrough role came in 2011 when he was chosen to play Scott McGall in the successful fantasy-TV series "Teen Wolf". becoming popular as the series went to air for seven seasons. They started dating in the summer of 2016, reportedly just after a month after she called it quits with Greg Sulkin.
Initially, both actors tried to keep it low-key, but later on made the relationship official via their social media accounts, after they were caught kissing and holding hands. They didn't skimp on sharing photos with sweet captions, and clearly, they were in love; she even posted a photo proudly wearing her boyfriend's boxer shorts. However, by the winter of 2016, they were no longer a couple, the reason they gave was that it simply didn't work out.
Bella took the break-up pretty hard, and needed consoling at that time. Singer-songwriter Charlie Puth was already sending feelers to her through Twitter, so she gave him the chance, and they started to hang out together. Charlie at that time was a multi-platinum artist, who became huge when he was featured in Wiz Khalifa's No.1 song, "See You Again," which he co-produced in 2015. He had since released more hit songs such as "Marvin Gaye" with Meghan Trainor, "One Call Away," "We Don't Talk Anymore" with Selena Gomez, and "Attention."
Things were going smoothly and they had the potential until Charlie read an article online about Bella and Tyler. Charlie didn't read the date it was published, and automatically thought that Bella and Tyler were still together. He cut communications with Bella and started ranting on Twitter with cryptic messages such as 'I'm sorry, you know who you are.' The fans naturally became curious, and assumed it was about Tyler Posey. They started telling Charlie about Bella and Tyler and he replied that he felt Tyler shouldn't have been treated that way, although Bella told him that she was no longer with Tyler.
Online drama ensued with Bella joining the Twitter fray and posting 'Ty and I have broken up for like over two weeks. Charlie and I ARENT DATING we are friends. That article was written forever ago.' Netizens found it funny that she claimed she and Charlie weren't dating when it was so clear they were making out on a beach in Miami in December 2016. People were quick to notice that Bella had a different meaning when it comes to the words, "forever" and "dating."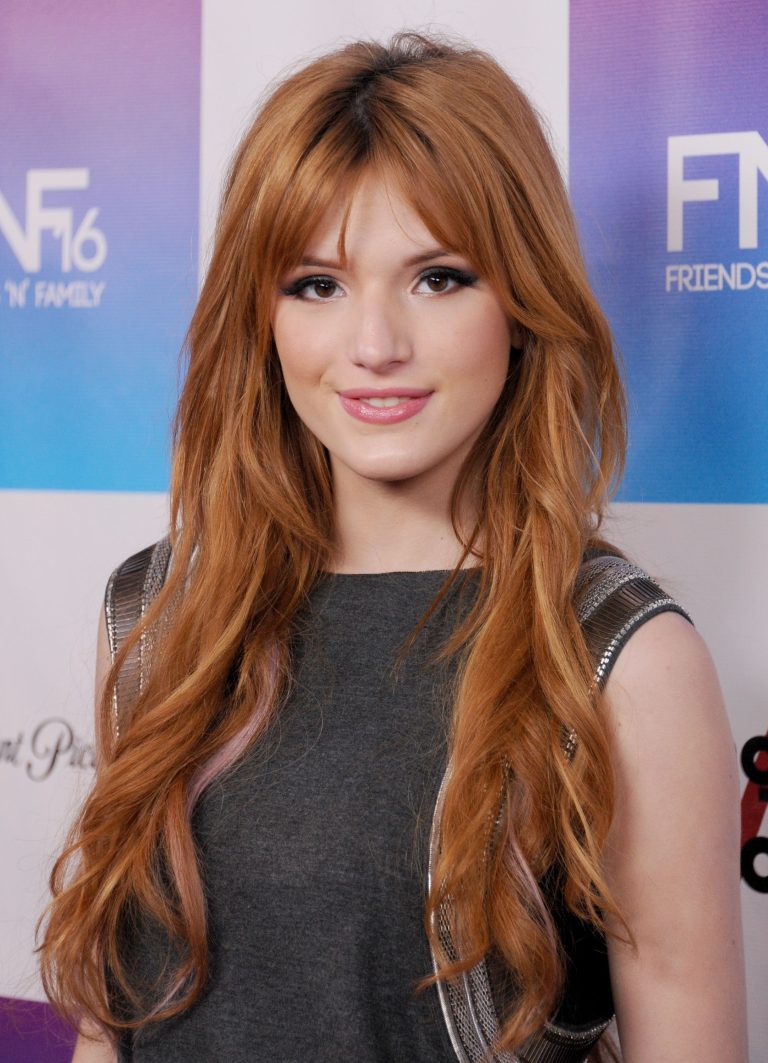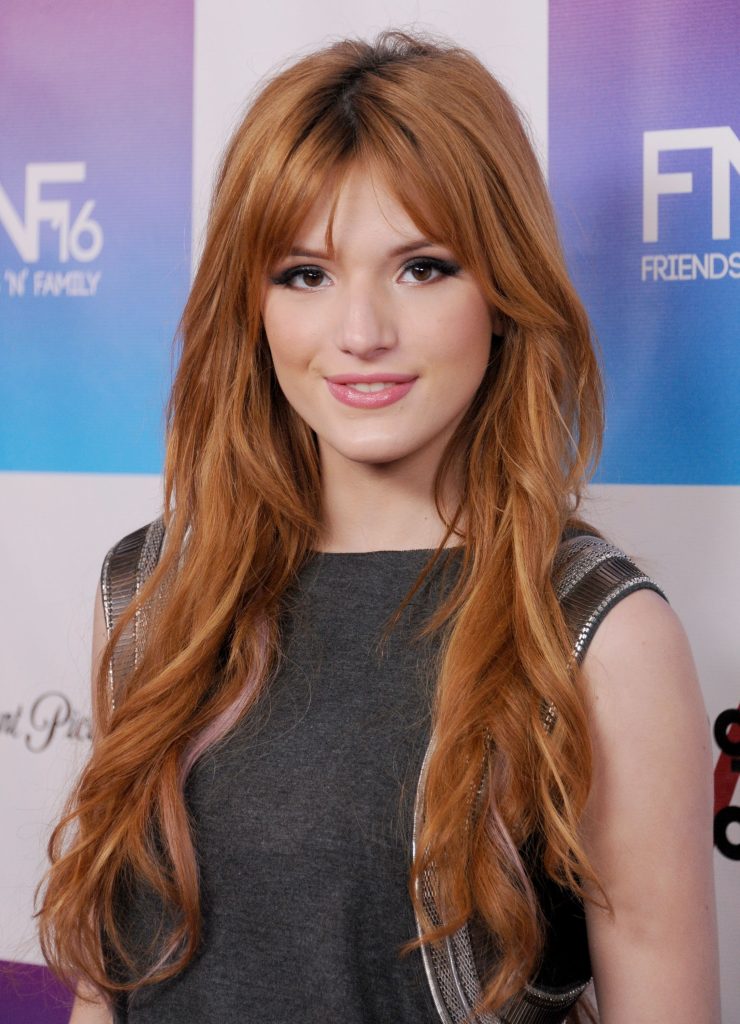 Tyler never commented about it. Later on, Bella officially addressed the issue in her interview with Teen Vogue magazine, and said it started with a misunderstanding with Charlie reading an old article – obviously, Bella and Charlie perceived the word "old" differently. Eventually, they were able to hash it out, and everything was settled with Bella and Charlie going on their separate ways.
Tyler admitted that he had hook-ups with men, and that he's sexually fluid, which means he didn't have any fixed sexual interest.
Tana Mongeau and Mod Sun "No Label Tryst" (2017 – 2018)
Having two people in a relationship was already hard to manage, but having three people in it would be a handful. Just look at the drama that unfolded with Bella's affair with Tana Mongeau and Mod Sun.
In 2017, Bella started dating Tana Mongeau, a model and social media personality, becoming known online for her "storytime" videos posted on Snapchat.
Helped work on this new @tanamongeau song "without you"

So absolutely proud of her, we've been making music together for 3 years now + I've seen her spread her wings with regal grace. I always saw in her what I hear on this song. Congrats tanini <3https://t.co/VYvEATa4Uq pic.twitter.com/F5TL8hqYo8

— internet killed the rockstar (@MODSUN) April 22, 2020
The content creator shared photos of her with Bella online when they both flew to Las Vegas and attended the "Life is Beautiful" music festival. Their photos conveyed that they were so much in love that they wanted everyone to know about it. At that time, Bella was supposedly still in a relationship with Derek Ryan Smith, popularly known as Mod Sun, the American rapper-songwriter. He started as an indie rapper, and then went mainstream with the release of his debut studio album, "Look Up," which topped the Billboard Heatseekers chart in 2015.
They were in an open relationship, and from the interview Bella had with "Gay Times" in 2019, it seemed that everyone was happy with the status at that time. They all fully understood each other, and would joke about Poly but they never tried putting a label on their relationship. Bella and Mod Sun even had a wedding ceremony, but without the legal paperwork. Everything seemed to be going smoothly until Bella and Tana called it quits in February 2019. They were all still lovey-dovey during their break-up announcement on Twitter, with Tana posting, 'I love her forever don't get it twisted.' … if you believe that!?
https://www.facebook.com/photo.php?fbid=10219715137581731&set=t.100044340073591&type=3
In April 2019, Bella ended her relationship with Mod Sun, saying that it didn't work out, but she would always love him. She tweeted, 'All good things must come to an end.' Everyone thought that was the end of it and the throuple (three-way relationship) was over. Based on their social media accounts, they all seemed to have moved on, until Tana announced her engagement to YouTuber Jake Paul, at which Bella ranted on Twitter about her disappointment and heartbreak.
In June 2019, Bella also posted on Twitter that Tana broke the girl code, without sharing the details. Fans assumed that was because Tana was spotted on a date with Mod Sun after they had broken-up. An online feud ensued with the two girls exchanging tweets that just confused fans.
Three months after breaking up with Mod Sun, Bella had an online feud with him, as he felt that she was disrespecting his take on their "marriage", and was using their wedding video to promote her book, "The Life of a Wannabe Mogul: Mental Disarray."
Mod Sun felt that Bella was intentionally hurting people who were trying to move on. She, on the other hand, accused him of being a liar, and revealed that he broke-up with her on the anniversary of her father's death. He stopped replying to her tweets.
During a subsequent interview with Jenny McCarthy's podcast, Bella shared that she lost a gig because Mod Sun kept her passport and laptop from her, on which she had her scripts. However, he refuted that by saying they had broken-up and had no idea she'd left it in his place. It turned out that the passport was in a vault he rarely used, and that she broke into his apartment to get the laptop with cops as witnesses. He was in Florida at that time.
In 2020, Bella released the song, "Stupid F-king Bitch," which was supposedly about Tana. Her ex- posted a message saying that she was astounded that someone like Bella Thorne took time to write and produce a song about her with that title. They have since patched up their differences, but would now and then still be at odds.
Bts from my harpers cover I had so much fun doing this messy eye !!!
Also what's ur fave ring is wearing? Can't decide between the two on my right finger the green baby or the big boy ?? pic.twitter.com/t5FDyeCWgU

— BITCHIMBELLATHORNE (@bellathorne) May 6, 2021
Scott Disick "The Not-So Love Affair in Cannes" (2019)
Sometime between Bella's throuple online drama feuds, she was rumored to have been involved with Scott Disick, the former husband of Kourtney Kardashian from the popular reality TV show "Keeping Up with the Kardashians." During a trip to Cannes, her photo with Scott making out went viral online, and gossip sites were full of stories about the two.
Bella met Scott during one of her house parties, and they seemed to click. She was invited to have fun with him in Cannes, and she went with him thinking he was cool and charming. However, during her brief stay in Cannes, she realized that she couldn't handle the hardcore partying with Scott so she left him and went back to the US earlier than scheduled, and consistently denied that she had any sexual relationship with him. Someone from Twitter asked her about it, and she replied with a resounding, 'legit nothing.' Scott revealed that the only reason he brought Bella to Cannes was to make Kourtney jealous, and it jives with what Bella was saying all along.
Alex Martini (2019)
She dated Alex Martin sometime in September, but only announced it on 7 October 2019 via her Instagram account. Bella posted topless photos that day with the caption: 'The first girl I have dated that's camera shy.' After her announcement, people wondered if she had broken up with Benjamin Mascolo but it wasn't the case since they shared an open relationship. Bella might have been dating Alex, but she was also supposedly in love with another person. Her Italian boyfriend even commented on the post saying, "You girls are cute."
Benjamin Mascolo (2019 – present)
In 2019, Bella seemed to have met the love of her life in the person of the Italian singer Benjamin Mascolo. He's half of the Italian pop duo Benji and Fede, but had a solo career using the stage name B3N. He later debuted as an actor in the movie, "Time Is Up," co-starring with Bella, and filmed in Italy in November 2020.
The couple met at Coachella in April 2019, and instantly fell in love. It was difficult for them as they were not together when the Covid-19 pandemic started, although they were already in a long-distance relationship, as he spent half of the year in Italy and the other half in the US. He credited Bellawithn giving him the confidence to pursue his career goals. Their dating timeline confused the fans, as photos of him with Benjamin went online just two days after she announced to the public that she and Mod Sun ended their relationship. However, Bella clarified that she and Mod Sun had called it quits long before Benjamin came into her life. They were together for two years before Benjamin proposed to her – the couple announced their engagement by posting it on his Instagram Story on 21 March 2021, along with the pear-shaped diamond engagement ring.
So stand-by for the next chapter in the romantic excursions of Bella Thorne – but don't be surprised!