Who has Brent Rivera dated? Girlfriends List, Dating History
• Brent Rivera is a social media star born in 1998 in Huntington Beach, California.
• He has amassed over 20.5 million followers on Instagram, 14.3 million on YouTube, and 2.1 million on Twitter.
• His first known-to-the-public relationship was with Morgan Justus in 2017.
• He briefly dated Lexi Hensler and Eva Gutowski, before finally meeting Pierson Woodzynski in 2019.
• He pranked Pierson's dad in August 2020, leading fans to speculate about their relationship status.
The handsome social media star, Brent Austin Rivera, was born in Huntington Beach, California USA, on 9 January 1998 under the zodiac sign of Capricorn, he stands as one of the most successful teenage celebrities. He came to prominence for uploading various content on the famous video streaming platform Vine, which helped him to expand his fan base on other popular social media platforms as well. So far, he has amassed over 20.5 million followers on his official Instagram account, 14.3 million on his self-titled YouTube channel, and 2.1 million on his official Twitter account.
In addition, Brent is the co-founder of Amp Studios, a content company in which he also serves in the position of the CEO.
Furthermore, the handsome social media star has tried himself as an actor, known for portraying the title role in the 2017 comedy "Alexander IRL", and playing Isaac Salcedo in the supernatural thriller series "Light as a Feather", aired from 2018 to 2019 on Hulu. Quite pretty impressive for such a young guy!
His successful career obviously earned him enormous popularity all over the world. Since his good-looking appearance and charming personality caught the keen attention of millions of girls of his age, some of whom are famous, we did a little research about his dating history. So, if you would like to know more about the beautiful ladies Rivera has been romantically linked to over the years, just keep listening 'til the end, and you may discover something interesting!
Even though he may have been romantically involved with several girls before his rise to stardom, Brent Rivera's first known-to-the-public relationship was with Morgan Justus. She is a California-based singer-songwriter and fashion model, who came to prominence for releasing covers on her self-titled YouTube channel, and collaborating with such fashion brands as Ama Bikinis and Teen Hearts.
It remains a mystery how and when the two of them met, but Brent and Morgan reportedly became romantically involved in a relationship in June 2017. Little is known about their affair, except that it was short-lived. After dating for several months, they allegedly decided to end it in October of the same year; it's assumed that they parted  ways to concentrate on their careers, but we hope that they remain on good terms after the break-up.
Brent Rivera and famous social media personality Lexi Hensler became pretty close to each other over the years. They could frequently be seen in each other's videos, which led many of their fans to speculate that the two were in a relationship sometime in the past. Although we are sure that they would make an adorable couple, Brent and Lexi were nothing more than friends. In April 2019, Lexi released the video entitled "REACTING TO YOUR ASSUMPTIONS!! DID I DATE BRENT RIVERA?!!" in which she shut down those rumors, saying, "I am so sorry to tell you than I have never dated Brent. Brent is one of the most incredible people I have ever met. He is so down to earth, so intelligent, so giving […] I love him, but we are just really good friends."
Apparently Brent Rivera did fall in love with another social media sensation, Eva Gutowski, known for running the YouTube channel 'My Life As Eva', and for hosting the web series "How to Survive: A Break-Up." They met in 2015, when she asked Brent to star in the music video for her song, "Literally My Life". Although there was an initial attraction and Brent admitted that she was super cute, supposedly nothing happened between them them because they were worried about ruining their friendship. Does that sound strange to you?
Anyway, she soon started dating social media star Alex Hayes. Brent would later recall that moment, saying "I feel like I lost my chance and like I regretted not making a move when I could."
Her relationship with Alex didn't last long though, as she soon started developing feelings for Brent after her physic told her that her then-boyfriend wasn't good for her, and that her soulmate was actually one of her closest friends, as she explained in her YouTube video, "Confronting My Crush, Brent Rivera."
Following her break-up with Alex, Brent wasn't sure if she'd actually got over her ex-, so he started flirting with other girls in front of her, which apparently made her very angry. Eventually both of them started crying, but then agreed that they weren't ready for a relationship, although  confirming that they were more than friends. Since, again, nothing happened between them, Eva went on to date another guy, but broke up with him in February 2018. Curious? Well…
… shortly afterwards, Brent and Eva decided to make it work and became romantically involved in a relationship.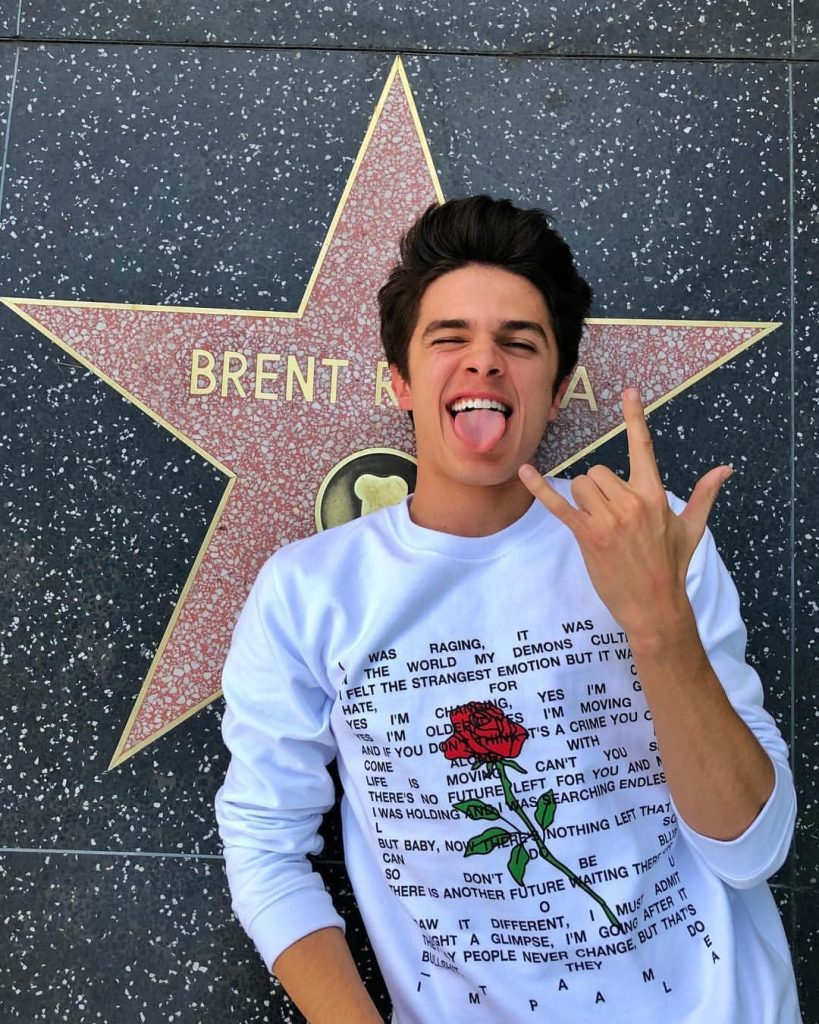 In 2019, they filmed two YouTube videos, entitled "EXPOSING OUR RELATIONSHIP" and "EXPOSING OUR RELATIONSHIP PART 2", in which they opened up about their non-romance and break-up. Brent recalled the moment they started dating and said that "things were going great" at that point, and then said, "I actually started really falling a little bit for Eva. Things were actually happening between us."
Unfortunately – you guessed it – their romance didn't last long. They split after she posted a number of photos with some guys during one of her trips, which made Brent very jealous. To take revenge on her, he blocked her on Instagram, and then via Snapchat, sent her photos of himself being flirty with other girls. As Brent explained, "I said things I shouldn't have said. I can see now that I was over-reacting.
After that I kind of put up a wall and she put up a wall. We talked but we didn't continue that relationship that we had before."
It was the end of their romance, but they remained best friends. They even kissed in one of those videos, and Brent eventually admitted that he had no idea what they were at that moment, and added, "I thought we would have everything figured out by now," concluding, "Right now, we're not dating but we're more than friends. Best friends."
In July 2019, Brent posted the video, "DATING MY BEST FRIEND FOR 24 HOURS," in which they gave their love another chance, but seemingly it was just for fun. He said in the video, "Eva and I have been really, really close friends for a really long time. I've known her for like six years. But today, I wanted to switch it up and see what it would be like to date Eva for an entire 24 hours."
During the same month, Eva opened up about their relationship in her interview with Entertainment Tonight magazine, saying "I think we're just such good friends and trust each other so much. Our bond is literally so strong because we're both from Orange County. So I feel like we connect on like a different level besides social media […] I think we just don't want to ruin that." She also added, "Just down the road maybe we'll get together, but there's no point now. We're just having so much fun doing what we're doing."
In February 2020, she told J-14 magazine that their relationship is "complicated". She then explained, "It's been complicated forever. It's so funny because everyone's always like, 'Eva, what's going on with you and Brent? Are you just friends?' You can ask us both and we genuinely do not even know," but adding, "We just love each other so much, and we know we're going to be in each other's lives forever."
Besides that, Eva also explained that the two didn't want to make their romance public because they "were really nervous to not be friends after, if we were to break-up or something," and added, "I think we both understand that we're such close friends, no matter what we'll always be together."
According to J-14 magazine, she recently revealed in her May 2020 YouTube video that they "most likely won't ever enter into a relationship again". She said, "I've tried and I've tried for many years. I love Brent to death and he's my best friend, but I can't keep trying. […] I've been led on a string for so many years and I'm just done being confused. I want to know someone wants me […] I want to be happy, I don't want to be waiting for someone."
Are you as confused as we are, or is this normal for such celebrities, that is, they have no idea what they really want, feel, or how to go about it, whatever 'it' is?
Anyway, Brent Rivera subsequently met photographer and social media sensation Pierson Woodzynski, who gained fame through posting various videos on her official TikTok account, on the show called "Date Takeover" in December 2019. They immediately hit it off and started collaborating a lot, which led their fans to speculate that theyd become a couple.
In May 2020, Brent uploaded the video entitled "I KISSED MY BEST FRIEND FOR THE FIRST TIME!", but in which he said, "We're just friends. Me and Pierson are such close friends. For you guys to shut up, we'll kiss." So, after locking their lips in the video, the rumors were fueled!
New video ❤️❤️ https://t.co/a5hulGRBS7

— Brent Rivera (@BrentRivera) January 18, 2020
Of course, that wouldn't be all! In August 2020, Brent uploaded the video, "MY CRUSH'S PARENTS HATE ME AFTER THIS!", in which he pranked Pierson's dad. He invited her dad to play a game called 'who knows Pierson better', and hired fake cops to arrest him during the game. When her father asked the cops, "What did he steal?" they answered, "He stole her heart," pointing at her. How cute is that! Maybe Brent and Pierson are very close friends, but we are waiting to see if it will soon grow into something more. It is obvious that he wasn't arrested for stealing her heart in front of her dad, just for the vlog! Or was the fake arrest the other way around?
Stand by for further developments in the saga of Brent Rivera's dating adventures!