Who has Britney Spears dated? Britney Spears' Dating History
Born Britney Jean Spears in McComb, Mississippi USA, on 2 December 1981, she achieved enormous popularity for being one of the leading pop singers and the best-selling music artists in the world. Some of her most popular albums are "Baby One More Time", "Oops!…I Did It Again", and "Circus". Many refer to her as the "Princess of Pop" due to her admirable success. Over the years, she has aroused media interest, not only for her professional but also for her supposed private life. It is known that the pop star has been romantically linked to many famous men. So, let's dig deeper and find out more details about them!
Even before she became popular, Britney Spears started dating a guy named Reg Jones in 1995, actually when she was just 14 years old. According to US Weekly magazine, he was her first big love, and apparently even lost her virginity to Reg. However, after dating for two years, they ended their romance, perhaps a case of puppy love. 
In 1999, Britney Spears briefly dated Robbie Carrico, who at the time was a member of the band Boyz N Girlz United – they performed an opening act during her "Baby One More Time" tour. The two of them fell in love, and eventually confirmed their romance by making a joint appearance at the premiere of the film "Drive Me Crazy". A source told People magazine, "It wasn't anything serious. It was just a flirtation thing. But they were a cute couple." Obviously an accurate description, as their relationship didn't last longer than two months, when they parted amicably.
Britney Spears and Justin Timberlake met back in 1992, when they were cast in "The Mickey Mouse Club", alongside such celebrities as Keri Russell, Christina Aguilera and Ryan Gosling. Following her break-up with Reg, she developed feelings for the handsome singer and became romantically involved in a relationship with him while they were together on an NSYNC tour in 1999.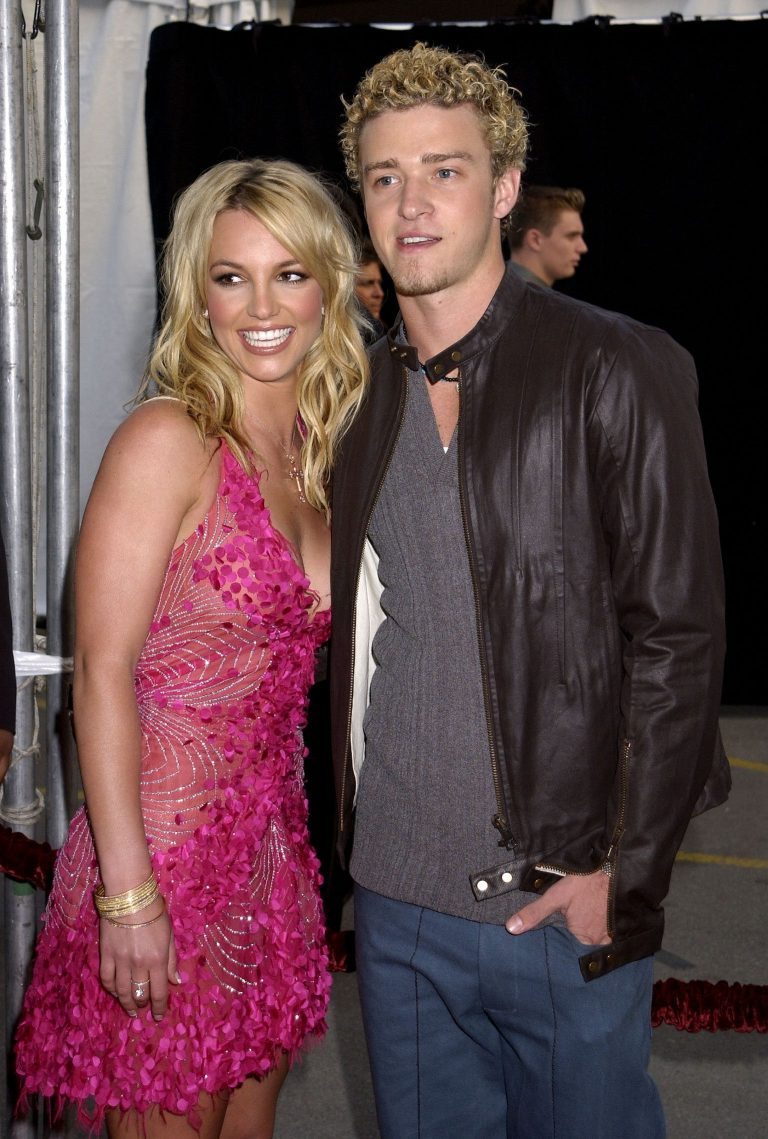 At the time, their career were skyrocketing since she became the best-selling teenage music artist of all time, while Justin released a number of hits with his boy band NSYNC. The duo eventually confirmed their relationship in 2000, one of the more famous couples, who made pop culture history with their red carpet appearance in matching denim outfits at the 2001 American Music Awards event. According to New Idea magazine, Britney once said, "I'm not ashamed at all to say that I love him from the bottom of my heart. As far as love is concerned, with him, too much is not enough. He's everything."
However, after dating for four years, their association came to an end in 2002. Since many believed that Britney and Justin were meant to be, their split shocked their fans.
Five months later, he revealed more details about their split in his interview with Barbara Walters, saying, "I remember when we decided we were going to go our separate ways, we sat down and I said to her, 'If there's ever a moment where you ever need me, you can rest assured that I will be there, because I love you as a person and I will always love you," but adding, "I promised her that I wouldn't say specifically why we broke up." Really!!
It didn't last long until the things became pretty ugly, since Justin released the single "Cry Me a River" with the lyrics "You don't have to say what you did / I already know, I found out from him," which sparked rumors that it was dedicated to her and that she was unfaithful. According to Refinery29 magazine, he would later explained how the song was created in his memoir, entitled "Hindsight: & All the Things I Can't See in Front of Me", writing, "I've been scorned. I've been pissed off. I wrote 'Cry Me a River' in two hours. I didn't plan on writing it." She allegedly cheated on him with her choreographer Wade Robson.
Even though she never confirmed it, Britney released the ballad "Everything" in which she expressed regret and asked for forgiveness for hurting him. Many years later they reconnected, and the former lovers have been on good terms since then. So, maybe it's true that time heals all wounds!
Following her split from Justin Timberlake, Britney sparked rumors that she was in a relationship with Limp Bizkit frontman Fred Durst, but never confirmed their romance. According to People magazine, she once said that the relationship was one-sided, "I think him for me, but not me for him," adding, "He's said some pretty amazing things about me. But, um, I think he leaped in too deep, too quick." In turn, he swore it was true and said, "I just guess at the time it was taboo for a guy like me to be associated with a gal like her." It looks like we'll never know what really happened between them, but do we believe all that!?
https://www.instagram.com/p/CEu5EyIgRXB/
Thereafter, the Princess of Pop totally charmed one of the biggest up-and-coming actors in the world, Collin Farrell. In February 2003, they made a red carpet appearance hand in hand at the premiere of "The Recruit", which hit the headlines. According to USA Today magazine, they met each other a week earlier when she visited the set of his film "S.W.A.T." and the chemistry worked immediately between them. Despite showing PDA at the red carpet, the handsome Irish actor said, "She's just a mate. Seriously, we just met a week ago, we're having a laugh." Later that night, they were seen kissing on a hotel balcony. Britney would later open up about it in her interview for W magazine, saying "Yes, I kissed him. … He's the cutest, hottest thing in the world — wooh! … But it was nothing serious."
In August of 2003, Britney was rumored to have had an affair with actor/musician Jared Leto – they were spotted leaving a restaurant in Los Angeles, and heading on together to Ben Affleck's birthday party.
Of course both of them denied the rumors. Coincidentally, at the time, her ex-boyfriend Justin Timberlake dated Leto's ex-girlfriend Cameron Diaz.
Shortly afterwards, she shared her bed with her backup dancer Columbus Short. At the time he was married, and sleeping in the same bed with Britney Spears led him to divorce. According to Daily Mail magazine, he explained, if you can believe it, that "It's true I slept with Britney, but we never had sex because another person was in the room at the time. We shared a bed and were really close, kissing and hugging. The chemistry was magical. Our feelings were so strong." Reportedly, her mother ended their fling and he lost his job.
Next, the attractive pop singer really shocked her fans, when she married her high school friend Jason Allen Alexander, on 3 January 2004, at A Little White Wedding Chapel in Las Vegas, Nevada. However, their marriage lasted just 55 hours, as she filed for an annulment.
According to Today magazine, the annulment said, "Plaintiff Spears lacked understanding of her actions to the extent that she was incapable of agreeing to the marriage." This at the age of 23, and after… well, some experience! Still, the judge dissolved it. In an interview with ABC News magazine, Jason opened up about their supposed wedding, revealing that the two of them had once been friends with benefits at the time she was in a relationship with Justin, "He had called, and I was … kicking it with her, kind of like the guy 'behind the scenes' no one knew about." He then continued, "She was like, 'Well, let's get married.' And I was like, 'Sure. You know, let's do this.'" He eventually said that he was in love with Britney, and that he signed the annulment papers just because he was a nice guy who hoped they might renew their relationship. On the other hand, Britney once described the wedding as a rebellion, "It was me being silly, being rebellious, and not really taking the responsibility of what I was doing."
Britney quickly moved on with her love life, and became romantically involved in a relationship with backup dancer Kevin Federline in April 2004. Since he was still married to actress Shar Jackson, and she was pregnant with his second child at the time, this caused many accusations of Kevin leaving his pregnant wife to get with Britney. It didn't stop them from continuing their romance, and after dating for three months, the couple became engaged in July 2004. They eventually walked down the aisle at a surprise unofficial ceremony, which took place in Studio City, California, on 18 September 2004. They even had their own reality show, entitled "Britney And Kevin: Chaotic", broadcast on UPN from May to June 2004, which she would later describe it as "probably the worst thing I've done in my career."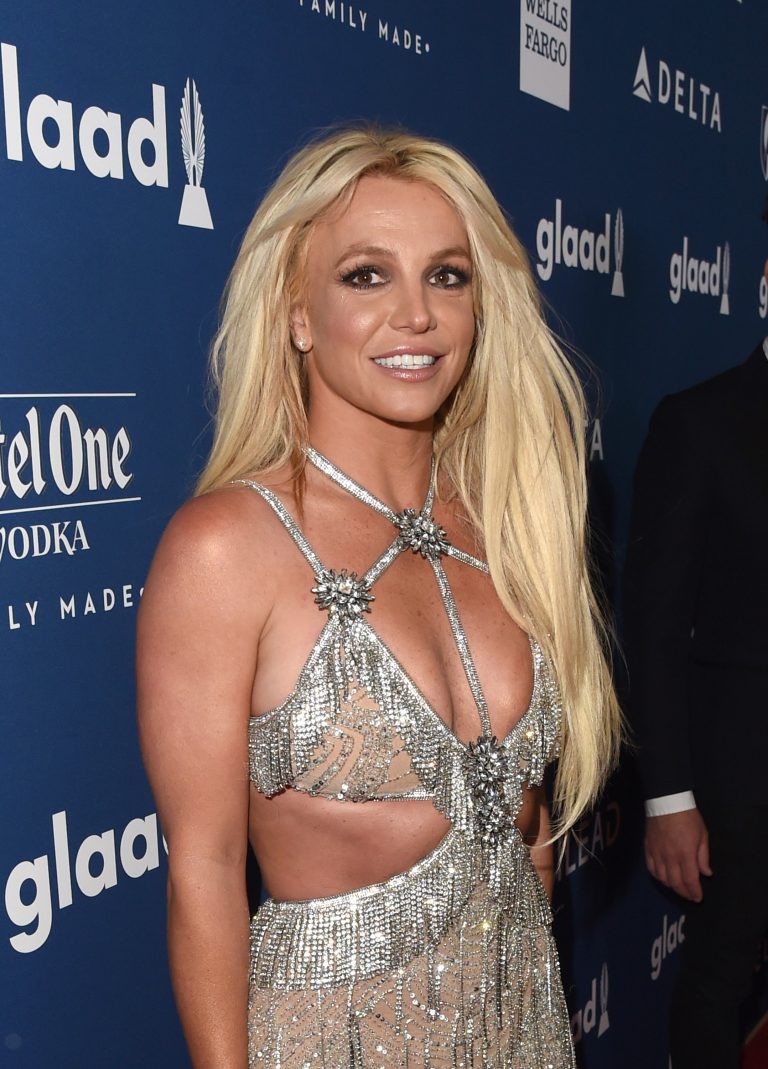 Shortly afterwards, Britney announced a break from her career to start a family, and gave birth to their son named Sean Preston Federline, on 14 September 2004. Less than a year after that, the couple welcomed their second son, named Jayden James Federline, on 12 September 2006. Perhaps unsurprisingly, by then their marriage was falling apart, and they parted their ways a month later, when Britney filed for divorce citing irreconcilable differences, finalized in July the following year.
Britney continued shocking her fans, this time with her relationship with music producer J. R. Rotem. It was speculated that their romance started while she was still married to Kevin, however, it was a short-lived fling. According to TMZ magazine, the producer would later open up about it, saying that they "decided for both our careers that it would not be cool to have a romantic relationship."
Thereafter, she had a brief affair with fashion model Isaac Cohen. They were spotted for the first time together powerboating off Marina Del Rey, California in January 2007, while People magazine confirmed their break-up a few weeks later. His agent, Brandi Lord, told the magazine, "They're both busy with their careers", but adding, "They were never getting married. They were having fun together."
Following her infamous public breakdown, the pop star entered Malibu, California`s Promises rehab center and there she met musician Howie Day. They allegedly had a brief romance, with a source revealing, "Britney just lights up and seems back to her old self when she talks to Howie or tells people about him. She thinks he's very talented — and says he's the best kisser ever." It didn't take long until her mother tried to end their relationship, apparently because she found out that Howie had previously been arrested. Moreover, Britney almost suffered a drug overdose with Howie just days after leaving rehab. Their break-up was inevitable, wasn't it?
Britney was next rumored to have an affair with famous magician Criss Angel, who had just come out of a relationship with Cameron Diaz, however, he shut down those rumors.
In August 2007, the mother-of-two hit the headlines yet again after being spotted topless in hotel pool with college student Matt Encinias. According to Fox News magazine, he recalled, "Britney was the first one to undress, and then everyone else followed." He continued, "I was told all she wanted to do that night was kiss a boy. And that's what she did. Mission accomplished." HMM…
During the same year, Britney was in a relationship with pilot John Sundahl. They met each other at Alcoholics Anonymous in Los Angeles in 2007 and soon started their romance, but it was brief. He reportedly helped her to survive probably the worst moments in her life, and encouraged her to overcome alcohol abuse. According to Metro magazine, he once said, "I love being around her. She's a sweet, caring girl and a good mom".
In December of the same year, Britney fell for paparazzo Adnan Ghalib, and their relationship lasted for about a year. Once the conservatorship was formed – apparently based on her irrational behaviour, including the necessity for rehab – her father took legal control of her finances and life decisions, and filed a restraining order against Ghalib and her manager Sam Lutfi, accusing them of conspiring to take control of her affairs by sneaking her a cell phone to communicate with them. So, the couple had to break up since he was ordered to stay away from her for the next three years. In 2012, Sam sued her for defamation, and her ex-boyfriend Adnan testified, alleging that Britney's mother Lynne Spears tried to force him to accuse Sam as being responsible for her behavior. The judge eventually dismissed the case, in fact the legal basis for the whole incident over a number of years is very vague.
After a very turbulent period, Britney Spears finally found herself in a stable relationship with Jason Trawick in 2009.
At the time, he was working as her manager at William Morris Endeavor Entertainment. The couple confirmed their romance when they appeared hand-in-hand at the 2010 Grammy Awards event. During the same month, they decided to separate their professional collaboration and their love life, so they split professionally. Her rep told People magazine that "They are very happy. Things are really good with them." They managed to keep their romance under wraps, until in a 2011 interview with US Weekly magazine, Britney opened up, "We have such a great time together! He makes me laugh, and we are so comfortable being ourselves. Maybe I'll marry again. Never say never!"
The due eventually took a step further, when on 15 December 2011, after asking for permission from her father and her other conservators, Jason popped the question and they became engaged. She announced it via Twitter, writing, "OMG. Last night Jason surprised me with the one gift I've been waiting for.
Can't wait to show you! SO SO SO excited!!!! Xxo" It was immediately confirmed that "the one gift" was actually the engagement ring. In April 2012, Jason became a co-conservator of her personal affairs, but not her estate. However, in January 2013 they decided to split, confirmed when he filed a petition to remove himself as Britney's co-conservator. According to E! News magazine, Britney said in her statement, "Jason and I have decided to call off our engagement. I'll always adore him and we will remain great friends," and Jason added, "As this chapter ends for us a new one begins. I love and cherish her and her boys, and we will be close forever."
It won't surprise you that shortly afterwards, Britney stepped out with her new boyfriend, David Lucado, spotted on Valentine's Day when they were going on a date. The "Toxic" singer and the handsome legal office employee were introduced by mutual friends at a party.
In an interview with Ellen DeGeneres, she said that the attraction between them was instant and added, "I just love that he's very passionate and he's funny and he's sexy. I don't know…I like him. I just…I love him!" This romance lasted for more than a year, until August 2014 when the couple broke-up, after she found out that he cheated on her. At the time, she tweeted, "Ahhh the single life." According to US Weekly magazine, she even shouted from the stage during her concert at Planet Hollywood, "Well, by now everyone knows my boyfriend cheated on me." She continued, "The best thing about your boyfriend cheating on you is that you get to go on another first date!"
So, true to form, she went on another first date, with renowned TV producer Charlie Eberson, also known as the son of former NBC Sports executive Dick Ebersol. They became romantically involved in a relationship in October 2014, with a source telling E! News magazine, "They met through friends," adding, "He is the sweetest guy ever, and they are very much enjoying getting to know one another.
https://www.instagram.com/p/CBeBSrnAo4m/
They are both very happy and having fun." She confirmed their romance by sharing their photos on her official Instagram account, and by making a red carpet appearance at the 2015 Billboard Music Awards event. In an interview with People magazine, Charlie said that she has "an enormous heart". In turn, Britney confessed her love for him by wearing a vest with the words "I love Charlie" during her performance in Las Vegas. She would later open up about that in an interview with Extra magazine, "He said, 'You're the sweetest girlfriend in the whole world,' he was really happy I did that." She continued, "I'm very blessed to have him as a part of my life." However….. they parted their ways in June 2015!
Are you breathless yet? Well apparently there was a considerable gap, for Britney, as it wasn't until October 2016 that she fixed her spell on handsome fitness model and personal trainer Sam Asghari. They met each other on the set of her music video for the single "Slumber Party", and  confirmed their romance in November 2016, when he shared their photo on his Instagram account.
All you need is love and the beach …. 🌸👙💋 !!!!! pic.twitter.com/tBWc9o7cE4

— Britney Spears (@britneyspears) June 23, 2020
In June of the following year, Britney showed her love for Sam on stage during her show in Taiwan, when she performed a raunchy dance for him, and then kissed him. In his 2018 interview for Men's Health magazine, Sam recalled the moment he met her, saying, "I was excited that I'd get to meet one of the biggest artists of all time; I had butterflies," but adding, "She motivates me more than anyone. I'm always going to support her. She is another blessing that happened to me." Even though Sam is 12 years her junior, it didn't stop them enjoying their love. A source told The Hollywood Life magazine, "He is super protective of her and is always there for her because he knows the real Britney," and added, "At the end of the day, his priority is the relationship he has with Britney and her happiness, plain and simple."
Close observers say that they are obviously crazy about each other. All we can do is wish them luck, and that they live happily ever after! We should admit that given Britney's track record, we aren't too confident that this will happen.