Who has Cam Newton dated? Girlfriends List, Dating History
• Cam Newton is a professional American Football player, born in 1989.
• He has been romantically linked to numerous famous ladies over the years, including Angela Simmons, Ciara, and Kia Proctor.
• He has 7 children with Kia Proctor, La Reina Shaw, and another woman.
• He adopted Kia Proctor's daughter Shakira and La Reina Shaw's son Jaden.
• His current relationship status is uncertain.
Handsome footballer Cameron Jerrell 'Cam' Newton was born in Atlanta, Georgia USA, under the zodiac sign of Taurus on 11 May 1989. He is a professional American Football player, who came to prominence playing in the position of quarterback for the Carolina Panthers of the National Football League (NFL), after being drafted as the first overall pick by the team in 2011. After spending nine years with the Panthers, he recently joined the New England Patriots.
The personal life of the player has been under the microscope over the years.
His impressive skills on the field have seen him win numerous awards, while his good-looking appearance has helped him to win the millions of the hearts of many ladies, including some famous ones. So, if you would like to hear more details about his past relationships, just keep listening 'til the end!
In April 2011, Cam Newton was romantically linked to American socialite and television personality Angela Simmons, probably best recognized for being the daughter of famous rapper Joseph Simmons, a.k.a. Rev Run. They sparked the rumors of having hooked up after Cam was spotted visiting her at her hotel, and the two reportedly dated for several months that year.
However, neither of them confirmed or denied those rumors, so whatever really happened between the two of them – if anything – it remains a mystery!
Cam next fell for famous American singer-songwriter and dancer Ciara. Reportedly, the two of them became romantically involved in a relationship in August of the same year. However, their romance didn't last long, as they parted ways before the end of the year.
The NFL star reportedly met attractive model and party host Shakia 'Kia' Proctor in 2013, at the time she gained fame as a stripper who went by the name 'Hazel', and worked at the somewhat famous Washington DC Stadium Club.
The couple started their romance as soon as she gave up her career as a stripper, and moved to Atlanta later that year. The two were spotted for the first time in public as a couple at the Kentucky Derby in the same year, and they continued to make public appearances at various events, including the 2014 NFL Honours, but generally managed to keep their relationship under the wraps.
On Christmas Eve 2015, Kia gave birth to their first child, a son they named Chosen Sebastian Newton. The proud father announced the happy news on his official Twitter account, writing, "My longtime girlfriend and I were extremely blessed to have a son last week.
Our family is excited and thank you all for the well wishes!" It was also actually the first time that he officially confirmed their romance. He also explained why he kept Kia's pregnancy a secret by tweeting, "I've been quiet about this because I didn't want to create a distraction for my team, and appreciate the privacy in this joyous time."
Shortly after the birth of his son Chosen, the NFL star opened up about his fatherhood in his January 2016 interview with The Charlotte Observer magazine. He described it as "pretty cool" and added, "When you see life coming into existence, it's a wonderful thing. These past couple of days have been so monumental for me."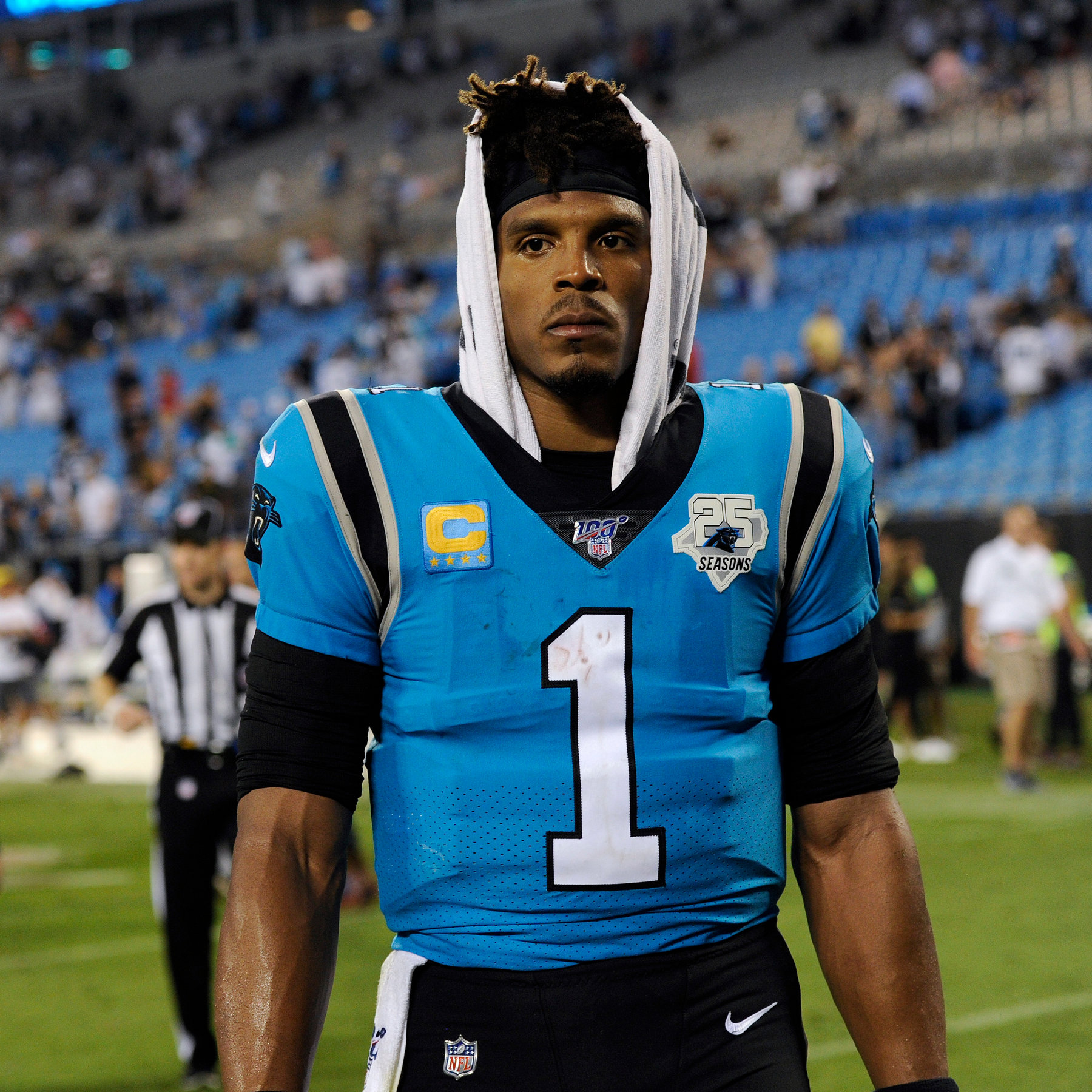 Moreover, Cam declared his love for Kia in a letter written to their son and published on The Players' Tribune website. He wrote, "Your mom is the best thing to happen to me. Yet I have failed in some regards. But I still love her unconditionally."
In December 2016, it was announced that the couple was expecting their second child, and they welcomed a daughter they named Sovereign-Dior Cambella on 3 February 2017. During the same month, Cam told Yahoo Sports magazine that "Fatherhood has been great. … I'm not as bad as I thought I was! It's something that a person can never really prep for, but for me I just want to be available, and it's helped me be a better man."
In 2017, Cam Newton reportedly split from Kia Proctor, and allegedly dated famous rapper and model Rubi Rose. However, their supposed relationship lasted no longer than five months.
Cam then renewed his relationship with Kia, and they welcomed their second son and third child they named Camidas Swain Newton, sometime in July 2018. Subsequently the couple's third son and fourth child, who they named Cashmere Saint Newton, saw the light in December 2019.
Cam also adopted Kia's daughter, named Shakira, from her previous relationship.
According to ESPN magazine, he shared special greetings on his official Instagram account for her birthday in 2017, writing, "Happy Birthday to the real girl who changed my life ever since we first met five years ago. You have challenged me in ways you will never know, because in retrospect you were my first child. […] Your mom and I are not married, but no one can tell you that I'm not your father, and they damn sure can't tell me that you're not my daughter."
Unfortunately, things between them started to fall apart again in 2019, and they split by the end of the year.
The reason for their break-up was Cam Newton's infidelity, as he cheated on Kia with Instagram model La Reina Shaw, and fathered a child with her. This led to battle over custody of their Cam and Kia's children.
Cam Newton and La Reina Show had a supposedly secret relationship in 2019. She reportedly lives in an apartment above his restaurant, Fellaship in Atlanta, Georgia, so it's believed that the two met there. They were allegedly spotted celebrating New Year's Eve 2020 together, according to The Blast magazine, and on 4 July 2019, the attractive Instagram model gave birth to their child, a son named Caesar Lorenzo Newton.
Cam posted Caesar's photo for the first time on Instagram when he wished him a happy first birthday, by writing in the caption of their photo, "Happy Birthday. King Caesar! I have grown so much with you being her on this earth and I am constantly reminded by what my purpose, discipline & drive is. Thank you son. Enjoy your day."
Proud Dad
According to The Sun magazine, Cam Newton shared a post dedicated to his children on Father's Day 2020, and wrote in the caption, "I'm a proud father of seven. A DADDY isn't defined as the man who makes the child (NOT in all instances.), but rather a MAN who extends his hands and time to help with the child's raising and his heart to LOVE the child through anything!!"
Yes, you CAM be vegan this Thanksgiving!https://t.co/5GpZpm96Qr

NFL star, Cam Newton, has a vegan plan for Thanksgiving. The quarterback will be celebrating with plant-based versions of his family recipes.#CamNewton #plantbased #VeganThanksgiving #Thanksgiving2020 #AACC pic.twitter.com/jPKORoqODO

— Meat-Free Plate (@meatfreeplate) November 25, 2020
He also added, "Blood doesn't always make you [a] DADDY. Being a dad comes from the heart… Anybody can make a baby, but it takes a real man to raise a child. Kudos to all the real men worldwide!! Happy Father's Day to us." He also wrote the names of all of his children at the end of the post, "Jaden, Shakira, Chosen, Sovereign-Dior, Camidas, Caesar and Cashmere." It means that he also adopted La Reina Show's son Jaden from her previous relationship.
So what now, or next in the dating life of Cam Newton? Standby for future developments!