Who has Camila Cabello dated? Boyfriends List, Dating History
Born Karla Camila Cabello Estrabao in Cojímar, Havana, Cuba, on 3 March 1997 under the zodiac sign of Pisces, she achieved enormous popularity as a member of the group Fifth Harmony, which was formed on the American reality TV music competition show "The X Factor USA", back in 2012. Over the years, the attractive singer has established herself as a solo artist too, with such number-one hit singles as "Havana", featuring Young Thug, and "Señorita", released with Shawn Mendes. She stands as one of the most successful female artists, who has won five American Music Awards, two Latin Grammy Awards, and received three Grammy Award nominations. Pretty impressive! Her attractive appearance and irresistibly charming personality has led her to become a topic of conversation among audiences – she has certainly won millions of men's hearts, and we believe that you're interested in which men won her heart. So, we take a look at her dating history, which is quite long and includes many familiar names. Just keep listening!
Camila Cabello's first known-to-the-public relationship was with famous American singer-songwriter Austin Mahone. The young music artists met each other at the 2013 MTV video Music Awards event, and started dating in the following year, when Fifth Harmony performed an opening act on his tour. According to E! News magazine, Camila confirmed their romance during her appearance on Bravo's late-night talk show "Watch What Happens! Live with Andy Cohen" – when the host asked a question, "Who's the Mahone girlfriend?" she raised her hand and replied, "That would be me…He's a really good guy." adding, "I think we've known each other for a really long time, like a year and a half now, since we were on X-Factor." Austin confirmed it as well via Twitter, writing, "Like you guys didn't know already." In an interview with Teen Vogue magazine, he said, "I wasn't looking for a relationship, but we became really good friends when we were on tour", and added, "She's an amazing girl, and we have the best time together."
Unfortunately their relationship didn't last long, in fact they broke-up during the same month. According to Bustle magazine, the "Sledgehammer" singer said during her radio interview with KISS 96.1, "We're actually not together anymore. Hey, things happen." However, she didn't reveal any details. It would later became clear that the things between them didn't end well. Following their break-up, Austin went on to date singer Becky G, and in a subsequent interview for MTV News, he said, "It's crazy, I never had, like, a real relationship before, so it's pretty crazy." Did that mean that his relationship with Camila wasn't a real relationship? Shortly afterwards, she tweeted "damn….good to know." In a 2015 interview with Seventeen magazine, Camila reflected on their relationship, saying, "I don't regret anything. It was my first kiss, my first love," but adding, "It's important to learn about liking somebody and being swept away, but it wasn't meant to be."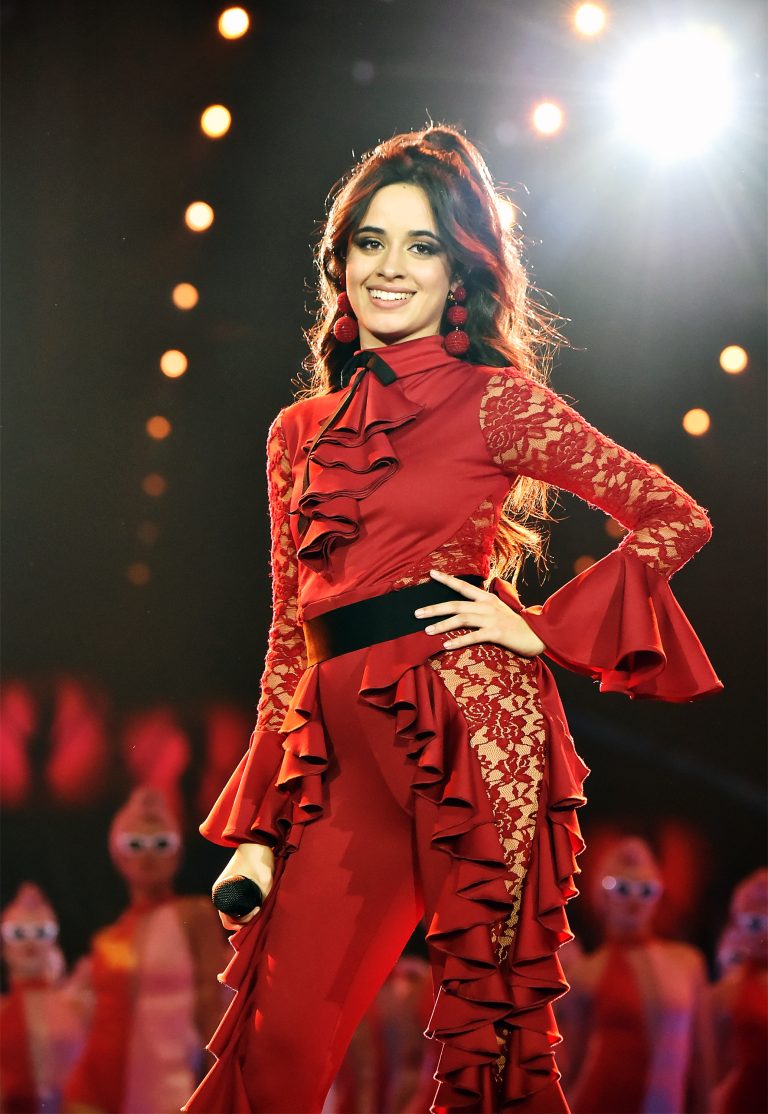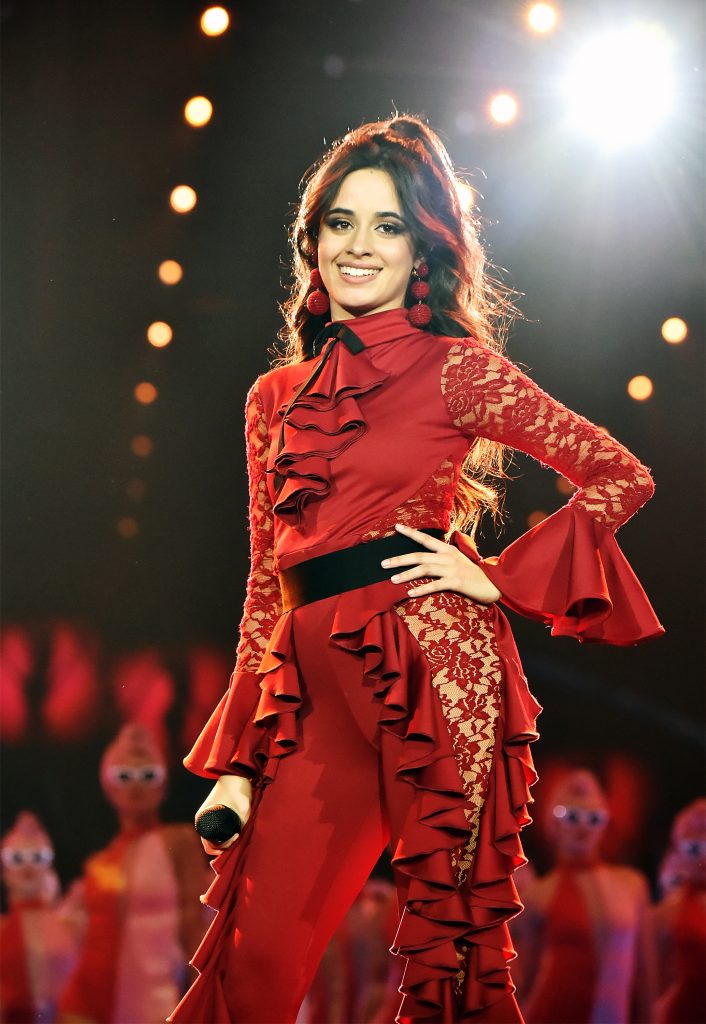 Nonetheless, it seems that the two of them are on good terms now – following Camila's release of the music video for her hit single "Havana", Austin praised her in an interview with Seventeen magazine, saying "I did see the video of 'Havana'. I thought it was really cool. She did a little acting in there, which was dope. She looked really beautiful as well. She's really doing her thing right now, and I'm very, very proud of her".
Camila Cabello and Michael Clifford – Just a Rumor?
Following her split from Austin Mahone, Camila Cabello soon sparked rumors that she had become romantically involved in a relationship with Australian singer-songwriter Michael Clifford, known for being a member of the pop rock band, 5 Seconds Of Summer, as in April 2015, they were spotted on a dinner date at The Nice Guy restaurant in Los Angeles. According to Hollywood Life magazine, an insider said, "The pair entered through the back door so no fans or waiting photographers saw them. They didn't want anyone knowing they were there.
They looked pretty cozy." Maybe it was just a friendly dinner, although he admitted that he had a crush on her back in early 2013 via Twitter, writing "ok I'm crushing on you hard." To which she replied, "awh haha you're so sweet. hope to meet you soon!" However, their supposed romance has never been confirmed by either Michael or Camila.
In May 2015, Camila Cabello was spotted with English singer-songwriter Louis Tomlinson at the night club Project Club LA, and were also seen leaving at the same time. Although there was no real evidence since they left in their own cabs, their fans immediately started to speculate that they were an item. Moreover, they launched the hashtag CongratulationsLouisAndCamila, which started trending on Twitter. So, many soon became convinced that it was true! Unfortunately, it was only a coincidence that they left the night club at the same time.
Later the same year, Camila Cabello was once again linked to a musician. In April 2015 Jacob Whitesides revealed to MTV News magazine that he had a crush on her.
"See I get in trouble with these because Fifth Harmony fans hate when artists talk about Camila as their celebrity crush, but I've definitely been crushing on Camila. I'm sorry Fifth Harmony fans. Don't hate me. It's just a crush. I don't look at her, don't worry. I can't make eye contact," he said. However, later that year they became pretty close, and Jacob posted a set of photos of them on social media, which caused rumors that they were together; furthermore, many fans believed that she was in a love triangle with him and Shawn Mendes. According to Superfame magazine, Jacob quickly denied those rumors by posting a YouNow live video. He said, "Like when I post a picture of me and f****** Camila. And I'm just sitting here reading like, 'God, I don't even ship it that hard!' and 'They look like brother and sister, like oh my god'…" adding "Me and Camila are friends. If I want to f****** post a picture with her, I don't need your approval!" He continued, "It's not like me and her are in a f****** love triangle with Shawn. It's just so funny, because Twitter thinks like…there's this massive love triangle between me and Camila and Shawn. That is so not the case."
In June 2016, Camila Cabello and Nick Jonas sparked dating rumors when he posted a throwback photo of them on his official Instagram account and wrote in the caption, "That moment when…" with the sunglasses emoji. Their fans quickly began speculating that they were a couple. However, Camila shut down those rumors since she referred to Nick as her "friend" in one of her tweets. Two years later, she revealed during her appearance on "The Tonight Show Starring Jimmy Fallon" that she almost kissed him on New Year's Eve. She explained, "During the ball drop moment, Cuban people do this thing where we have 12 grapes and we eat them during the last 12 seconds when we make like a resolution or a wish for each grape that we eat … you're like, good health, get a boyfriend." She continued, "The ball was dropping, and I was like, am I gonna kiss Nick Jonas? Because it's like the New Year's thing. I chickened out. Mariah Carey did blow me a kiss, so that was good." HMM – we think we understand…..
cuz it's latin heritage month & my choreographers who are also my family & the best people in the world @calvitJr & Sara launched a new clothing line #RulesDontApply. im here to support & dance like a fool in their clothes (they didn't choreograph this or it would be better LOL) pic.twitter.com/KO5JMGDeoR

— camila (@Camila_Cabello) October 14, 2020
In January 2018, Camila Cabello fell in love with famous British 'dating guru' and author, Matthew Hussey, her longest relationship to date. They met each other during her appearance on "The Today Show" and became romantically involved in a relationship. They managed to keep their affair away from the eyes of the public, until in February 2018, the couple was spotted kissing during their vacation in San Lucas del Cabo, Mexico. At the time, a source told E! News magazine, "Camila recently started dating Matthew. It wasn't something she expected, but she knew of him and really enjoys his work. She has been following him for a while and was a fan, but it took her by surprise that she has gotten to know him on a deeper level."
In the following month, she gushed about her love life in an interview with "The Dan Wootton Interview" podcast, saying, "You know what, I am really, really happy. I feel like I've never been happier in my life," while she eventually opened up about their romance in her November interview with Marie Claire magazine, saying "Any time he's there, I get super nervous.
I stutter or my hands are shaky." She continued, "It's annoying, because we've been together for kind of like a long time now, but every time I'm like, 'Oh my God, I have to talk now.' He's so similar to me. In person, we're just weird and silly and stupid together. He makes me the happiest I've ever been in my life."
Unfortunately, the couple ended their relationship in June 2019, after dating for more than a year. Just days before their split, Camila released the steamy music video with Shawn Mendes for their duet "Señorita". Although she denied on many occasions that they were more than friends, Matthew didn't believe her this time, and it could be that her 'friendship' with Mendes was the reason for their break-up. A source confirmed the news to The Sun magazine, saying, "Camila's relationship with Matthew had run its course, and they decided to break up about a fortnight ago," adding, "It was a mutual decision to end things. But they have spent a lot of time together over the last year and a half, and want to stay friends despite going their own way."
Shortly afterwards, Camila's fans noticed that Matthew was blocking comments about her on social media. She then decided to ask them to stop being mean to him, writing in one of her Instagram posts "To my fans, if you really love me, please do not send people I love and care about hateful things. You doing that really hurts me, and it's so unnecessary and heavy and damaging to add more pain to pain. There's a real person behind your tweets. You spamming them with hateful, insensitive things is really not funny, is causing all of us pain, and doesn't at all reflect the values I talk about". Moreover, she revealed her feelings after their split to Clash magazine, "I've fallen in love and I've experienced life. I feel so much more alive now, and I don't feel scared anymore," and added, "Honestly, I think I'm just more brave. I feel like I can be much more honest with myself and other people, because obviously I'm growing up and I have a more grounded sense of who I am."
Still, moving on, Camila Cabello and Shawn Mendes met each other while Fifth Harmony and he performed as opening acts on Austin Mahone's tour back in July 2014.
In their 2019 joint interview with V Magazine, they recalled that period of their lives; Camila said, "I remember I wanted to hang out with you, but you were always on the tour bus, just learning guitar," while Shawn confirmed it, "Yeah, that was me. I didn't talk to anybody. You were the only person that talked to me."
Over the years, they became pretty close to each other. Even though they were constantly surrounded by rumors that they were together, Camila and Shawn were actually best friends. According to US Weekly magazine, Shawn described her as his "favorite person in the whole world" in his 2018 interview with Beats 1. He also said, "I don't think you'll ever meet somebody who can feel emotion like her, in all aspects. She can feel hurt like no other, but she can feel love like no other and it's really amazing." Shortly afterwards, she tweeted, "i shouldn't be crying at this time in the morning but I AM. i love you SO much @ShawnMendes."
In June 2019, Camila and Shawn dropped the hit single "Señorita", with the lyrics "You say we're just friends/But friends don't know the way you taste / 'Cause you know it's been a long time coming / Don't you let me fall." It was followed by the steamy music video, which immediately caused rumors that the two of them had become a couple. To the delight of their fans, the rumors were true and their relationship turned romantic!
In the following month, they were spotted holding hands while taking a walk in West Hollywood. They then attended a Fourth of July party together, while she expressed her feelings for Shawn several days later, when she attended his show and shared an Instagram post with the words, "You couldn't be more amazing." A source soon revealed more details about their romance to E! News magazine, saying "They've known each other and been a part of each other's lives for a while, so it's all very natural and moving quickly," but adding, "The timing wasn't right before but it is right, right now…. This step in their relationship is exciting for them both. They haven't wanted to be apart at all. It's 24/7 and all out at this point."
In August 2019, Camila celebrated his birthday and posted their photo on Instagram with the caption, "Happy birthday to this magic human, I love you!!!!" with heart emojis. Also that month, she talked about love in her interview with Glamour magazine, saying "Falling in love is like an infinite amount of levels and layers and angles. I fell in love and just opened up. Everything was written in present moment."
During the following month, Shawn finally confirmed to Clash magazine that he was in a relationship, and revealed why he didn't say anything about it before – "Honestly, I wanna talk to you guys about this stuff, but it's not just me in the relationship. There's another person involved, and I can't say things that I feel," while Camila told Elle magazine, "People can say whatever they want to say. They can speculate, but at the same time, we are going to live our own lives, enjoy it, and fall for each other like nobody is watching. That is how I want to live. I never want to open the door for people to feel like they are involved. That's why I'm so tight-lipped about it: because I want to protect it."
In her interview with The Sun magazine, Camila opened up about turning friendship into a romance, saying "It's almost more scary because you have more to lose. When you first start dating a person and you know nothing about them, there's less at risk there. I think when you fall in love with somebody you've known for a long time, there's more at stake, but it also feels more special because it feels like the love story you see in the movies of people who have known each other for a long time but been too stupid to realize it or say it and then it happens — and that's beautiful too." She added, "The thing I've always loved about Shawn so much is that he just radiates this goodness. He's always been so kind." Moreover, Camila revealed that definitely there were feelings before they became an item, but that they were just too young to know what to do with them.
In November 2019, Camila revealed that she had a crush on him during their collaboration on the 2015 song "I Know What You Did Last Summer".
She told Rolling Stone magazine, "I really bonded with him as more than a friend. I think he did, too, but we were both really young, and he was experiencing the pressures of his career. I don't think we knew what to do with those feelings. It was this awkward thing where we both liked each other, but we weren't together. It was just weird. An energy was there from the beginning, but after that song, we didn't spend as much time together. Our paths just didn't cross in that way romantically until we started hanging out again and writing. For me, it just brought it back." Later that month, the couple performed their duet "Señorita" at the 2019 American Music Awards, and heated up the stage with their love. They even received the award for Collaboration of the Year.
They are spending the coronavirus quarantine together in Miami; they were even spotted hand-in-hand in public. Most recently, she posted a teaser of her upcoming studio album, "Wonder", to her official Instagram account, and wrote in the caption "the world could use some magic, beauty, and Wonder always, but especially right now. @shawnmendes what a gorgeous gift to the world. He's crafted this album with every last bit of his soul, his spirit, and his essence with the purest of intentions. My love, I'm so proud of the person you are and I'm so excited for people to see and hear your heart." The lovebirds are apparently still going strong!