Who has Cardi B dated? Boyfriends List, Dating History
• Cardi B is a Grammy Award-winning rapper and social media sensation.
• She dated Tommy Geez from August 2015 to December 2016, and DJ Self in late 2017.
• She became engaged to Offset in 2017 and had a daughter, Kulture, with him in 2018.
• She filed for divorce from Offset in September 2020, citing "irretrievably broken" marriage.
• Cardi B dated King Yella and had a heated phone call with him, where she denied ever sleeping with him.
The new princess of hip-hop, who started her career as an Instagram sensation, Cardi B is now a Grammy Award-winning rapper, and it doesn't look like she is done – on the contrary, she blasts music charts, breaking records and becoming one of the most influential female rappers in the world. Her private life has always been under close scrutiny too, so let's make the list of her ex-boyfriends to see her dating history more clearly.
Born on 11 October 1992, Belcalis Marlenis Almánzar spent her childhood living in The Bronx, New York City. Her parents were both immigrants: her mother came from Trinidad and worked as a cashier, and her father came from the Dominican Republic, and was a cab driver. Even though her parents divorced when Cardi B was around 10 years old, her big family and multiple Dominican relatives – who still flood her house in Edgewater – softened the drama of her parents' split, and gave her all the support a young girl needed at that hard time.
Cardi B has always been interested in singing and acting, but even if picked to play the main role in a high school musical, she was kicked off for her bad marks and missing classes. In her interview with The Fader, Cardi B remembered that her strict mother didn't let her go to night parties, so she attended them during the day – friends always came first for her, and only then was it school and classes. Cardi was 18 years old when she enrolled at a college in Manhattan, but failed balancing studies with her cashier position at one of the local Amish markets, which gave her $200 per week. After being fired from that job for being late, Cardi B became a stripper, dancing in the local night club.
As soon as Cardi B started working as a dancer in the strip club, she started having problems with her then-boyfriend, whose name is unknown, as she doesn't like to remember a thing about him.
She began growing her financial independence, which her boyfriend didn't like, as he knew his money supported Cardi when she had hard times. In her interview with Rolling Stone magazine, Cardi B hinted that he abused her while they were in a relationship, but as soon as Cardi felt the sparkle of hope coming from the first money she earned herself, and her local fame started expanding, she had had enough of that, so broke-up with him to pursue her dancing career.
In 2014 Cardi created her Instagram account, to take her massive following in the clubs to the online social media world. Cardi B didn't have to wait for too long for success, as in less than a year her profile gathered hundreds of thousands of subscribers. She was still influenced by her previous relationship, and produced a lot of videos on 'how to get over shady men', and maintain a focus on making more money instead of reflecting on the past.
Cardi quit stripping in 2015, with enough income from her social media activities, and it was then that rapper King Yella cast his eye on her. The details of their alleged fling were discovered only three years later in 2018, when Cardi B was already dating another rapper, Offset. King Yella, whose real name is Cemone Lewis, used mutual photos with Cardi as the cover for his diss track entitled "Cardi B Truth".
According to the lyrics, King Yella dated Cardi B before she met Offset: 'Thick b***h, Cardi B wanna have my baby', King Yella raps on the diss, making both Cardi B and Offset so mad that Offset even called King Yella to clear things up. The latter then posted the video of him talking to Offset on his Instagram account, cheering his successful actions against the couple he hated for his own reasons. At first, Cardi B kept silent about the whole situation, only making King Yella remove her photos from his social media accounts, as he continued posting her pictures from the time they allegedly dated; in fact, King Yella started his Instagram account in January 2018 by posting the photo of him hugging Cardi B in a crowd of their mutual friends.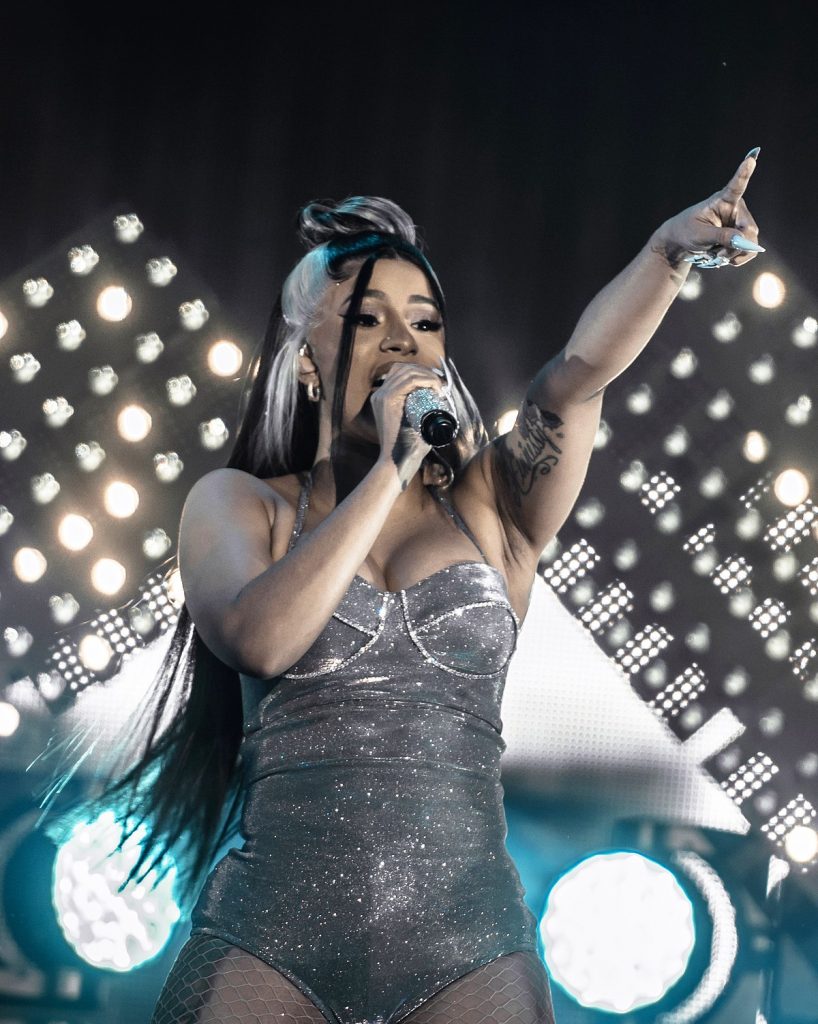 In a few days after his diss track was released, Cardi called him directly, saying that she never slept with him, or even kissed him: 'Why don't you just keep my name outta your *** mouth? <…> I've never kissed you. I've never nothing', she claimed during the heated phone call.
In August 2019, King Yella was sent to prison for drunk driving, and is about to come out on 30 November 2020; he has four kids waiting for him.
From August 2015 to December 2016 Cardi B dated Tommy Geez, whose real name is Thomas Green. During that period of time, she joined the sixth season of the VH1 TV show "Love & Hip-Hop: New York", confirming her intention to become a rapper. Her rise to stardom was chronicled by two seasons of the reality show, in which Cardi B was considered to be the breakout star. After the success of her covers of Shaggy's "Boom Boom" and Lady Leshurr's hit "Queen's Speech 4", she was ready to record her own material.
Tommy was supporting her while she was working on her first studio album, and she was grateful for his support. 'I think I'll die for you, I think I'll lie for you', she wrote in the caption of their mutual photo she posted on her Instagram account, which portrayed the pair hugging. In March 2016, Cardi released her album "Gangsta Bitch Music, Vol. 1", but later admitted it was quite hard, as she had to spend a lot of time supporting her boyfriend who had trouble with the law. She mentioned his name in almost every episode, reasoning about their future life, but they eventually separated in December 2016.
Around that time Tommy went to jail, and was to be released only in October 2017. In her interview with The Fader, Cardi B recalled her relationship with Tommy with a touch of sadness, referring to him as a 'jailbird': 'If I date somebody that is less successful than me, people are gonna make me feel like they're less than me and I shouldn't date them', she said, also calling dating while trying to become famous a 'lose-lose situation': 'I just gotta focus on making money. Cause ain't no going back. I'm gonna be famous forever', she ended her thoughts.
In November 2017 Cardi B wrote to Tommy that she still thought about him, but it was obvious that she only cared if he was fine after being released from prison. Tommy also insisted he didn't care much about the news of Cardi B's engagement to Offset. In 2019 he ran down a man and his eight-year-old son, and was imprisoned again.
After Cardi B broke up with Tommy Geez, she had a brief encounter with DJ Self, born Terrence Self. DJ Self joined the cast of "Love & Hip-Hop: New York" at the same time as Cardi B, but the fling they allegedly had took place at the end of the sixth season. Before starring in the VH1 reality TV show, DJ Self worked as a DJ at Power 105.1. While having a romance with Yorma Hernandez, he was spotted cheating on her with Rose, the stylist and owner of the "Beauty Bar Salon & Boutique", and then with Cardi B. The latter then claimed DJ Self slept with Major Galore, who fought with Mariahlynn to be the "first lady" on DJ Self's recording label, Gwinin Entertainment.
Even though Self and Galore deny that they were together, the rumors made a lot of noise. Some of Cardi B's fans consider that she was upset that she couldn't make it with DJ Self, and that could be the reason why she was so annoyed with him, gossiping on his affairs with other participants of the show.
DJ Self has a daughter, Kayla, 20, with Regina Gamboa. He is also noted for having a feud with Nicki Minaj, which broke-out during the ninth season of the reality show. In 2020 Cardi B blamed SJ Self for using her style for his protégée Dreamdoll, after she released her single "Ah Ah Ah".
Offset followed Cardi's rise from the very beginning. It is hard to imagine, but the frontman of Migos really watched all the steps she took to enhance her career, and couldn't believe that she did just what he did to achieve all her aims, and make all her dreams come true.
In his interview with Rolling Stone magazine, Offset shared – 'She is real solid, came from where I came from, did what I did. She's herself, man. I seen her develop from the trenches all the way up, and I like how she did it. I respect her grind as a woman'.
A then-father-of-three, Offset met Cardi B in 2017, as their first date organized by Offset's publicist occurred at the Super Bowl. Offset later admitted that despite other women invited to attend the meeting under the pretext of commercial co-operation, the whole thing was done to get him and Cardi B to meet at last. They started dating soon after their first date, and everything in their relationship developed quickly.
In 2015 Offset, born Kiari Kendrell Cephus, was arrested along with all the members of his rap band Migos on drug and gun charges. He spent eight months in prison, while his band fellows got plea deals. However, Cardi B was not new to "jailbirds", his criminal record didn't make her hesitate a minute; even though Offset started committing crimes as a teenager, Cardi still found that something in him which attracted her more and more – and they inevitably became a couple. 'It's been a blessing, me meeting him and meeting his friends.
I see how hard they work. And that motivated me to work even harder," she said in her interview with The Fader. Both on and off the stage, they worked as hard as they could to make their lives come closer to the dream goal they had as children – and that matching aim made their bond even stronger.
In October 2017 when Offset was on tour with Migos in Philadelphia, he proposed Cardi B onstage, surprising not only her but the thousands of his fans cheering his words. 'Let the world see that shit. I must have spent half a million on that [ring]', Offset couldn't keep silent about the price of the eight-carat engagement ring he put on Cardi's finger. However, sources claim that the couple married even before Offset officially proposed – rumors about their secret wedding which took place on 20 September 2017 later appeared to be true. 'There are so many moments that I share with the world, and then there are moments that I want to keep for myself. Getting married was one of those moments!', Cardi B later explained the situation to her fans via her Twitter account.
In December 2018 Offset's iCloud storage was hacked, and the video of him with another woman in a very unambiguous situation leaked online. Cardi B was furious at the beginning, blocking her fiancé everywhere she could, but then she changed anger to mercy stating she's 'ain't no angel too'. Offset had a tattoo on his neck with Cardi's name, and she forgave him.
In April 2018, Cardi B officially announced on "Saturday Night Live" that they were expecting a baby, appearing in a tight white dress revealing her baby bump for the first time. It was tough for her to admit that she was going to combine working and being a mom, as her third album "Invasion of Privacy" was released in the same month. She performed all the shows which were booked even before she opened up about her matrimonial plans, and the couple graced the cover of Rolling Stone, with Cardi posing naked, revealing her seven-and-a-half month baby bump and Offset kissing it.
Kulture Kiari Cephus was born on 10 July 2018, becoming the first daughter of Cardi, and the fourth child of Offset, who has three kids with three other women. 'People want to make fun of me, saying I'm the fourth baby mom' Cardi complained in the interview with Rolling Stone, but the happiness of becoming a mother left all those evil words behind. Kulture is surrounded with love and wealth, even though her parents' relationship has often been on and off.
Perhaps unsurprisingly, in September 2020 Cardi B filed for divorce after three years of marriage with Offset. According to the court documents, the "I Like It" singer claims her marriage with the Migos front man is "irretrievably broken", stating that "there are no prospects for a reconciliation". In January 2020 Cardi mentioned in her interview with Vogue that she knew that a lot of women felt disappointed with her, when after all the cheating and other lows in her relationship with Offset, she still decided to keep their marriage. As of now, we can only guess the real reasons which made Cardi B make this final irreversible decision.