Who has Carrie Underwood dated? Boyfriends, Dating History
Born Carrie Marie Underwood in Muskogee, Oklahoma USA, on 10 March 1983 under the zodiac sign of Pisces, she reached enormous popularity after being named the winner of the fourth season of the reality TV music competition show, "American Idol" in 2005.
Over the years, Carrie Underwood established herself as one of the most talented as well as the highest-certified female country artist of all time, with such number-one studio albums as "Carnival Ride", "Blown Away", and "Cry Pretty". Carrie has won 15 American Music Awards, 11 Billboard Music Awards, and seven Grammy Awards.
Outside of music, Carrie has also tried herself as an actress and author – most recently, she published the New York Times best-selling book "Find Your Path". Besides that, she's released her fitness clothing line, called CALIA by Carrie.
Thanks to her numerous accomplishments, Carrie was named one of the 100 most influential people in the world by Time magazine, as well as the most successful "American Idol" winner by Forbes magazine. Quite impressive!
But what about her personal life? Carrie Underwood has certainly won millions of men's hearts, thanks to her attractive appearance and irresistibly charming personality. When it comes to those who've won her heart, it is known that the beautiful singer had been romantically linked to at least four men, before she decided to settle down with Mike Fisher.
So, if you want to find out more details about those men, stay with us 'til the end because we've compiled for you a complete list of her relationships and hook-ups.
In her January 2011 article she wrote for The Sydney Morning Herald magazine, Carrie Underwood revealed that her first kiss happened when she was only 14 years old.
She wrote, "It was with a skater guy who had long hair and baggy jeans. He didn't live in my town, and I was attracted to him because he was different from the other boys at school … at that time he was as dangerous as I could get."
Sometime later, Carrie experienced her first heartbreak. While in college, she became romantically involved with a guy named Drake Clark in what was her first relationship. The two started their romance in 2002, but eventually parted ways in 2005. She revealed in the same article that it "was the first and last time I ever got dumped", and then added, "It taught me a lot about myself, that I didn't like getting my heart broken, and that sometimes people don't love you back. But that's okay, because my life would have worked out different if he had."
Two years after being named the winner of "American Idol", Carrie Underwood reportedly fell in love with former Dallas Cowboys American Football quarterback Tony Romo. The rumors that they were actually an item started swirling around after she was spotted at a Cowboys game in December 2007. The two became pretty close to each other over the next few months.
In her April 2007 interview with People magazine, the attractive country singer tried to shut down those rumors, saying that she had "a tough time getting a date" since she was "horrible around guys." Carrie also added that she hadn't had "a serious relationship since she split with college boyfriend Drake Clark in 2005". According to the magazine, the NFL star also attempted to dismiss the rumors, by telling reporters that the two were nothing more than friends, adding "She's a very nice, sweet girl, I care for her and whoever ends up with her will be a very lucky guy."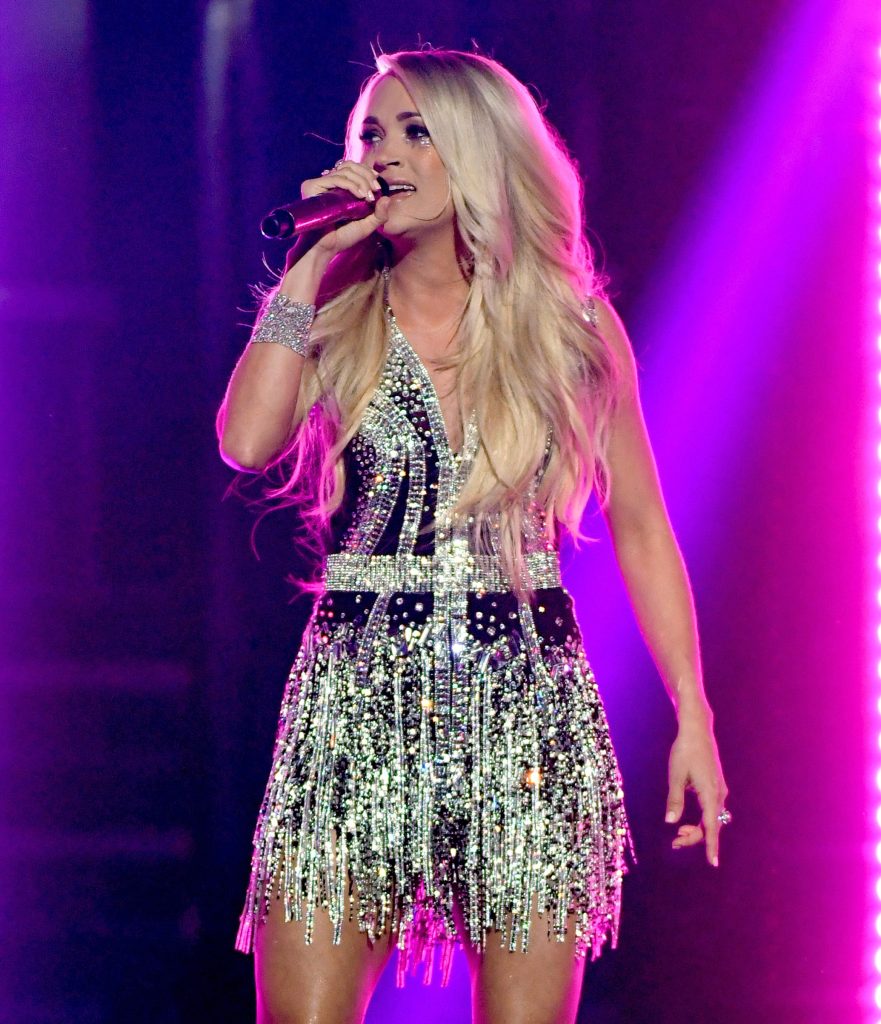 In the following month, they just heated up the rumors after making their red carpet appearance together at Academy of Country Music Awards in Las Vegas, Nevada. The couple was also spotted together celebrating each other's birthdays. Although both of them denied their romance, it is believed that the two were together.
However, they reportedly called it quits by October 2007, when Carrie admitted to Entertainment Weekly magazine, "At one point it seemed like that's where it was headed," then saying "but point blank, he is about football." She continued, "I don't know if it's that I'm not quite his type or whatever, but I don't think he's at the point in his life where he would be willing to sacrifice football. He hated so much that people thought that he was paying more attention to me, and that was causing him to not do well." She also said, "The Cowboys are still my favorite team — no matter what happens with us."
In turn, Tony Romo told Sports Illustrated magazine that he was "lucky to get to know her", and added that they were friends.
In 2009, she released the single "Cowboy Casanova" – many believed that the song is about her ex-boyfriend Romo, but she denied it in her December 2009 interview with Esquire magazine, saying, "No. I would never immortalize a guy that did me wrong. I would never give him that much credit." So it seemed that the former friends or lovers ended things between them on not such good terms.
After reportedly splitting from Romo late in 2007, Carrie Underwood started dating famous American actor Chace Crawford, better known for his portrayal of Nate Archibald in The CW's teen drama series "Gossip Girl".
The two set off the dating rumors after being spotted getting cozy at Manhattan's Marquee nightclub in that October. Thereafter, the couple was seen having fun at the Gramercy Park Hotel's Rose Bar.
An insider told People magazine, "At one point, they were holding hands, off to the side of the table, like they didn't want people to see," while she then described Chase as "really cute" and added, "I've met him and he seems like a really nice guy. He's got cool hair, he's a nice height and he just has beautiful blue eyes."
After dating for only a couple of months, the couple end their romance in early 2008, while Carrie would later open up about their break-up in her April 2008 interview with Extra magazine, saying, "It was completely mutual. We broke up over text so … it's like 'peace out.'" She also revealed what the reason for their split was, saying, "It just didn't work. We both knew it didn't work and had no hard feelings at all, whatsoever."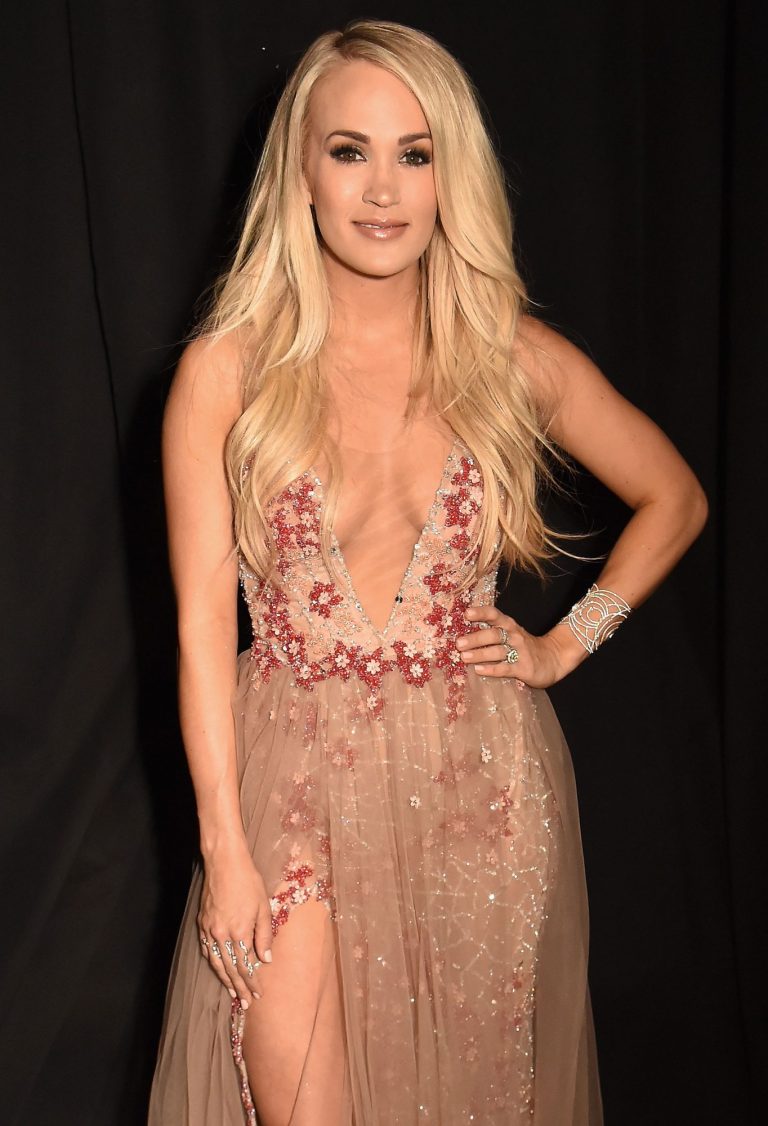 Carrie also explained, "It's difficult while you're dating, because people always make a lot bigger deal of things than they actually are. Then when you break-up with somebody and then like two months later it comes out, and it's like you're rehashing old stuff. I don't know what that's all out now."
During the same month, she told People magazine, "You date to figure out what works and what doesn't. You've got to go through a lot of doesn't before you find the one that does," and then revealed that she "actually haven't spoken to him in over a month."
A source close to the former couple shared that Carrie was "the one who broke Chace's heart, not the other way around" because he "wanted the romance to work" and "did everything he could for this girl," but eventually initiated their break-up and said, 'Enough is enough.'"
The "American Idol" winner "had always downplayed the relationship in the press" because she previously told the magazine that she wasn't serious with anybody, which hurt his feelings. Besides that, she reportedly couldn't get over her ex-boyfriend Tony Romo.
Before she met the love of her life Mike Fisher, Carrie Underwood had a brief summer fling with Dr. Travis Stork, known for being the co-host of "The Doctors", and a former contestant on the show "The Bachelor: Paris". Little is known about their romance except the fact that it was very short since it only lasted over August and September 2008.
Mike Fisher
Carrie Underwood met her future husband, professional hockey player Mike Fisher, in late 2008.
Happy Anniversary!#CarrieUnderwood #MikeFisher pic.twitter.com/U8NE4OQ2IZ

— CarrieUnderwoodPic🖤 (@carrieunderpics) July 10, 2019
According to Bustle magazine, she would later reveal during her appearance on "The Tyler Oakley Show" that Mike was her fan, and that she met him at a meet-and-greet after one of her concerts. Their mutual friend and Carrie's bassist Mark Childers set up the meeting, after which she texted him that Mike was "hot, hot, hot."
They exchanged their phone numbers, and ended up speaking on the phone for the next three months before they could even go on their first date, because she was living in Tennessee, while he was playing hockey in Canada. She later said on her 2012 special, "Behind the Music", "I mean, can I make dating more difficult? Let's get a hockey guy who lives in another country, awesome."
She would later recall their first official date and kiss in her June 2012 interview with Glamour magazine, saying, "Our first real date was on New Year's Eve, and our first kiss was when the ball dropped," but adding, "We were in front of people, and he's not a big PDA guy. I figured, I'll go in for it because he can't leave me hanging, right? So I made him kiss me in public."
The following December, the couple took a step further after dating for a year. It was reported that Mike Fisher popped the question and proposed to Carrie with a diamond ring near his home in Ottawa on 20 December 2009. The next day, Carrie confirmed the engagement news to Toronto Sun magazine, saying, "It's true. We're both obviously excited and very happy."
On 10 July 2010, Carrie Underwood and Mike Fisher swore everlasting love to each other at a private wedding ceremony at the Ritz-Carlton resort on Lake Oconee, Georgia.
According to People magazine, their wedding planner described it as "a spiritual expression of their love." The couple tied the knot in front of 250 friends and family guests, and the newlyweds said in their joint statement, "We could not feel more blessed to have found each other, and to have shared this day with our friends and family that mean so much to us!"
In September 2014, the famous singer announced her pregnancy with their first child, and Carrie gave birth to a boy they named Isaiah Michael Fisher, on 27 February 2015. She announced the happy news by posting a cute photo of him on her Instagram account and writing in the caption, "God has blessed us with an amazing gift! […] Welcome to the world, sweet angel!"
Carrie would later open up about her husband's fatherhood to E! News magazine, saying, "My husband is as wonderful as he is hot, and I feel like that's rare."
She then added, "He's amazing. He's such a great dad and he's so supportive of what I do and I'm supportive of him and we just love our little family."
In August 2018, Carrie announced that they were expecting baby No. 2. According to People magazine, she posted an Instagram video of herself sitting under balloons that spelled out "BABY", and saying "Mike and Isaiah and I are absolutely over the moon and excited to be adding another little fish to our pond." The couple welcomed their second son they named Jacob Bryan Fisher, on 21 January 2019.
Carrie shared the news on Instagram by posting their photos with the baby, and writing in the caption, "Jacob Bryan Fisher entered the world in the wee hours of the morning on Monday…his mom, dad and big brother couldn't be happier for God to trust them with taking care of this little miracle! Our hearts are full, our eyes are tired and our lives are forever changed. Life is good…"
In January 2019, Mike told People magazine, "I admire Carrie as a mom most. She is so good with our boys and loves us all so well." Later that year, she admitted that she feels like they were meant to be, and added, "I had dated guys and kind of knew, like, 'No.' Nothing was ever really wrong, but nothing was really right either. With him, it was like a good partnership. It was an easy relationship to be in."
She also said that she is grateful "to have that rock" in her "crazy life" and added, "It means more to me than he probably knows or than I could tell him." In turn, Mike said, "Carrie's so easy to love because she's down to earth and genuine. We laugh a lot which I think is important." How cute is that?!
Recently, they celebrated ten years of marriage. Carrie posted an Instagram photo of them when they were young, and wrote, "Hey you two crazy kids. Believe it or not, some day you both will become (slightly) less awkward, you'll grow up to have pretty cool jobs, you'll meet backstage at some girl's concert, fall in love, get married, have two amazing boys, and live happily ever after!" She continued, "These past 10 years have been pretty incredible with you. Here's to many, many more…without the bowl cuts! I love you and I thank the good Lord that He brought those two kids together! HAPPY ANNIVERSARY!"
Congratulations! They are obviously stronger than ever, and we can wish them nothing but the best!