Who has Demi Lovato dated? Demi Lovato's Dating History
Demetria Devonne 'Demi' Lovato has come a long way in self-acceptance, fighting her inner demons while undergoing therapy courses. Alcoholism, self-harm, cocaine addiction, anorexia, bipolar disorder – the list is far from being complete for this young singer and songwriter, who is able to inspire her fans to overcome the troubles in their lives, but still struggles with her own. Demi didn't have a chance to develop a long, strong, promising family relationship, having a long turbulent period of her life, but things are seemingly starting to go right for her, as she has recently announced her engagement to Max Ehrich.
Demi Lovato and Jonathan Fryar
At the beginning of 2007 when Demi was only 15 years old, she already knew that relationships can be tough. When she was two, her birth father, Patrick Martin Lovato, left her mother, Dianna De La Garza, almost completely stepping out Demi's life.
Knowing how painful it could be to have someone leaving her, Demi was not in a rush to date anyone, yet when in middle school she met a good guy named Jonathan Fryar with whom she had a short relationship. However, their affair didn't last long as Demi experienced serious bullying from her classmates, so she asked her parents to take her out for homeschooling. Demi and Jonathan could still see each other, but Demi was also starring as Charlotte Adams in the "As the Bell Rings" Disney series, also landing roles in "Camp Rock" and "Sonny with a Chance", so in November 2007 Demi could hardly find a spare spot in her tight schedule for a love life, so eventually Jonathan and Demi broke up.
Demi Lovato and Cody Linley
In December 2007, still recovering from her breakup with Jonathan Fryar, Demi found solace in Cody Linley's arms. They met on the set of The Disney Channel Games at the beginning of 2007, and started dating several months later.
Cody already had several successful roles by the time of his fling with Demi began, in "Where the Heart Is" starring Natalie Portman as Brownie and "Miss Congeniality" starring Sandra Bullock, as a tough boy, both in 2000, and as Quinn in "Cheaper by the Dozen", starring Steve Martin in 2003. From 2006, Cody appeared as Jake Ryan in the super popular TV series "Hannah Montana", starring Miley Cyrus, so Demi felt sincere interest towards Cody admired his acting talent. Nevertheless, they dated for only several months, separating by June 2008, with Demi focusing on her acting and singing careers, releasing her music videos "Get Back" and "La La Land".
Demi Lovato and Alex DeLeon
In September 2008 Demi started dating American singer and record producer Alex DeLeon. Keen on the music industry, Demi was charmed with DeLeon's talent, as that year Alex along with Cash Colligan played in the band "The Cab", which they created while still in high school.
By the time they matriculated, their band had signed a contract with Decaydance Records, releasing their debut studio album "Whisper War" in April 2008, which featured collaborations with  Brendon Urie, the lead singer of the band "Panic! at the Disco", and Patrick Stump the lead vocalist of "Fall Out Boy". Demi was also working on some new music material, yet the couple didn't date for long – in January 2009 they split, although remaining good friends.
After releasing her new music videos "Don't Forget" and "Lo que soy (This Is Me)" in March 2009, Demi started dating Trace Cyrus, the brother of Demi's fellow actress on the Disney Channel, Miley Cyrus. A bad guy with multiple tattoos, who dropped out of high school at the age of 17, Trace instantly caught Demi's attention. As the two started dating, Trace was recording several songs with his father, popular country singer Billy Ray Cyrus; eventually, only one song featuring Trace, "Somebody Said a Prayer", was included to the album "Back to Tennessee", but he also appeared in the music video of the song.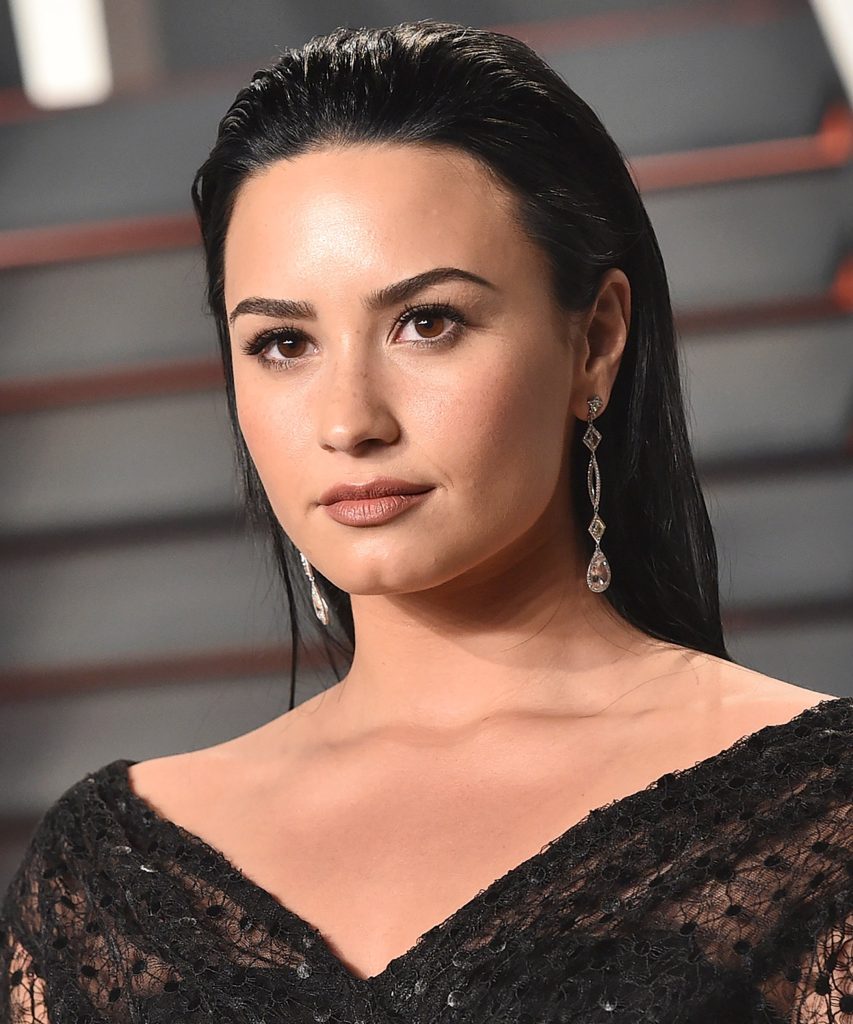 Demi felt privileged to be so close to the talented Cyrus family, and enjoyed the time she spent with Trace, however, Demi's family were hesitant about their relationship, evidenced that by the age of 20, Trace had problems with alcohol and drug addiction, so fearful that Demi could go down the same track in dating him. By the end of 2009, Demi and Trace had parted ways without actually naming the reason for their split, but I think we can make an educated guess!
At around the same time, Demi was often seen with Nicholas "Nich" Braun, who she met on the set of "Princess Protection Program" which they both starred in, along with Selena Gomez. Even though according to the plot, Nich had an on-screen crush on Selena Gomez's character, in real life he was noticed to be quite interested in dating Demi, who played Princess Rosalinda in the movie.
Demi and Nicholas attended several parties where they were seen hugging, holding hands and smiling kindly at each other, yet nothing serious came out of their relationship, as Demi was still linked to Trace, and Nich was busy with his acting career, as he was cast as Cameron James in "10 Things I Hate About You".
In August 2009 Demi had started dating Joe Jonas, a star in the popular rock band The Jonas Brothers. They had met a couple of year before they actually had their fling, as they both filmed for the Disney Channel movie "Camp Rock". Demi also joined the Jonas Brothers on their "Live in Concert" as a guest star, also starting her own tour. Demi and Joe soon broke up, in January 2010, yet Demi was still on tour with his band. They also had several projects launched by Disney in which they both participated.
The bad news for Demi's fans was that her break up from Joe wasn't as flawless as they tried to make it sound.
In November 2010, the tabloids exploded with the news that Demi stepped away from both tours to get what was termed necessary medical treatment. Demi's birth father, Patrick, claimed Hollywood was the main reason for his daughter's problems: 'There are a lot of pressures. That is one of the things I worried about when she signed with Disney', Patrick shared with Radar Online. Most of the problems Demi had with her health became widely known: she had bulimia (and was aware of the fact), she cut herself many times, had bipolar disorder, and apparently had a nervous breakdown too, and the list went on. Some of Demi's fans think that her previous affair with Trace Cyrus provoked Demi's use of cocaine, as she later admitted she had it several times a day, even taking it on airplanes. Joe was rumored to have multiple scuffles with Demi because of her addictions, but she couldn't win the battle with her demons on her own, but by January 2011 she had completed her treatment.
Joe and Demi are said to remain good friends – he later married the actress Sophie Turner (Sansa Stark in "Game of Thrones" and Jean Grey in "Dark Phoenix"); she gave birth to their daughter, Willa, in July 2020.
She returned to the projects waiting for her, as she couldn't be replaced in "Sonny with a Chance", in which she the title role of Sonny Munroe. Also, the producers of such series as "My Camp Rock", "Grey's Anatomy" and the popular TV show "America's Next Top Model" wanted to have Demi as a guest star.
Demi was rumored to have had an affair with Wilmer Valderrama at the beginning of 2010, but their relationship became official only at the beginning of 2011, when Demi was done with her rehab. In her interview with Cosmopolitan Demi stated that at the dawn of their relationship they had split multiple times, which happened 'on her own fault' – her mental state was so unstable that she couldn't control her reactions on basic things: 'Your mind starts setting up the relapse before you take that drink or that first hit.
The times we'd broken up, I had already gone to that place of, 'Yeah, this is what's happening.' I didn't realize it at the time, but I just wanted to sabotage everything around me so that I could sabotage myself', she recalled their tough beginning.
However, Wilmer even helped Demi to fight her addictions, also supporting her while working on the film "Demi Lovato: Stay Strong", which was aired on MTV in 2012. The documentary followed Demi's recovery, explaining the ways a teenager could get help for him/herself when in trouble. In January 2016 Demi and Wilmer celebrated the sixth anniversary of their relationship. Both posted several photos and collages on their social media accounts, thanking each other for the years they'd spent together. However, in June that year the couple broke u, as, according to sources close to them, 'the romance wasn't what it used to be'. Some of their fans blamed the age gap – Wilmer is 12 years older than Demi – others said that he was finally fed up with her addictions.
Nevertheless, Demi later stated that he never took credit for her sobriety, but she wouldn't even be alive if not Wilmer, which obviously means he put a lot of effort to take her out of the addiction swamp. They both removed all their mutual photos from their social media accounts after their split, yet claim to remain close friends.
Demi and Luke Rockhold met in July 2016 and started dating in August, later appearing together at Madison Square Garden while attending UFC 205: Alvarez vs. McGregor event in November. She appeared at several other martial arts events, accompanying Luke, and gained a nice advantage from the relationship – she became interested in martial arts, started doing Brazilian jiu-jitsu, and eventually got her blue belt.  Their split in December 2016 was quite a shock for Luke and Demi's fans, but separating from one professional mixed martial artist, Demi instantly switched to another one… Guilherme Vasconcelos.
Demi's fans couldn't believe their eyes: only days before New Year's Eve they saw her getting cozy with Luke Rockhold, and then their favorite singer posted her photos from the New Year's celebration with another professional MMA fighter, Guilherme Vasconcelos. Their relationship apparently started in the last days of December 2016, but it didn't last long, and the couple separated only four months later, in May 2017.
2017 was the year of vivid truth for Demi Lovato. Not that she only released another documentary – "Demi Lovato: Simply Complicated" – in which she stated that her previous film on her supposed path to sobriety was in fact recorded when she was 'under the influence of cocaine' and lying that she'd completed her course of treatment, Demi also revealed that she'd dated women, and wanted to continue to do so.
In 2013 Demi had been caught flirting with Ruby Rose, a popular actress and openly lesbian, when they exchanged flirty comments on their Instagram accounts.
Ruby even wrote that she was 'the one person Demi has slept with that didn't sell naked photos of her', but at the time Demi denied that they ever had a fling: 'I did not have a relationship with Ruby Rose', she dryly noted in her interview with Complex, as she was still in a relationship with Wilmer Valderrama, and didn't even want to discuss her former affairs. However, when she came out in 2017 and told her parents she could possibly end up with a woman, the rumors of her affair with Ruby resurfaced.
As if wanting to prove being serious about her claims, Demi was spotted with American DJ Lauren Abedini in September 2017. She then was rumored to have an affair with dancer JoJo Gomez in January 2018, before saying in the April 2018 issue of InStyle magazine: 'I'm very fluid, and I think love is love. You can find it in any gender. I like the freedom of being able to flirt with whoever I want'.
Ruby Rose says Demi Lovato will "definitely come back Stronger" after reported overdose https://t.co/DqTTWpCjAN pic.twitter.com/Fw6gb6zET5

— billboard (@billboard) August 9, 2018
Well, Demi obviously exercised her right to flirt with whoever she wanted, as in the same year she kissed the singer Kehlani on stage in Newark, New Jersey during their performance of the song "Lonely", a part of Demi's "Tell Me You Love Me" tour. Widely speculated on her private life details, Demi insisted she was 'still figuring it out', not wanting to force her inner work of self-discovery. She added that her parents were very supportive when they found out that she'd considered the possibility of dating a woman; Demi laughed that her father was not even surprised to hear the news, as he'd guessed it because of Demi's song "Cool for the Summer", the lyrics of which hinted Demi was ready to try a new type of relationship.
The cherry on top of Demi's candor was her collaboration with Christina Aguilera, as they recorded the song "Fall in Line" in May 2018: Christina was rumored multiple times to have had affairs with women, which according to some sources was the reason why her husband Jordan Bratman divorced her.
Demi's collaboration with Aguilera made a lot of noise at the time, however, Christina is still engaged to her long-term partner, Matthew Rutler.
Even though Demi stated that she wasn't suffering from being alone, she didn't stay long on the singles market. In October 2018 Demi was spotted with fashion designer Henry Levy, when the couple had a date in a sushi restaurant in Beverly Hills. It was a good something for Demi's fans, who were still recovering from the news of her occasional overdose in June 2018. Demi had appeared to relapse after six years of apparent sobriety, and entered an in-patient rehab facility, after two weeks of hospitalization. Her relationship with Henry Levy, the founder of Enfants Riches Déprimé clothing company, ended when she entered the second course of medical treatment – the couple simply couldn't even meet, as Demi was inaccessible almost all the time. After their eventual separation, Demi returned to her mother's house for some time, to focus on herself.
Through November and December 2019, Demi hooked up with Austin Wilson – the son of George Wilson, the legendary skateboarder and denim designer – a massively tattooed model and basketball player, who enjoyed every opportunity to post their mutual photos on his Instagram account. Some of Demi's fans think that losing their mutual friend Thomas, who worked as a model, in October 2019, made Demi and Austin become closer, mourning over their loss. They both stated on their social media accounts that fighting with addiction was no joke, as they both knew what it meant and what it cost., so the fans were shocked once again with how quick their romance faded away, as on 21 December 2019 E! News reported their separation.  The reason was simple: Austin's lifestyle didn't mesh with Demi's focusing on her sobriety.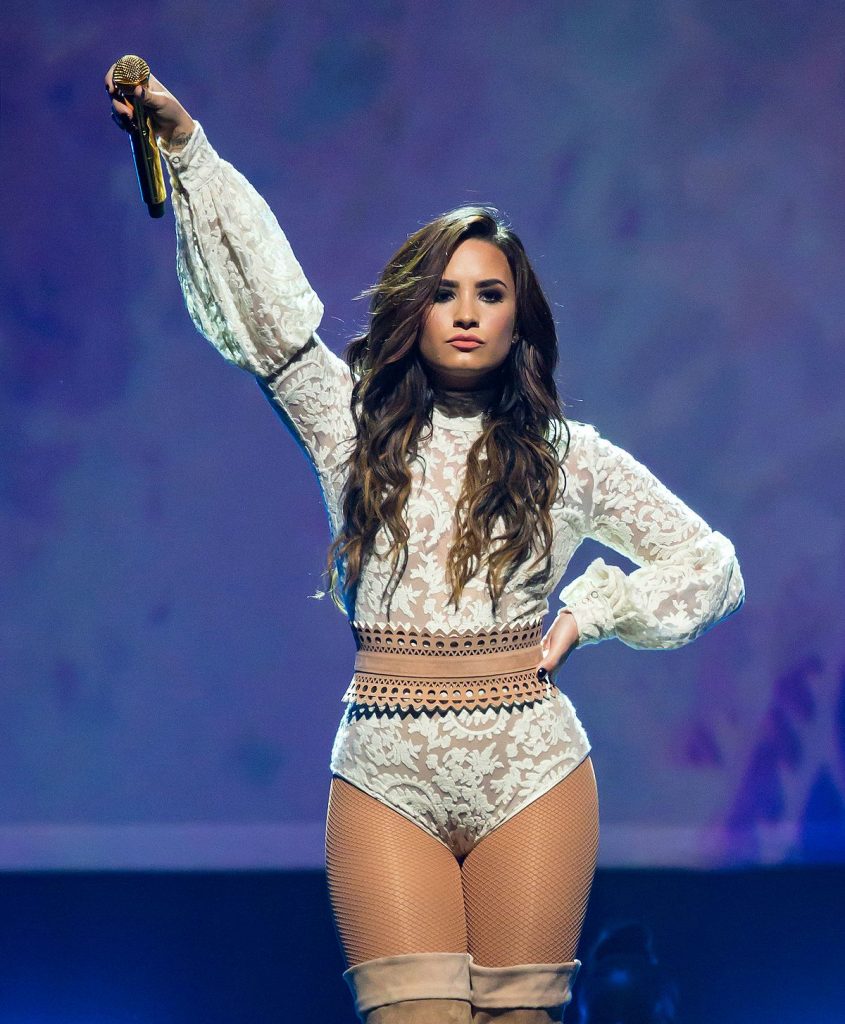 Austin was instantly attacked by Demi's fans who cared about her state, but Demi defended her ex-: 'Please, don't go after him. He's a good guy. Much better than what people see on the outside just because he's got a lot of tattoos', she wrote on her Instagram account to calm down her followers.
In her interview with InStyle in 2018 Demi shared that she is usually the one to make the first move when it comes to relationships. She shared that she read direct messages she received on her Instagram account, and also checked dating apps, to perhaps find her next love interest.
It's not known exactly how she met Max Ehrich, and if it was her who made the first move, but their friends say that it was love at first sight. Demi and Max met in March 2020, and instantly felt the chemistry between them. After dating for four months Disney Channel alums became engaged on the rocky beach of Malibu, California.
Max is an experienced actor, dancer and model, who is mostly known for his role of Fenmore Baldwin in the popular series "The Young and the Restless". He also played Hunter May in "Under the Dome", Tate in Netflix's "Walk Ride Rodeo" and even appeared as a dancer in "High School Musical 3: Senior Year".
From May 2020, the couple have been very active supporting the Black Lives Matter movement, getting massive support from Demi's fans and followers. As to her addictions, well, her fans can sleep tight, as she claims that her demons are gone, saying to People magazine: 'I can genuinely say I feel free of my demons. And it's not just because I fell in love, but because over the past two years I've done more work on myself than I have in my entire life'. Demi's family and friends can also be calmer now, as Max seems to be the right guy for her, if she doesn't want to be hospitalized again with an overdose. Even though Demi once said she didn't need any partner in her life, apparently she now feels pretty comfortable having Max Ehrich by her side.