Who has Dua Lipa dated? Dua Lipa's Dating History
• Dua Lipa is a British singer and model with ancestral roots in Kosovo
• She started her career as a singer by posting cover songs on Youtube when she was 14
• She has dated British model/chef Isaac Carew for a total of nearly 5 years, with a break in between
• She sparked dating rumours with comedian Jack Whitehall, and with DJ Calvin Harris, but nothing came of it
• Currently, she is in a relationship with model Anwar Hadid, and the two are reportedly living together and have adopted a puppy
Though born in Westminster, London, England, the British singer and model, Dua Lipa, holds ancestral roots in Kosov0, previously part of the FR Yugoslavia, where she spent most of her later life.
Her name, which is her birth name and not a stage name as many thought, is of Albanian origin. Dua's father, Dukagjin Lipa, a Kosovar Albanian, moved to England in 1992 with his wife, Lipa's mother Anesa Rhexa Lipa. On 22 August 1995, their daughter was born.
Working as a marketing manager, Dukagjin raised Dua in Westminster, London for the first eleven years of her life. In 2006, he accepted employment in Kosovo, where he also became a member of the rock band Oda. Lipa's mother, Anesa, works in tourism.
From a young age, Dua had set her sights on becoming a singer. While attending the Sylvia Young Theatre School, and later the Miliniumi i Trete school in Pristina, Dua discovered her love for Hip-Hop music, that would later influence her choices in music.
Inspired by discovering Justin Bieber, at the age of 14 in 2009, Dua began uploading videos onto YouTube in which she sang cover songs of her favourite artists, including Pink and Nelly Furtado.
A year later she moved back to London, living with a friend while at school, and working part-time as a hostess. She attended Parliament Hill School as well as continuing her education at Sylvia Young Theatre School. At the age of 16, Dua worked as a model for ASOS Marketplace, with hopes of meeting people who could help her pursue a career as a recording artist.
However, after one of the managers told her to lose weight, she gave up modelling, but two years later gained the recognition she wanted when she appeared on an X-Factor advertisement.
That same year she signed with Tap Management and co-wrote the song 'Hotter Than Hell', which eventually led to Dua's first recording deal. In 2015, Lipa signed with Warner Music Group and recorded her first single 'New Love' which debuted in August. At the time she still working as a cocktail waitress, but by the time her second single released in October, she had already become a rising star.
Her second single, 'Be The One', became a chart-topper and a mainstream success in the greater part of the UK and Europe. Apart from her success in the music business, Dua also expanded to fashion design, and developed a personal fragrance. Despite her success, the British-Albanian singer is perhaps one of the most famous artists whom people can't decide if they love or hate her.
The 25-year-old has made headlines a couple of times for using racial slander, and her political views that were concerned with the current affairs in her home country Kosovo.
The singer received plenty of backlash earlier in 2020, after posting an image on Instagram that displayed a banner associated with extreme Albanian Nationalism.
The same banner was the centre of controversy at a 2014 Serbia vs Albania football match. Fans took to Twitter to accuse Dua of Ethno-Nationalism due to the beliefs that the banner represents. These beliefs orientate on the Illyrian theory of Albanian ancestry, and suggest a certain group of people should have better rights because they were earlier settlers of a region, while migrants and peoples who later settled should be deemed less worthy.
Political scientist, Florian Bieber, called Lipa's post stupid nationalism, and in response, Lipa posted a tweet that said she never intended to inspire hate, and that people misinterpreted her post.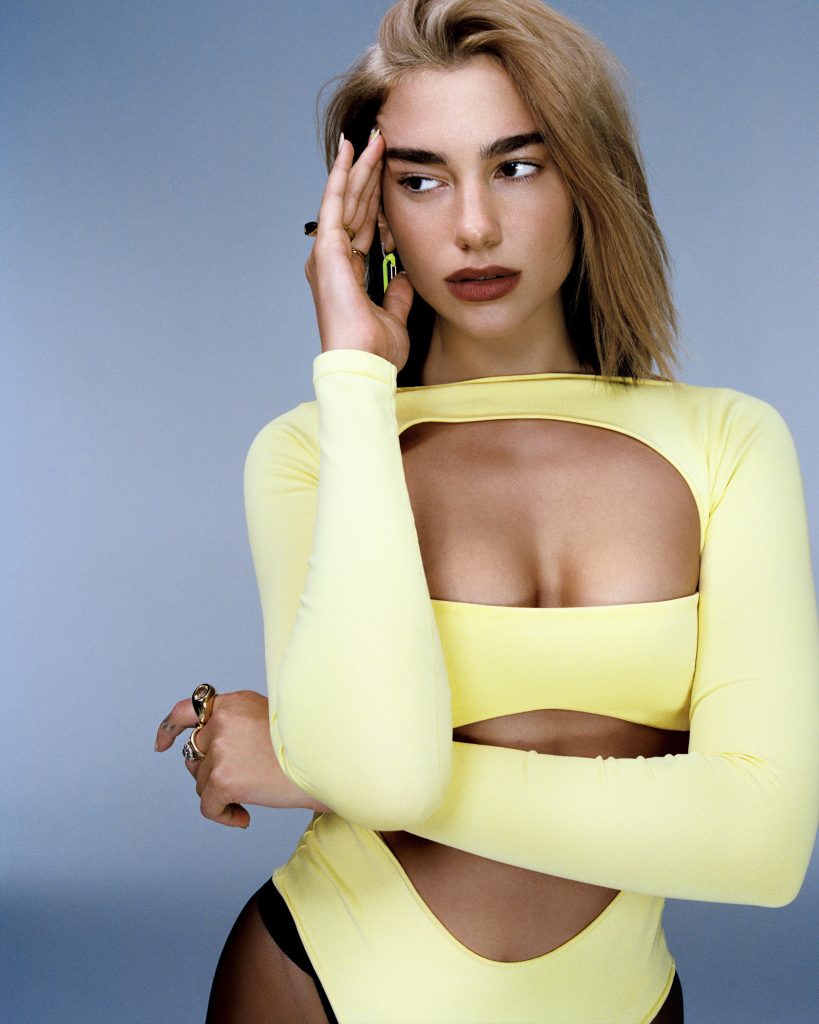 This belief seemed hypocritical, especially considering that her family were migrants in England, and that she attempted to convince people to support the Labour Party during the 2019 UK elections.
She also recently urged support for Bernie Sanders in the American election. However, it was not the only hypocritical controversy of which the young star stands accused. Towards the end of January 2020, an Instagram story surfaced in which Dua threw money at female strippers.
While out with friends following the 62cnd Annual Grammy Awards Ceremony, Lipa attended an after-party at a Los Angeles strip club where the story took place. It sparked a lot of controversy, especially because Lipa is an outspoken feminist. Her fans accused her of supporting female objectifying, and called her an Anti-Feminist.
The incident sparked a trend with the birth of the hashtag #dualipaisoverparty.
In response, the singer said that everyone was having fun, and that she supports women in all lines of work. She added that nothing at the party was disparaging in any way. When it comes to controversy, it appears that Dua saves the scandalous behaviour for sensitive subjects, keeping it separated from her love life.
Despite appearing on several magazine covers, and being considered one of the most attractive pop stars out there, Dua has remained rather reserved on the dating scene. Since her rise to fame in 2015, Lipa has only dated a few lucky men, but only her latest and earliest relationships reached official status.
Dua's earliest love interest began shortly before she became famous, during the early stages of her rise to fame. In 2013 Dua started dating Isaac Carew, a British model turned chef, and dated him for three and a half years before their first break-up.
Dua Lipa ka gjetur dashurine. Kengetarja shqiptare qe po ben karriere ne Britani eshte prej disa kohesh ne krahet e Isac Carew, i cili është model i njohur i pasarelave botërore. Si ju duket cifti?

Posted by Pop Culture në Top Channel on Thursday, January 28, 2016
Isaac became famous through appearing on numerous high-profile fashion catwalks, and later as a chef training under Gordon Ramsey. Isaac started a personal food blog and website – The Dirty Dishes – and grew his popularity on Instagram during the same time that Lipa would gain her rise to fame as a pop singer.
The couple never shied away from the public, sharing continuous updates on social media about romantic get-togethers and international get-aways. After Lipa made it onto the red carpet, Carew would become a regular supporter of the young star, often accompanying her to award ceremonies and gala events. Lipa, in turn, helped to promote her boyfriend's growing career as a celebrity chef.
Sadly, in 2017 the pair called it quits on their relationship, both of them sharing heartfelt insights on Instagram about the heart-breaking development.
mid-week level of enthusiasm pic.twitter.com/xm27Q9cQWG

— DUA LIPA (@DUALIPA) September 10, 2020
Initially, their response to being questioned why they broke it off the first time around, both agreed that it was not because of relationship trouble. They stated that they had a wonderful relationship with a lot of love and loyalty. They blamed the split on their busy schedules, with Lipa always on tour and recording music, while Carew spent most of his time promoting his Dirty Dishes blog and career as a chef.
During the time they separated, Lipa's involvement in rumours that she dated other guys made it seem unlikely that the two would ever get back together. However, in a surprising turn of events, Lipa and Carew reconciled and gave their previous passion another try in January 2018. They believed that their skins were tougher than the difficulties their relationship faced, and that the love they share would conquer all obstacles.
Everything seemed to be going as they desired, but after dating again for 18 months, the two called it off for the last time.
In June of 2019 they confirmed their final separation through another explicit revelation on Instagram, but this time around Isaac didn't follow his former flame on the social media platform.
Once more, the two blamed their conflicting schedules for the break-up, stating that they really wanted things to work out between them and that they still love each other. However, as Lipa is only getting busier and more occupied in her career, it didn't seem that their relationship was going to work.
While fans are hoping that they would reconcile for a second time, having dated for a total of nearly five years, the couple isn't likely to get back together any time soon. Dua has a new love interest in her life, and appears to be over her romance with Isaac.
In 2017, Dua released a collaborative single with DJ Calvin Harris, but according to the Scottish hunk, it took immense convincing for Lipa to join the recording.
However, the dance song entitled 'One Kiss', became one of the highest-charting singles, and could have been a success on which Lipa nearly missed out. Sources close to Lipa stated that she despises dance music in general, which made Harris believe she would never be interested in recording the song, but Lipa found the time, and surely won't regret it. However, the collaboration sparked rumours that the two might be getting together for alternative reasons.
The collaboration took place during the time Lipa took a break from her long-term boyfriend, Isaac. After social media posts gained wider media attention, gossip writers thought that it was reason enough to spark dating rumours. They never confirmed that they ever dated, and the 34-year-old Scottish artist denied the rumours with a legitimate excuse, saying he would never try to romance Lipa because of the huge age difference between them.
Harris, who previously dated the artists Taylor Swift and Rita Ora, said that it would be creepy to think of Dua in such a way. He added that he met her dad and that he is closer in age to Lipa's father than he is to her, and feels that indeed he is old enough to be her dad.
Nonetheless, Calvin has a lot of praise for the young singer. Despite saying that Dua is attractive and a wonderful performer, it is never likely for the two to have any form of a romantic relationship. As per usual, rumours were nothing but wild speculation.
Following the BRIT awards in February of 2018, Dua sparked dating rumours with a possible inbetweener, after being seen flirting with British comedian, Jack Whitehall. At the time Jack had split after a six-year relationship with Gemma Chan, and seemed to be out celebrating his single status, flirting openly with Dua at the after party of the awards ceremony.
However, it appeared to have been nothing but rumours, since at the same party, some report that Dua also flirted with Calvin. Among the rumours spread, gossip writers claimed that the two got cosy and could not keep their eyes off one another. They also said that Jack continuously made Dua giggle by whispering in her ear, and he even leaned in for a kiss on her neck. Unfortunately, it was nothing but wild speculation.
A rel inbetweener surfaced, as while separated from Isaac, Dua dated American singer and frontman of the band LANY, Paul Klein. Their relationship only lasted for about five months, but this did not dissuade Paul from writing an entire album about the beautiful Albanian. The entire album, Malibu Nights, drew inspiration from Paul's relationship with Lipa, with one song on the album entitled 'Thru These Tears', acknowledging that the break-up took a heavy toll on Klein. Another song on the album, 'Run', seems to be a direct stab at Dua, claiming that she never made any effort during the relationship to really make things work.
The lyrics of the song also allude to her reconciliation with Isaac shortly after she broke it off with Klein, telling her to run back to what she was running from before. While they were still together, Paul had a collection of guitar picks inspired by his feelings towards Lipa, but has since replaced it with motivational messages to help him through the troubled times. Paul admitted that he wrote the album within 45 days, adding that most of the songs are based on the experience he had with Lipa, but also about a bigger picture concerned with the ups and downs of life.
Klein moved on from this heartbreaking episode, and is now dating actress and model Nicola Anne Peltz, while Dua received a backlash for breaking the rules on exes that she sang about in her song 'New Rules'.
Dua's latest love interest is with the model, Anwar Hadid, the younger brother of Gigi and Bella Hadid. Anwar and Dua made their relationship official on Instagram in August 2019 but have been seen together for a longer period of time. Rumours first began to spark after Lipa attended Hadid's birthday celebration in Malibu earlier in June 2019. In July they made their first public appearance, attending the British Summer Time Festival together. They cuddled and made out most of the time, and it became a certain thing that they dated.
By September, tabloids started spreading rumours that they have moved in together, and things certainly seem to be serious between the two. Since their first appearance they have been seen together plenty of times, and in May 2020 celebrated their first anniversary. The couple has reportedly adopted their a puppy, which fans usually take as a sure sign of commitment. They and we can only watch and wait to see if the relationship develops further.