Who has Ed Sheeran dated? Ed Sheeran's Dating History
• Edward Christopher Sheeran has earned an appointment as a Member of the Order of The British Empire (OBE) for his musical contributions and charity work.
• His passion for music began at a young age under the influence of his Irish father, who took him to live concerts.
• At a young age, he learned to play the guitar and developed his vocal skills.
• He gained fame after releasing videos on his YouTube channel and performing songs such as 'Perfect' and 'Photograph'.
• He has had relationships with Nina Nesbitt, Athina Andrelos, and Ellie Goulding, and married his childhood friend Cherry Seaborn in 2019.
Edward Christopher Sheeran, born on 17 February 1991 in Halifax, West Yorkshire, England, is one of the most successful musical artists in modern history. Ranked as the 27th highest-earning-celebrity and 17th richest UK musician, Ed earned an appointment as a Member of the Order of The British Empire (OBE) in 2017 for his rich contributions to British art and charity.
Edward's passion for music began at a very young age under the influence of his Irish father, John Sheeran, who took him to several live concerts of artists such as Bob Dylan. Edward admitted that many of these artists are the influences behind his music, including his idol, Eric Clapton.
Sheeran may have become one of the most listened-to artists in modern times, but he only achieved success after considerable difficulty and ambitious dedication.
Having learned to play the guitar from the age of eleven, and practising vocals from the age of four in a local church choir, Edward nurtured both his ambition and talent early on, and even then stood out from the crowd.
Ed's education was rather wider than normal – he began writing music while attending Thomas Mills High School in Framlingham, his hometown, where Ed earned praise as a natural performer in his school report – his fellow school mates even voted him as most likely to become famous! In 2007 at the age of 16, Ed auditioned for the British Youth Music Theatre and was accepted for the production of 'Frankenstein' performed in Plymouth – Ed became and remains a patron of BYMT. He also enrolled to study with Access To Music, an independent training provider focused on popular music and creative development.
Having earlier finished a course in Artist Development, in 2004 Ed began recording music as well as playing at various venues, and although still young, he performed with a good friend, British singer Passenger, at a mutual gig in Cambridge.
By 2008, Ed moved to London and continued to perform at small venues, also touring as an opening act for artists such as Nizlopi, for whom he worked as a guitar technician, and Just Jack. In 2009, Ed released a video on SB.TV that gained him an invitation from the British rapper Example to go on tour with him.
Later that year, Ed enrolled into The Academy of Contemporary Music, but it's unclear for how long he studied at the institution. Ed's true success came when he released videos on his YouTube channel, and attracted a large international audience. His channel earned praise from one of his influencers, Sir Elton John, and not long after, Ed rose to fame for his performances of 'Perfect', 'Photograph', and many more.
Carpool karaoke is finally here ! Check it out – https://t.co/yYNwLG5z6L

— Ed Sheeran (@edsheeran) June 7, 2017
Despite being one of the most famous people in the UK, and known around the rest of the world, Ed continues to live a simple and quiet life, as he prefers to keep his personal affairs out of media discussions. Yet, what many people would like to know is who all the lucky women were to whom he has dedicated many of his famous love songs.
The 29-year-old singer secretly married his former high school sweetheart, but she is not the only girl out there to have been honoured by his music. Ed is perhaps not considered among the most attractive men in the world, but undoubtedly the charms of his music could win over any women's heart, and according to rumour, there have been quite a few.
In 2015, following a photo posted on Facebook, and later a video shared by American singer Nicole Scherzinger, rumours were flying high that she may be dating Ed.
Music-News.com Nicole Scherzinger wants Ed Sheeran to pen her a song – #nicolescherzinger @NicoleScherzy #pussycatdolls @pussycatdolls http://dlvr.it/RSGPq3

Posted by Music News on Friday, March 20, 2020
In the video, Nicole pretended to be singing one of Ed's songs, and posed with him backstage at a North London concert. Rumours suggested that the two were seeing each other regularly, and that Ed attempted to romance her – if that's the right word – with orange squash and pizza!
As true as this may sound given Ed's casual nature – he's known to have an obsession for Heinz Ketchup, so much so that he even has a tattoo of a bottle and always keeps a spare when on tour – Nicole denied the rumours. However, it did not stop them from having some fun fooling the tabloids. Nicole captioned the video with several hashtags, suggesting that she was emotional and heart-broken after breaking up with Sheeran.
These rumours followed shortly after her break-up from future  Formula 1 racing champion, Lewis Hamilton, but despite not dating Ed, Nicole admitted that his music did help her through the recent separation.
Some were also wondering if their meetings could mean that they would be collaborating on a single, especially after Nicole signed a new record deal and promised her fans that she might have a new release sometime soon.
Nicole also admitted that they are good friends, but did not mention anything about collaborating at the time, but would have loved it if Ed would write her song. Nicole described in an interview on BBC Radio 2  how she visited Suffolk and received a true English tour of Ed's then hometown.
She added her praise for the singer, saying that he will go down a legend for writing timeless, classic music, and added that he is a kind and down to earth person. She even had the chance to see The Castle on The Hill that is mentioned in his song of the same name, and went to a local pub with Ed and his friends.
Although there is nothing romantic between them, despite what the tabloids suggest, Sheeran and Scherzinger have been friends for a long time, and might never really hook-up because of the 13-year age difference between them.
While some girls may only dream about what it would feel like to have a song written about them, and even more one that became a global chart-topper, it became a reality for Ed Sheeran's ex-girlfriend, Athina Andrelos – they were in a long-term relationship that started in 2014.
They initially met when Athina worked as a tour manager for Ed's opening act. Most of their relationship remained exclusive, and neither one divulged much of it to the papers or gossip columns. However, in 2015, while live during an interview on the Australian 'The Kyle and Jackie O Show', Ed announced that they had separated.
He did not make the reasons clear, which left people to speculate about what went wrong. The couple dated for nearly a year before the news of their breakup, and Ed admitted since that Athina was the inspiration behind his hit song 'Thinking Out Loud'. Among the reasons in public speculation, Taylor Swift, a good friend of Ed who never shied away from admitting how close they are, is allegedly to blame for Sheeran's separation from Andrelos.
According to an unknown source that spoke with OK Magazine, Athina was incredibly jealous of Ed's friendship with Swift. From what most would be able to tell from Taylor's 2015 Brit Awards acceptance speech, things could be rather awkward between Swift and Andrelos. According to the source, Athina did not want Taylor anywhere near Ed, or their circle of friends.
During the interview, Ed seemed troubled and on the verge of tears, making people believe that, the break-up must have happened recently.
Ed did say that it was the first time he'd spoken about it, and it was still a sensitive subject. it appears that the breakup did not end on good terms.
The blame on Swift is nothing more than pure speculation, as it's much more likely that Ed's hectic schedule drove them apart. In a later interview, when asked if he is looking to settle a family, Ed said that he is not getting to that point and blames his busy career for the stall. The singer bought a farm in his hometown of Framlingham, stating that he is intent on raising a family on the grounds.
Looking at the lyrics of 'Thinking Out Loud', it seems even more obvious that his busy schedule played a factor in his relationship with Athina. In the lyrics, Ed sings 'and if the crowds don't remember my name, and my fingers don't play the strings the same way, I know you will love me the same'. Sadly, they did not get to love each other until the age of seventy as the song says, but considering that his career receives mention, it must have popped up in a conversation at some point.
Athina currently works for celebrity chef Jamie Oliver.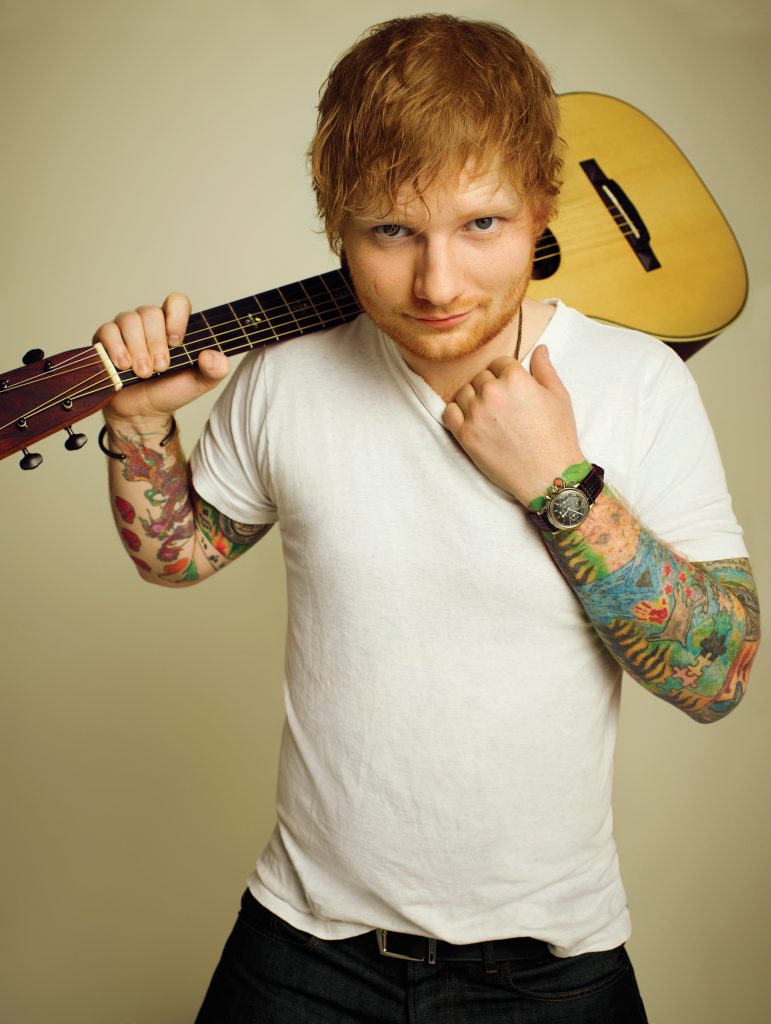 Nina In a Photograph
Athina is not the only women to be the subject of an Ed Sheeran song. Long before he dated Andrelos, Ed had a brief but significant relationship with Scottish singer Nina Nesbitt, who became the subject of two hit singles, namely 'Nina' and 'Photograph'.
Nina met Ed at a radio gig in Edinburgh, and after auditioning on the spot, she received an invitation to tour with him. Nina later appeared in Ed's music video for 'Drunk', and in 2012, their romantic involvement made gossip headlines. However, their relationship didn't last very long, and they split after dating for nearly a year.
Much of Nina's Peroxide album could be centred around Ed, while she hypocritically voiced her unhappiness about the songs Sheeran released concerning their past. Sometime after their separation, Nina called the relationship a love-hate complication. The most likely reason for their breakup was because of the long-distance their love had to endure.
At the time, Ed went on tour with Snow Patrol, and soon after did a solo tour, which kept them apart for several months.
Shortly after announcing his breakup from Athina, Ed went out in Sydney, Australia with Victoria's Secret model, Hungarian beauty Barbara Palvin. Naturally, it had gossip columns on fire, spreading rumours that Ed had moved on, and was celebrating his newfound bachelor status. However, the rendezvous seemed more casual than a date, and the two never confirmed that anything romantic happened between them. For the better part, it seemed more like media speculation than anything else.
The only other known relationship that Ed had, other than with his wife, was with ex-girlfriend, Ellie Goulding. Following his break-up from Nina, in 2013Ed formed a romantic association with the English singer, who became the subject of yet another hit song performed by Sheeran, entitled 'Don't'.
Most fans believe that their relationship ended because Ellie was unfaithful, cheating on Ed with One Direction member Niall Horan, and that Ed wrote the song as a vengeful gesture.
Sheeran and Goulding's relationship first came to light after they held hands at an awards ceremony, but kept things quiet until their dirty break-up. Now it is thought that Ellie's song, 'On My Mind' that appeared on her album the following year, is an attempt to get back at Sheeran for writing damning lyrics about her. However, Goulding has denied this claim, saying people can read into it whatever they want, but plenty of her ex-boyfriends had tattoos.
As of 2015, Ed secretly rekindled the passion with an old flame and childhood friend, Cherry Seaborn, who is the subject of his song 'Perfect'. What made it even more surprising was the fact that they married privately without letting the media know about it.
The couple officially married in February 2019, despite rumours suggesting that they secretly married in 2018.
The private ceremony only had forty attendees, including most of Ed's oldest friends and a few family members. Their engagement was announced on Instagram after Ed shared a photo of himself and Cherry, captioned with 'I got myself a fiancee'. What most would be wondering is who exactly Cherry is?
Cherry was an old school friend of Ed, who moved to America to attend varsity, and then started working there as a consultant. She is the reason Ed took a year-long break from touring and recording music, spending time on vacation with each other to form a lasting bond. After rekindling things with Ed, she moved back to England and now lives with him at their base in Framlingham. Apparently Ed couldn't be any happier, saying only the sweetest things about his wife, and the biggest news they have recently shared is that they are expecting their first child. The due date of the baby's arrival should be any day now, probably in September 2020.