Who has Grant Gustin dated? Girlfriend List, Dating History
• Grant Gustin is an actor known for his roles in "Glee" and "The Flash"
• He is rumored to have had several relationships, but his first public relationship was with Hannah Douglass
• He was also romantically linked to Danielle Panabaker, but they claimed to be just friends
• He is currently married to LA Thoma, with whom he exchanged vows in December 2018
• They are still very secretive about their relationship, but it is obvious that they are still going strong
Born Thomas Grant Gustin in Norfolk, Virginia USA on 14 January 1990 under the zodiac sign of Capricorn, the handsome actor came to prominence for starring in the role of Sebastian Smythe in the Fox musical comedy-drama series "Glee", and portraying superhero Barry Allen – a.k.a. The Flash – in the CW series "The Flash".
Ever since he made his first media appearance, there has been a lot of speculation about his love life, since unlike many other celebrity personalities, the young actor isn't very open about it. Nonetheless, we are sure that his good looking appearance, charming personality, and sense of humor has helped him to steal many women's hearts.
While LA Thoma is probably his most famous romance, she certainly isn't his only one. We did a little research about his dating history and have compiled a list of the beautiful girls The Flash had been romantically linked to, before he decided to settle down. So, just keep listening and all details will be revealed!
Grant Gustin's first public relationship was with Beyoncé's backup dancer and his "Glee" co-star Hannah Douglass. They met while they were filming the series, in which he landed the role of a gay student named Sebastian Smythe, while she featured as a Troublestone. In no time, the two became pretty close and started dating, however, the two of them never publicly confirmed that they became an item, in order to keep their love story far away from the eyes of the public.
Nonetheless, their fans noticed that something was going on between them, because they often mentioned each other in their posts on social media.
They were a great support to each other – following his announcement of the superhero series "The Flash" in 2013, Hannah supported him and tweeted, "you are so EPIC. I love you!!!!!!!!!", which was followed by another tweet in which she wrote that she was so proud and happy for him. Even though the two of them avoided mentioning each other in interviews, Grant eventually opened up a bit about it in his 2014 interview with Inquirer.net. He admitted that they were in a relationship "for a few years now," means that they became a couple in the early 2010s.
According to Bustle magazine, the last time Grant and Hannah were seen together in public was in July 2015, when they were photographed hand-in-hand when leaving a hotel during the Comic-Con in San Diego, California. The couple reportedly decided to part ways shortly after that, but the reason for their break-up hasn't been revealed. Whatever happened between them, they apparently remain on good terms!
Following his break-up from Hannah, Grant Gustin sparked dating rumors of having hooked-up with famous actress Danielle Panabaker, whom he met on the set of "The Flash". Their characters were romantically involved on screen, which caused a lot of speculations that the two of them became a couple in real life as well.
However, both of them claimed that they were nothing more than friends.
In her May 2015 interview with Glamour magazine, the attractive actress revealed more details about their friendship. She said, "I adore him. We have such a great relationship, and he has such a youthful spirit." She also added, "He's also extremely sensitive and sweet, and I appreciate that about him."
The rumors were soon shut down since Grant began dating LA Thoma, while Danielle entered into a relationship with Hayes Robbins – the handsome actor would later attend their wedding in July 2017.
The "Glee" star soon fell in love with former Division 1 soccer player and Doctor of Physical Therapy, Andrea 'LA' Thoma – they became romantically involved in a relationship in January 2016.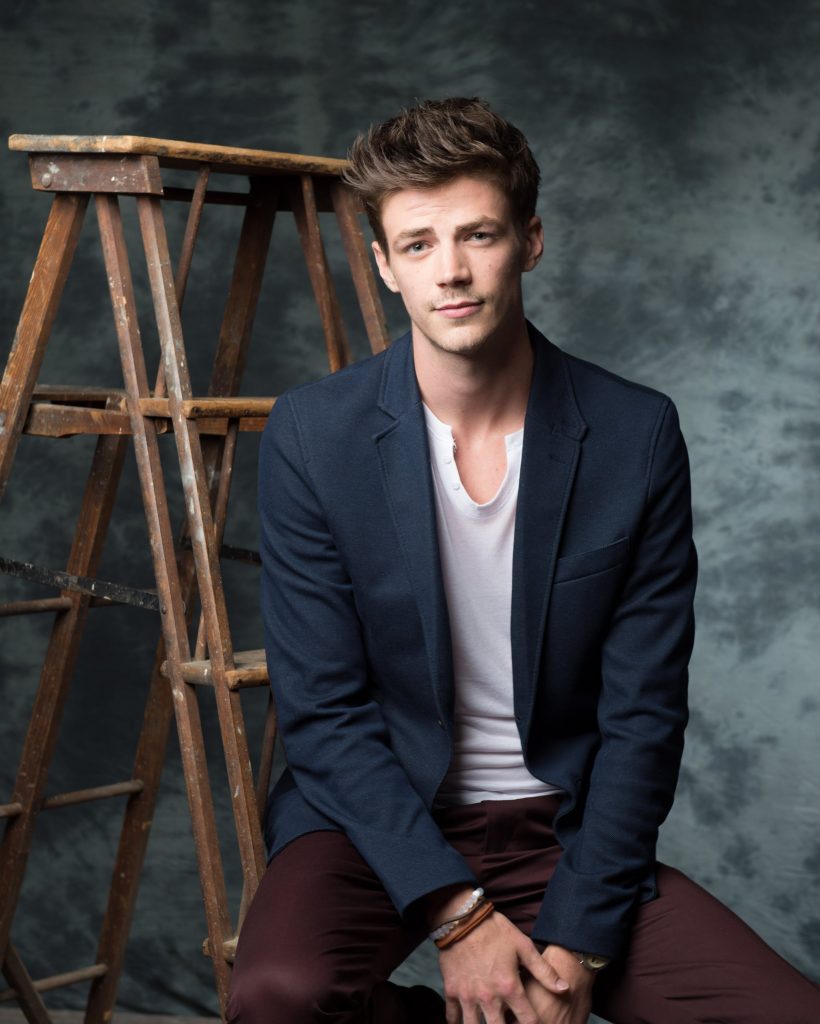 After dating for more than a year, Grant popped the question and they became engaged, which happened one day after the couple moved into their home in Venice, California. People magazine reported that "The Flash" star announced the news by posting a caption-less photo of them showing off her engagement ring on his official Instagram account on 30 April 2017. He would later reveal that he initially had a plan to propose to her in Costa Rica, where he was set to film a movie. However, the filming was postponed, and Grant decided to leave the project to get back working on "The Flash". So he came up with the idea to propose to her when they exercised on the beach one morning, but he almost messed up, as he explained in his interview with Conan O'Brien on his talk-show, saying "We worked out on the beach, I forgot that the engagement ring was in my backpack.
When we were sitting on the beach afterwards, I thought she saw it. It turns out she hadn't." Grant then added that when he finally popped the question, she thought it was a joke and started laughing. He told Conan, "It was obviously not a very good proposal. She laughed at first. But then she said yes."
The couple eventually took a step further and swore everlasting love to each other at two wedding ceremonies. Their first took place in the hometown of the bride's mother in Penampang, Sabah, Malaysia in December 2017. It was a traditional Kadazan ceremony, called Miohon Pinisiw. She would later share an Instagram video of the ceremony, and wrote in the caption that they respected her Kadazan tribal ancestors through it, and added, "I am so honored to share an incredible experience Grant and I had in our marriage journey."
She also wrote, "It was such a gift to be able to celebrate and connect to my mother's cultural heritage that welcomed Grant with open arms."
Following the ceremony, the news that the couple married in secret hit the headlines, but Grant denied it through an Instagram post, writing in the caption, "I did want to clear something up before the internet ran with it. It was incorrectly reported, without our permission, that LA and I had a private wedding while we were here, but that's not quite the truth. While we did have a beautiful, symbolic Kadazan ceremony to honor LA's ancestors, we still won't tie the knot until next year."
According to E! News magazine, they would later describe the event during their joint appearance on the "Anna Faris Is Unqualified" podcast. Andrea explained that the two of them "wore the traditional outfits, and had, like, a shaman and a medicine-man do all of the blessings." She said that they were "spiritually married", while Grant told Ana Faris, "We technically did, you know, a shaman did a ceremony in front of a group of people. Technically we are, like, pretty married. We just haven't signed a document yet.""
A year after their wedding ceremony in Malaysia, Grant and Andrea exchanged their wedding vows officially at a ceremony at Valentine DTLA in Los Angeles, California on 15 December 2018.
The actor's rep confirmed that they became officially man and wife to E! News magazine, saying that the newlyweds "were surrounded by their families and close friends, and it was a beautiful ceremony and an unforgettable day." The ceremony was attended by such actors as Adam Kaplan, Ben Ross, Chris Wood, Jared Loftin and Melissa Benoist, to name a few. Their guest list also featured fitness trainer Ryan Phillips and model Renée Mittelstaedt. The groom's father described the event as "memorable and beautiful."
The couple is still very secretive about their relationship, aside from the number of cute photos they frequently share on their social media accounts. It is obvious that they are still going strong. We can only wish them a life happily ever after!