Who has Henry Cavill dated? Henry Cavill's Dating History
Have you seen the currently popular fantasy TV series, "The Witcher"?  Well its main star and heartthrob, Henry Cavill, plays the rough and rugged character of Geralt of Riva, known as "The Witcher" – quite different from the clean cut super hero character of Superman he portrayed in "Man of Steel". Acting the super hero, Superman, was how he made his breakthrough to fame, and placed him firmly on the road to stardom.
Born Henry William Dalgliesh Cavill under the star sign of Taurus on 5th May 1983, on Jersey, in the UK's Channel Islands, Henry attended St. Michael's Preparatory School in his hometown. Then with the desire to spread his wings, he was accepted by Stowe traditional boarding school for boys in Buckinghamshire, England. He found the move stressful, and being the new boy in school, struggled to fit in, so repeatedly called his mother to fetch him.
He turned to gorging himself on fried chips and ketchup, and even though he loved sports and played rugby, hockey and cricket, he put on enough weight to be ridiculed as "Fatty Cavill". However, this didn't prevent him from acting on the school stage, and have no qualms about being there.
He subsequently made his professional debut in acting at the age of 17, in the 2001 movie "Laguna", and even though he originally had no intentions of becoming an actor, a year later he landed the lead role of Albert Mondego in the 2002 adaptation of "The Count of Monte Cristo". The condition to his getting the role was that he had to lose at least 22 lbs (10 kgs), so Henry started dieting and exercising, and succeeded.
Since then, this now 37-year old model, actor and producer has won the hearts of many women worldwide, through the roles he has played in many variesd award-winning movies and series.
Henry is 6ft 1in (185 cm) tall, weighs about 200 lbs or 90kgs, has dark brown hair and blue eyes. So with his athletic build, resonant voice, and good looks featuring a strong, manly jaw and prominent cheekbones, he's perfect for roles portraying the macho or hero archetype. He has also performed some of his stunts himself. No wonder he has dated a string of beautiful ladies, and no doubt bewitched some of them, but has he formed a long-lasting relationship with anyone? Let's have a look and see.
The furthest back we have been able to delve into Henry's romantic past is 2007, when he was 23. He had a brief encounter dating the blue-eyed Irish lass, Susie Redmond, who at the time was an on-set hairdresser for "The Tudors" cast members – in fact, she changes her own hair color frequently. She is also an aspiring actress, and she and Henry were seen together on 9th October of that year at the Savoy Cinema in Dublin for the premiere of "Stardust".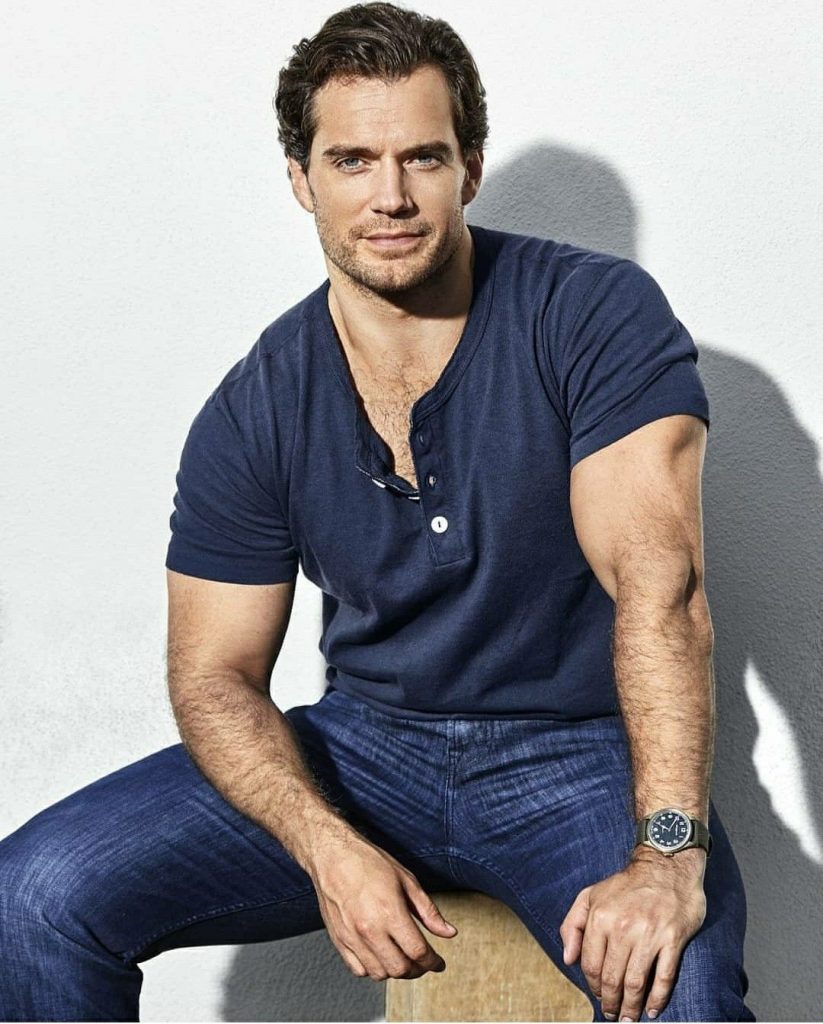 In 2009 at the age of 26, Henry had another brief liaison, with the then 19-year old British actress, Katie Hurst, a pretty, slim, blond, hazel-eyed Aquarian, whose father, Michael Hirst, is the screenwriter for "The Tudors". Henry and Katie were first known to have dated on 6th November 2009, when attending the after party for the BodyByrne gym launch, and "The Tudors" wrap-up party at Lillies Bordello in Dublin, Ireland. However, by the month's end, they had both cooled off, and their relationship came to a close.
In the following year came Henry's next and most committed relationship, with one of Britain's top show-jumpers – the attractive blond, Ellen Whitaker. Henry met her in December 2009 when she was competing at the Olympia International Horse Show in London. Ellen is three years younger than him, and Henry had to work hard to win her affection, as her heart had been broken after her recent break-up from a longterm relationship, so wasn't in a hurry to become involved again.
After a couple of months Henry's patience ran out, and he texted Ellen on Valentine's Day, which got them communicating via 'phone as he was in Canada filming "Immortals" at the time. Was it by chance that they connected again at a showjumping event in Dublin on the 5th August of that year? By that stage Henry had been working out, and was able to flaunt his muscles. This certainly seemed to do the trick, and obviously piqued Ellen's interest, as directly after the event they started dating. Henry's heart had been well and truly captured, and he did what a good gentleman would do by asking Ellen's father's permission before proposing to her in Hollywood on 5th May 2010 – his birthday. His gift was her answer, which was "Yes".
This was a monumental time in Henry's life, as he had just landed the role of the new "Superman", which propelled him into the limelight.
When they met, Ellen described him as initially having more of a Clark Kent-type impact on her rather than a Man of Steel. She claimed that Henry is driven, but in a nice, calm way. Sadly, for reasons unknown, they weren't going to dance together to the tune of their wedding bells ringing, as they separated a few months later in October 2011, without stating reasons, but possibly their differing careers and frequent separations played a big part. Ellen went on to hook up with horse-rider Antonio Marinas Soto in 2013, and gave birth to their son on 17th May 2014.
After the blonds in Henry's life, and almost a year later, the tall, dark-haired, strikingly beautiful and physically strong, mixed martial arts (MMA) champion fighter turned actress, Gina Carano, leapt into his life. Born in Texas, at 30 she was a year older than Henry.
Gina is known as: "The Face of Women's MMA" and a pioneer for women in the sport; her participation in the TV show, "American Gladiators", in which she went under the label of "Crush"; the movies "Haywire", "Fast and Furious 6", "Deadpool" among others saw Gina voted "Hottest Woman In America" in Big Biz Magazine's 2008 Spring issue.
Henry and Gina started going out in August 2012. They were seen everywhere together, and seemed inseparable, yet suddenly broke-up after a year. The reason in June 2013 was that Henry had been spending time with the "Big Bang Theory" actress Kaley Cuoco, and the two of them didn't bother to hide the fact, and were seen out and about publicly. They were represented by the same publicity firm, Viewpoint, and there were some rumors that it might have been a publicity stunt. Both had also just come out of very recent relationships.
Kaley admitted that after being in the business for 20 years, and never being followed around, her short fling with Henry boosted her self-esteem and public persona to a whole new level, as she definitely attracted a whole lot more attention. She went on to marry the tennis player, Ryan Sweeting in 2013, but their marriage only lasted until September 2015.
Then in October 2013, after that brief interlude, Henry and Gina Carana were seen having dinner with director Guy Ritchie in Rome. They had made up again, and moving forward, kept their relationship well out of the limelight, apart from sharing the news when they adopted a Big Bear Akita dog.
It's not known exactly when, but by December 2014 their relationship had fizzled out, and it was confirmed that they had had a final break-up, though the reasons why weren't revealed. Six months later, Gina was seen dating kickboxing champion, Kevin Ross. They had previously dated for four years, were apart for 10, and their reconnection was exactly 14 years to the date when they had first met.
When interviewed, Henry has always been quite open about the fact that he wants to settle down with a wife, and have children and a family. He has four brothers who are all married, so when he and Gina split up, his hopes were dashed and he was heartbroken. According to his friends and family, his behavior took a turn for the worse, and became extremely out of character, partying hard and going a bit crazy. Then almost immediately, in November 2014, when Henry had finished shooting "Batman v Superman", the news broke that he was dating the American bodybuilder and sweet-faced, but perhaps not so sweet, Marisa Gonzalo.
Perhaps Henry had acquired a taste for strong women? He and Marisa met at the Maven Crossfit Gym, and apparently dated for just a few months until February 2015. Henry's fans strongly objected to the relationship, calling the 21-year old Marisa an "animal killer", as she would boast on social media about the animals she had slaughtered.
WATCH: Henry Cavill tells you all about #EnolaHolmes in his new post! https://t.co/16cM33tjGn pic.twitter.com/UlG46CrAgH

— Henry Cavill News (@HenryCavillNews) September 15, 2020
It was rather strange that Henry was at all taken by her, as he is a professed animal lover, and is the Race Ambassador for the Durrell Challenge in his hometown in Jersey, where the Durrell Wildlife Conservation Trust raises funds for animal protection and environmental initiatives.
Henry's fans also claimed that Marisa was hooking onto Henry for the sake of fame, and when Henry and Marisa went on vacation with his trainer and trainer's wife, photos were leaked online, which could only have been a devious deed performed by none other than Marisa. That was the final straw for Henry, and when he dumped her, Marisa probably felt quite chagrined, and withdrew from social media for some time.
By this stage Henry was 32, but that didn't stop an 18-year old, attractive blond-dyed, blue-eyed student entering his life, on the night of 17th August 2015 at the Mahiki Nightclub in London.
Henry and Tara King were first seen out in public together and photographed in October at Twickenham Stadium, where they watched the Rugby World Cup. Tara was studying at the University of Bristol, England, and it's said that she was looking to marry an Arab man. It was even claimed that she had acquired a set of false boobs to enhance her attractiveness. Well their relationship survived for just over nine months, as they had broken-up by May 2016. By all accounts, to date it would appear that Tara is still single and searching for that Arabian husband.
In 2017 and now aged 34, Henry was working on the movie "Mission Impossible: Fallout", when Lucy Cork, a 25 year-old British stuntwoman dropped into his world. It became obvious to all on set that the couple had grown intimate, and they went public at the Wimbledon tennis final in July.  Lucy is an athletically-built, green-eyed brunette who practices martial arts. She had also been a professional, competitive pole dancer, so yet another power woman in Henry's life.
She's performed stunts in many major feature films, among which are "Assassin's Creed", "Inferno" and "The Mummy".
Henry wasn't too shy to publicly admit that he was besotted with Lucy, and complimented her fighting skills. He posted a video of her training with her boxing coach on his Instagram account, admiringly showing-off her strength and expertise. Yet the couple split up on 3rd February 2018 – so what went wrong? Neither Henry nor Lucy are saying. Could Henry's flirtation on Instagram with Demi Lovato, the American singer/actress, where she shared a sexy pic of herself in lingerie have anything to do with Lucy and Henry's demise?
Now that we've sifted through Henry's past, and have learnt about his string of affairs, loving or not, Henry has kept the reasons why they didn't work out a secret, so we're none the wiser on that score. For all Henry's macho looks and roles, he seems quite soft-hearted, and quickly and easily falls in love, but apparently only to be hurt time and again.
When our hero posted the video clip of Lucy Cork sparring, he also posted an emotional, heartfelt and quite profound message about life, being hurt, making mistakes and to not let it prevent one from having new experiences, a part of which states: 'Move forward and love the experiences you have, use them to define you and make you the best version of yourself that is humanely possible. Your life is yours and will be whatever you want it to be."
During this strange lockdown time in 2020, everything that Henry's posted on Instagram demonstrates that he has been quite alone, save for his constant companion and best friend, his huge shaggy dog, Kal. So yes, Henry is still single and eligible! He has been gaming, enjoying some hobbies and even cooking very delicious-looking meals –plus a cake he baked and iced, which he tagged 'Icing-olation'. That makes him even more eligible, and we're sure any woman would be happy to have Superman in an apron in her kitchen.
Well on Henry's behalf, we can hope that his life will be what he wants it to be, that he will find his Superwoman and bewitch her sooner rather than later.