Who has Isabela Moner dated? Isabela Moner's Dating History
• 19 year old Peruvian-American actress and singer, Isabela Moner, is busy pursuing her career instead of looking for love
• She previously had a high-profile relationship with fellow Nickelodeon actor Jace Norman
• In 2014, Isabela was rumoured to be dating Seth Isaac Johnson, her co-star in 'Splitting Adam'
• In 2015, rumours suggested that she was dating another Nickelodeon co-star Owen Joyner
• In 2017, she was rumored to be with Dylan Summerall, but never confirmed a relationship
Peruvian-American actress and singer, Isabela Moner, may be young but that hasn't stopped the Nickelodeon star from chasing her dreams and following her passions. Neither has she allowed her age to define her romantic conquests. However, being only 19, she has not been as active in the field of romance as other teenage stars such as Taylor Swift, and seems far more careful when it comes to choosing her male friends.
Of course, this might only be because of her busy schedule. She has starred in several films as of late, including the live-action portrayal of Dora in 'Dora and The Lost City of Gold', and playing the role of a drug cartel kingpin's daughter in 'Sicario: Day of Soldado', as well as recording singles plus music for her debut album.
To date, Isabela has had only one public high-profile relationship, with fellow Nickelodeon actor Jace Norman, and what an adorable couple they were. The question that most people are asking now though is who she might date next, but according to the most reputable sources, Isabela is focusing more on her career as a starlet than searching for love.
However, rumours have been spread, and there is a possibility that she may only be keeping quiet about her most recent love interest. There have also been numerous rumours that the young 'Transformers: The Last Knight' actress had dated a couple of other Nickelodeon co-stars when she was younger, but these have never been confirmed, nonetheless, it may be worth reflecting on all her possible past relationships.
In 2014, it was believed that Isabela was dating Seth Isaac Johnson, her co-star in 'Splitting Adam', but since both of them were relatively young, it could have been considered more of a friendship, or at the most puppy love. Nonetheless, the two were seen regularly in shared photographs and looked incredibly adorable. Most claims would only agree that the two were friends and pretty close, possibly only because they have their birthdays on the same day, 10 July. As many would agree, both are incredibly talented actors and if there ever was the possibility that romantic progression could have been, they would likely have made a marvellous power couple.
Rumours suggested that the couple could have been dating from November 2014 to February 2015. Most of these rumours could possibly have been sparked by how comfortable both seemed to be with each other in all the photographs they appeared in.
Nothing was ever confirmed and most of their fans are still wondering – did they or didn't they? Suppose that we would never know the answer unless by some quirk of fate the two would get together again and explore the chemistry witnessed before, but for now, it is assumed that they are only friends.
Following several pictures posted on social media by the two Nickelodeon actors, people began suggesting that Isabela and Owen Joyner might have taken their on-screen chemistry a step further in real life.
Despite that it was never confirmed, and though the stars from '100 Things To Do Before High School' were still young, the picture revealed a different story. Much like the photos taken of her and Isaac, these also seemed to suggest that the two were on more friendly terms than either casual friends and colleagues would be.
Most of these pictures were while sharing the screen, while some in which they appeared very cosy, were during the time it was rumoured that something more was brewing behind the scenes. Rumours suggested that they had been dating for a month from December 2015 to January 2016, but nothing was made official, and it wouldn't be until April later that year that Isabela confirmed her first  romance.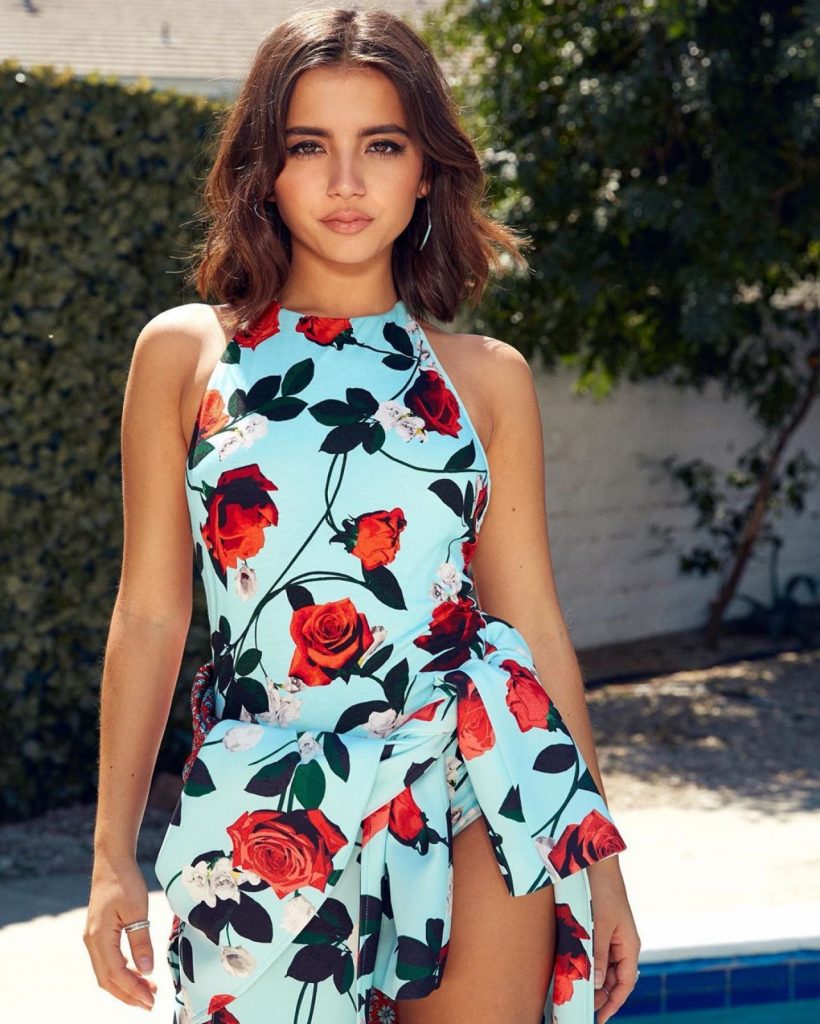 For some time in 2016, Isabela and Jace Norman were the centre of attention due to their romantic involvement that simply captivated everybody. Apart from sharing plenty of make-out pics on social media, they were also considered among the most adorable young love couples walking the orange carpet, so much so that they were dubbed as Jacebela.
The pair began dating in April 2016, and among the many sweet memories shared by the couple, the most memorable was likely how Jace made Isabela's 15th birthday one of the most special occasions of her life so far. Not only did the young gentleman become the first boy to present her with flowers, but he also hired a boat and took her out for a romantic voyage on the coast off Vancouver for the day.
Some might say it is the simple things that count the most, and that it's absolutely the thought that counts, and if that is the case, Jace certainly made her feel special.
After all, she did post later on Instagram that he was her favourite person in the world, likely for good reason.
During their relationship, the couple made several public appearances and were never shy of expressing their affection. Some of these outings that had the public fascinated included trips to the beach, set visits that were shared on Instagram, and many other activities. Sadly though, in November, after dating for more than six months, it was announced that their relationship was no longer of a romantic nature.
News of their separation left their fans heartbroken, but at the very least it was agreed that the relationship ended amicably, and that they would continue to be friends. Considering that they were only teenagers, the experience would at least have provided them with fond memories, even though the rest of the world would have loved to see these high school sweethearts progress their relationship well into later life.
In 2017, rumours were sparked that Isabela had moved on from breaking-up with her ex-boyfriend by a picture she posted on Instagram.
While on a night out with Dylan Summerall, she snuggled up with the actor for a quick pic, and later shared the photo on social media with the caption commenting on their different choices of wear. She wore a 1D t-shirt, and Dylan sported a Thrasher hoodie. In the caption, she expressed her support for One Direction, and in response, Dylan shared the same picture but supported Thrasher. People gushed about their little dispute, especially after Isabela commented that she adored Dylan, despite his poor choices and goofy behaviour.
Unfortunately, despite the many rumours and suggestions, the couple never confirmed a relationship or progressed any further. Dylan has since become involved with someone else, while according to most reports, Isabela remains single for the time being.