Who has Jaden Smith dated? Jaden Smith's Dating History
Born on 8 July 1998, in Malibu, California USA, Jaden Christopher Syre Smith is not another 'celebrity scion' using the benefits of being born to famous parents, actor Will Smith and actress, screenwriter and businesswoman Jada Pinkett Smith. Due to Jaden's desire to pursue his acting career, Will and Jada Smith decided to found their own school, the New Village Leadership Academy, which followed Scientology teaching methods, where Jaden could attend classes considering his tight filming schedule.
Jaden is only 22 years young, but he has already managed to prove his multiple talents, a brave heart and gentle soul: from successful movies since age six, studio albums which hit Billboard, and free vegan dinners for homeless – Jaden has become a highly desirable life partner for many females out there. Let's see who's tested their luck to become Will Smith's future daughter-in-law.
Jaden and Madison Pettis had a lot in common from the very beginning. They were both born to acting parents; they both started acting early; they both proved they were worth working with, making the projects they participated in very successful. Jaden debuted as an actor in 2006, when he landed the role of Christopher Gardner, the son of Chris Gardner played by Will Smith. He won the MTV Movie Awards for Breakthrough Performance in 2007 for that work.
Jaden met Madison Pettis after her breakthrough performance opposite Dwayne "the Rock" Johnson in "The Game Plan" in 2007, after which she appeared in Will Smith's movie "Seven Pounds". Madison and Jaden were close friends for several years, even appearing together at various red carpet events, such as "Hannah Montana: The Movie" premiere in April 2009, and then started dating, if that's the right word when both were just 11 years old. Some sources state they dated from May 2010 to August 2011.
They could be seen together in the video from Madison's 13th birthday party. The two seemed to enjoy all the entertainments of the celebration – they danced to the DJ's set, and took photos in the special photo spot which looked like a huge photo booth.
During the period of their dating, Madison landed the role of Willamina in "The Search for Santa Paws" and the voice-over role of Lala in "Beverly Hills Chihuahua 2", also appearing in an episode of the "R.L. Stine's The Haunting Hour" series. Jaden starred as Dre Parker in "The Karate Kid", which gave him worldwide recognition, also appearing in Justin Bieber's "Never Say Never" 3D concert film. In August 2011 Madison and Jaden broke up, as he started dating Stella Hudgens who he ironically met at Madison's birthday party on 22 July 2011.
For sure, Madison Pettis would never have invited Stella Hudgens to her birthday party if she knew Stella would steal her boyfriend, however, it is history now.
Jaden met Vanessa Hudgens' younger sister on 22 July 2011, and he and Stella officially started dating in August 2011. Stella had already debuted as an actress, following the example of her older sister Vanessa, who started her acting career the same year. Stella landed her first role of Young Dora in the "American Family" series in 2002; she also played Annie in "According to Jim" in 2004, and Amanda in "The Memory Thief" in 2007. During their relationship, Jaden was busy recording his debut music album "The Cool Cafe: Cool Tape Vol. 1". Along with Stella, his sister Willow and some other friends, Jaden created MSFTS, a brand of apparel, who were also positioned as a 'collective of individuals dedicated to raising the consciousness of humanity through art and science', as the official website of the brand says.
They were spotted together at Justin Bieber's 18th birthday party on 1 March 2012; in the photo  taken at the event, Stella sat on Jaden's lap, hugging him, but they would soon break up for a couple of weeks, and then reunite for a few more months, eventually breaking up in August 2012.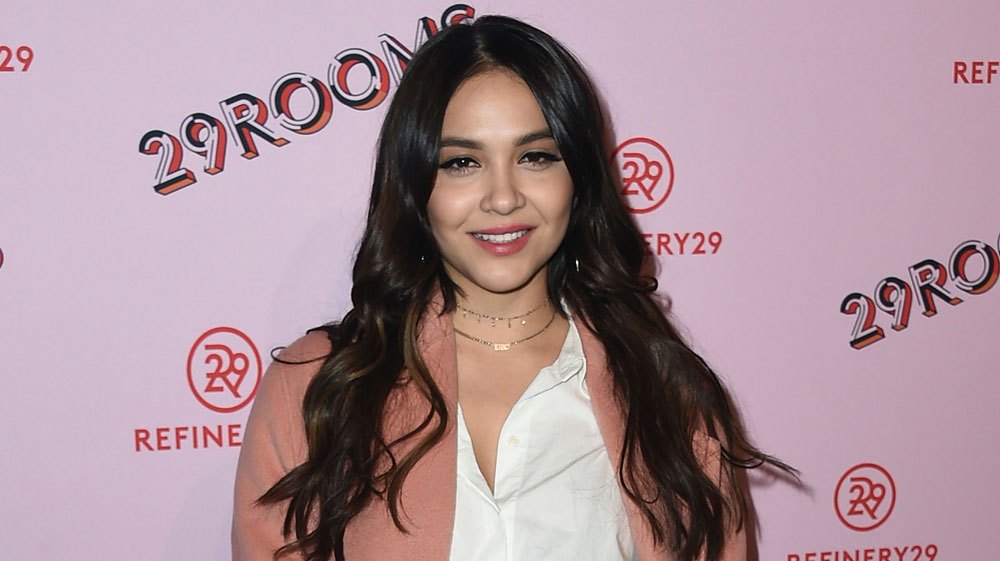 Soon after their split, Jaden posted a song named "Starry Room" on his YouTube channel; the lyrics of the song stated how hurt he was after the end of his relationship with Stella: 'And I feel helpless if that's true / Because you know that I'm really so very lonely / When your gone, and we were chillin' until we / Broke Up', Jaden raps over a piano version of the "Marvin's Room" main theme.
Stella was said to be a big part of MSFTS, but dropped out of it to stay away from Jaden, to avoid any chance of another make-up with him again, not to repeat the story of their on again off again relationship. Jaden suffered from depression until the beginning of 2013, as the separation hurt him a lot; some of his fans are sure he lost his virginity with Stella (the lyrics of his first album have a lot about his first sexual experience), so their break up caused a lot of pain for Jaden, as he couldn't let her go for some time.
After her split from Jaden, Stella continued working as an actress, model and social media influencer.
She has recently tried herself as a Twitch streamer, playing Fortnite, but turned out to lack gaming skills to attract a wide audience to her streams.
From November 2012 to January 2013 Jaden had a brief fling with Sofia Richie, as if trying to lick the wounds he had from his relationship with Stella Hudgens. Sofia is the youngest daughter of Diane Alexander and Lionel Richie, and also an adoptive sister to Nicole Richie, a popular Hollywood actress and fashion designer. Jaden started dating Michael Jackson's god-daughter right at the time of her first modelling success – Sofia was featured in Teen Vogue in November 2012, when she was only 14 years old, and the following year signed a contract with Mary Grace Swim.
Sofia has been good friends with Willow Smith, Jaden's sister, so they probably knew each other for some time, but nevertheless, their affair lasted for only three months.
The only photo of them hugging appeared online in January 2013, but the couple soon broke up. Some of Jaden's fans still think he couldn't make 'another Stella' out of Sofia, and she failed to replace her in Jaden's life. Others think Jaden was carried away by Kylie Jenner, and consider her the main reason for his break up from Sofia. Still, it's known that Jaden and Sofia remain friends, as they were spotted posing for photographers at Met Gala in 2017.
As if recovering from his relationships with Stella and Sofia, Jaden focused on his acting career, starring in "After Earth" opposite his celebrity father. In March 2013, rumors grew of his fling with Kylie Jenner, a star of "Keeping Up with the Kardashians" TV show. They were spotted walking together in the streets, and then were caught kissing at the wedding of Kim Kardashian and Kanye West. A bit later the couple announced that they had been dating since February. During her relationship with Jaden, Kylie founded the Kylie Cosmetics company, which was originally entitled "Kylie Lip Kits" and later renamed.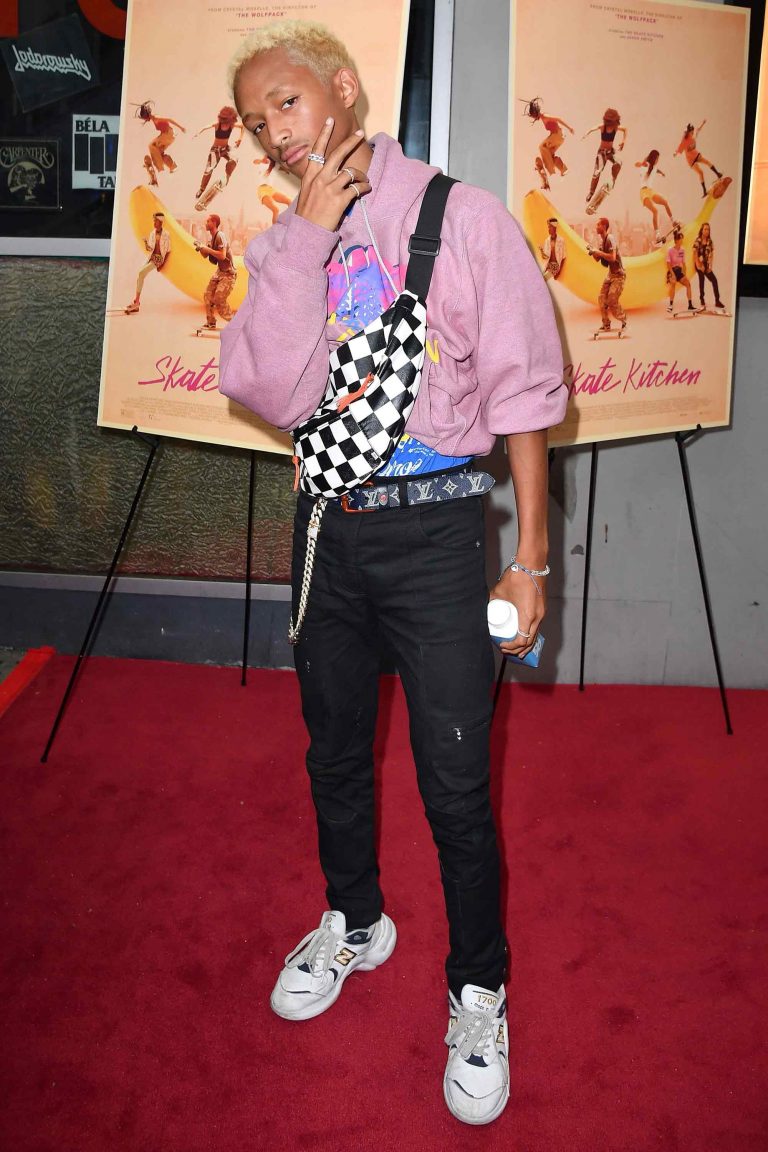 The couple didn't give many details of their affair, so it's hard to say exactly how it went.
The year of 2013 became a game changer for Jaden, as he dropped out of school – the one founded by his parents – but continued through home-schooling It was then that he posted his controversial tweets, calling schools 'the tool to brainwash the youth'. He also suggested that everybody drop out of school as it didn't do children any good: 'If Everybody In The World Dropped Out Of School We Would Have A Much More Intelligent Society', Jaden wrote on his Tweeter. Some people blamed him for Scientology 's popularization, while his father was also rumored to be a scientologist – Will Smith denied the rumors, yet supported some of the ideas of the Church of Scientology. Kylie supported Jaden as much as she could, as they could spend more time together since Jaden didn't have to go for classes anymore.
However, Kylie and Jaden broke up in March 2014, although remaining friends, and even wrote 'they would always have love for each other', so it's hard to say if they really separated that month. Kylie also appeared in Jaden's music video "Blue Ocean", portraying his ex-love-interest. They were then seen together at various parties and celebrations; in 2019, when Kylie separated from her baby's father, Travis Scott, some of her fans decided she was going back to Jaden. Nevertheless, as of 2020, neither Jaden nor Kylie confirmed that they started dating again.
When both Jaden Smith and Amandla Stenberg were 15 years old, they dated for almost a year. Amandla started her acting career when she was 12 years old, landing the role of Zoe Saldana's character's younger version in "Colombiana". Little is known about where and how Jaden and Amandla first met, but they supposedly knew each other after Amandla landed the role of Rue in "The Hunger Games" in 2012.
Jaden and Amandla started dating in the middle of 2014, and Jaden even attended Amandla's prom, also wearing a dress that matched Amandla's outfit, later writing  that he didn't care much of what people may think or say about him dressing up as a girl.
Jaden and Amandla broke up in 2015, but the controversy over the couple resurfaced in 2018, when Amandla stated that she was a gay. Jaden's fans were asking if they really dated or were 'just friends', while Amandla stated that earlier she thought she was a pansexual, not caring much about the gender of her partner. However, in June 2018 she shared in her interview with Wonderland that she was lesbian: 'My sexuality is not a byproduct of my past experiences with men, who I have loved, but rather a part of myself I was born with and love deeply', she said.
Jaden started dating Sarah Snyder in August 2015, just a couple of months after the actress and model, who is two years older than Jaden, allegedly stole a Hermès purse which cost almost $16,000. Her mugshot appeared online after reporters dug deeper into her biography after hearing the news on her affair with a Hollywood celebrity's son. In September 2015 they attended the New York Fashion Week together, and then Summerstage the same month. Jaden's ex-girlfriend-now-best-friend Kylie Jenner 'warned' him about Sarah, as she didn't want her to break Jaden's heart.
However, Jaden didn't listen to anybody – on the contrary, he apparently felt so much more passion for Sarah than he had ever felt before with any girl, including Kylie. 'In fact, Jaden loves her more because she isn't some goody two-shoes girl. He's obsessed with her. He likes that she has an edge', said a source close to the couple, while chatting with Hollywood Life Magazine.
Despite their mutual feelings, Jaden and Sarah broke up in January 2017. Even though Sarah was rumored to have had a fling with the photographer named Gunner earlier in 2016, the reason for her split from Jaden was his infidelity. The break-up made Jaden's mother, Jada Pinkett Smith very happy, as she didn't like the idea of her son's dating of Sarah from the very beginning; Jada knew Sarah dated other guys from her son's company before she moved on to Jaden, and that made her nervous – she was not keen on having Snyder at her house.
Moving along, from 2017 to 2019 Jaden dated aspiring actress Odessa Adlon, who is now mostly famous under her new professional name Odessa A'zion. Odessa is the daughter of writer and producer Felix O. Adlon, and actress, writer and producer Pamela Adlon, the creator of "Better Things". After his successful recurring role of Marcus 'Dizzee' Kipling in "The Get Down", Jaden could again focus on his personal life.
He started dating Odessa after they met at Coachella in 2017, and were soon spotted kissing on a Miami beach. However, their relationship didn't last that long, as in April 2019 Jaden was seen kissing a girl who certainly wasn't Odessa. It apparently meant nothing, but caused his separation from the young actress, who is now working on such movies as "Hell House" and "Pools". Even though the video of Smith and his new mystery lady was posted more than a year ago, it looks like nothing serious grew between him and her, as no news on a following romance ever occurred.
In November 2018 Jaden became the object of multiple tabloid headlines, after his statement that he was gay. He claimed that Tyler The Creator, his fellow musician, was not only his long-term friend, but in fact a boyfriend: 'And I want to tell you guys something. Tyler doesn't want to say, but Tyler's my mother f—ing boyfriend and he's been my mother f—ing boyfriend my whole f—ing life.
Tyler the Creator is my f—ing boyfriend. It's true', Jaden said from the stage of the Camp Flog Gnaw festival, held in Los Angeles. When the cameras captured Tyler, he was shaking his head as if saying 'No' and laughing as if it was a joke, but the tabloids had more than enough to inflate it into a big story. The fact that Tyler is gay indeed made the whole story look very real, however, it all calmed down a few weeks later.
The rumors of Jaden and Tyler's relationship appeared again after Tyler won a Grammy in 2020. Jaden wrote on his Twitter: 'My Boyfriend Just Won A Grammy', causing a new wave of speculation. Even though Jaden is consistent in his claims of being Tyler's partner, the whole story still doesn't look plausible, as Tyler wouldn't be ashamed to confirm his feelings to Jaden if they were truly romantic. It still looks like they are just friends.
Meantime, stand by for the next chapter in Jaden Smith's love life, or at least dating adventures.