Who has January Jones dated? Boyfriends List, Dating History
Born January Kristen Jones in Sioux Falls, South Dakota, USA, on 5 January 1978 under the zodiac sign of Capricorn, she came to prominence for starring in the role of Betty Draper in the period drama series "Mad Men", broadcast from 2007 to 2015 on AMC, which earned her two Golden Globes and a Primetime Emmy Award. Apart from her career as a successful actress, January Jones is also known for being a model – she's modeled for such brands as Clearasil, Versace, and Abercrombie & Fitch, and graced the cover of such magazines as Allure, Harper's Bazaar, and Cosmopolitan to name a few.
January's attractive appearance couldn't go unnoticed, which has resulted in her rich dating history.
It's known that the beautiful actress has been romantically linked to many names through the years, and we've compiled for you a complete list of her relationships, rumored or not. So, let's take a closer look at her love life. We may discover something interesting!
January's first high-profile relationship was with renowned Hollywood actor and "That '70s Show" star Ashton Kutcher. The public isn't aware of how and when the two met each other, but it is known that they became romantically involved in a relationship in the late 1990s, at the time when she was best recognized as a fashion model.
They made a number of red carpet appearances while they were together, and in May 2000, People magazine reported that the two had moved in together in Los Angeles. Unfortunately, they called it quits in 2001, after dating for more than two years, with their break-up sparking a lot of speculation about the cause.
In October 2009, January opened up about their relationship in her interview with GQ magazine. She described him as "the guy I was dating when I first got to LA," and then revealed that he "was not supportive" of her acting career. She explained, "He was like, I don't think you're going to be good at this. So — f—k you! He only has nice things to say now — if anything, I should thank him. Because the minute you tell me I can't do something, that's when I'm most motivated." Although she didn't name him, it was clear that "the guy" was Ashton.
According to Radar Online magazine, Ashton Kutcher's ex-wife Demi Moore, revealed in her memoir entitled "Inside Out" and published in 2019, that he "was convinced" that January Jones and Moore's ex-husband Bruce Willis had an affair back in 2000.
Demi Moore also claimed that she ran into January  and asked her about that, to which she replied, "Are you serious? I told him a hundred times, I didn't want to f—k that old man!"
Shortly after her break-up from Ashton Kutcher, January Jones reportedly went on to date her "Taboo" co-star Nick Stahl. The two started their romance in late 2001, while they made a red carpet appearance arm-in-arm at the Sundance Film Festival in January 2002, but shortly afterwards, the couple ended their romance.
In 2002, January Jones began dating famous comedian and actor Jim Carrey, however, their association didn't last long since things between them went sour after Jim found out that January was dating oil heir Brandon Davis at the same time; then, her romance with the handsome heir was also very short-lived.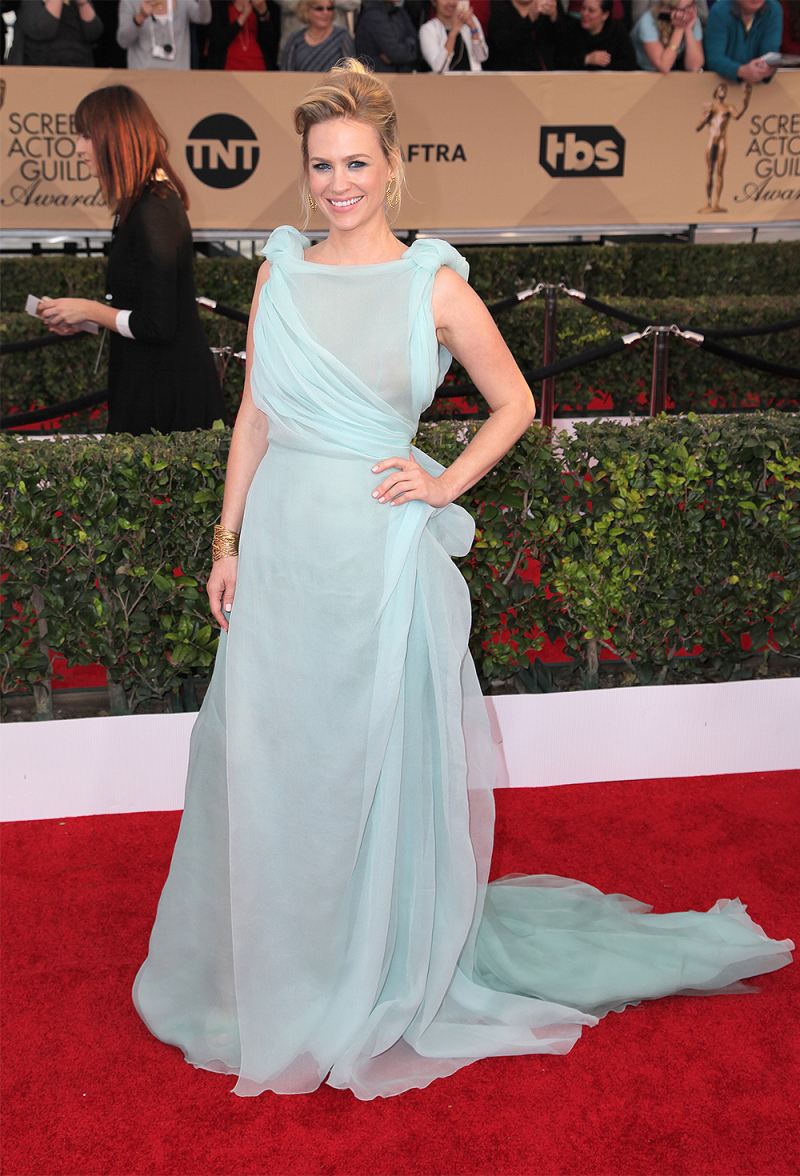 Thereafter, in 2003 she fell in love with the "American Pie" star Seann William Scott. The two met on the set of its third installment, entitled "American Wedding". Again, the pair called it quits a short time later, and January Jones was soon spotted with another man.
January seemingly totally charmed American singer-songwriter Josh Groban, and they started dating in August 2003, and stayed together for three years before they parted ways in June 2006. After their split was announced, many people were interested to know the reason why – Josh's rep, Liz Rosenberg told People magazine that they were "taking a break" from each other, and that "they remain friends."
Josh would later recall the time they were together in his February 2013 interview with Details magazine. He said, "We dated for about two and a half years, and we were madly in love. It was definitely my longest relationship." Maybe his idea of 'madly in love' is different from hers?
Following her split from Josh Groban, the attractive model-turned-actress became romantically involved with film producer and Los Angeles club promoter Tommy Alastra, sometime in 2008. Their romance was pretty serious since they moved in together, but still they split after dating for about a year, hopefully remaining on good terms, but neither has commented.
Jeremy Piven
In January 2010, the "Mad Men" alum sparked rumors to have hooked-up with "Entourage" star Jeremy Piven, after the two were spotted getting cozy at a Golden Globe Awards party, and even left the party together arm-in-arm. The couple was spotted several more times during that month.
However, Jeremy Piven tried to shut down those rumors during his appearance at the Rimowa store opening, when he told E! News magazine, "She's a friend of mine," and then added, "She's very sweet and we are friends." We are reasonably sure that no one believed that!
Happy Birthday Jeremy Piven! The actor, best known for his role as Ari Gold in the hit TV series Entourage, is celebrating his 51st birthday today!

Posted by Fame10 on Tuesday, July 26, 2016
After Piven, January was linked to celebrity chef Bobby Flay in June 2010, at the time he was still married to actress Stephanie March. The rumors started flying around when she called him to the scene after she was involved in a car crash that month. According to TMZ magazine, Bobby claimed that "he had only met Jones once before" and that she asked for his number the previous night "because she wanted to redo her kitchen and give his number to her designer." He also added that he didn't know "why she chose to call him after the crash." Earlier that year, Flay's wife had filed for divorce citing his infidelity, having reportedly cheated on her with three women, including January Jones.
Although they didn't confirm their affair, a source revealed to In Touch Weekly magazine that Stephanie March claimed "in court papers that Bobby committed adultery with January several times during the early months of 2010, and that they "had sex many times and in different places, including the London hotel in Los Angeles."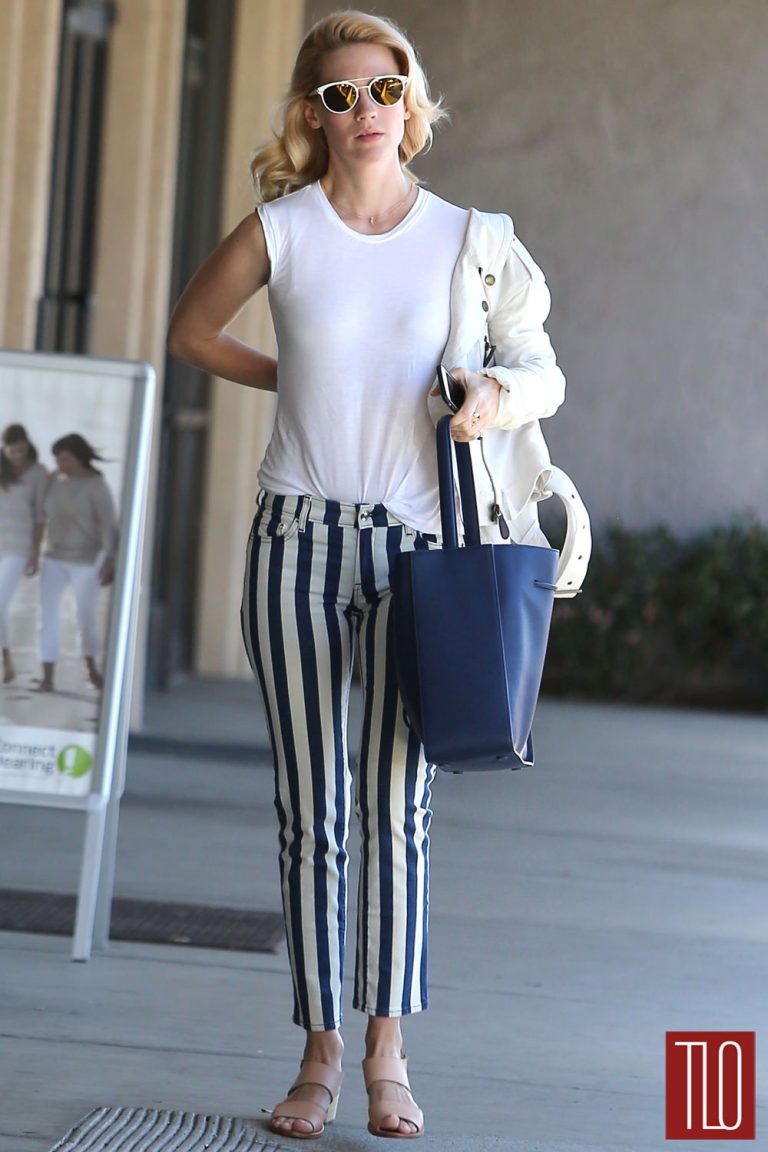 The source also added that Flay tried to deny it, but there was "communication between them that indicates they were more than acquaintances."
Busy lady that she was, in May 2010, January Jones was spotted with the Academy Award-winning actor Adrien Brody at a Memorial Day party in Malibu, California, having previously been seen having a romantic dinner in New York's Rose bar. According to Daily Mail magazine, a source said that they "were flirting with each other. They held hands in full view of everyone." However, in his interview with Hollyscoop magazine in the same month, the handsome actor denied that they were an item, and described her as "just a friend of mine".
Moving right along, in July the same year, the beautiful actress started dating with comedian Jason Sudeikis. They were spotted together at the 2010 ESPY Awards held at Nokia Theatre in Los Angeles, California that month, which immediately sparked rumors of romance.
Moreover, a partygoer told Just Jared magazine that the two "were making out the entire time in front of friends," and then added, "They seemed really happy and comfortable with each other." Although the two never publicly confirmed their romance, it was clear that they were 'an item'.
However, after dating for six months, the couple ended their relationship in January 2011. A source confirmed their split to People magazine, saying, "They've been on and off for a few months, and then the long distance kind of ended it," although adding, "But they could get back together. It was just hard to stay together with the distance."
This rather hectic period in her love-life culminated in April that year, when January Jones hit the headlines by announcing her pregnancy, but not the identity of the child's father. Her rep told People magazine, "January Jones is happy to announce that she is expecting her first child this fall," and added, "She's really looking forward to this new chapter in her life as a single mom."
On 13 September she gave birth to her son, named Xander Dane Jones.
Although many speculated that Jason Sudeikis is the father of her son, he denied it, so the identity of the father remains a mystery. January said in her 2013 interview with The Edit magazine, "It's just not something the public needs to know. I don't divulge my sexual preferences. There are parts of your life — no matter what your job — that should remain private."
After being unattached for some time and raising her child on her own, she was again spotted with a man. In August 2012, it was reported that January Jones started dating "Sweetwater" director Noah Miller, after the two were spotted and photographed holding hands during their stroll in Santa Monica, California. They met on the set of "Sweetwater" and became pretty close to each other.
Who allowed you to be this beautiful? #JanuaryJones pic.twitter.com/jYEoqK7W64

— mad men pics (@madmenpics) February 26, 2020
However, they didn't last long, reportedly breaking-up in January 2013. According to US Weekly magazine, a source close to them said, "They were completely fine in each other's company, so it didn't seem like it was an ugly breakup at all." So it sounds like the former lovers remained on good terms.
Not long afterwards, and dare we say 'true to form', January Jones reportedly had an affair with "Hunger Games" star Liam Hemsworth. They sparked rumors after being spotted getting "hot and heavy" at a Grey Goose pre-Oscar party at the Chateau Marmont in Hollywood, in February 2013, at the time when he was engaged to famous American singer Miley Cirus. According to Star magazine, an eyewitness said, "It looked like they had some hot chemistry," and added, "They were all over each other – and they even kissed!"
Moreover, another partygoer told Life & Style magazine that the two "went to a private house party, and right in the middle of the party, January was clinging to Liam, saying, 'You're so handsome.' He kept saying, 'We can't do this here.' Then they left holding hands and went out in the hallway and were making out." Another source said, "When it comes to men, January just goes for it," and added, "She doesn't seem to care if they're with someone or not. It's like a challenge for her, a game."
Following that night, it was reported that Liam continued to send January text messages over the summer that year. However, his reps denied it, and told E! News magazine that "the story of Liam Hemsworth and January Jones is entirely fabricated", adding, "There's no truth whatsoever to this tabloid fiction." Later that year, Liam and Miley broke up, although January's rep told the magazine that she "has nothing to do" with that. Have we heard that somewhere before?
In April 2015, the attractive actress totally charmed her "The Last Man on Earth" co-star Will Forte, and the two started a romance. According to US Weekly magazine, a source revealed that Forte is "a good guy" and added that the pair was "having fun." Perhaps unsurprisingly, their love story was short-lived, since they went their separate ways five months later. A source confirmed their split to the magazine, and revealed that January told her friends that "relationships are a pain in the ass."
In November 2017, January Jones sparked rumors that she'd become romantically involved with former "Bachelor" star Nick Viall. In January of the following year, a source close to them confirmed their romance to Page Six magazine, and revealed that the two "have been dating for about two months."
The source also said, "She went on 'The Late Show' in ­mid-November, and said Nick had reached out to her and tried to get her to lip-sync battle with him. She declined, but then he asked her out to a drink and she accepted. They've been seeing each other since."
She tried to dismiss those rumors during the following month, and told Entertainment Tonight magazine, "He's a friend of mine. He's super sweet." and continued, "No, I'm single, but he's a friend of mine and tells me lots of inside scoops." He also insisted that they were nothing more than friends.
Nonetheless, she eventually confirmed their brief romance. During her appearance on Dax Shepard's "Armchair Expert" podcast in January 2020, she said that she wasn't initially attracted to him, and then added, "Nick slid into my DMs, and he's like, 'I'm so sorry that your perception of me is so negative, I'd love to take you out to coffee and see if I can change your mind,' and I squealed."
She continued, "I was like, 'I hate that guy!' But my sister's like, 'if you don't go, you will forever regret it.'"
So they "went on a couple dates." She also said, "The thing that attracted me to Nick was he seemed like — I mean he was cast as the 'villain' — but he was actually, he had a bit of a brain, you know, so there was something else there."
She broke-up with Nick Viall a few months later, and since January Jones has been single, or at least keeping a low profile. Recently, she told Red magazine, "I just don't feel I need a partner." then added, "Do I want one? Maybe. But I don't feel unhappy or lonely. It would have to be someone so amazing that I would want to make room. Someone who would contribute to my happiness and not take away from it."
That sounds to us as though January Jones is on the dating scene again, so you probably won't have to wait too long for the next installment of her amorous adventures.