Who has Joe Jonas dated? Joe Jonas' Dating History
Joseph Adam 'Joe' Jonas was born in Casa Grande, Arizona USA, on 15 August 1989 under the zodiac sign of Leo. The successful American singer-songwriter came to prominence as a member of the pop rock boy band The Jonas Brothers, alongside his brothers Nick and Kevin. Not only is he successful but he's also very handsome, which resulted in his rich dating history before he tied the knot with the "Game of Thrones" star Sophie Turner. Since there's always been a lot of curiosity about beautiful women Joe Jonas was romantically linked to over the years, we've made you what we think is a complete list of his past relationships! To find out more, just keep listening!
His First Girlfriend – Mandy Van Duyne
Joe Jonas' first girlfriend was his childhood friend Mandy Van Duyne. They were brought up in the same town and were very close friends, and as is usually in such cases, over the years they developed feelings for each other, and became romantically involved in a relationship in the summer of 2005.
Who remembers when Joe Jonas dated Mandy Van Duyne in 2005?You won't believe how much she's changed since then. See what his high school sweetheart is up to now. –> https://bit.ly/2tS5P7S

Posted by J-14 Magazine on Monday, March 4, 2019
According to PopSugar magazine, Joe and his brothers even wrote a song about her, entitled "Mandy", the first single from their debut studio album, "It's About Time", released in December 2005. However, their relationship lasted no longer than a few months, as he was at the start of his career and was always on tour, which was a huge hurdle for the young couple, but they remained friends.
The handsome singer soon fell in love with Disney star AJ Michalka. They met each other when The Jonas Brothers, and her duo with her sister Aly Michalka, called Aly & AJ, went on the Cheetah-licious Christmas Tour in December 2005. They soon started dating, and were together for almost a year. She would later open up about their romance in her interview for MTV magazine, saying "No one knows he was my first kiss. I'm pretty sure I was his too." adding, "They opened for us when we were all like, 15, and so we started dating and we were together for a year."
Moreover, it has been rumored that the sisters' hit song, "Potential Break Up", was about Joe; however, she eventually denied those rumors via Twitter, and revealed that it was actually another song, entitled "Flattery", about him.
Shortly afterwards, he started dating famous Australian model Amelia Than-Aye, after they were introduced by his ex-girlfriend Mandy Van Duyne. The couple chatted until they finally met in person at the end of 2006. However, after dating for eight months, they mutually decided to end their relationship, but stayed friends; The Jonas Brothers' song "Australia" is dedicated to her.
Joe Jonas was in a relationship with famous singer Taylor Swift for three months in 2008; he was her first boyfriend, but their romance didn't end well. Taylor revealed what happened between the two during her appearance on "The Ellen Show", saying "It's all right. I'm cool. You know what? It's like when I find that person, that is right for me and he'll be wonderful, and when I look at that person, I'm not even going to be able to remember the boy who broke up with me over the phone in 25 seconds when I was 18".
According to People magazine, he responded "For those who have expressed concern over the 27 second' phone call, I called to discuss feelings with the other person. Those feelings were obviously not well received. I did not end the conversation. Someone else did. Phone calls can only last as long as the person on the other end of the line is willing to talk." She eventually regretted putting him 'on blast'. She explained that in her 2019 interview with Ellen DeGeneres, saying "That was too much. I was 18. We laugh about it now. That was mouthy, yeah, teenage stuff there." On the other hand, on ITV's Lorraine show he said "I'm sure Taylor's moved on and it feels nice and we're all friends it's all good. We were so young." They are now on good terms.
Many believed that the main reason for Joe and Taylor's breakup was attractive model and actress Camilla Belle, since he Joe got into a relationship with her right after his split from Taylor.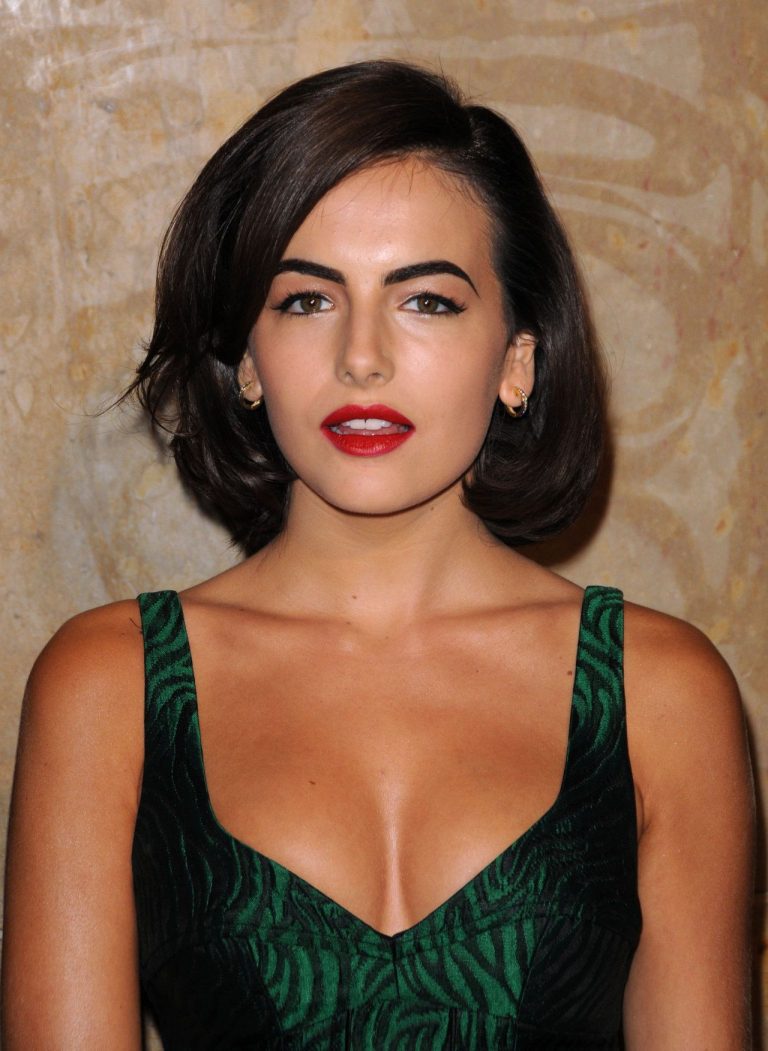 The couple met in September 2008, when The Jonas Brothers were filming the music video for their song "Lovebug", in which she starred. The chemistry worked immediately between them, so he had to end his romance with Taylor. When rumors surfaced that he had cheated on her with Camilla, Joe denied it in his post on MySpace – "I never cheated on a girlfriend. It might make someone feel better to assume or imply I have been unfaithful but it is simply not true. Maybe there were reasons for a breakup. Maybe the heart moved on". At the time, The Jonas Brothers released the song "Much Better", and many speculated that the song is about Joe's new girlfriend who is supposedly much better than the previous one. Pretty awkward situation! However, he and Camilla eventually decided to part ways in July 2009. Her rep, Brad Cafarelli, confirmed their breakup, saying "There is no third party involved, and they care deeply about each other and will remain friends."
Episode 2 of #CupofJoe brings me to the beautiful city Berlin with @DavidHasselhoff and @LewisCapaldi. Watch now on @Quibi! https://t.co/IJiFTjpYu2 pic.twitter.com/k1lbxXGuqA

— J O E J O N A S (@joejonas) April 27, 2020
Next, Joe Jonas met Demi Lovato while they were filming the Disney movie "Camp Rock" in 2007. Their characters were romantically linked on-screen, but off-screen she was apparently the one who fell in love with Joe. She later revealed on YouTube's "Demi Lovato Reacts to Demi Lovato's Childhood Videos", the exact moment when she went crazy for him. It happened when they were filming a scene in which he was playing guitar to her by a lake. To the delight of their fans, Joe and Demi reprised their roles in the sequel "Camp Rock 2: The Final Jam", after which they started dating in March 2010, even earning the nickname 'Jemi'. In August 2010, the couple graced the cover of Teen Vogue magazine, when they interviewed each other; however, they broke up 48 hours later, and Joe told the magazine, "In this business it's really hard to find people who are going to be there for the rest of your life. When I met Demi, I knew right away that our friendship was really strong. I don't want to lose that ever."
Three years later, he revealed more details about their romance in an interview for Vulture magazine, saying, "We had been friends forever, we were both Disney kids, and because we played a couple in the Camp Rock Disney Channel specials—and fans liked seeing us together—we eventually dated for a month. I really got to know her and got to see the ins and outs of what she was struggling with, like drug abuse," but adding, "I felt like I needed to take care of her, but at the same time, I was living a lie because I wasn't happy, but felt like I had to stay in it for her because she needed help. I couldn't express any of that, of course, because I had a brand to protect."
Following that break-up, Joe started dating "Twilight" star Ashely Greene. They sparked dating rumors after being spotted having a dinner in London in July 2010, and were together for almost a year. In March 2011, the couple ended their romance due to their busy schedules.
He described their relationship in an interview with Vulture magazine, saying "When I was 20, I started dating Ashley Greene, and she was my first serious relationship. We were together for almost a year. I was living out in L.A. by myself, and at the end of the day, long distance didn't work. It's incredibly difficult." According to E! News magazine, Joe also revealed during his 2016 Reddit AMA that he lost his virginity to the actress, saying "I lost my virginity to this girl named Ashley. You can probably just Google it. He didn't stop there, but continued to describe the whole event in detail. In turn, she posted a cryptic quote on Instagram which reads, "Class is timeless." Her fans realized that it was addressed to him and his sexy anecdote, and many of them agreed with her quote. We agree that he went too far, after all!
Joe's relationship with Ashley Greene was so serious that he was left heartbroken after the break-up, so took some time to be single, until in November 2012 when he started dating Swiss graphic designer and contemporary artist Blanda Eggenschwiler – they were introduced by a mutual friend and soon fell in love.
At the time, he told Vulture magazine, "Now I'm with someone I really care about. We get each other." Even though he didn't mention Blanda by name in the interview, it was clear that he was talking about her. They were spotted many times together, including at various Hollywood events, so it seemed that Joe and Blanda were serious. They also spent a holiday on Hawaii alongside his younger brother Nick Jonas and his girlfriend Olivia Culpo. However, they called it quits in August 2014 after two years of dating. It was his longest relationship before he hooked up with Sophie Turner. His rep confirmed it to US Weekly magazine, saying "Joe and Blanda have mutually decided to part ways. The split was amicable and the two remain friends, with great respect for one another."
However, one of the friends of The Jonas Brothers revealed the main cause of their breakup to RadarOnline magazine, saying "She was always picking a fight with Joe and putting him down.
Joe has been unhappy for a long time now, and she was one of the main reasons." The source also said, "His family did not like Blanda at all. Everyone was always telling Joe that she was using him and he would not listen. She was incredibly jealous of all of his friendships with women, and she hated how women would throw themselves all over him. It eventually got to the point where Joe couldn't take it anymore."
Joe Jonas and famous model Gigi Hadid have known each other for a long time. According to E! News magazine, he asked her out back in 2010. She said, "We met at the Grammys when I was 13 years old. And he asked me to a baseball game, and I said, 'No.' I was so nervous; I literally didn't even know what it meant to hang out with a boy. And also, Grammys are on a Sunday, and I didn't want to tell him that I had school the next day, so I was like, 'No, maybe next time.'"
https://www.instagram.com/p/B9TCMUgH56D/
Following his breakup with Blanda Eggenschwiler, he hooked up with now the renowned model. Even though there was no information as to when their relationship actually began, it is known that the couple made their relationship public in June 2015. At the time, a source told E! News magazine, "Gigi and Joe have been hanging out a lot lately. They have lots in common and she loves how easy going he is." Nonetheless, they ended their romance in November of the same year. Shortly afterwards, she started dating Zayn Malik. It obviously hurt him a lot since he unfollowed Gigi on social media, and deleted his photo with her. According to Mirror magazine, Joe said, "I think it's interesting that she moved on so quickly, I mean it was definitely very quick." Didn't he break Taylor's heart in the same way? Was it just a coincidence, or karma?!
Joe Jonas and Jessica Serfaty, known for being the contestant on the show "America's Next Top Model", sparked rumors that they were together after being spotted kissing and hugging on a ski trip at Mammoth Lakes in January 2016.
Jessica Serfaty del ciclo 14, en una foto usando lencería.Sabias que se la vincula sentimentalmente con el cantante Joe Jonas.Ella a mejorado muchisimo y sigue trabajando en el modelaje.#Antmredes

Posted by ANTM Fans – Ecuador on Monday, January 11, 2016
Although they looked very happy enjoying each other's company, their romance was short-lived. The couple split after a month, and a source told People magazine, "They're not even talking anymore," but adding, "That was made into a bigger deal than it was."
Joe Jonas' love story with gorgeous actress Sophie Turner began on Instagram. She would later talk about that in her 2019 interview for Harper's Bazaar UK magazine, saying "We had a lot of mutual friends and they'd been trying to introduce us for a long time. We were following each other on Instagram ,and he direct messaged me one fine day, out of the blue." After exchanging messages for a few weeks, they met in person in London – the actress described the event for Elle magazine, saying "I expected him to show up with security and everything. I thought, 'He's gonna be such a dick.' I brought all my guy friends to come with me to meet him, because in the back of my mind I still worried that he could be a catfish—or I don't know what.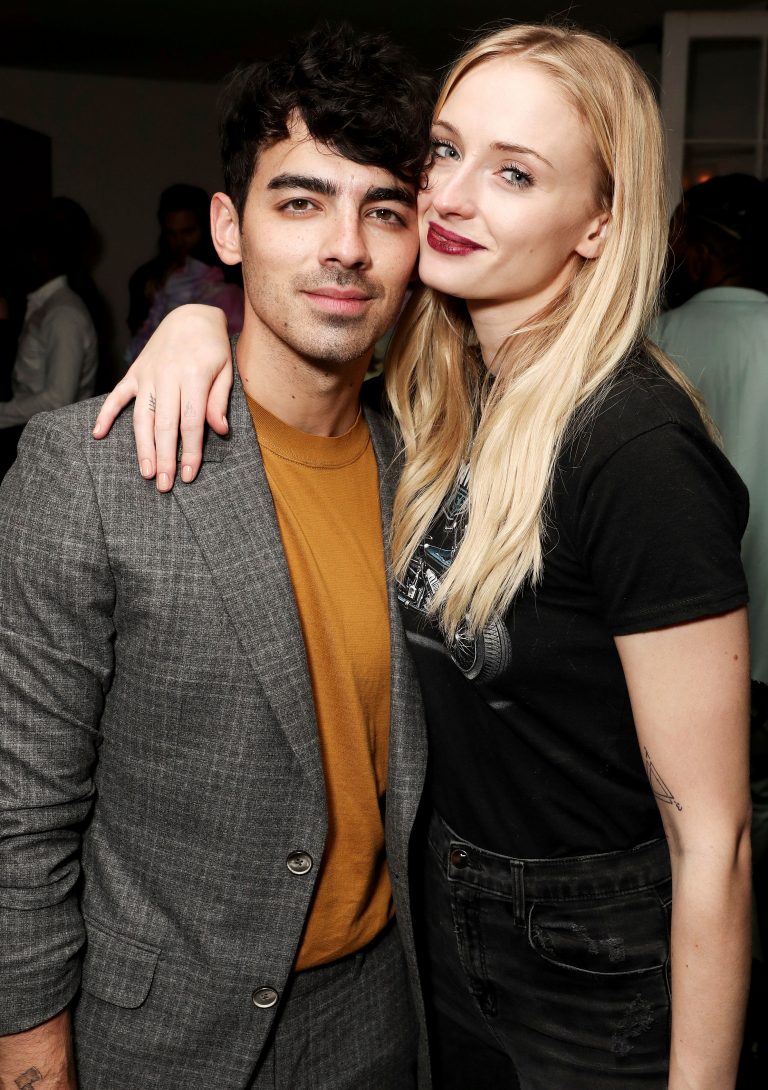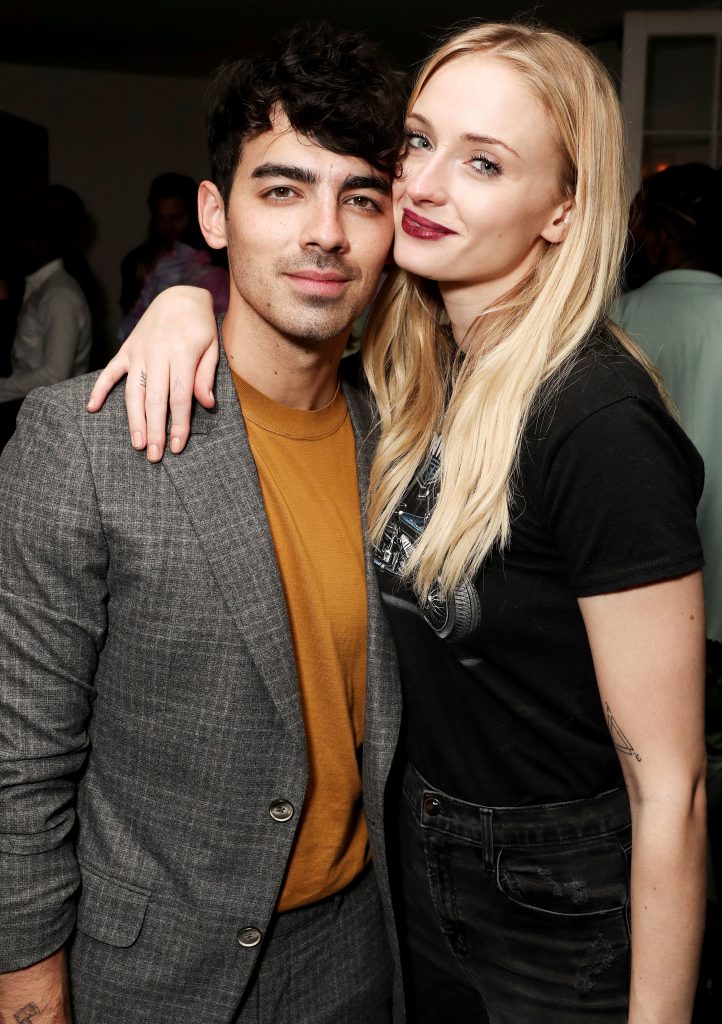 I just wanted my guy friends with me. I had my rugby boys. I was safe," but adding, "He didn't bring security. He brought a friend, and they drank just as hard as the rest of us. I remember the two of us spending only a couple of minutes on the dance floor, and then we just found a space far in the corner and we just talked. We talked for hours, and hours, and hours. And I was, like, not bored. It wasn't contrived. It wasn't small talk—it was just so easy. And soon we were, like, inseparable."
They tried to keep their romance low profile, but dating rumors surfaced in October 2016 when they were spotted celebrating Halloween together which was documented in their friend's Instagram post. The lovebirds were then seen cuddling and getting cozy at a Kings of Leon concert in the Netherlands, and obviously spending more and more time together.
She eventually posted his photo on her official Instagram account in January 2017, and shortly afterwards their relationship was confirmed by Joe's brother, Nick Jonas, while Sophie said in her interview for The Times magazine, "I'm in a relationship, but it's a very private relationship." She also said, "I'm happier than I've been in a very long time. I very much isolated myself for a while and forgot what was fun. Going out with friends, going out to eat, not really having a care. And people I've met recently in my life have drawn me out of that. It really helps you own those insecurities. The things I tortured myself about before, I can forget about." In September 2017, they adopted a little husky puppy together and named him Porky Basquiat.
After less than a year of dating, the couple took a step further when Joe popped the question. She confirmed their engagement by posting a photo of her hand with a diamond ring onto Instagram with the caption "I said yes".
https://www.instagram.com/p/B1R_9f_BtnZ/
According to Insider magazine, they celebrated it at a star-studded engagement party at Mamo restaurant in New York City. The attractive actress described how he changed her life in an interview for Glamour magazine, saying "A lot of my happiness now is to do with being with a person I've fallen in love with, who loves me more than he loves himself, and who wants to see me find my own happiness. That was probably the biggest thing that pushed me to find who I am – and find my happiness in things other than acting." According to Insider magazine, she also revealed in an interview with Dr. Phil that Joe helped her to overcome depression, saying "I don't think I love myself at all, but I'm now with someone that makes me realize that I do have some redeeming qualities, I suppose. And when someone tells you they love you every day, it makes you really think about why that is and I think it makes you love yourself a bit more. So yeah, I love myself."
People magazine reported that Joe and Sophie eventually swore everlasting love to each other at a surprise Las Vegas ceremony on 1 May 2019, at Chapel L'Amour in A Little White Wedding Chapel, just after the Billboard Music Awards event, officiated by an Elvis impersonator. According to Insider magazine, Joe opened up about their relationship for the first time in the documentary film about the Jonas Brothers, entitled "Chasing Happiness". He said, "The impact of falling in love has made me want to be a better man, a better person, and ultimately made me a better brother." On 29 June 2019, the happy couple celebrated their love by walking down the aisle for the second time in France.
In February 2020, it was reported that they were expecting their first child, while TMZ magazine confirmed that Sophie gave birth to a baby girl they named Willa, on 27 July 2020 at a hospital in Los Angeles. Her rep also confirmed it to Insider magazine, saying "Sophie Turner and Joe Jonas are delighted to announce the birth of their baby." Congratulations! We can't wait to meet a new member of their beautiful family!
So after such a dating career, can we hope that Joe is finally with 'the' one, with whom to spend his life?