Who has Kate Beckinsale dated? Dating History Since Youth
Model, actress, producer and activist Kate Beckinsale, has been on the list of most-in-demand actors since her brilliant performance in "Much Ado About Nothing" in 1993. Despite her still growing popularity, she has always kept details of her private life low-key, and even files complaints against newspapers when paparazzi snap shots of her personal life. So what is known about her dating history?
Kate Beckinsale is known for being a very strong person who takes full control of everything happening in her life. Even though her father, Richard Beckinsale, was a super popular British actor, and a true national treasure in his homeland of Great Britain, Kate developed her career in the US, not using any privileges of being a celebrity daughter, and built her career on her own, as Richard wasn't well-known in the US. 'I had a fresh start', Kate remembers of the beginning of her acting career in Hollywood.
After participating in several productions of the Oxford Playhouse and the Oxford University Dramatic Society, Kate moved to the US to start her film career. It was there that she met her first boyfriend who fans know about – another aspiring actor, Edmund Moriarty. Like Kate, he was accepting small and even silent roles at the beginning of his career. They are said to have met in 1992, and  started dating the following year. In 1994 they were both cast in "Uncovered", except that Kate played the major role, sharing the screen with John Wood and Sinéad Cusack, while Edmund only had an episodic role of a male student. In 1995 they shared the screen again in another movie, "Haunted", with Kate again landing the major role, and Edmund a supporting part.
The couple is reported to have broken-up by mid-1995.
Edmund worked hard to develop his acting career, but after appearing in a few movies such as "The Land Girls" and "What Rats Won't Do", he switched to research activities, and later became a producer and director, working on "The One Show" series, the show "Artsnight", "Lucy Worsley's Christmas Carol Odyssey", and several other documentaries.
In 1995 Kate met Michael Sheen, an actor from Newport, Wales, when they both were cast for "The Seagull" production oat the Theatre Royal in Bath, England. Kate was cast as Nina Zarechnaya, the love interest of Konstantin Treplev, played by Sheen. After a few rehearsals, Kate and Michael felt the real chemistry between them and started dating. 'It was my first-ever play, and my mother had cut out reviews of him in previous productions.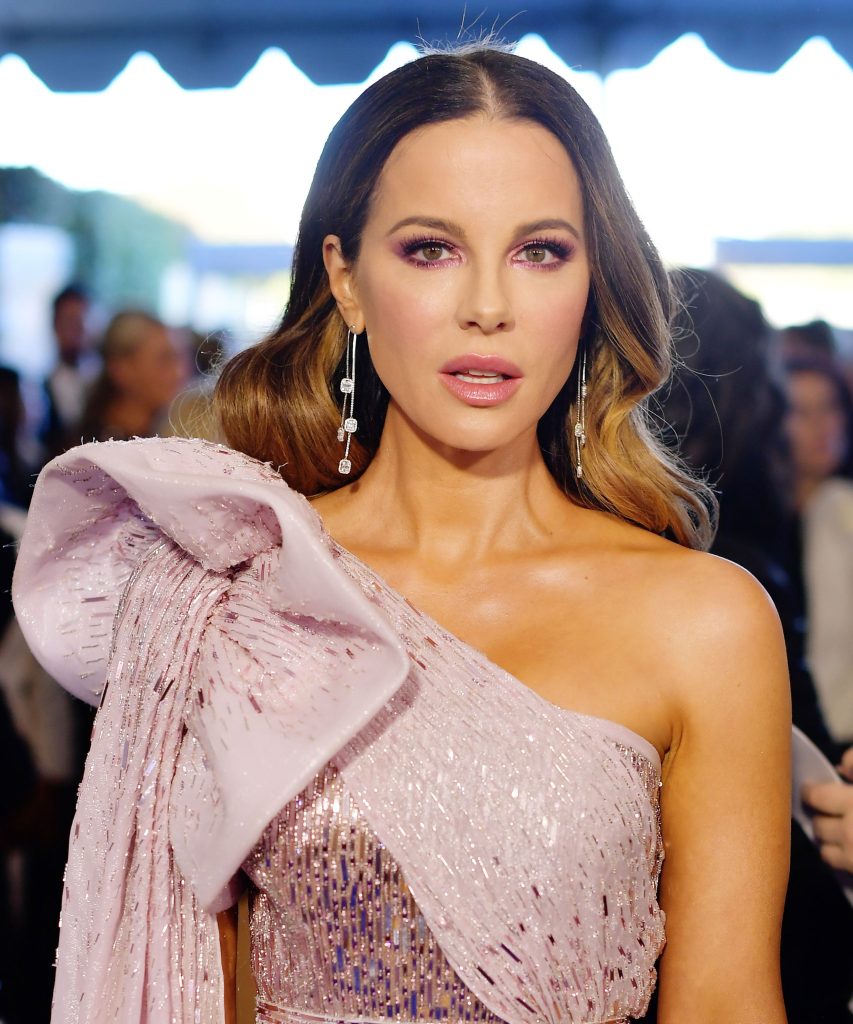 And then he walked in … It was almost like, 'God, well, I'm finished now. That's it, then.'… He's the most outrageously talented person I've ever met', Kate later shared her emotions on her first meeting with Michael. By the time he landed the role in the production of Chekhov's play, he had already shone in "Romeo and Juliet", "Don't Fool With Love", "Peer Gynt", and several others. In 1997 Kate and Michael voiced a "Romeo and Juliet" audiobook production. They would have several more mutual projects, and one of them, maybe the dearest, appeared in 1999 – Kate gave birth to their daughter, Lily Mo Sheen.
Lily Mo was born on 31 January 1999, and debuted as an actress when she was six years old, playing the younger version of her mother's character Selena in "Underworld: Evolution".
She also shared the screen with her mother in two other movies: "Click", starring Adam Sandler, and "Everybody's Fine", starring Robert De Niro. However, Lily hasn't appeared in any films since 2009, and there is no information on whether she will return to acting or not. She is currently dating actor and writer David Schechter.
Lily has always had a good relationship with both her parents. She spent a lot of time with her mother, even though Kate had a very tight schedule – she often took Lily onto the set of the movies she starred in, so Lily never felt alone or neglected. Michael also paid a lot of attention to his daughter, so Lily often writes on her Instagram account that they are best friends. She also likes posting fan photoshop pictures of her and her father in the image of his "Twilight" character, Aro, as she finds it very funny.
After Kate gave birth to Lily she soon returned to work, landing major roles in such movies as "The Golden Bowl", "Serendipity" and "Pearl Harbor", in which she played Nurse Lt. Evelyn Johnson, sharing the screen with Ben Affleck and Josh Hartnett. In 2003 Kate and Michael starred together in the horror movie "Underworld", but then they announced their break up, insisting that their parting was amicable. Kate and Michael showed that they remain good friends as they appeared in the next part of "Underworld" in 2009, but the later three films were without Michael. His acting career is still developing: after his portraying Aro in the "Twilight" movie series, he was cast in more which roles, including Castor/Zuse in "Tron: Legacy", Arthur in "Passengers", and Sigmund Freud in "How to Build a Girl". He also works as a narrator for BBC documentaries, as well as a thespian.
Kate's breaking up with Michael Sheen is often said to have a reason named Len Wiseman. He was the director of the movie "Underworld", and Kate even said that it was her who persuaded Len to have Michael in the movie. 'I said to him, Michael is a fantastic actor. He's brilliant. I said, I really think you should use him for this', Kate shared in her interview with IGN in 2012, 'and then he was blown away with his audition, and thought he was fabulous' – Kate feels quite comfortable to reason about how her then-boyfriend and future boyfriend met each other. Nevertheless, Kate insists she admired Len before their relationship became more than a working one. She said he was her favorite director and she felt blessed to have a chance to work with him.
After the movie was filmed they started dating. Kate said that they agreed on almost everything, had similar tastes and enjoyed the same themes to talk about.
She also shared that they got together with Michael to spend time in her house, as she couldn't exclude him from her life after almost a decade of relationship – so Kate, Len, Michael, Lily and some of their mutual friends apparently felt quite alright gathering to celebrate family holidays, also living close to each other.
After divorcing his first wife, Dana, Len started living with Kate. He proposed on 16 June 2003 while the two were having a romantic dinner at the Viceroy Hotel in Santa Monica, and they  married on 9 May 2004, although their marriage was marred by Dana claiming infidelity. However, Kate and Len managed to prove their relationship started only after his divorce from Dana was finalized.
In June 2003 Kate complained that a Daily Mail photographer invaded her private life, taking pictures of her kissing Len, while her daughter Lily was standing by, ignoring her mother's actions.
Happy #LSF everyone! 😈#katebeckinsale #ftw pic.twitter.com/2Jq2ZegtIT

— kissy (@kissycrissy_) September 11, 2020
The headline said 'Mummy's latest love scene leaves Lily unimpressed', which made Beckinsale claim the photos concerned Lily's welfare. However, the judge didn't see any private details given on Lily's schooling or health, so Kate's complaint was dismissed. The Guardian also wrote that the place where Kate, Len and Lily were photographed was not at all private, but a street near a public park, so they might expect to be photographed, or at least seen there in full public view.
'I've never come across anybody as steady and calm as Len is', Kate stated in in 2012, in one of her interviews. They seemed to be a perfect couple, and Kate even shared that she was thrilled Len proposed so fast – after more than eight years of relationship with Michael Sheen, she didn't even hope to hear the yes/no question.
Len also gifted a separate ring to Lily on the day he married her mom, to show how dear Lily was for him also.
Kate and Len later worked together on all the sequels of "Underworld", although Len wasn't always directing the movie – he also worked on the project as an executive producer, and as a screenwriter. In 2015 Len and Kate announced they were separating; the reason was quite regular, Len citing 'irreconcilable differences', and filing for divorce in 2016. However, tabloid reporters spotted him with model CJ Franco, aged 24, with Len not wearing his wedding ring. By November 2019 their divorce was finalized. Len is now working on "John Wick" spin-off entitled "Ballerina".
In November 2017 Kate was spotted with model, actor and stand-up comedian Matt Rife. Despite the age gap of 22 years  – Matt was 21 when they started dating, and Kate 43 – the couple seemed to enjoy each other's company.
Matt told Fox News that he met Kate for the first time when they both attended the Laugh Factory in March 2017, and after exchanging numbers they started dating. By the time things became serious between them, Matt had already completed some of his acting projects, including participating in "Wild 'N on Tour" on MTV, playing Doyle O'Doyle in "Gamer's Guide to Pretty Much Everything", and Jesse in "WTH: Welcome to Howler". However, a couple of years after they broke up by the end of 2017, Matt called their relationship 'complicated', stating they had a lot of ups and downs. All in all, he sounded as though he was burdened with their romance, and felt happy to hear Kate found someone else after their split. Some of Kate's fans supposed that any relationship with a woman would be complicated for Matt, as he is most likely gay, since he posts a lot of photos with his male friends, calling them his besties, while not posting a single photo with a girl; even his followers often ask him if he is gay, but Matt never answers.
In 2018 Kate dated another young comic: Jack Whitehall was 15 years younger than Kate, but the age gap apparently meant nothing to them – they were spotted hugging at their mutual friends' party in March 2018. Jack is a well-known British actor, writer and TV presenter, who became popular after portraying JP in the "Fresh Meat" TV series, and Alfie Wickers in the "Bad Education" TV show. He started dating Kate after splitting from his ex-girlfriend Gemma Chan, an English actress he met on the set of "Fresh Meat" and dated until late 2017.
Kate and Jack had a lot of fun visiting karaoke bars, spending nights together at hotels. Even though sources close to the couple called them 'a pair of loved-up teenagers', since they didn't hide their feelings, laughed and kissed a lot in public, Kate and Jack eventually broke up in October 2018.
Jack later told The Mirror that the reason for their separation was Kate's desire to have kids, while Jack just wanted to escape hearing that; he also stated that they had bad sex, yet he blamed himself for that: 'I hold my hand up, I let the spark go. The sex wasn't great, that's my fault. I'm not good at sex', Jack joked while chatting with The Mirror, giving way to massive speculation on the topic.
In January 2019 Kate got some fresh young blood one again – her new beau, Pete Davidson, is 20 years younger than the Hollywood actress. As soon as news of their fling became the subject of tabloid stories, Kate's ex-boyfriend, Matt Rife, warned Pete, writing on the TMZ website: 'Advice for Pete? Man-to-man…run'. A bit later Matt clarified his message, stating that he advised Pete to enjoy his relationship with Kate while he could: 'I hope they're both happy and can build to where it's an established relationship… I wish them both the best. I don't have any solid advice, just be careful'. Nevertheless, Kate and Pete seemed not to notice Matt's dismissive remarks, and were spotted kissing when attending a hockey game. Pete was earlier engaged to the singer Ariana Grande, and she shared that she found Pete and Kate 'cute' as a couple.
However, after four months of dating, perhaps inevitably Pete and Kate broke up: 'They had been trying to make it work, up until very recently, but it's over now', a source close to the couple shared with People magazine.
Jokes about Kate Beckinsale being a real vampire, hunting for pretty young men are relevant more than ever: the now 47-year old actress has been dating 23-year-old musician Goody Grace since January 2020. The age gap between the lovebirds is truly dramatic – 24 years, which is in fact more than Goody's actual age. Kate met the Canadian singer allegedly through her ex-boyfriend, Pete Davidson, who Kate remains friends with after their split. While tabloids speculate on Kate's previous failed affairs, the two peacefully walk in the parks holding hands and looking happy together. Goosy is famous for his songs "Nostalgia Is A Lie", "Vanilla Coke" and "Rest Your Eyes" – he hasn't released an album yet.
Kate and Goody's fans follow the updates on their idols' romance, but Kate hasn't posted a single photo of her and Goody on her Instagram account. Perhaps she doesn't want to scare off her lucky chance for a good affair? We shall all see, but don't hold your breath!
One last interesting snippet of conversation – despite posting photos with her beloved one, Kate shares many pictures of herself and her friend Jonathan Voluck. In these photos they hug, hang out together and even spend vacations together. Many of Kate's fans were confused with the number of their mutual photos, while inevitably tabloids speculate a lot on their possible romance. However, Jonathan is gay, and really is 'just a friend' of Kate. He works at Drama Development in Paramount Television as an executive assistant, and so has known Kate for ages – they often troll their haters and tabloids with mutual bikini photos. However, for once we can say that for sure – she's not dating!