Who has Kristin Kreuk dated? Boyfriends List, Dating History
• Canadian actress Kristin Laura Kreuk is best known for her role as Lana Lang on 'Smallville'.
• She made her television debut on the teen drama 'Edgemont' and has starred in several films.
• She was born in Vancouver, British Columbia, Canada, on 30 December 1982.
• She has been the subject of several rumours involving her Smallville co-stars, but the only known relationship she had was with actor Jensen Ackles.
• The latest rumours suggest she is in a relationship with Eric Putzer, a scriptwriter for 'The Burden of Truth', however, it is yet to be confirmed.
Canadian actress, Kristin Laura Kreuk, is perhaps best known for her role as Lana Lang in the superhero series 'Smallville', which she portrayed for a total of ten years from 2001 to 2011. Despite captivating audiences with her beauty as Clark Kent's initial love interest, the talented Chinese-Canadian actress had made her television debut in the teen drama 'Edgemont'.
Kristin has also starred in several films during her rise to fame, which includes credits such as 'Snow White: Fairest of Them All', and 'Street Fighter: The Legend of Chun-Li'.
Following her success in 'Smallville', the 37-year-old actress went on to feature in leading roles of several more television productions, including the Sci-fi series 'Beauty and The Beast', as well as 'The Burden of Truth'.
Born in Vancouver, British Columbia, Canada, on 30 December 1982, Kristin hails from a mixed family of Dutch and Chinese ancestry. Her parents, Peter Kreuk and Deanna Che worked as landscape architects, and raised their daughters Kristin and her younger sister Justine, in one of the largest cities of Canada.
During her school years, Kristin received training in gymnastics and karate, but due to a spinal condition known as scoliosis, her training ended in 11th grade.
While at school, Kristin wanted to study either psychology or forensic science, but fate introduced her to acting, after a casting agent recruited her for the filming of 'Edgemont'.
Despite her different hopes, Kristin nonetheless made a success of her sudden introduction to acting, making it difficult to imagine 'Smallville' without her.
Besides her acting, Kristin also models for Neutrogena, and provided the voice of Princess Shuyan in the graphic novel 'Shuyan Saga'. Unlike many other starlets, Kristin's love life rarely grabs the attention of tabloid writers, as the 'Eurotrip' actress keeps her private life securely secret.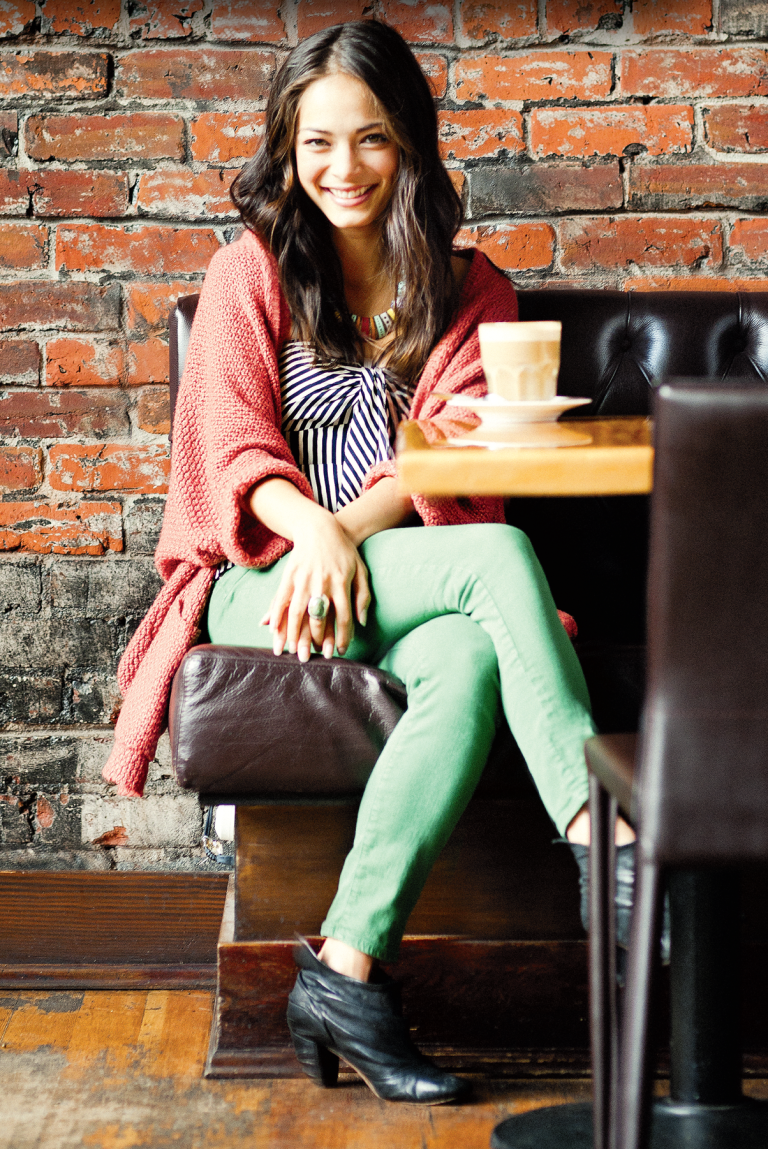 The only known facts about Kreuk's personal life is that she now resides in Toronto, Canada, and lives on a pescetarian diet, consisting mostly of seafood and vegetables.
However, the 'Smallville' actress has been the subject of her fair share of rumours since her first appearance on TV, but it's safe to say that Kirstin has taken part in more on-screen match-ups than real-life relationships.
Among the many rumours concerning Kristin's romantic life, suggestions include involvements with several of her co-stars, who include Tom Welling, who played the role of Clark Kent, and Jay Ryan, her opposite lead in 'Beauty and The Beast'. However, these rumours turned out to be nothing more than the hopeful wishes of fans.
No evidence exists that could link Kristin to Tom in a real-life relationship, but their on-screen chemistry remains undeniable. The same goes for Jay, as the New-Zealand actor is happily married in real life, and has a young daughter who was born from the union.
The 'IT: Chapter 2' actor may share an on-screen romance with Kristin, but he's not looking to spoil the happiness of his family. The only co-star whom Kristin has dated in real life is Jensen Ackles, best known as Dean Winchester in 'Supernatural'.
In 2003, Jensen landed a recurring role in 'Smallville' as Jason Teague, and met Kreuk on the series' set. Most of the details about their relationship remain obscure, either because they kept the romance private, or because their relationship never gained too much attention. The only facts known about Jensen and Kristin's romance is that it lasted for nearly two years between 2004 to 2006.
However, as many might know, Jensen is a happily married man these days, with a family of his own.
The details of Kristin's only recorded relationship, with Canadian actor and musician Mark Hildreth, seems as obscure as the rest of her personal life. According to some sources, they are still a couple and have been together for nearly seventeen years, but others claim they ended their relationship in 2008.
While most of the sources seem unreliable, the relationship nonetheless happened, and things certainly appeared serious when they bought a house together in 2011. According to the most accurate reports, the couple met sometime between 2000 and 2004, and after first dating for eight months, ended the relationship due to busy schedules.
During the time Mark and Kristin separated, she dated Jensen, but later rekindled her romance with Mark. Their relationship resumed for an undisclosed length of time, but due to the obscurity of her private life, it's hard to determine how long the relationship lasted.
The final ending of their relationship happened because of the NXIVM scandal, in which Mark played a bigger part than his girlfriend.
For those who don't know, NXIVM was a US multi-level marketing scheme which turned into a sex cult. According to most reports, Kristin ended the relationship after Mark refused to leave the organisation.
However, after the couple split in 2012, neither gave an official reason for the break-up.
The most recent reports about Kristin's love life suggests that most accounts of her personal life could be bogus. According to the latest rumours, Kristin has been dating a writer of her latest show 'Burden of Truth' for the past four years. The man in question is both a sound engineer and scriptwriter currently working on 'The Burden of Truth', and goes by the name Eric Putzer, yet any other details about him remain obscure.
To date, the only confirmation about said rumours are a few pictures in which Eric and Kreuk appear together.
Regardless of all the rumours, Kristin is yet to confirm their relationship, and everything seems to be speculation at the moment.
For the time being, though, it seems that Kristin Kreuk is single, is yet to marry, and doesn't have any children. Or are there any real-life details concerning Kristin which remain hidden from the viewing public…….?