Who has Lenny Kravitz dated? Girlfriend List, Dating History
Leonard Albert Kravitz, known as Lenny by his many fans, is an American singer, songwriter and actor, who has enjoyed an illustrious career so far spanning over nearly three decades. Kravitz first appeared on the music scene in 1989, and became known for incorporating many styles into his music, ranging from rock to blues and even jazz. Kravitz earned numerous awards and accolades throughout his career, but his most famous achievement was becoming the record holder for the most consecutive wins as the Best Male Rock Vocal Grammy Award, four times in a row from 1999 until 2002.
Recognised as one of the greatest performers and influencers of Rock music, Lenny appeared on stage with many of the biggest names in music, who include the likes of Madonna, and in recent years, Katy Perry. With estimated total album sales reaching past the 40 million mark, Lenny's place among the legends of the '80s and '90s remains undisputed, and to this day, there are still many Kravitz fans who simply can't resist turning up the volume whenever one of his songs is played on the radio.
With timeless classics such as 'It Ain't Over Till It's Over', 'American Woman', and 'Let Love Rule', it seems unlikely for Kravitz to run out of audiences, but a successful career in music may as well have been written in Lenny's stars. Born on 26 May 1964 in Manhattan, New York City, the only child of actress Roxie Roker and news producer Sy Kravitz, Lenny expressed an interest in music while as young as the age of three.
His first experience with music, in fact, began with experimental drumming on pots and pans in his mother's kitchen, and by the time he turned five, Lenny already knew he wanted to become a musician. Born into a talented family, with his mother being a recognised actress and possessing some relations with the iconic weatherman Al Roker, Kravitz would earn the chance to chase his dreams rather easily.
Regardless of his affluent upbringing, Leonard nonetheless had to work hard to achieve stardom, and by no means did it happen overnight. With his parents' support, Lenny took up learning to play the drums, later adding the guitar and several other instruments to his repertoire, while growing up under the influence of a variety of musical genres which included Jazz, Opera and Gospel. Enthusiastic about his desires, Kravitz parents often took him to live concerts, hoping it would develop his interest into a profitable career choice.
As such, Lenny had the opportunity to see The Jacksons perform at Madison Square Garden, and they became his greatest influence. Lenny's father was also friends with several famous musicians of the '80s, many of whom helped Leonard on his journey to becoming the legend he is today.
Tick tock tick do do do do

📸: Rodney Burns pic.twitter.com/KHyIZk3rw0

— Lenny Kravitz (@LennyKravitz) October 27, 2021
One of these influences, pianist Duke Ellington, played 'Happy Birthday' for Kravitz on his fifth birthday, an experience Lenny would consider a true honor even later in life. In 1974 at the age of ten, Lenny moved to Los Angeles with his family, where he had his first introduction to rock 'n' roll. As Lenny once stated, he simply fell in love not only with the sounds, but also lifestyle best presented by the rockstars of the '80s.
While in Los Angeles, Leonard performed with the California Boys Choir for three years, working to perfect his vocal talent. Lenny attended Beverly Hills High School where he became classmates with Nicolas Cage and Saul Hudson, who many would know best as the rockstar Slash.
In 1985, Lenny's parents separated and eventually divorced, which Leonard admitted later in life, had a negative influence on his teenage years. He turned to cannabis and music as coping mechanisms during this trying time, but never allowed the difficulties of life to prevent him from achieving his dream.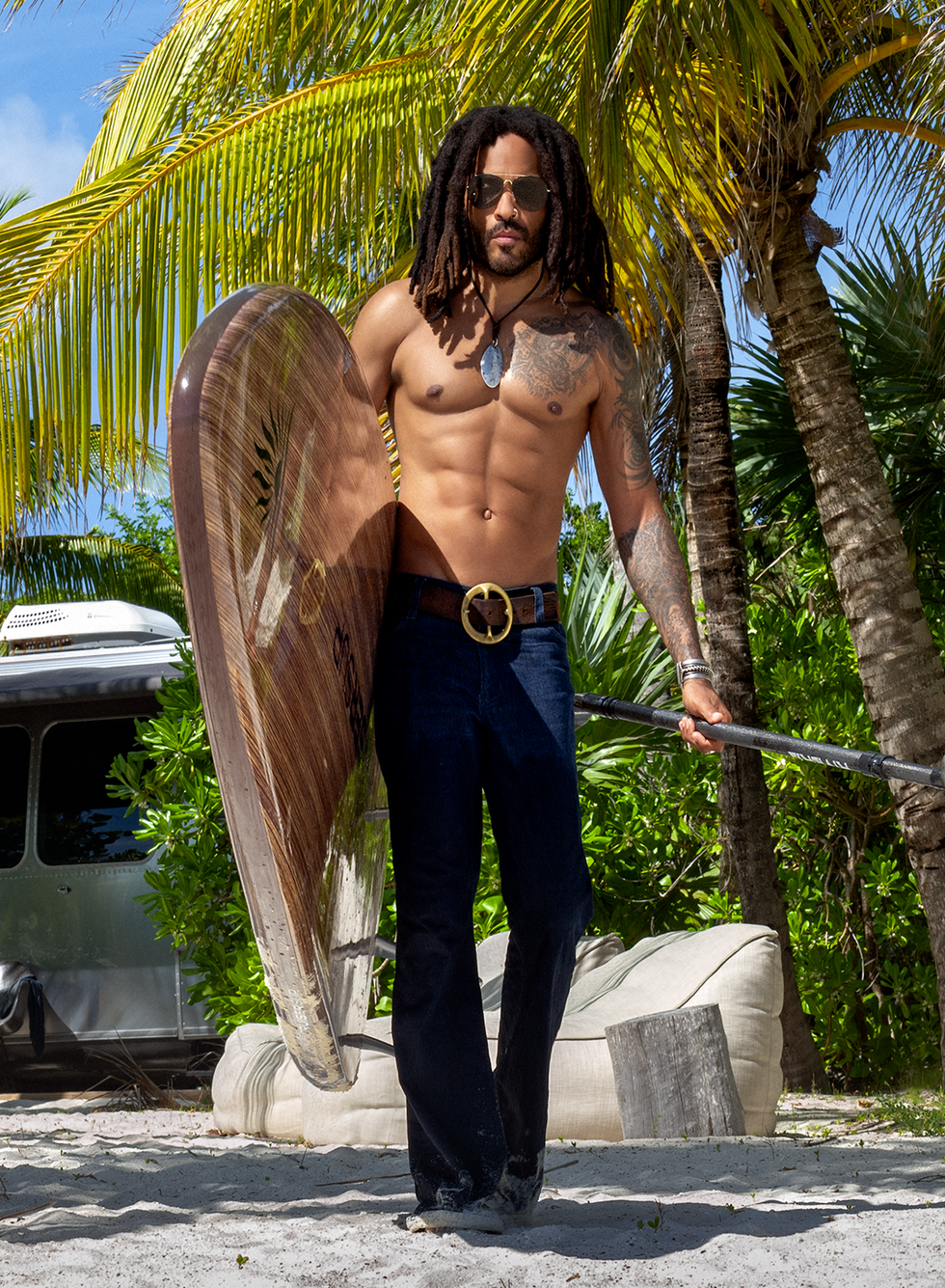 After matriculating, Lenny aimed to seek a career in music, but most record labels turned him down, because his music was either not white or black enough.
As a result, Kravitz recorded his debut album, 'Let Love Rule', at home, with the help of Henry Hirsch, who became a good friend and constant collaborator of Kravitz. While his first album was a massive success overseas, local audiences in America only paid attention to Kravitz after he produced the song 'Justify My Love' for Madonna. As they say, the rest became history, and in due time, Lenny Kravitz became a name known worldwide.
However, while Lenny's career was prolific, his love life through the years has seen ups and downs that most people would never be able to brag about, but isn't uncommon in the world of entertainment. Kravitz has dated some of the most successful and beautiful women in Hollywood.
Stolen Love
Kravitz most famous public romance would perhaps be his marriage to Lisa Bonet, who became most famous for her role in 'The Cosby Show'. The pair first met at a concert in 1985, when Lenny was still performing under the stage name, Romeo Blue. However, at the time both Lisa and Kravitz were seeing other people, but their chemistry was so undeniable that they eventually started dating each other.
About Lisa, Lenny admitted that he fell in love with her at first sight, and even suggested that she was the real deal. Although their romance began rather controversially, for the next several years they would shape a celebrated romance that enchanted their many fanatics.
In due time, Lenny became more famous, and as his fame grew, so did interest in his love life, and soon Lisa and Kravitz' relationship was plastered on nearly every tabloid's cover, with most outlets agreeing that the two seemed like true soulmates. Within a year of their initial meeting, the two moved in together, and things seemed that they couldn't get any better for the couple.
Lisa's career as an actress was on the rise, while Kravitz became the new face of rock 'n' roll. On 16 November1987, Lisa's twentieth birthday, the pair tied the knot in what was a highly publicized wedding. In 1988, Lisa gave birth to their only child, Zoe, who would follow her mother's footsteps and pursue a career as an actress. Sadly, as the '90s approached, their relationship began falling apart, but it was Lisa who experienced the worst of it.
During the early '90s, rumours began surfacing that suggested Lenny may not have remained true to his wife. Among the many women he was suspected of having affairs with, both Stella McCartney and Madonna would become noted suspects. According to many reports, Lenny met Stella at an awards ceremony, and was said to have spent the evening in her company.
There was also little denying that things between Kravitz and Madonna became interesting, as the video for 'Justify My Love', which starred both artists, was so raunchy that MTV eventually banned it from play.
At the time, Lisa complained publicly about Kravitz' constant infidelity, which affected her so badly that her performance in 'The Cosby Show' declined.
In 1991, Lisa was fired from the show, and she would later blame her emotional stress as the cause for her failure. That same year, Lisa separated from Lenny, and by 1993 the couple had finalized their divorce.
The split became the inspiration behind Kravitz' hit song 'It Ain't Over', and although he denied any cheating allegations, Lenny would nonetheless admit that he made a mistake. However, it was too late, and Lisa quickly moved on from their failed marriage, but so did Lenny.
In The Wake of Failure
Following his first marriage, it almost seemed that Kravitz wasn't out to settle down, but rather that he was enjoying his time as a bachelor. That was until his relationship with Australian entertainer Kylie Minogue attracted the attention of the tabloids.
Although details remain scarce, it's known that Minogue and Kravitz began dating sometime in 1991, and may have had a relationship for the next three years, although his subsequent behaviour would make this unlikely.
While most reports are unclear about how they met, nearly every report would suggest that the two only dated briefly. Some would even suggest that the two eventually became engaged, but their relationship came to a bitter ending, and rumours of a possible wedding died with their chemistry.
In 1992, Lenny began dating Vanessa Paradis, with whom he recorded the song 'Silver and Gold'. They dated for nearly five years, eventually calling an end to their relationship in 1997. However, the couple remained exclusively private and hardly shared any of the details about their romance.
Regardless, everyone loved seeing them together, and the news of their split may have been more devastating for fans than for the two of them. Since their parting, Vanessa and Kravitz have remained good friends.
During her break-up from Johnny Depp, Vanessa relied heavily on the emotional comfort provided by Lenny, making it almost seem as if the pair had never even split. Following this, Lenny briefly became involved with Natalie Imbruglia, but sadly very few details survived history. To this day, Lenny and Natalie have also remained good friends, and whenever they encounter each other on the red carpet, it's as if their chemistry never diminished.
While even now many still hope for their return as a couple, it would most likely never happen again. As the '90s passed, Kravitz was far from done living the life of a rockstar. In 2000, Kravitz was linked to Ananda Lewis, but the exact nature of their relationship was never revealed to the public.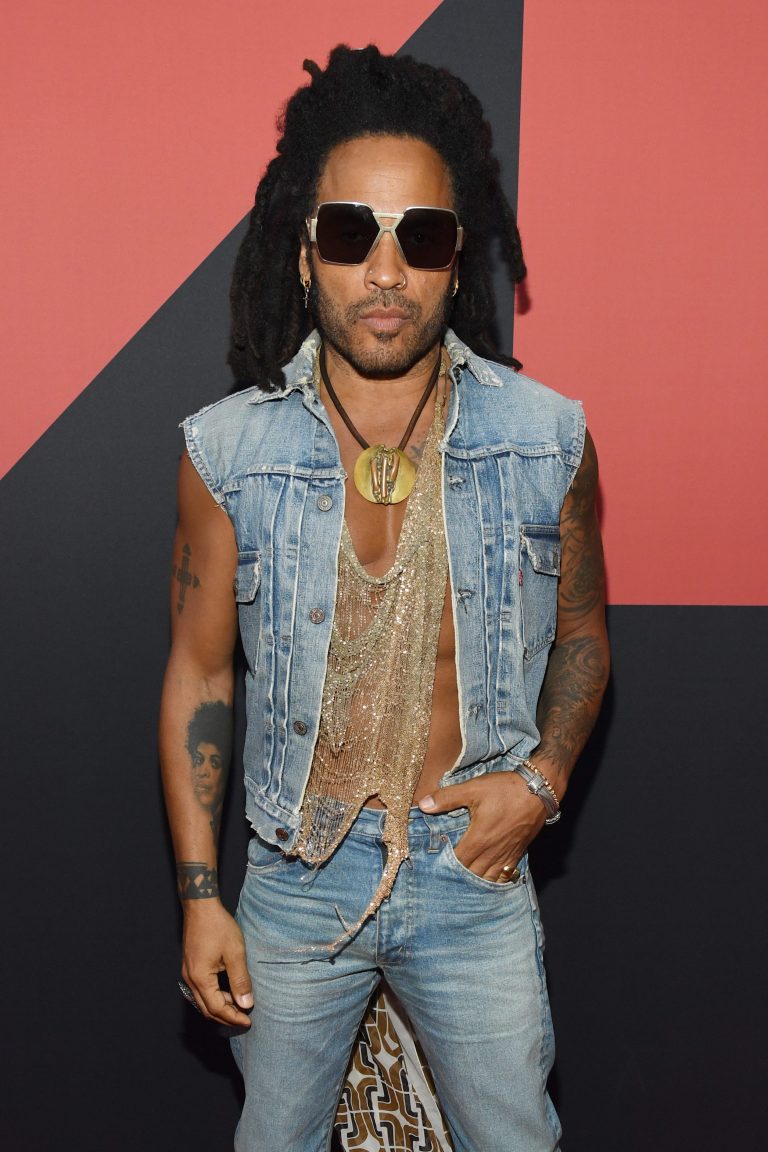 Nonetheless, according to most reports regarding their affair, most people believe that they dated for at least a year.
Following this, Lenny became involved with actress Devon Aoki, whom most would recognise from her role in '2 Fast 2 Serious', though their romance experienced some bad publicity. Most of the tabloids that covered Kravitz' brief time with Aoki were more concerned about their age gap than the chemistry between them.
Sadly, things between Devon and Lenny did not last long, and before anyone really had the chance to celebrate their relationship, things had come to an end.
Hope for Tomorrow
Following Kravitz many flings since his divorce from Bonet, Lenny eventually came to that point in life where it seemed time to find the perfect partner and settle down. For Kravitz, the perfect partner was no other than the Brazilian supermodel, Adriana Lima.
Although they kept the details of their relationship out of the tabloids, the world nonetheless knew that the couple dated, and things even seemed to be getting very intense between them.
The pair were first spotted together in 2001, though their relationship would only gain publication several years later. According to most reports, the couple separated in 2003, with some even suggesting that the pair secretly became engaged at some point. Regardless, their relationship ended, and with it Lenny welcomed a new era, not only for his music but also in his personal life.
In 2003, Leonard met Australian actress Nicole Kidman, who rented a New York apartment from the rockstar. The two wasted little time, and within a month of their meeting, stories already circulated in the media reporting that Kravitz and Kidman were Hollywood's latest power couple.
Unfortunately, things between them ended just as quickly, and before the end of that year, Lenny was back on the singles market.
However, this time it seemed that the Manhattan rockstar had grown tired the apparently meaningless romances in his life. It would be several years before Lenny would date again, with only one rumour surfacing in 2004.
According to reports, Lenny was possibly dating actress Marisa Tomei, whom he'd appointed as the godmother of his daughter, Zoe. Unfortunately, despite a couple of photographs as evidence, the two never went public and their romance is still disputed by fans.
The following year, suggestions began flying high in regards to Kravitz love life, according to which Kravitz was expressing a keen interest in Michelle Rodriguez, though yet again, the rumours were never confirmed.
As the years went by, Kravitz gave up all hope of finding the love he wanted, and famously adopted a life of abstinence.
Kravitz also took on a raw vegan lifestyle, and announced to all that he was no longer romantically available.
However, this was not the ending of Lenny's love life, as he would later regret his decision, as the singer stated during an interview with 'Men's Health' magazine.
Back On The Market
Since supposedly returning to the life of a bachelor, and still no closer to settling down, Kravitz has nevertheless dated at least two women whom the public has learned about. The first was comedian Whitney Cummings, whom Kravitz first met in 2016. According to most reports, Cummings and Lenny enjoyed a dinner date together at a popular restaurant in New York, but following their date, neither of the two publicly confirmed any relationship.
Nonetheless, the media and Kravitz' adoring fans, believed that Cummings was his latest girlfriend, and the first woman Lenny may have been with since leaving his life of celibacy behind.
Sadly, since then the couple hasn't been seen together again, and it seems that their supposed relationship might have been nothing more than idle rumour.
The latest news regarding Kravitz' romantic life emerged in 2018, when he announced to the world that he was dating Brazilian model Barbara Fialho., but it wouldn't have surprised you that they called it quits only a couple months later.
It now seems that Lenny isn't dating anyone, but regardless, his many fans and followers will keep their hopes up, wishing Lenny nothing but the best for the future. Maybe one of these days we will see Kravitz tying the knot and settling down, perhaps the way everyone hoped he would with Bonet. Alas!
Not all things are meant to last, but we hope sincerely that one of the greatest rockstars of all time might find that happiness we all crave.