Who has Machine Gun Kelly dated? Dating History Since Youth
Machine Gun Kelly – a nickname bestowed upon him by fans because of his rapid fire delivery – was born Richard Colson Baker in Houston, Texas USA, on 22 April 1990. He's recognised as one of the most talented American rappers, and is reputedly one of the most handsome men in the music industry too. It's known that the bachelor has been romantically linked to many celebrity personalities over the years – his affair with model and TV personality Amber Rose was one of his first relationships which hit the headlines. Most recently, he was spotted with attractive "Transformers" star and sex symbol Megan Fox. To find out more about his long dating history, just keep listening!
Before his career took off, Machine Gun Kelly – also often called just MGK – was romantically involved with a girl named Emma Cannon. Information regarding their relationship is kept far away from the spotlight, so it isn't known when they hooked up and when they split.
Many believe that the pair married, but this has never been confirmed. Nonetheless, it is known that Emma gave birth to their daughter named Casie Colson Baker in July 2008, when the rapper was only 19 years old.
Even though he is very private when it comes to Casie, MGK sometimes posts photos of them on his official Instagram account – it's obvious that the bond between father and daughter is strong. In December 2019, he tweeted, "Two connecting flights and still no sleep but I'm going to make it to my daughter's recital tonight, believe that." His daughter was even featured in the song "Floor 13" on the album "Hotel Diablo", saying "Hotel Diablo" at the end of the song. Following MGK and Emma's break-up, they remain on good terms. According to InTouch magazine, he tweeted a dedication to her on Mother's Day this 2020, writing "My daughter has an amazing mum. Big love to all the young mums out there killin it."
After gaining immense popularity on the scene, Machine Gun Kelly fell in love with famous model and activist Amber Rose. According to TMZ magazine, they were spotted holding hands at Los Angeles International Airport in April 2015, which came as a huge surprise to everyone, since earlier that month she had called her ex-husband, Wiz Khalifa, the love of her life. She confirmed their relationship in an interview on Real 92.3's Big Boy show in June 2020, saying "We're dating. We're just getting to know each other. He's a really nice guy. He treats me really, really nice, and I have a blast with him".
However, the couple broke up within a month later, one of the reasons being their busy work schedules, as they didn't have much time to dedicate to each other. According to The Boombox magazine, Amber was the one who confirmed it in an interview with Perez Hilton – "No we're not dating anymore.
I think it was just a mutual agreement. We're still really good friends." She added, "I can't really support a man on tour anymore. I kind of did that already and I'm just not in a space where that's really what I want to do. I just need to focus on my son and my business. I'm dating other people and just having a good time."
In May 2015, Machine Gun Kelly opened up about their romance in an interview with Hot 9's Ebro in the Morning show, saying "Everything was completely natural. It wasn't anything I had expected or had planned or anything like that. You know when the universe throws something your way or things happen, I'm one of those people that goes with it, and I don't fight it." Even though they were together for no longer than two months, the famous rapper admitted that he had learn a lot about himself during that time, revealing that he couldn't handle the pressure of dating Amber because of his constant place in the spotlight.
He explained, "I had no idea what came with Rose's lifestyle, but I'd be lying if I didn't say that it's not like a struggle every day, doubled with the fact that it is like one of the most anti-spotlight people ever and one of the most in-the-spotlight people ever."
Moving along, in March 2017 the handsome rapper was linked to singer-songwriter Halsey, after they were spotted and photographed together hanging out on a beach. In July of the following year the photo of them surfaced, and went viral on Twitter, spawning rumors that they were together. It didn't take her long to deny all those rumors, with several tweets in which she confirmed her single status, pointing out that the photo was two years old. On the other hand, in an interview for The Breakfast Club in 2018, MGK confirmed that they had been intimate!
In July 2019, Machine Gun Kelly was allegedly linked to DJ and music producer Chantel Jeffries. According to Cosmopolitan magazine, the musicians were spotted for the first time in West Hollywood when they went to the Peppermint Club, and then moved to the Nice Guy restaurant for a dinner. After that they were seen many times together in Los Angeles, and even attended a few public events, such as a Fourth of July party. Maybe they were just hanging out as friends, since neither of them confirmed those rumors? On the other hand, maybe they wanted to keep it low profile? We will probably never know what really happened between the two of them, however, many believed that they were together, but that their relationship was short-lived.
The handsome rapper next sparked rumors of a romance with Hollywood actress Kate Beckinsale in early January 2020, after the couple was spotted and photographed together at a Golden Globe Awards afterparty; they were also seen leaving the afterparty together.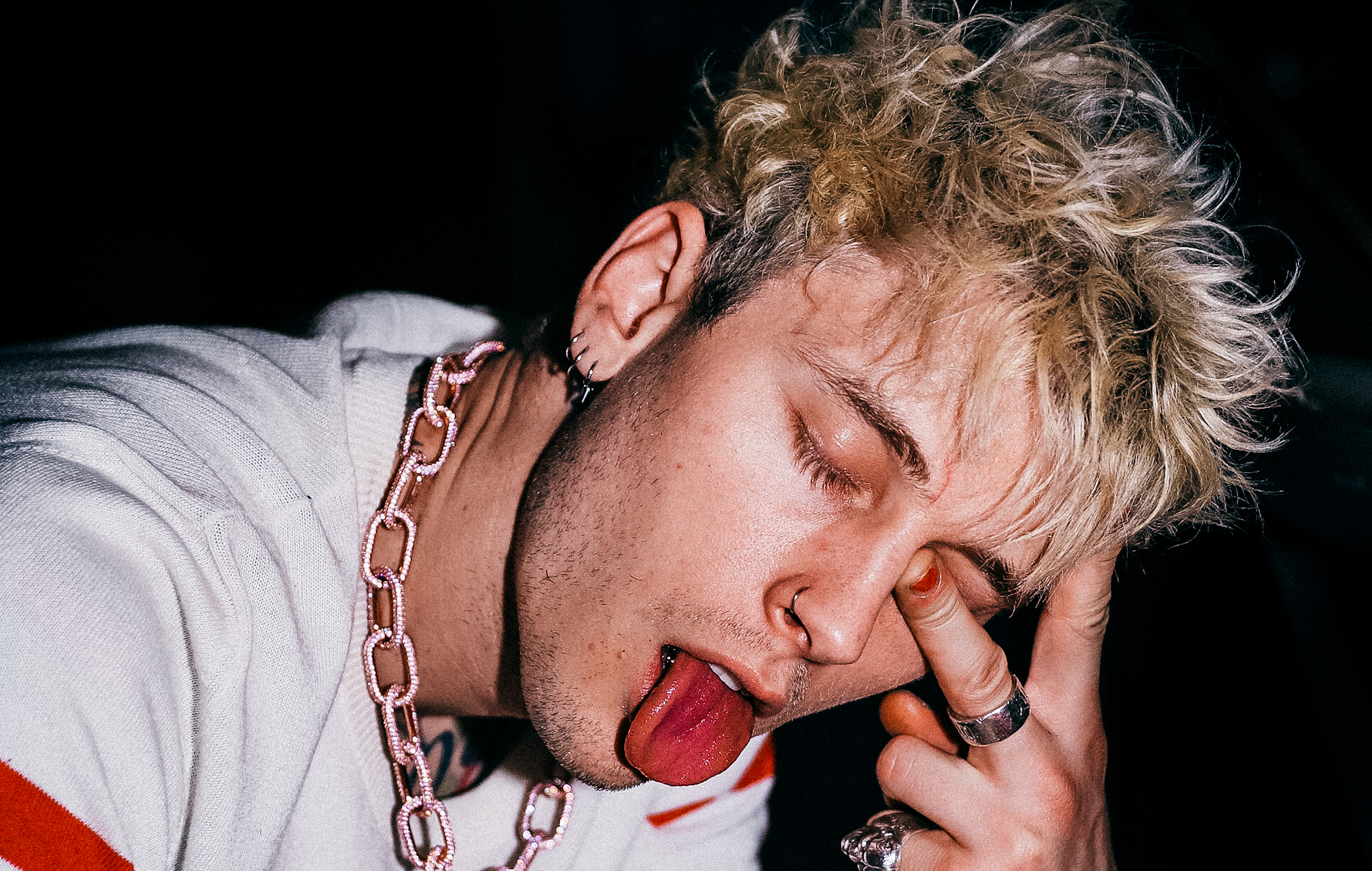 At the time, Kate was just out of a relationship with the rapper's good friend Pete Davidson. A source told US Weekly magazine, "Kate and Machine Gun Kelly are just friends", but adding that they "hung out at multiple afterparties together, and were not showing any signs of PDA." After being trolled for hanging out with him by an Instagram user, the famous actress denied any romance, writing, "Why don't you worry about things that are actually happening and donate to the Australian wild fires rather than waste your time on things that are not happening and never were, and also please get a f*cking life."
Machine Gun Kelly and the "Made Me (Cry)" singer Noah Cyrus – younger sister of Miley – have known each other for a while. They collaborated in June 2019, when she made a cameo appearance in the music video for his song "I Think I'm Okey".
Although there may have been chemistry between them even then, they were just friends. In early January 2020, he was spotted at her 20th birthday party, while later that month the couple set off dating rumors after being spotted holding hands at the Sony Music Entertainment 2020 Post-Grammy Reception, at NeueHouse Hollywood. One of the guests revealed to US Weekly magazine that the couple walked "through the crowd holding hands", and added, "MGK led the way and held his hand out behind him for Noah to grab. They stayed close to each other throughout the night. They clearly came as each other's dates, and left the bash together". Later that night, they were seen getting cozy at the Republic Records afterparty at the 1 Hotel West Hollywood, however, neither have admitted to a romance.
In March 2020, Machine Gun Kelly became romantically involved in a relationship with famous fitness model Sommer Ray. According to Daily Mail magazine, the couple were spotted kissing at a shopping mall, and MGK then confirmed their romance by retweeting two photos of them – one from 2017, when they appeared next to each other on "Wild N' Out", and another one from 2020, when they were photographed kissing by paparazzi. He wrote in the caption, "hard. even tho 2nd pic is a complete invasion of privacy. but hard." Their romance was also short-lived since they parted their ways one month later, with the rapper claiming that Sommer was the one who decided to end it and dump him, believe it or not on his birthday! It happened during the coronavirus quarantine; he confirmed their spilt via Twitter, "She came and picked all her stuff up on my birthday. Nice." He then tweeted, "I shouldn't have tweeted personal business. Especially when the person is a great human and this tweet seems one-sided." The reason for their breakup remains mystery.
Following his break up with the Instagram model, Machine Gun Kelly soon hit the headline again, for stealing the heart of the attractive "Transformers" star Megan Fox. They met for the first time on the set of their upcoming film "Midnight In The Switchgrass", and were instantly attracted to each other. The production of the film was stopped due to the coronavirus pandemic, but they continued to spend time together. A source told E! News magazine, "They've been hanging out a lot since their movie was shut down. The down time has been good for them… They are intrigued by each other, and having a lot of fun."
According to People magazine, the rumors about their romance began spreading around in May 2020, when they were noticed together in Calabasas, California. A source told the magazine, "They have been spending time together at Megan's house in the past few weeks. They seem to have fun and look happy together.
Megan Fox & Machine Gun Kelly confirm relationship with romantic kiss in Los Angeles. https://t.co/ypZ3sG5soQ

— Pop Crave (@PopCraveMusic) June 16, 2020
Megan only sees him when the kids are with Brian." Three days later, Megan's husband Brian Austin Green confirmed in an episode of his podcast "…With Brian Austin Green", that he and Megan went their separate ways after being married for a decade and sharing three children together. He revealed that he began to feel distant from Megan in the previous year, when she started filming "Midnight In The Switchgrass" with the rapper. Green also revealed his opinion about Megan and MGK's relationship – "I've never met him, but Megan and I talked about him and they're friends at this point. And from what she's expressed, he's a really just nice, genuine guy. I trust her judgment. She's always had really good judgment," but adding, "I don't want people to think that they're villains, or I was a victim in any way with any of this — because I wasn't. This isn't something new for us. This is something new for people to experience and hear about in the press … but it's not new for us." He also said, "We've had an amazing relationship, and I will always love her and I know she'll always love me."
On 20 May 2020, MGK released the music video for his latest single entitled "Bloody Valentine", starring Megan Fox as his girlfriend. According to US Weekly magazine, MGK described how the video was shot in his interview for Radio.com, saying "I mean, obviously … great work experience. I was playing Megan a lot of the Tickets to My Downfall songs and I had made the call, like, the day before the video. And I was like, 'Can you come over?' and we shot the video."
The couple eventually confirmed their relationship in June 2020, when they were seen holding hands and sharing a kiss after leaving a bar in Los Angeles. A source explained to the magazine, "Megan and MGK have gotten more serious and are officially dating and referring to one another as boyfriend and girlfriend. They're enjoying spending more and more time together and have a strong connection." Later that day, the rapper tweeted a lyric from the single, "'I'm calling you girlfriend, what the f–k.' Life imitated art on that one", which is an obvious sign that their relationship was taken to the next level!
The couple opened up about their relationship in their first joint interview, for the podcast "Give Them Lala … With Rendall". She described her reaction when she found out that her co-star is MGK – "I was like, 'Who is going to play this role?' And he was like, 'Oh, we just got Machine Gun Kelly,' and immediately, I was like, 'Uh oh.' Because I knew—I could feel that some wild shit was going to happen to me from that meeting, but I wasn't yet sure what. I just felt it like, deep in my soul—that something was going to come from that." She also added, "I knew right away that he was what I call a twin flame. Instead of a soul mate, a twin flame is actually where a soul has ascended into a high enough level that it can be split into two different bodies at the same time. So we're actually two halves of the same soul, I think. And I said that to him almost immediately, because I felt it right away."
The couple also confirmed their relationship on Instagram – the rapper shared their selfie on his account with the caption "waited for eternity to find you again …", which was followed by a selfie posted on her account, with the caption "Achingly Beautiful Boy… My heart is yours." This caption apparently provoked her ex-husband, who copied that and posted photos of his four sons, three of whom are from his marriage to Megan, writing "Achingly beautiful boys…… My heart is yours". Several days earlier, Green made an appearance on the Hollywood Raw podcast, and explained how he is handling his ex-wife's high-profile relationship, "You can if you ignore it and avoid it which is what I try and do. I try to not read anything or look at anything and not involve myself in it. Just keep my head down and do what I do and focus on the kids. I know she's going to do the same thing."
What will happen next in the future between Megan Fox, her new lover, and ex-lover remains to be seen. Considering MGK's track record, nothing would surprise.